We all know how tedious starting a new week can be. Getting back into the daily routine of work can be exhausting – particularly if you're one of those to take a long time commuting to work. Thankfully, the BitStarz Casino is here to solve your woes every single week of the year, thanks to the BitStarz Monday Reload bonus, which ensures that you start the week with up to €300 in free cash!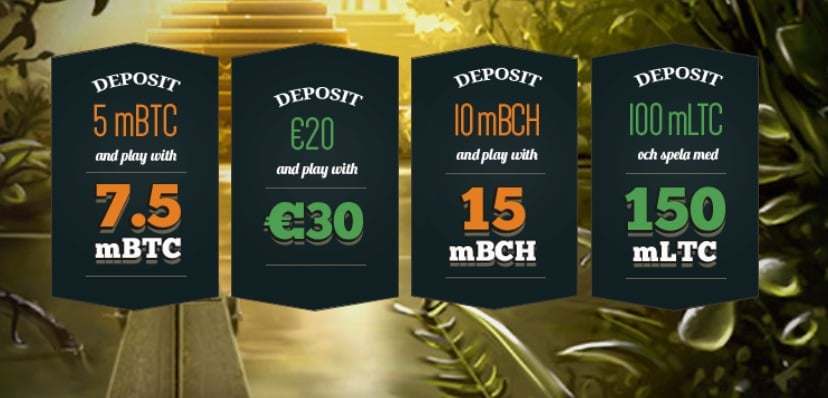 Even though the BitStarz Reload Bonus is not one of the most prominent offers out there when it comes to wagering requirements that are easy to fulfill, this bonus does come packed with everything you need to start the week with a bang. It might not be the most lucrative of offers, but as far as reload bonuses go, we believe that this is one of the bets ones that you can claim in any of the world's best bitcoin casinos. It's just one more reason to join the premises of BitStarz now!
What is the BitStarz Monday Reload Bonus?
The BitStarz Monday Reload Bonus is an exclusive offer given away by the BitStarz Casino, which will allow you to claim a fantastic bonus at the beginning of the week as long as you're willing to make a new deposit on the casino. It's not only a lucrative offer, but also one of your favorite bitcoin reload bonuses on the internet.
This is a high roller reload bonus that suits the needs of many of the players that spend their bitcoins at BitStarz, who tend to bet large sums of money whilst at the virtual halls of this online casino.
How to Claim the BitStarz Monday Reload
We've never been huge fans of bonuses that make players go through a bunch of steps to claim them – and that's even more true when it comes to bonuses that you can claim every week. That's one of the reasons why we love this offer. At BitStarz, the only thing you need to do to claim the money is to make a deposit on Monday, no other steps required.
However, before you make your Monday Reload bonus a thing, it's important for you to claim the BitStarz welcome bonus first. Missing out on such a reward would cause you to lose up to 5 BTC in free cash (that's way more than €20,000!) – be sure to claim the offer before the reload, though, as it's a one-time only offer.
Bitcoins or Cash – You Choose!
The Monday Reload bonus adapts to the needs of all players, as it allows them to choose whichever type of currency they would rather use to make their deposit. This makes it a fantastic bonus both for people who play at BitStarz to use their bitcoins as well as those who would rather use their regular money to play here.
The bonus offers special currency equivalencies which make it easy for you to know how much cash you would receive with a bitcoin deposit and how much cash you would end up with if you were to use your own bank-regulated cash. It's all up to you to decide what you prefer – the BitStarz Casino couldn't make it easier for you!
BitStarz Monday Reload Terms and Conditions
We've already reviewed some of the basic rules that stand above the amazing bonuses of the BitStarz Casino, but the Monday Reload bonus is subjected to a few restrictions that you must be aware of before making a deposit on this site or you might end up disappointed. We'll go over the most important rules of this offer right here:
Wagering Requirements
Every deposit bonus on the BitStarz Casino needs to be wagered a total of 40 times before you can make a withdrawal from your account, which means that you'll end up with a sizeable amount of money to be wagered if you claim the Monday Reload. You have all week to comply with the terms, though! Be sure to do it before the next Monday so you can claim the rewards again the following week.
Bonus Exclusivity
You may only claim one bonus at once when wagering at the BitStarz Casino. You may not use the Monday Reload bonus cash whilst you have other bonuses active in your account, so be sure to spend them all before claiming this fantastic promotion. Apart from that, you should also be aware that this bonus is meant to be claimed just once per household or IP address. You may not claim this bonus on the current week if someone else from your household has already claimed it.
Start the Week Like You're Supposed to at BitStarz
The BitStarz Casino has provided you with everything you need to start the week with a bang. There's no need for you to continue wagering with no rewards when the amazing BitStarz Casino comes packed with a bonus that is as large as €300 and that can be claimed by making a simple deposit on the site.
We are all fans of great bonuses and we all love to claim huge rewards, but if you're not a member of the BitStarz Casino yet, you're missing out on everything that is good about the online casino industry except, perhaps, a sportsbook. In any case, fans of online casinos need to check out this site if they're looking for a constant influx of bonuses and rewards of the highest order.