€5,000 & 5,000 Free Spins Weekly
The BitStarz Casino is home to some of the best bonuses in the world and it still stands as one of the best online casinos to wager with bitcoins on the internet. The site is also home to Slot Wars, one of the largest slot competitions on the internet and one that serves to give fans of online slots a place to compete with one another.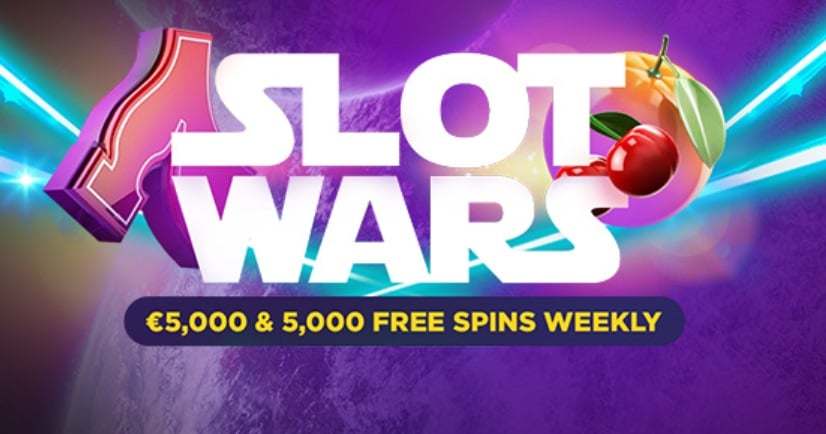 Be sure to enter the Table Wars competition after having claimed the BitStarz welcome bonus, though. It's the flagship offer of the website and one that could yield over 5 BTC in free rewards!
Learn all about one of the best bonuses on the internet right here with us and claim rewards that will blow your mind – on a weekly basis!
What are Slot Wars and How Does it Work?
Slot Wars are competitions that occur every week. They're very simple to understand: all you need to do is play in qualifying online slots and you will start accumulating points that will help you climb the leaderboards, which will help you compete against others players and, hopefully, get a better rating at the end of the week than the rest of your peers. You play slots, you collect points, you get rewards. Oh, and before we forget to tell you, the total prize pool is worth €10,000 EVERY WEEK!
Your Slot Wars Experience – Wins and Leaderboards
Slot Wars creates a unique casino experience for players that love to spend their time and money in online slots. The leaderboards show the top 95 players; those from top 95 to top 41 will receive free spins as a reward, whilst the top 40 players will get cash instead, which is free of any wagering requirements.
If you happen to get a first-place finish, you will earn as much as €1,500! Even the last-placed users in the leaderboards will get amazing rewards, with the worst one being a fantastic 25 free spins to spend in your favorite games. Play slots and win the best bonuses on the internet at the BitStarz Casino!
Slot Wars Rewards & Prizes
The Slot Wars competition doesn't give as many fantastic bonuses as the Table Wars, but there are far more winners in here than in its table game counterpart. When it comes to tournaments that reward lovers of online slots, this is the one in which you'll want to partake. The top 95 participants of this tournament will be claiming rewards, which means that there are almost twice as many winners as there are in the Table Wars tournaments.
There are many people here who will only get free spins as their rewards, though, which is one of the main disadvantages of this bonus. In fact, the free spins are subjected to wagering requirements, unlike the monetary rewards of this offer.
Slot Wars Terms and Conditions
Thankfully, the Slot Wars are subjected to some very simple terms and conditions that you will easily be able to comply with. There are many terms and you might be a bit overwhelmed when you first open up the site but don't worry; we've made it our mission to sum them up here, so you can get a clear idea of the rewards and make your way to the top of the leaderboards as quickly as possible. Failing to comply with the site's bonus rules could result in being disqualified from the tournament, though!
Wagering Requirements
If you happen to win any cash from the Slot Wars, you won't need to wager it at all. It comes free of any wagering requirements. However, things are different for any bonus that you win in the form of free spins; those are subjected to the same wagering requirements as any other offer on the site, earning that your free spin winnings will have to be wagered 40 times before withdrawing them.
Updates and Conditions
The Slot Wars promotion is one that varies quite often. The BitStarz Casino might make some changes to it from time to time, which will be sent to your email address if you've been registered at the casino and if you're participating in the tournaments. The tournaments also happen every week, so you have the chance to claim new bonuses and rewards as time goes by.
The tournaments start every Sunday at 00:01 CEST and they will end the next Saturday at 23:59 CEST. Bear in mind that the leaderboards are updated every minute. The scores are shown in real-time, so you can rest assured that your current position is almost as accurate as it gets – unless you've won a ton of points within the last 60 seconds, that is!
Spin the Slots and Win the Wars – Prizes Come on their Own!
People who love to play online slots will absolutely adore the beautiful world that they'll find at the BitStarz Casino and the site's large selection of slot games. With the Slot Wars looming near, you would be smart to get down to business and start playing now. You will be able to claim some absolutely fantastic rewards if you happen to register for the wars now!
If you're new to Bitstarz, claim your 20 Free Spins No Deposit here. You can always start your journey at the BitStarz Casino with the site's fantastic welcome bonus package, though, which allows you to claim rewards worth up to 5 BTC if you make a deposit with bitcoins!