Visit Boo Casino and Earn Amazing Bonuses!
The Boo Casino has put together one of the most lucrative bonus packages that you'll find in the online casino industry. With the Boo Casino welcome bonus, you will be able to claim an insane amount of money by simply making three deposits on the casino – and each deposit comes with its own set of bonus free spins to enjoy.

As you can see, the Boo Casino welcome bonus sounds too good to be true. Don't you worry, though: it really is one of the best bonuses that you can claim in the iGaming industry.
We want you to know more about this bonus before you make your first deposit at the Boo Casino, though. As such, we're going to be taking a closer look at how it works, its bonus rules, restrictions, and must-know features before you get down to business.
What is the Boo Welcome Bonus?
The Boo Casino welcome bonus is the main offer found at the Boo Casino, and it's divided into three different deposit bonuses that credit your account with a ton of free cash. These are the three main deposits that will allow you to bolster your account balance:
1st Deposit Bonus: 100% bonus up to €500 and 50 Free Spins
2nd Deposit Bonus: 50% bonus up to €200 plus 50 Free Spins
3rd Deposit Bonus: 100% bonus up to €300 with 50 Free Spins
They need to be claimed individually, though. Stay with us and learn how to claim the Boo Casino welcome bonus free spins and bonus cash.
Boo Casino Free Spins
At the Boo Casino, your deposits will not only grant you with free cash; you will also get bonus cash to play fantastic casino games! You will get to spend them all at the Super Sunny Fruits: Hold & Win online slot.
How to Claim the Boo Welcome Bonus
Let's be real for a second and think: do you really like to enter bonus codes to claim casino bonuses? We don't really mind them, but we sure prefer not to encounter anything that gets in the way between us and the Boo Casino welcome bonus cash. That's why we love this offer, and this is how you can claim it:
Create an account at the Boo Casino
Make sure that you verify your account before claiming the bonus
Make a deposit of up to €500 on the casino's cashier
Obtain the bonus cash and free spins
Fulfill the wagering requirements of the first deposit bonus
Repeat the process with the other two bonuses
The only thing that you need to know before you claim the Boo Casino welcome bonus is that the offer will get instantly activated upon making your first, second, and third deposits. You cannot claim any of the deposit bonuses further down the line. Be sure to take advantage of it as soon as you register or you may miss out on all of your bonus rewards and the rest of the Boo Casino bonuses!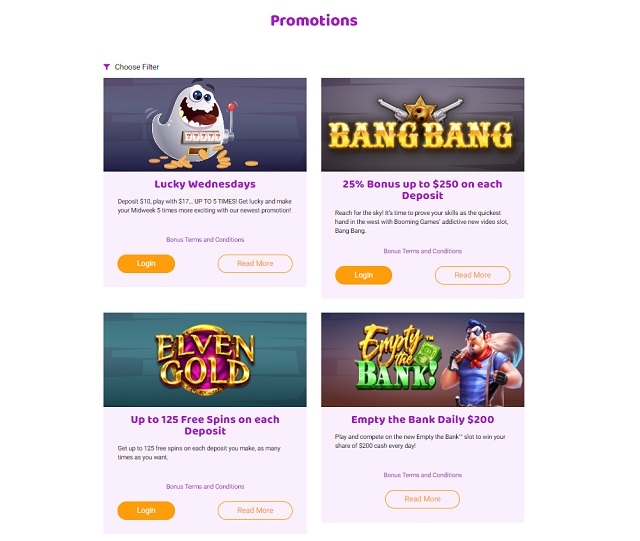 How to Spend the Boo Casino €1000 Welcome Bonus
The Boo Casino welcome bonus worth €1,000 is surely going to make your head think about where you're going to spend the money. It's a ton of cash, after all, so giving it a good thought about where to spend it is probably a wise decision. We're on the same boat, so we're going to tell you where we think you should spend the money so you can avoid a mistake in the future:
Visit the site's slot gallery and choose online slots with high RTP rates. This will give you the best chance of walking away with a profit and avoid any unnecessary low-profit games standing in the way between you and a good profit
The bonus free spins can only be spent in one of the qualifying games, listed below. However, the bonus cash generated with the free spins can be spent in other games, and that bonus cash can be unlocked by playing other games to fulfill your wagering requirement
Be sure to spend the money quickly. The bonus doesn't last a long time in your casino account.
Boo Casino Welcome Bonus Terms and Conditions
The Boo Casino welcome bonus comes with a couple of different rules that make this promotion worth claiming, but also keep it fair for the casino. They are not just going to hand you €1,000 without making you work for them, after all!
In any case, these are the rules that you should be wary about when claiming the Boo Casino welcome bonus:
Wagering Requirements
Let's be clear here: the bonus wagering requirements of this promotion are a bit too high for our liking. You will need to wager your bonus, as well as your deposit, a total of 40 times before you can make a withdrawal of the bonus funds.
It's a high wagering requirement, but the offer provides you with a ton of cash, so it ends up being worth it in the end.
There's something even better that you should know about the free spins, though. They only come with a wagering requirement of 25 times the amount of cash generated from the spins, which is far lower than what you'd expect to find in other casinos!
Bonus Timeframe
You will have a total of 7 days, counting from the minute in which you receive your bonus money, to fulfill all of the wagering requirements from this promotion. It's not a lot of time, so you may want to start your journey as quickly as you can to avoid running out of time!
Bonus Restrictions
Let us take a closer look at the heftiest restrictions that the Boo Casino imposes upon the Boo Casino welcome bonus package to help you get a better grasp of what you can and cannot do with the money and free spins:
You cannot use the 'Bonus Buy' Feature in any casino slot game. Doing so whilst the bonus is active may result in the removal of all bonus funds from your account
Low-risk betting is not allowed whilst the bonus cash is active. Any bet that has an almost 50% chance of being won is not allowed to be made until after the wagering requirements have been fulfilled
You cannot bet more than €4 per spin, or more than 10% of the amount of the bonus money that you've received, or the cash will be removed from your account
You can only bet in qualifying slot games. Some online slots are excluded to be played with the bonus free spins and the bonus money obtained with the offer.
Claim Your Cash Now or Go for the Sportsbook Bonus Instead!
The Boo Casino welcome bonus package is, by far, one of our favorite online casino promotions. With it, you will be able to play a ton of incredible games for free, and spend free spins on some of the most fantastic online slots that the site has to offer.
However, with great power comes great responsibility, as the saying goes. You will have to be careful where you spend your money as you aim to fulfill the wagering requirements of those €1,000 to have them withdrawn to your bank account.
In any case, you now know how to make the best of this bonus and how to potentially withdraw the cash. What will you do with the Boo Casino welcome bonus and how will you make the best of it? Visit the casino and claim your rewards now!