The Fruity Casa Casino comes with a fantastic welcome bonus of up to €100 (based on how much cash you deposit) and 20 Bonus Spins, which aims to complement the Fruity Casa no deposit bonus of 10 free spins. This amazing bonus will reward you for financially committing to the site, and it's the first deposit bonus you should claim at Fruity Casa.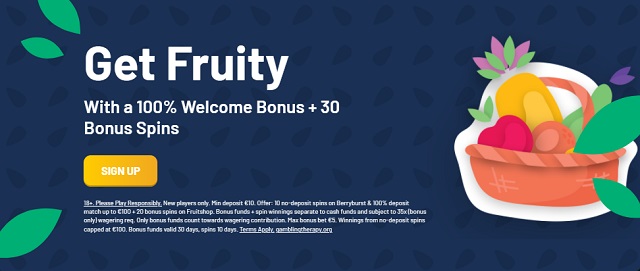 With this exclusive offer, you'll be able to inject your online casino account with up to €100, which will allow you to kickstart your journey with some free cash. It's also important to note that this welcome bonus comes with some very lenient wagering requirements, which has enabled hundreds of players to walk away with the bonus cash generated from the offer after fulfilling these conditions.
If you're looking to claim some free cash at a very good online casino, you've come to the right place. Learn how to make the best of it – right here!
How to Claim the Welcome Bonus
Another great aspect of the Fruity Casa welcome bonus is that you can get your hands on the offer upon making your first deposit. Keep in mind that this welcome bonus may only be claimed once, which means that whichever amount of money you choose to deposit will be the one that qualifies you for this bonus. It is often ruled by the same general conditions that oversee the best casino bonuses in the world.
You cannot claim this bonus on different accounts (this goes against the Fair Use policy of the bonus), nor can you claim the bonus with a second deposit. The Fruity Casa Casino is very strict with this, so please keep it in mind before claiming the bonus. With that said, let us go through each individual step of the promotion so you can fully get your hands on the money with no struggle at all:
Create an account at the Fruity Casa Casino
Claim the bonus free spins that come as part of the no deposit bonus
Spend all of the bonus free spins
Head to the cashier section of the casino
Make your first deposit (it should be between €10 and €100)
Receive your first deposit bonus!
Remember to first claim the Fruity Casa no deposit bonus first. You will get 10 free spins on registration - no deposit needed!
What is the Fruity Casa Welcome Bonus? – Breaking Down the Offer
The Fruity Casa welcome bonus is a casino bonus offer that aims to reward your account with up to €100 via a world-class 100% match deposit bonus. What this means is that you'll be doubling your deposit for any amount up to €100, which could help you claim a ton of free cash at the Fruity Casa website and, hopefully, walk away with a decent sum of money afterwards. You can also claim the bonus by depositing less cash, should you not want to make a €100 commitment from the get-go.
You can activate this welcome bonus with as little as €10, which would give your account a total of €20 to spend in any way you want. Whatever you do, be sure you gamble responsibly and don't run out of cash while enjoying this fantastic bonus. This makes the offer an ideal one to claim by both high rollers and low rollers alike, given that the site is extremely lenient when it comes to the bonus terms.
It's up to you to decide how much money you want to receive from this welcome bonus! Let us take a better look at this bonus so we can explain to you how you can claim it.
Fruity Casa Bonus – Where to Spend the Free Cash?
The Fruity Casa welcome bonus money can be spent pretty freely. In fact, this offer is much less restrictive than the free spin bonus, as you aren't tied to spending the cash on a specific part of the casino but, instead, you get to choose where you want to spend your bonus money. The fact that the wagering requirements are extremely lenient also makes it more comfortable for us to tell you that the money doesn't need to be exclusively spent on slots.
You can use your bonus cash to play many of the site's best games, so it's up to you to decide where and how you want to spend your time playing with your welcome bonus. We just want to remind you of a couple of things that could be extremely helpful in your journey:
Avoid playing live dealer games until all of your bonus money has been spent. These games never count towards the fulfillment of wagering requirements
Be sure to claim the bonus free spins first – and FULLY spend them. Your free spins will only be active for a period of 10 days and they come with different rules to the ones you'll find for your welcome bonus money.
Bonus Terms and Conditions
This offer comes with very lenient wagering requirements, and we don't think that any of its terms and conditions make it a difficult promotion to claim and enjoy. However, you still need a solid grasp of the bonus to make sure that you fully understand what you're getting into. Surprises are the worst when they don't benefit you, after all!
We know that the terms and conditions of a bonus tend to be quite tedious to read, so we've managed to compile the most important ones here. You can find the full list of terms and conditions at the Fruity Casa website, but these ones will easily get you through the motions if you don't want to waste any more time:
The welcome bonus cannot be claimed if you happened to make your first deposit using Skrill or Neteller. No e-wallet service is eligible to be used if you want to claim the welcome bonus
You must use your own bonus funds to fulfill the wagering requirements. You cannot use your own cash to comply with them
The offer comes with a wagering requirement of 35 times the amount of bonus money received, which means that a €10 bonus would require a total wagered amount of €350 before the money gets unlocked
Get Fruity and Win the Tastiest Rewards!
This fantastic welcome bonus is just the beginning and the introduction to a world of countless adventures that await every player that creates a new account at Fruity Casa. This fantastic website comes packed with some absolutely staggering features, even though it aims to keep things as simple as possible for all players to enjoy. You don't need to be an iGaming veteran to enjoy the best features of the Fruity Casa casino. In fact, most players should be able to do it with ease.
We want you to discover just why we think that Fruity Casa is such a fantastic website, and we don't want you to miss out on the world-class promos that it has to offer. Kickstart your adventure with the site's no deposit bonus, claim the welcome bonus, and access all of the fantastic rewards of the Fruity Casa Casino without spending too much of your money. Play as a high roller or a low roller – it's your choice, but there's no more time to waste! Visit Fruity Casa and claim the best rewards today.