Jackpot City Welcome Bonus
The Jackpot City welcome bonus is here to introduce you to one of the most popular online casinos, representing a city that truly never sleeps. You'll be able to visit this awesome city wherever you go, at whichever time you rather wager your cash. The alleys are endless in the Jackpot City casino, and you'll surely love what they have to offer to every new player that dares join the site.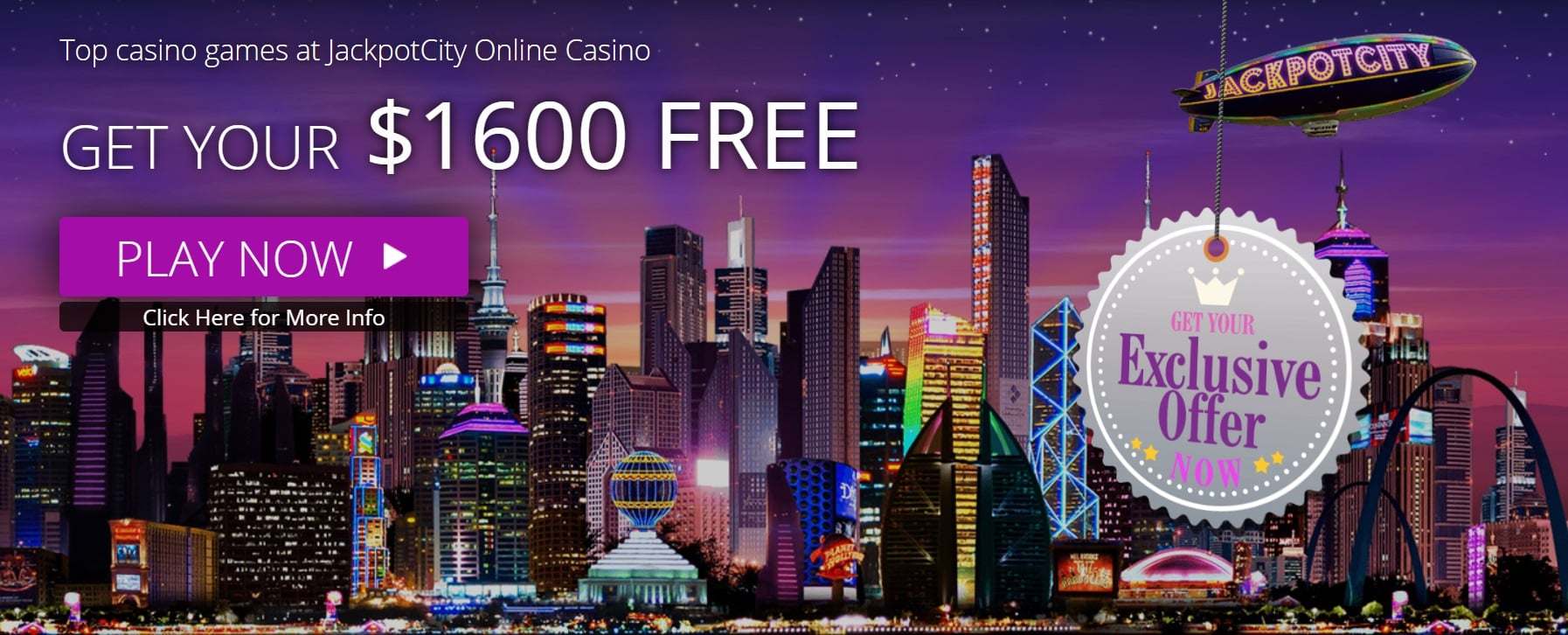 First founded in 2003, the Jackpot City casino is a well-established name in the online casino industry.
The site offers its services to players from all over the world, and it's compatible with almost every mobile device that you can think of. The Jackpot City welcome bonus is a nice addition to an otherwise amazing website which always looks to reward players for their commitment and loyalty.
However, before you can truly enjoy the Jackpot City welcome bonus, you need to fully understand how it works and why you should be wary of some features of the offer. We've made this guide for your convenience, so take full advantage of it!
How to Get the Jackpot City Welcome Bonus
The Jackpot City welcome bonus is an offer constituted by four different deposit bonuses. In total, you'll be able to get €1600 in free bonus money by simply making deposits on the site. Yes, it's that simple. You don't need to do anything out of the ordinary – simply deposit your cash on the Jackpot City casino and watch your earnings skyrocket thanks to the bonus cash they willingly give away.
As with most online casino welcome bonuses, you must be a new player to the site and no other person in your household must've claimed this bonus in the past. The Jackpot City welcome bonus is reserved to be claimed by one player per household or IP address, which means that you can't use proxies or VPNs in order to bypass these restrictions.
Obtaining the Full Bonus
If one thing's for certain, it's that €1600 sounds like an incredibly lucrative sum of money. In fact, many players might've clicked on this link to find out if this offer was a scam or not. Thankfully, it's not a scam, nor is it protected by ridiculous wagering requirements. This offer goes to show that any player can benefit from the casino if they are willing to spend some cash on the site in their first deposits. You can obtain the full bonus amount of €1600 by making four deposits of €400 each.
The Jackpot City welcome bonus consists of four match deposit bonuses of 100%, each going up to €400 in bonus cash. We strongly recommend depositing €400 on each deposit, but not surpassing that amount of cash. You may want to save the extra money to fund your other deposits and make sure you get the full free €1600!
What the Jackpot City Casino is About
The most noticeable thing about the Jackpot City welcome bonus is the lack of free spins attached to the offer. Even though a newcomer might consider this a negative aspect of the welcome bonus, we believe that it's one of the things that makes it so good. You get to experience every aspect of the casino without feeling the pressure of having to spend a set amount of free spins in a given timeframe, and you can use the bonus money in any way you like.
Thus, the Jackpot City welcome bonus is an offer made to suit the needs of every type of player, regardless of which games they rather play.
The offer is still subjected to various stake weights that must be considered, as not every type of game offers the same contribution rate towards the wagering requirements of the welcome bonus.
The Jackpot City Welcome Bonus Terms and Conditions
The Jackpot City welcome bonus comes with a set of terms and conditions that must not be ignored when accepting the offer. In fact, if you understand the most important rules of this bonus, you'll be almost assured to make a profit once the wagering requirements are met. In any case, the bonus itself has a large number of rules, so we've made a list that only includes the most important Jackpot City welcome bonus terms and conditions for your convenience.
Wagering Requirements
The wagering requirements of the Jackpot City welcome bonus only affect the bonus money itself. That means you won't have to wager the deposit money in order to fulfill the wagering requirements – you only need to wager the bonus amount. The wagering requirements for this bonus is, therefore, 50 times the amount of the bonus money credited to your account.
For example, let's say that you decide to make a full deposit of €400 in order to claim €400 in free cash. Your total account balance will be €800, but you'll only need to wager €400 a total of 50 times in order to fulfill the site's wagering requirements. Your actual cash doesn't count for the bonus wagering conditions.
Game Stake Weights
As we've said before, not every game has the same contribution rate towards the fulfillment of the site's wagering requirements. Some games have higher contribution percentages, while some games are completely banned from being played whilst the wagering requirements of the bonus haven't been fulfilled.
Furthermore, you must keep in mind that playing games with a stake weight equal to 0% whilst the Jackpot City welcome bonus is still being played through could result in the full forfeit of all bonus funds from your account. The list of games that you can play, as well as their respective stake weights, is as follows:
Slots, Keno & Scratch Card games (Slot re-spins only count 10%) - 100%
Video/power Pokers (excluding All Aces and Jacks or Better video pokers), all Blackjack games (excluding Classic Blackjack) - 8%
Classic Blackjacks, All Aces video pokers, all Jacks or Better video pokers - 2%
All Types of Baccarat, Craps, Red Dog, Sic Bo - 0%
Any multiplayer games as well as any games where you can use the Wager feature share a 0% contribution rate and must not be played while looking to meet the Jackpot City welcome bonus wagering requirements.
Bonus Limitations
The Jackpot Casino welcome bonus must be fully wagered, and its requirements fulfilled before you can make any withdrawals from your account. The bonus balance itself will remain showing as bonus balance until the requirements have been met, but the regular cash that you deposited must also remain in your account until the bonus is fully played through.
The bonus must be claimed within 7 days of having opened an account on the site. There are various offers available at the Jackpot City casino and you will be able to claim all of them even if you don't take the welcome bonus.
The City of a Thousand Chances
It would be foolish not to be wary at first about an offer that promises to give away €1600, but if you've come this far in our guide, you probably now understand why this offer is so good. You can look at this welcome bonus as four different bonuses put together, but every single bonus is able to provide players with large profits.
This welcome bonus is ideal to be claimed by any type of gambler as well. It doesn't matter if you're a high roller or if you'd rather be more conservative with your total net spend, you're going to be able to profit from such a generous offer. What are you waiting for, then?
Visit the City today and reap the rewards of the Jackpot City welcome bonus before the offer runs out! Read our full Jackport City Casino review here.