Rizk Casino Welcome Bonus
Superheroes, crime, and casino games. The only thing that could spice up that combination any further would be an awesome welcome bonus to increase the likelihood of kickstarting your life in a casino with a lot of funds. Thankfully, the Rizk casino welcome bonus was tailormade for people looking to strengthen their chances of making bank in the popular superhero-themed casino.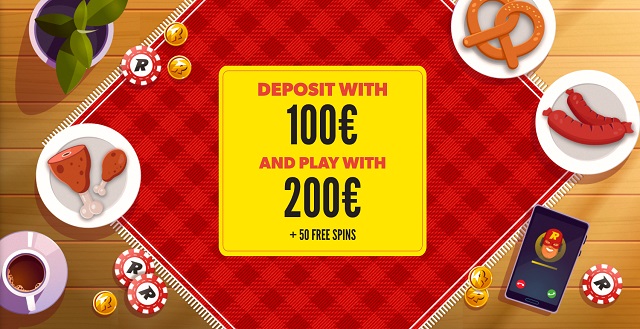 Those looking for thrill and excitement may love what the Rizk casino welcome bonus has to offer. A match deposit bonus plus a ton of extra free spins make it impossible to resist, while the user-friendly wagering conditions are surely worthy of any comic book superhero. The Rizk welcome bonus shares the same theme as the whole site – the bonus is introduced by the site's mascot: a superhero known as Captain Rizk.
The whole casino environment is very friendly and, much like the welcome bonus, it feels welcoming to every type of player. There are still some bonus conditions that must not be ignored, so we've made this guide in order to help you out in understanding them.
How to Get the Rizk Casino Welcome Bonus
Naturally, as with any other casino promotion, you must be part of the site in order to be eligible for the offer. As such, the first step you'll need to take in order to obtain the Rizk welcome bonus is to create an account on the superhero-themed website. You'll be receiving the free spins spread out through different days after making your first deposit on the site, but the match deposit bonus will be granted to you instantly. Let's break down the steps you need to follow to paint a better picture of the whole scenario.
Create an Account and Make a Deposit
After creating and confirming your account, you need to access the Rizk casino cashier and select the option to make a deposit. Much like other bonuses, those users who choose to deposit cash with Neteller or Skrill are not eligible for the welcome bonus and, as such, must refrain from asking the site to provide it.
Furthermore, you need to make a minimum deposit of €10 in order to receive the bonus in your account. If you choose to deposit less than that, you'll miss out on the bonus completely as it can only be rewarded when making the first deposit on the site. In the same vein, the maximum match deposit bonus is €100, which means that a deposit higher than that will still result in you getting €100 in bonus cash.
Obtaining the Free Spins
The Rizk casino welcome bonus isn't only a match deposit offer – the site also provides 50 free spins for every player that makes an initial deposit of at least €10. The number of free spins that you receive with the offer doesn't vary with the amount of cash that you deposit – you'll always get 50, and you'll always be able to use them on the same games, regardless of the amount of cash that you pour into your account.
Rizk Casino Welcome Bonus – All You Need to Know
The Rizk casino welcome bonus may not be one of the most lucrative bonuses on paper, but the potential that it has to become an awesome wallet-fattener is unquestionable. The site accompanies the bonus with a ton of leniencies, including a friendly timeframe in which you can complete the wagering requirements and lenient wagering requirements themselves, which is something that has become hard to come by in recent years. The Rizk welcome bonus will provide you with an amount of cash of up to €100 and 50 awesome free spins.
The latter can be used in various games, and although the games that you can play are selected by the site, we can confirm that the conditions are very fair for the user and provide ground for entertainment and profit. One thing we noticed -and very much liked- about the Rizk casino welcome bonus is that they have special wagering requirements in place, which make this bonus different from other promotions that you find on the site.
Rizk Casino Welcome Bonus Terms and Conditions
As lenient as this bonus seems to be, there are some terms and conditions that must not be overlooked when attempting to make bank with the Rizk welcome bonus. We've mentioned that the Rizk casino has different terms and conditions for their regular bonuses and their welcome bonus, so we'll be focusing on the Rizk welcome bonus terms and conditions.
However, it's very possible that you'll want to keep betting on the Rizk casino after the promotion runs out.
Wagering Requirements
The Rizk welcome bonus wagering requirements are one of a kind – there really aren't many casinos offering conditions such as these. For starters, you do need to wager the bonus amount as well as the actual amount of your deposit in order to comply with the requirements.
The best thing about this bonus is that you only have to do it 20 times, while other casinos might make you wager that amount an additional 20 times. In the same vein, there are some restrictions as to how much money you can place per bet while the bonus is active.
Game Contribution
Not every game has the same contribution towards the total wagering requirements of the Rizk welcome bonus. This is what we often refer to as stake weighting, which means that the percentage of some wagers is what will count to the wagering requirements of a casino.
The rest of the games that you may find on the site have a 0% contribution rate, which means that you'd be better off not playing them until the wagering requirements are met.
Free Spin Rules
You'll have to log in to the Rizk casino at least once a day for the following 5 days after you've made your deposit in order to receive all of your free spins. You'll get 10 per day, and these must be wagered within 30 days of receiving them. Furthermore, each day you'll receive free spins that cannot be used in the same games.
The site has a list of games in which each free spin can be used. The games are fun, and they have a low house edge, so you'll be surely able to make a profit. These are the games that you can play with the bonus: Cluster Pays, Second Strike, Goldlab, Starburst, Crystals of Power.
Take the Rizk
Are you still wondering if it's worth it to Rizk it all on this awesome welcome bonus? Let us clear any doubts from your head – it's totally worth it. The offer is very lucrative, and you'll be able to make a ton of cash while also enjoying the fun environment of the superhero-themed Rizk casino, which has quickly grown to become one of the best online casinos in the world.
You'd do great to find another casino bonus with such lenient wagering requirements – anything that you find below 30 is great, so we can't begin to describe how awesome it is to have a welcome bonus with a wagering requirement of just 20, even if it includes the deposit itself. Are you ready to jump into the action?
Go ahead and create an account on the Rizk casino right now! The offer is not going to be there forever, and the cash you can make is too lucrative to ignore. Go ahead and take the Rizk welcome bonus before it's too late!
Read our full Rizk Casino review here.