Unibet Casino Welcome Bonus
The Unibet welcome bonus is a simple but effective and highly lucrative offer that every new player can take advantage of. This promotion grants every new player with up to €100 in free cash after making their first deposit. There are no free spins included in this offer, but it does come with a very low wagering requirement, and you can use the free cash to play whichever slots you prefer!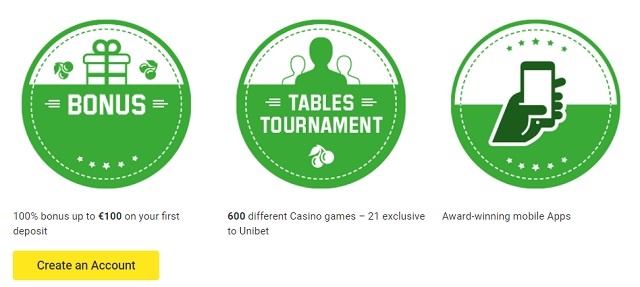 The Unibet website has been around for what feels like an eternity.
They are one of the biggest names in the online gambling industry, with services that expand to the outermost reaches of the planet. You can play Unibet games from almost anywhere in the world, and the site has a reputation of prestige that ensures every player a safe and secure gambling experience.
The Unibet welcome bonus does an amazing job at introducing new players into the services of the casino, and the overall offer promises some quick riches to get you started in the site. However, there are some bonus terms and conditions that come attached to this great promotion – we'll guide you through all of them so you can get a better idea of what to expect from this offer.
How to Get the Unibet Welcome Bonus
The Unibet welcome bonus is granted to every new player that willingly makes the first deposit of at least €10 on the site. The account used to make the deposit must be new, and no other bonuses may have been claimed prior to this offer. In the same way, any player that wants to use the Unibet welcome bonus must be new to the site, and must not own more than one Unibet account.
The offer is exclusively targeted towards new players. However, Unibet has other offers available for you if you've already cashed in on this one.
The Unibet welcome bonus consists of a 100% match deposit bonus of up to €100, which means that you'll need to deposit €100 in order to receive the full benefits of this promotion, putting your account balance at €200. Unibet mentions nothing about e-wallets being prohibited from obtaining the rewards of this welcome bonus, which means you can freely deposit money with any available method and you should be able to claim the rewards of the Unibet casino welcome bonus.
Remember that this offer doesn't grant you any free spins – it's just a match deposit bonus.
If you fail to receive any rewards within 2 hours of making your deposit, contact the casino staff by selecting the option to speak to customer support in the site. You might need to provide additional information before you can fully experience the welcome bonus.
What the Unibet Welcome Bonus is About
The Unibet welcome bonus is an offer that grants players the chance to earn €100 by making a deposit of an equal sum of money. You'll get a free €100 to spend in whichever games you like the most on the site, and you have the option to make a potential profit of over €1000 if you play your cards right. There isn't much to lose with this welcome bonus, but there certainly is a lot to be gained.
Furthermore, this bonus allows every player to enjoy almost any game available in the Unibet casino.
The offer has different wagering requirements that adapt to the needs and desires of every player, which makes this promotion an ideal welcome bonus for newcomers who want to try out the features of every casino game on Unibet. You'll need to keep an eye out for other restrictions that come attached to this promotion, but the overall quality of this welcome bonus is not to be questioned.
Unibet Welcome Bonus Terms and Conditions
The Unibet welcome bonus may seem like a simple offer, but its terms and conditions can't be overlooked by any player looking to profit from the free cash. For starters, the offer has some simple wagering requirements that should be easy to fulfill as long as the player knows what they're doing. We found nothing overly complicated with the Unibet welcome bonus, but there are some things that you should be aware before taking it.
We've comprised the most important bonus terms and conditions here, to save you the trouble of doing so yourself.
Wagering Requirements
The Unibet welcome bonus has different wagering requirements depending on where you spend the bonus money. For example, if you wish to play traditional casino, slots, and games. The wagering requirement for this offer is just 25 times the amount of your bonus cash. That's a very low wagering requirement, so fans of slots might want to try this offer out before it's too late.
However, even though the wagering requirements for live casino games are significantly higher, the Unibet welcome bonus also provides those people looking to play online live casino games with a good amount of money to do so.
You can play live casino games with this welcome bonus, but the wagering requirements for the bonus cash become 35x instead of 25x.
Restrictions
Like any other casino bonus, the Unibet welcome bonus is subjected to a few restrictions that must be acknowledged if you wish to enjoy the offer. The most negative thing that you can do when claiming this welcome bonus is to create multiple accounts to try to obtain it more than once. This is deemed as bonus abuse and will result in the full removal of all funds from your account.
Furthermore, it is not allowed to place bets in which the player can't lose just to comply with the site's wagering requirements. This includes roulette bets that ensure the player to not lose or win any money.
For example, betting on red and black on roulette is not allowed and players who do this could end up being banned from the website altogether. You may only claim every bonus in the Unibet website once, with the exception of those bonuses that serve as rewards for referring people to the casino.
Friend referrals may be claimed more than once, as long as you're referring different people to the site. You should always comply with the bonus rules when doing so.
Withdrawal Rules & Timeframe
You may not request a withdrawal of your account's funds before fulfilling the wagering requirements of the Unibet welcome bonus. Doing so will result in the full removal of all bonus funds as well as any profit that you've managed to make while playing with the promotional cash. Likewise, the bonus money will only be spent after you run out of your own cash – you may not use the bonus money until your account balance is depleted.
The timeframe that you have available to complete the wagering requirements of the bonus is 30 days, which start counting from the moment you opt in to take the bonus. It gives you more than enough time to fulfill the wagering requirements – especially when you consider just how easy they are to comply with.
Virtually No Stake Weights
Even though this isn't a rule per se, we feel like it's important to list this here because many casino bonuses have stake weights in place, limiting which games can be played with some welcome bonuses. There isn't a list of restricted games on the Unibet casino – they do have various types of wagering requirements depending on which type of game you choose to play, but that's that.
Unibet - The Hub of Online Gambling
The Unibet casino is one of the largest online gambling websites on the planet, and one of those sites that you've probably heard countless times before because they seem to have been around forever. The Unibet welcome bonus does justice to a site that promises an awesome experience to all of its players, and there's no better way to do it than providing them with free cash.
If you're happy with the way the Unibet welcome bonus offer is laid out, then be sure to visit the casino as soon as possible and cash out on the rewards. You'll be happy to know that they offer is still available for some more time, but promotions are often changed by the Unibet staff. Be sure to claim the Unibet welcome bonus now before it's too late!
Read our full Unibet Casino review here.