Claim Up to €200, Get €10 + 11 Spins
Who doesn't love spinning slots from the comfort of their own home? The VideoSlots casino comes with their awesome new VideoSlots welcome bonus, which allows players to use real (albeit bonus) cash to try out their slot games – and potentially make a profit while playing them!
This awesome casino is regarded as the largest gambling site when it comes to slots, and their welcome bonus shows that they want to make the best of it. It's not uncommon for casinos to offer free spins to players, but VideoSlots takes the bet a step further – they offer money that must be wagered in slots, so users can freely choose the bets that they want to place.
There really isn't anything to lose with this bonus, and the wagering requirements that the site imposes are some of the lowest that we've ever seen. Of course, there are some other conditions that still influence the way this bonus is played out. We've made this guide in order to orientate you on the steps you need to take to obtain this welcome bonus and make the best of it.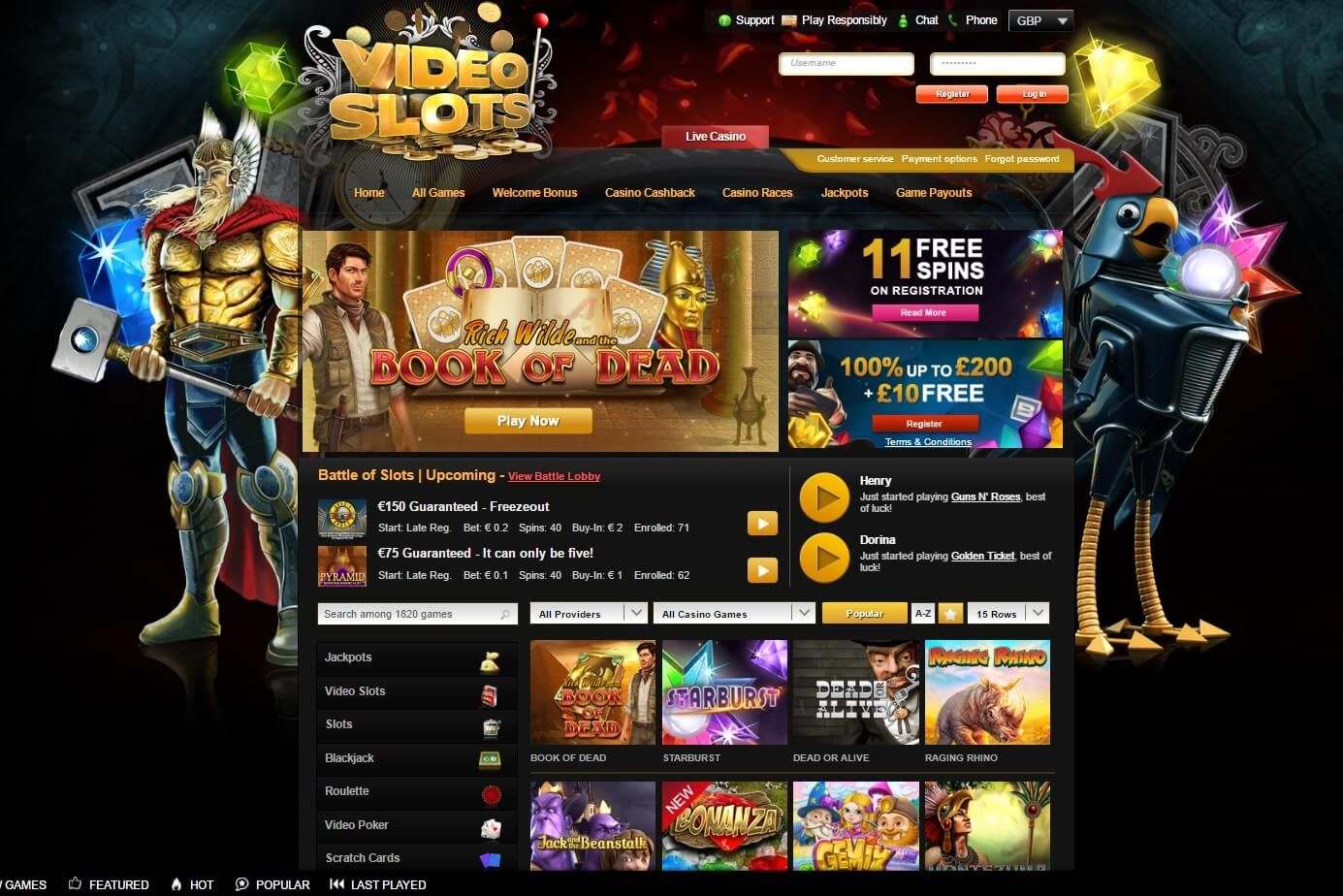 How to Get the VideoSlots Welcome Bonus
The VideoSlots welcome bonus is granted to you after creating an account on the site and making your first deposit on it. Of course, the account must be confirmed first, otherwise you won't be eligible to receive the offer as per videoslots.com policies. If you want to confirm your account, all you must do is check your email address and open the email that VideoSlots sends after the registration process is complete.
The rest of the process that you'll have to follow in order to obtain the bonus is very simple. You will get a 100% match deposit of up to €200 on your first deposit, so this isn't really much of a welcome package but it's rather a one-time offer that you'll have to use only during your first deposit.
Activating the Bonus
After you've created a new account on the VideoSlots casino and made your first deposit on it, there will be a new option available for you if you visit your profile. Select the option within your profile that shows which bonuses are active and look for the welcome bonus that the site offers. If your deposit has already been made, the bonus funds will be instantly credited into your account.
Keep in mind that, as soon as you make your deposit, you will receive an extra €10 as part of the welcome bonus promotion. You don't need to take any other steps in order to receive this cash, as it will be granted to your account before selecting the bonus from the bonus section in your profile.
The VideoSlots Welcome Bonus – A Full Explanation
We've seen our fair share of bonuses with unrealistic wagering requirements and unlucrative rewards, and we're sure you've seen a ton of them as well. If you're tired of those eye-catching but deceiving offers, then the VideoSlots welcome bonus might be exactly what you're looking for. With this bonus, you can't expect to make a ton of cash in a matter of seconds, nor will you receive a massive 500% match deposit cash on your first small deposit.
However, you'll get something much better than that – a 100% match deposit bonus with one of the lowest wagering requirements that we've seen.
And trust us, here at The Casino Wizard we've seen and tried a lot of them. The bonus has a limit of €200, so any deposit that you make exceeding that amount won't grant you any additional bonus cash. However, the sheer amount of cash that you're granted, to begin with, makes this bonus an awesome option that must not be overlooked. We're going to explain the wagering requirements later in the article, but that's honestly the best part of the bonus.
With the VideoSlots welcome bonus, you'll be able to play any slot game that you desire. Some have higher stake weight than others, but in general you should be able to enjoy the bonus as much in any game that your heart desires. Some offers will always appear to be more lucrative than others, but this one almost guarantees that you'll make a profit when the requirements are met.
VideoSlots Welcome Bonus Terms and Conditions
The VideoSlots welcome bonus is subjected to a series of very lenient terms and conditions that aren't hard to meet at all, but you do need to understand the most intricate of them before opting to receive this bonus. In fact, the large list of bonus terms and conditions can be very much summed up in a few paragraphs if you know where to look. Don't worry, though – we're here to save you some time!
Wagering Requirements
We've gone on and on about how good are the VideoSlots welcome bonus wagering requirements, and there's a good reason for it. Usually, any wagering requirement that sits below 40x is deemed as good. The VideoSlots welcome bonus has an amazingly low wagering requirement of just 20 times. That's crazy good for a match deposit bonus of up to €200!
However, there's a downside to this whole conundrum. You don't only need to wager the bonus cash when trying to fulfill the wagering requirements of the bonus, you also need to wager the total amount of your deposit as part of the wagering requirements.
To better explain this with an example, let's say that you make an initial deposit of €100, taking advantage of half of the welcome bonus, which would turn your total account balance into €200 thanks to the match deposit. With these wagering requirements, you'd have to bet the entire €200 a total of 20 times before you're able to withdraw the bonus winnings.
It's not as bad as it may sound, though! The bonus is still significantly lower than anything you may find elsewhere. The quality of a 20x wagering requirement is too good to be overlooked – particularly when you're going to use it in a casino that offers such a large variety of games and options on where to spend the bonus cash.
Game Exceptions & Contributions
Even though the bonus is limited to be used in slot games, you still need to be aware that some games have a higher contribution rate than others. In fact, some games on the site even contribute over 100% of your wager towards the wagering requirements. The games that offer contributions vary depending on when you claim the welcome bonus, so it's better for you to check the RTP of the site before opting to take the offer.
There are some games that are exempt from the wagering requirements and betting on them will not count towards your desired progression.
Most slots on the site can be played and wagered to your heart's contempt, but those who offer progressive jackpots are not. You cannot win a jackpot with the welcome bonus and effectively claim the full 20x wagering requirement in one spin.
Payouts
One of the most amazing things about the VideoSlots welcome bonus is that the site pays its users in what they call "10% increments. This means that you'll get paid a portion of your bonus each time that you fulfill 10% of the wagering requirements of the site. Each 10% of your bonus cash will be granted to your account instantly, and you'll be able to withdraw it as soon as you receive it.
This turns the VideoSlots welcome bonus into one of the most easily achievable in terms of wagering conditions, which also means that it's one of the most profitable bonuses that we've reviewed on the site.
Bonus Timeframe
You have a small timeframe in which you can fulfill all of the wagering requirements, which is probably the only downside of this otherwise amazing bonus. In fact, the timeframe might not even be that small if you consider that the wagering requirements are low, but it's still smaller than what most casinos offer and needs to be pointed out. You have a total of 7 days to fully bet your welcome bonus 20 times. If you don't meet the wagering requirements by then, the offer will be removed from your account.
Join the Slots or Stay at the Tables?
The VideoSlots welcome bonus is one of the most generous welcome bonuses that you can get if you want to play slots and make a profit while also enjoying yourself. The site is restrictive in the sense that you can't use this bonus to play table games or live dealer games, but fans of slots may have found exactly what they're looking for with this offer.
We do not recommend this offer for people who love table games over anything else, but if you're a sucker for slots and you love making cash while also having fun, then this offer is tailormade for you.
You do need some time to spare during the 7 days after claiming this offer, but other than that, you should be making bank in no time. What are you waiting for? Join the site, use the VideoSlots welcome bonus and start making a profit today!
Read our full VideoSlots Casino review here.