Quick Overview of Casino Euro Bonuses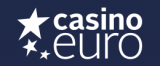 The Casino Euro has an exclusive set of bonuses that will please even the most demanding of gamblers, with many of these bonuses being completely exclusive to the casino. However, the selection of bonuses found at this site feels much like an improved version of the bonuses you can often find on other casinos.
As such, you should not visit the Casino Euro and expect a particularly lucrative set of rewards. The casino does allow you to claim massive sums of cash upon registering, but the site's main selling point is its large VIP program that aims to reward the high rollers of the casino.
Don't worry, though. The Casino Euro comes packed with rewards suited to fulfill the needs of all players. From the internet's finest deposit bonuses to free spin bonuses galore – the Casino Euro truly has it all for everyone to enjoy.
Casino Euro Bonus Overview
1. Welcome Bonus - ACTIVE
Earn an amazing reward of up to €500 with the Casino Euro welcome bonus, which grants you a reward for making your first deposit on the casino. Depending on where you live, this might be the only offer on the site.
2. Weekend Cashback - ACTIVE
You'll have the chance to get some of your lost money back, and you'll have it every weekend - no matter how many times you've claimed it before.
3. Football Lottery - ACTIVE
Win prizes in a jackpot pool of up to €100,000 with this active bonus tournament!
Casino Euro Bonuses And What You Need To Know About Them
Bonuses at the Casino Euro are not claimed in the same way. You will need to check the "Promotions" section of the casino to read the terms and conditions of each individual offer, given that each one has a different ruleset.
This is to be expected, though, as the Casino Euro offers a bunch of exclusive tournaments and raffles. Each of these events requires different conditions to be met, but all of them end up being extremely worth it in the end.
From raffles to daily drops and amazing deposit bonuses, the Casino Euro seems to have it all. Do you have what it takes to claim the site's best bonuses and get rewarded like a true king of the iGaming industry?
Are Casino Euro Bonuses Fair?
Most bonuses at the Casino Euro are extremely fair. You only need to make deposits of €15 in order to claim the site's match deposit bonuses, which makes them accessible to low rollers. With high match deposit limits, these fair bonuses are also fantastic rewards to claim as a high roller on the site. The match deposit bonus of Casino Euro could provide you with up to €1,000 in free rewards!
Wagering requirements are also low, standing at just 45 times the amount of your bonus money.
The Bonuses Awaiting At The Casino Euro
When it comes to bonus variety at the Casino Euro, things truly are as good as they come. The site comes packed with an absolutely delightful number of bonuses that will keep you scrolling down until you reach the bottom of the site's selection. From the best welcome bonus in recent times to fantastic daily jackpots and raffles – the Casino Euro is home to all of them and much more.
As if that wasn't enough, the casino also hosts a special "Casino School" section, where you'll be able to learn all there is to know about the iGaming world and how to make the best out of your bonuses!
Unlike man other online casinos, you can spend some of the bonus money that you'll get in the live dealer games of the website!
Match Deposit Bonuses
The first match deposit bonus that you can claim at the Casino Euro is the fantastic first deposit bonus, which can grant you €1,000 (plus some free spins) to spend at the best games on the site. The Casino Euro has truly managed to create a fantastic first deposit offer for their players, and we don't want you to miss out on them.
Constant Raffles & Tournaments
The Casino Euro runs some fantastic raffles and tournaments, where you'll be able to try your luck against other players of the casino to see if you can beat them on the leaderboards or otherwise get extremely lucky and win one of those thousand-euro raffles.
At the end of the day, anyone can get lucky. It could be you, so be sure not to miss out on those fantastic rewards and participate in these tournaments now!
Multi-Million Split Prizes
You may come across some of the world's best "pot" rewards while playing at the Casino Euro. Seeing as this is one of the largest online casinos in Europe, it comes as no surprise to see bonuses of up to €2,000,000 being split among all players.
You'll have access to these rewards on a daily basis, allowing you to claim monetary bonuses more than once if you get lucky enough.
Money Boosts
The casino will eventually reward you with special deposit offers that can bolster your account balance and increase the amount of cash that you have in your account. In most cases, these special boosts are match deposit bonuses, but you may also find some timed rewards that give you free money (or free spins) as you spend your time on the Casino Euro.
How To Get The Vip Treatment At The Casino Euro
Becoming a VIP at the Casino Euro is quite easy, as all you need to do is play naturally on the casino and watch those points build up. However, the fact that you can enter the program with ease doesn't mean that you'll get access to its best rewards from the get-go. On the contrary, you'll need to show a lot of commitment to the Casino Euro if you intend to claim the best rewards on the site.
With that said, some of the best bonuses at the Casino Euro can be claimed as a VIP member. With the Casino Euro VIP program, you'll gain access to exclusive events with unique rewards, a dedicated team of the casino's staff willing to help out all the VIPs on the website, custom tournaments and raffles, and even tailor-made bonuses that you'll get from time to time.
You do need to be a high roller if you want to become a member of the Casino Euro VIP experience. You will get access to exclusive events hosted in real life should you become a member of this casino's loyalty program.
Last updated
November 18, 2022