Quick Overview of FortuneJack Casino Bonuses
Most Free Spins ✅

Free Spins No Deposit bonus



All About the Best FortuneJack Bonuses
The FortuneJack Casino is one of the most complete casinos when it comes to overall rewards that you can claim. As far as crypto casinos go, this fantastic website comes packed with rewards that will make you rub your hands in excitement as you consider the possibilities that you can unlock with them.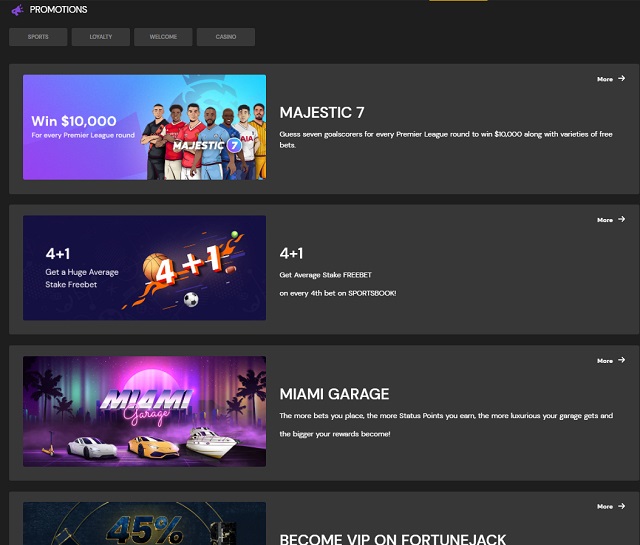 We'll be taking a closer look at the Fortune Jack Casino bonuses to discover how they work, what you can do at the casino, as well as which rewards you can claim to start your journey with free bonus cash.
FortuneJack Casino Bonuses – Quick Overview
1. FortuneJack Casino Welcome Bonus - ACTIVE
The Fortune Jack Casino welcome bonus can be claimed in either bitcoin or in USD, as it's up to you to choose what's more convenient. You can claim up to $1,200 in USD, or a staggering 6 BTC reward if you opt for the bitcoin prize. Choosing was easy for us!
2. Majestic 7 - ACTIVE
The Majestic 7 Promotion is one of the most unique rewards at the FortuneJack Casino. It allows you to claim free money and free bets if you guess 7 goal scorers in 7 Premier League games!
3. 4 + 1 Sportsbook Free Bet - ACTIVE
At the FortuneJack Casino, for every fourth bet that you place, you'll get an extra one for free – and it will be worth the average amount of money that your other four bets were worth. This not only encourages you to bet smartly, but it also makes you think about how to bet more to get better prizes!
4. 100 Free Spins on Registration - ACTIVE
The FortuneJack Casino provides players with 100 free spins on registration. All you need to do is verify your account as soon as you're done and you will be good to go. You can choose your earnings in FIAT or cryptocurrencies!
5. 1st Deposit Cashback - ACTIVE
The casino will provide every user with a FortuneJack 20% cashback after making their first deposit. It only lasts for 24 hours, so be sure to spend your first deposit quickly if you want to qualify for the bonus!
6. Monthly Cashback – ACTIVE
Every player that makes a deposit of at least 0.1 BTC over the span of a month will qualify for a 15% cashback on all of their losses, provided they've had bad luck across the month.
7. Reload Bonus - $400 USD or 3.5 BTC
Weekly bonuses are a fundamental part of the FortuneJack experience. You can get a reload bonus of up to $400 every single week, or up to 3.5 BTC if you're keen to play with cryptos and not FIAT currencies
General FortuneJack Casino Bonus Terms and Conditions
Check out the FortuneJack Casino bonus terms before you claim any of the bonuses if you want to make sure that you don't miss out on any rewards. We'll be taking a look at the most important bonus terms and conditions that most of the site's bonuses have so you know what to expect from this fantastic online casino:

Minimum Deposits
Some bonuses, such as the cashback bonus of the casino, can only be obtained if you make a deposit of 0.1 BTC. You need to make sure that you read the deposit requirements of the bonuses to make sure that it's within your budget to qualify for the rewards.
Every offer has its own rules regarding minimum deposits. Some casino promotions only require you to bet 0.1 mBTC, for example, as it happens in the 4+1 sportsbook promo.
Wagering Requirements
Every deposit has different requirements – especially those that are meant to be spent in the sportsbook and those that are meant to be spent in the casino itself. You will have to spend your bonus cash at least 30 times before you can cash out your winnings on every bonus meant to be spent in the site's casino (especially the welcome bonus).
Other offers, like sportsbook bonuses, need to be spent wisely and differently. We encourage you to read their terms and conditions to see how many times you'll have to spend the money. In most cases, you'll have to spend the money in games with odds of 1.3 odds or higher in order to qualify.
Bonus Timeframes
Most of the bonuses found and claimed at the FortuneJack Casino must be spent within 14 days of receiving them. All of the bonuses that you claim with the FortuneJack Casino welcome bonus have to be spent within 14 days of receiving them or they will be removed from your account.
Some promotions in the casino are meant to be spent in specific periods of time. Missing out on the timeframe given for the promotion will result in you not being able to claim anything in the offer.
Play at FortuneJack and Try Your Luck with Incredible Bonuses!
The FortuneJack Casino is the place to visit if you're a fan of online casino bonuses. Not only does this site provide players with a welcome bonus that injects their accounts with free cash, but the sportsbook bonuses make it better for you to spend your time betting at the sportsbook whilst also qualifying for extra rewards.
Be sure to claim the FortuneJack welcome bonus as soon as you register, and start getting those Status Points in your account with your regular bets and casino activities to earn better rewards with the site's fantastic loyalty program.
Fortune awaits and rewards are there for the taking. What are you waiting for, then? Go for it!
Last updated
March 27, 2023