The Lady Hammer Casino truly shakes up the average casino industry theme with a fantastic boxing theme. Everything that surrounds this casino relates to boxing in one way or another, making it really easy for gamblers to enjoy one of the most complete online gambling experiences with dozens of themed games at their disposal.
Promotions and tournaments do not fall short at Lady Hammer, either. We want you to know all about them, as well as the other features that make this a great site, with our complete Lady Hammer casino review!
Our Experience at the Lady Hammer Casino
The registration process of the Lady Hammer Casino is really easy, which follows a modern online casino trend where players are encouraged to get their accounts ready without having to enter any credit card details or extra information. You can do that further down the line, but jumping straight to the action is very easy at Lady Hammer.
All games found at the casino's slot section come with the "Play for Fun" option as well, which gives you the option to try them out without having to spend a single dime of your own cash in advance.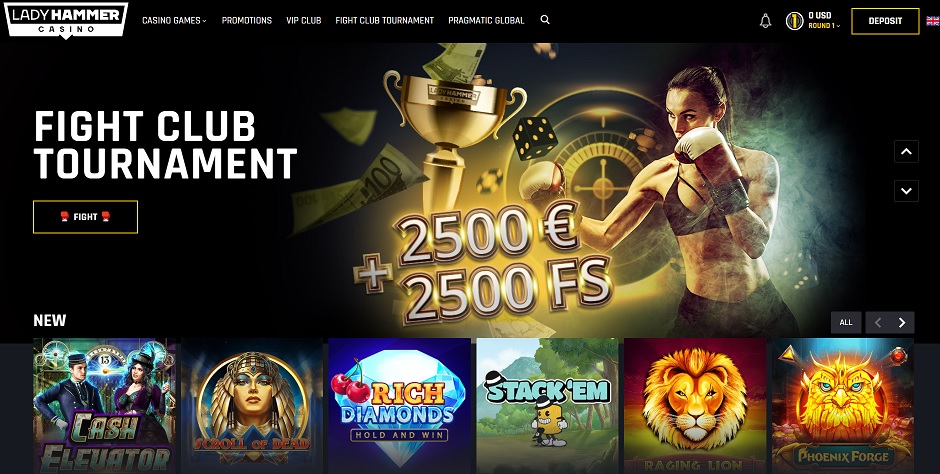 We haven't found a single game that causes issues with lag when gambling on this website, so that's another plus – even for those of our readers that don't have modern computers or mobile devices.
Speaking of which, mobile gaming had us pleasantly surprised. The site is very well made to be browsed on mobile, which means that it ranks as one of our top mobile casinos.
It's just a shame that the Lady Hammer Casino doesn't have a sportsbook or a truly dedicated virtual table gaming section to provide users with a more complete experience, and perhaps a sportsbook for those who love to bet. When it comes to casino slots, though, nothing will ever top the fantastic Lady Hammer casino's setup.
A Comfortable Browsing Experience Of the Highest Kind
The Lady Hammer Casino has made it really easy for us to browse the site without it ever feeling like a burden, which is already a huge upgrade when you compare it to other online casinos. You can access everything at what seems to be the click of a button, and even the mobile interface is levels above anything that we've seen recently.
We would only like for the gaming browser to be easier to navigate through. This would make the experience a tad better.
However, the way new games and popular slots are presented still isn't something to complain about. It truly makes it easy to find the hottest games. The problem comes when you're looking for hidden high-RTP slots or other lesser-popular games.
In any case, game variety is sure not to disappoint at the Lady Hammer Casino – especially so if you're a fan of online slots and jackpot games!
Good Mobile Interface, Albeit Slower than We'd Like
The mobile interface of this site is just second to none. It would be perfect if it could load stuff a bit quicker (we tried it out on a modern 2020 phone and it still lagged a bit), but the casino was overall fantastic and the interface was perfectly adapted to our mobile screen.
If you're keen to gamble online and play the best slots on mobile, you're going to love what the Lady Hammer casino has to offer – even if you need to have a bit of patience for it to work out as intended.
A Global Casino for All to Enjoy
There's something else that we noticed as we completed the registration process: the casino is widely available to users from all corners of the globe. You'll come across the option to register in many countries and use many currencies for you to play your favorite games.
It doesn't matter where you live; as long as online casinos are legal, you should be able to enjoy the fantastic Lady Hammer casino. It's far less limited than some of the biggest casinos in the world!
Lady Hammer Casino Games
This fantastic website is also home to a selection of top-quality games that keep it an attractive casino to visit no matter how long you've been playing online. New slot games and classic titles are present all the same, whilst the virtual table game section enriches an already mighty game gallery that is sure to provide you with the chance to spin the reels and win world-class prizes.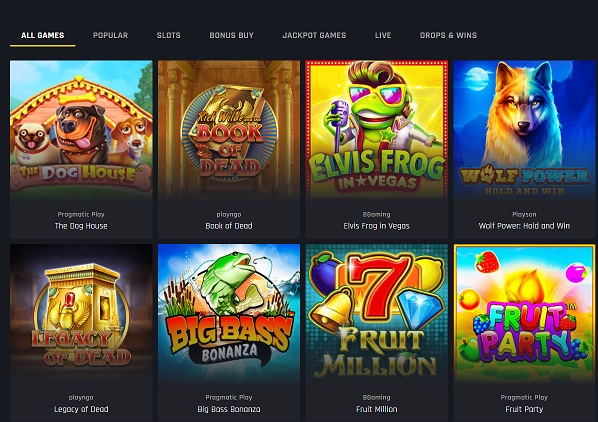 Slot Games
As we said, the Lady Hammer Casino is mainly the home to some of the best table games on the planet. The casino has some fantastic slots that rank among the most popular in the industry, and you'll be able to enjoy them all if you visit the "popular" section on the main page.
Finding specific slot games is a tad more difficult, though. The game browser is not the best in the industry. However, as things stand, the Lady Hammer casino's games can be found if you look for a specific title in the search bar.
Better categorization would make this casino one of the best in the world, though. You can access more categories at the top menu, but it's not as intuitive as it is in other casinos.
Jackpot Games
The Lady Hammer casino packs a punch, and it's not just because of the website's mascot. This online casino is home to many of the world's highest-paying jackpot slots, including the legendary Mega Moolah game itself.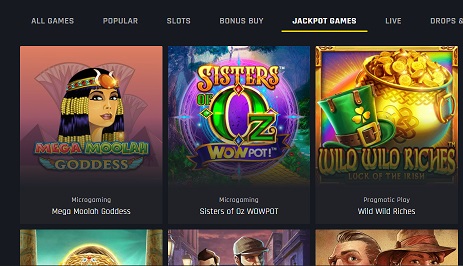 There are so many jackpot games that they have earned themselves an exclusive category within the Lady Hammer casino. Access it and discover the vast number of slots with high-paying bonuses, or go to the bottom part of the casino where they have listed all of the available jackpot slots with the biggest pots, updated frequently.
Table Games
The table games are divided into two sections at the Lady Hammer casino: Card Games and Roulette Games. There are manh digital roulette games that you can play on the casino, but we feel that it's a bit of a dirty tactic to categorize card games outside of the live dealer section; the casino barely offers any virtual card games, if any at all.
You can expect to find a handful of quality virtual roulette games, though. The Lady Hammer Casino hosts many fantastic games, albeit most of them are American Roulette variations. We do love the La Partage version of the live dealer casino, but it would be better if they had more European roulette variations in their roulette section.
The Lady Hammer Live Casino
Pragmatic Play & Evolution Gaming populate one of the most entertaining online casinos in the modern gambling industry, and we're sure that you're going to love every second of it.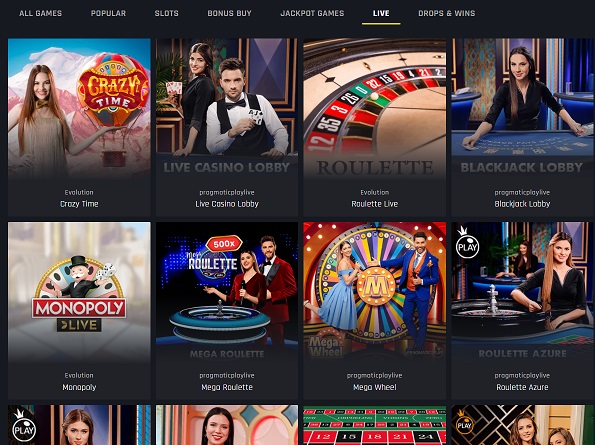 The best Evo Gaming live dealer games have always been atop of the gaming industry, but the high-quality of these games combined with Pragmatic Play's already-rich live gallery puts the Lady Hammer casino as one of the best live dealer casinos in the modern gambling world.
Lady Hammer Casino Tournaments – A Universe Attop!
The Lady Hammer Casino is also home to some of the most appealing tournaments in the iGaming world, albeit not as lucrative as the ones that we've tried in other casinos such as mBit. The number of rewards that you'll find at the Lady Hammer tournaments allows for many gamblers to win, even if the prizes end up being smaller than in other casinos.
The Fight Club tournament is, of course, the leading ongoing tournament of the casino. It has an average prize pool of €2500 and 2500 free spins to be split among all winners, which include the first 100 places of the leaderboard.
There are other promotions that you may find active on the casino, but they are often related to the availability of developer promotions in a worldwide scale.
Fight Club Tournament
The Fight Club tournament is really fun to participate on, keeping a similar format to what you're expected to see in most casino tournaments, but adapted to the Lady Hammer theme.
This ptomotion's prize pool is often the same and lasts for around one week. That gives you enough chance to play as much as you can and earn as many points as possible, in an attempt to surpass others and earn better rewards than your fellow casino peers.
The first 50 places will earn money, with the first place earning €200!
From the 50th to the 100th place, you will be rewarded with different numbers of free spins depending on your performance
Pragmatic Global
The Pragmatic Global promotion is not exclusive to the Lady Hammer casino. Instead, it's a promotion that you'll find in the world's best Pragmatic Play casinos.
You may have heard of it before: it's called the Drops & Wins promo (many casinos offer this promotion as a section within their game galleries) and you can participate on it by playing selected games in Pragmatic Play casinos.
The current version of this promo, which injects your account with random rewards by playing selected casino games, consists of:
Weekly Tournaments: 40 x €31, 000 prize pools
Daily cash drops: 280 x €4,500 prize pools
910 winners every week
It's not as easy to win as it sounds, though! Members of any Pragmatic Play casino will have the chance to earn rewards, so cross your fingers and hope for the best as you aim to win the best Lady Hammer prizes.
Lady Hammer Casino Bonuses
The Lady Hammer Casino is home to some of the best bonuses in the iGaming world. It may not be the best casino to visit if you're keen to claim promotions that pay thousands of dollars per deposit, but the casino's themed promos do well to inject your account with a ton of free bonus cash and free spins to use in any games that you like the most.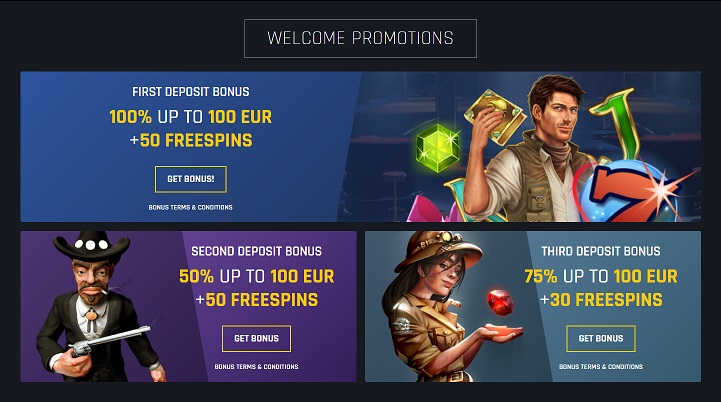 Three deposit bonuses and weekly promos shape what is going to be a fantastic, action-packed adventure that could see you earn thousands of euros worth of rewards after only having made a couple of deposits!
The Lady Hammer Welcome Bonus (3 Deposits)
There are three different deposit welcome bonuses that you can claim at the Lady Hammer Casino, with the first one being the only 100% match deposit bonus. All of them are worth trying out, though – and we fully recommend that you do it if you have the chance.
All bonuses provide you with cash and free spins to bolster your account balance even further. Check out the wagering requirements and complete them to be sure that you earn the most money possible!
1st Deposit Bonus: 100% Match Deposit Bonus up to €100 + 50 Free Spins
2nd Deposit Bonus: 50% Match Deposit Bonus up to €100 + 50 Free Spins
3rd Deposit Bonus: 75% Match Deposit Bonus up to €100 + 30 Free Spins
Weekly Promotions
As if that massive welcome bonus wasn't enough, the Lady Hammer casino also provides gamblers with the chance to claim rewards multiple times of the week. Sundays are for free spins, as deposits will grant you 100 free spins for your account, whilst extra cash can be earned on Wednesdays to bolster your account balance even further.
Wednesday Bonus – 25% Reload Bonus of up to €100
Sunday Bonus – 100 Free Spins upon making a deposit on Sunday
You can get rewarded at any given time of the week, provided that you make constant monetary deposits to the Lady Hammer casino. Lady luck will be responsible for rewarding you with wins!
The Lady Hammer Loyalty Program
The Lady Hammer Casino has a loyalty program that is themed after the same concept of the whole site, which means that instead of levels, you get to advance through rounds. It makes for a very appealing concept that'll keep you 'hooked'!
The program is called the VIP Club, and it works very similarly to how other casino loyalty programs work with the exception of the Lady Hammer theme being incorporated into it.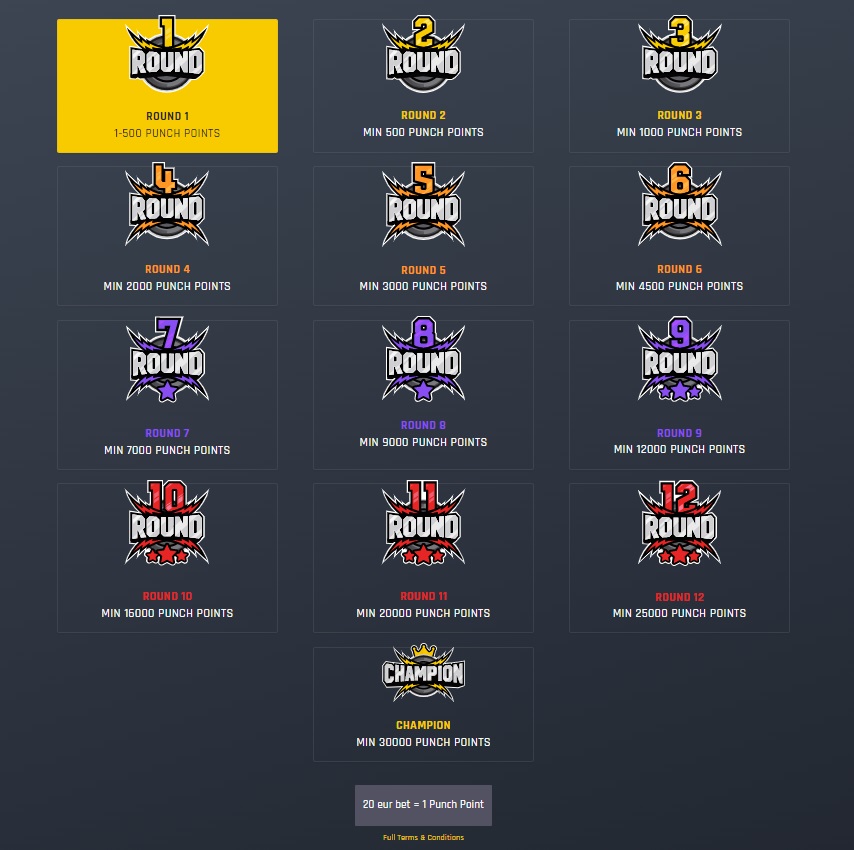 One thing that we noticed with this loyalty program is that you'll get better rewards sooner than you would in other casinos. For example, just leveling up for the first time entitles you to a 25% reload bonus every week, as well as free spins for you to spend on a specific game. This casino encourages high-stakes wagering, so you can rest assured that it stands as one of our favorite high roller casinos.
Collect Points, Advance Rounds!
The standard point collection ratio of the Loyalty Program is that, for every €20 that you bet, the casino will grant you with 1 point. The ratio of points collected improves as your own level goes on, though. Players on the last level can get points more than twice as quickly. You also get to trade your points for rewards!
Prizes to Be Won with the Lady Hammer Loyalty Rewards
If you want to participate in the Lady Hammer loyalty program, let us help you get a good idea of the rewards that you'll be getting:
Free Spins
Cash Bonuses
Extra deposit bonuses (on top of the weekly deposit rewards!)
Earning Boosters
Personal Account Manager
Just keep in mind that none of these rewards will be instantly available when you start on the site. You will need to earn them as time goes on. The amount of time spent by players on the casino, as well as the amount of cash and the games that they play, will ultimately determine just how many points they get to collect.
Collect points, advance through runds, and earn rewards!
The Ideal Casino for All Sorts of Players
One of the best things about Lady Hammer is that the casino is clearly shaped for all players to enjoy it, not just a select bunch.
This website is home to slot games with limits that go from less than a euro to over €150 per spin. It's a versatile online casino with all sorts of activities in which you can partake. Promotions and game variety make it appealing for adults of all ages and the boxing theme fits much better than we expected when we first saw it.
In any case, Lady Hammer is one of those online casinos that seem to be the perfect fit for anyone and everyone. Be sure to visit the site and claim the promotions that catch your eye the most.
Multi-Million Jackpots Galore
Those who are keen to claim lucrative jackpots are going to love what the Lady Hammer Casino has in store for them. A selection of high-paying jackpot games makes it easy for any player to walk into the casino and then walk out with millions to their name.
You can check out the highest-paying jackpot games by visiting the casino's jackpot section, or by scrolling down in the casino's homepage. There, you'll find that they have listed the current jackpots with the biggest pots for your comfort. You can then click on each game to play it or go to the jackpot section to win in any game of your choice!
Lady Hammer Casino Deposits and Withdrawals
The Lady Hammer Casino allows players of various countries to pay a visit to the site and gamble with their money. As such, the site's worldwide availability is backed up with the large number of currencies that you can pay with: Euros, Norwegian kroner, Polish zlotys, Russian rubles, and US dollars.
You can opt to make your deposits via credit or debit card payments, as well as bank transfers, e-wallet payments, or using virtual wallets. Options are aplenty at the Lady Hammer casino, so choose the one that suits you the most but beware of long withdrawal times.
Lady Hammer Casino Payouts
Lady Hammer's payouts are not particularly fast. Most payments take up to a week to process, and the minimum withdrawal times that you can expect is around 3 days. This is also seen in the time it takes for e-wallet payments to process, as it can take more than 24 hours for your money to be credited to your e-wallet service of choice.
Payments and payouts may be safe, but they do take a while and you'll need to provide the casino with a fair amount of personal information during the first withdrawal process that you aim to partake.
When it comes to withdrawal limits, things are a bit better. The casino allows players to withdraw up to €2,500 per week, which should be more than enough for high rollers and much more than a low roller would need. The issue is the time it takes for the money to get credited to your account.
Lady Hammer Casino for Mobile Devices – How Does It Fare?
In general terms, the Lady Hammer casino works very well on mobile. This online casino works rather well on mobile devices, especially because of the interface and the way the mobile platform is set up.
However, you'll notice that the Lady Hammer casino moves a bit slower than it does on desktops. Let's break it down further.
A Fantastic Interface to Behold
The site's mobile interface is next-level. Not always will you come across an online casino in which the mobile version of the site feels like it belongs. In most cases, the mobile version of online casinos feel awkward, with menus taking large portions of your screen and making your visit into something that you'd rather avoid in the future.
At the Lady Hammer Casino, that is not the case. This fantastic website provides users with the chance to visit the mobile casino and get everything within their reach, one or two clicks away, without unnecessary screen clogging.
Slow Loading Times are an Issue
As good as this casino's mobile interface is, we still need to talk about the slow loading times for the website and games. If the Lady Hammer casino could load faster on mobile devices, then we could almost guarantee that this site would be one of the best mobile casinos out there – and we would be recommending it as such.
However, the casino still doesn't offer as efficient mobile support as the LeoVegas casino or other masters of the mobile gaming world.
You'll be able to play your favorite games, but patience is a must – especially if you have a slow connection or an older device.
Lady Hammer Casino Customer Support
Live chat and email support are both fully available for members of the casino, which allows you to count on any support that you need. Always go for live chat support if you want to get a quick reply, but you may want to send them an email if you require to send files or request information that the site's support may not be able to provide you with.
In any case, it's always good to play in an online casino that allows for either option and leaves it in the hands of the player. It's all up to you.
Lady Hammer Casino Licensing & Safety
The Lady Hammer Casino is operated by an independent entity called DAMA N.V. They have a gambling license given to them by the Curacao government, which keeps this casino as one of the most trustworthy gambling sites that we've visited recently.
It's a safe casino as well. You don't need to worry about getting your information stolen thanks to the site's SSL encryption and user-friendly security protocols that aim to keep user data safe – even when making transfers with credit cards and e-wallets.
Our Conclusion – Is Lady Hammer Casino Worth Your Time and Money?
The Lady Hammer Casino is completely worth your time and money – especially if you love live dealer games, slots, and casino-wide tournaments.
It's quite a competitive casino with a fantastic loyalty program and a handful of incredible promotions that make it a fantastic website on which you can spend real cash and earn bonus cash altogether.
All you need to do is register at the casino and make your first deposit to start earning incredible rewards. There's no need to enter any bonus codes or anything like that. All you have to do is create your Lady Hammer account and start playing now!