RIZK CASINO BONUSES – HOW DO THEY WORK?
We've been huge fans of the Rizk Casino for many a year. Ever since the site first came out, back in 2016, its theme and games have made it a fantastic website for us to revisit every now and then.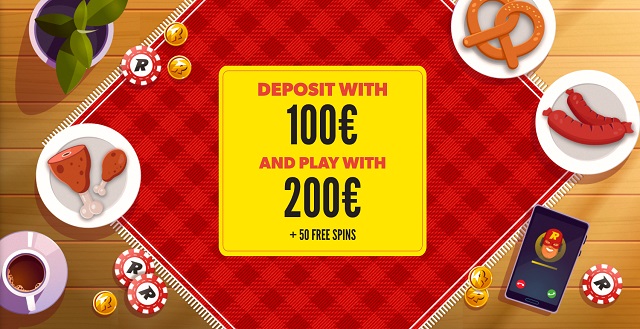 Part of the reason why we keep coming back to this site is because of the Rizk bonus wheel, but the casino also makes it easy for players to enjoy rewards that no other website matches. Free spin bonuses and free money bonuses run rampant in the halls of Rizk, but will you be one of the ones to take a Rizk and enjoy them?
If you're one of those who love to spend a ton of money in online casinos, then Rizk is one of the sites that you might want to visit. High roller bonuses are not as common here, but the site serves as a good place for all sorts of gamblers to enjoy and their high roller policies are on point.
In any case, Rizk is a fantastic website with a unique theme and one that provides you with a superhero experience that other sites are not able to match. Combining an air of fantasy with a large selection of bonuses and a very decent selection of games that surpass 300 titles, Rizk is not the place where you're going to be bored – even after spending many an hour at this world-class website.
RIZK CASINO BONUSES – QUICK OVERVIEW
1. Welcome Bonus – ACTIVE
The Rizk Welcome Bonus allows you to claim up to €100 in free cash, plus 50 free spins to spend in online slots of your choice!
2. Wheel of Rizk – ACTIVE
There are some events at the Rizk Casino that will allow you to spin the Wheel of Rizk and obtain some of the best rewards that the site has to offer. Spinning the wheel could grant you anything from special bonuses to free cash that you can withdraw to your account!
3. Rizk Races – ACTIVE
Rizk Races are special bonuses that allow you to participate in tournaments and win free bonus money and free spins to be spent in the casino. Participate against others and come out victorious!
RIZK CASINO BONUS OVERVIEW – WHAT YOU WILL FIND
The Rizk Casino has opted to take a very simple approach when it comes to their bonus offerings, but we cannot deny that it has worked wonders.
In fact, one of the first things that you're going to notice is that the site doesn't have a special "Bonus" or "Promotions" section, which says a lot about the type of casino that it is.
The site is known to offer special bonuses like the Rizk Races and other amazing tournaments where players can participate in leaderboards, but traditional bonuses per se are not as common as you might think.
Undeniably, if you're here to claim bonuses at the turn of every corner, then the Rizk Casino is just not the site for you. However, if you're just looking for a place in which you can enjoy special offers and a plethora of games with the chance to spin the bonus wheel every now and then, you're going to love this casino.
This is the perfect site for the casual player and the eventual bonus claimer. Its simple selection of games and the options for high rollers are there to behold.
Exploring the Wheel of Rizk – The Site's Go-To Reward Carousel
The main feature of the Rizk Casino, and arguably the main one that makes it such a fantastic place in which to enjoy the best slots on the planet, is the Wheel of Rizk. With it, you will be able to collect amazing bonuses as you spend more and more time on the site.
You will notice that playing online slots will fill up a small bar that is often located near your screen name. This small bar, every time it fills up, grants you the chance to spin the Wheel of Rizk and access the universe of rewards that the casino has made available to all players. It is up to you to decide how much money you want to spend to fill up the bar, though.
The best thing about the wheel is that the rewards are never the same. You will get better rewards every time that you spin it because leveling up the bar becomes more and more difficult as time goes by.
That just means that high rollers and loyal players will have access to better bonuses, though. It bodes well for those that love to spend cash at the site.
The best thing about the Wheel of Rizk is that playing online slots (ANY SLOT ON THE SITE!) grants you the chance to earn points, which you will then be able to use to fill up the bar's progress and obtain the wheel spins.
Real Money Bonuses
One of the main reasons why the site doesn't offer many free money bonuses is because, apart from the site's welcome bonus, the majority of bonus money that you can get on the site is wager-free. That means that earning bonus cash on the Wheel of Rizk, for example, gets you free money that you can instantly withdraw to your account.
RIZK CASINO FEATURES AND WHAT TO DO WITH BONUSES
The Rizk Casino's superhero team is best represented by the site's mascot, who will guide you through the online casino and introduce you to dozens of amazing rewards that the site has in store for you.
One of the best aspects of Rizk is the site's availability of world-class online slots. If you're a fan of slot games, then you're going to love what the Rizk Casino has to offer to you.
This amazing website is home to popular titles like Book of Dead (read our full Book of Dead review to learn more about the game), Reactoonz, Starburst, and Fire Joker, and the fact that many of the site's bonuses (including the Rizk Wheel rewards) are meant to give you free spins simply goes to show that this is the site to visit if you're a reel-spinning enthusiast.
Even so, this online casino doesn't leave behind other aspects of iGaming play.
For example, paying a quick visit to the Rizk Casino Live Casino will allow you to enjoy one of the many fantastic casino games that will transport you to your favorite land-based casino without having to leave the comfort of your home.
The site is also home to a world-class sportsbook, but there's one thing you should know: the casino bonuses of the Rizk Casino are not meant to be spent in the casino's sportsbook. You must make use of them on the site's casino and fulfill the wagering requirements of the money before moving on to using it on the site's sportsbook or even in its live casino.
GENERAL RIZK BONUS TERMS AND CONDITIONS
The Rizk Casino makes it fair for all players to claim bonuses, but we have to tell you: if you're only looking to claim the Rizk Casino welcome bonus, there might be better casinos at which you can spend your time and money. The site has lenient terms and conditions for some bonuses, but the casino's welcome bonus is not one of them.
In any case, you can read more about the Rizk Casino welcome bonus in our article about it.
Here, we want to focus on telling you all about the general terms and conditions of the casino and the things that you will need to keep an eye out for if you wish to enjoy the best promotions of the website without crashing against a digital wall of restrictions.
There are many terms and conditions that oversee the offers of this site, so we've made an overview of the most important ones to help you get a better idea of what you can expect to find at the amazing Rizk casino and how you should spend your bonus money to make sure that you don't lose it.
Wagering Requirements of Rizk Bonuses
The majority of bonuses found at the Rizk Casino are subjected to wagering requirements of 40 times the amount of money that you can claim from the bonus. That means that you will need to wager any bonus a total of 40 times before withdrawing the cash winnings to your account. Not as easy to do as other casinos, but still relatively fair.
Bonuses cannot be stacked, but there's a silver lining in all of this: at the Rizk Casino, you actually get to play with the bonus money that you get and not with your own cash in hopes of then unlocking the bonus money. You get the cash and you spend it in any way that you want, which makes it easy for players to really get the best of their experience at Rizk.
Most of the bonuses are meant to be spent on slots, though. Spending your bonus cash on any other part of the casino will give you a 0% contribution rate to the completion of the wagering requirements, except live casino and table games, which have a 10% contribution rate.
Bonus Timeframes at Rizk
The bonuses obtained via any way at the casino, as well as the Wheel of Rizk bonuses that you might get after collecting enough points and spinning the wheel, are subjected to a timeframe of 30 days. You need to claim the bonuses within 30 days or you will not be able to receive them.
The only difference is that the Wheel of Rizk bonuses is not subjected to any wagering requirements. If you get free spins, for example, all you need to do is spend them within 30 days of getting them and withdraw the money to your bank account.
Other bonuses need to have their wagering requirements fully completed before you can make any withdrawal of cash.
Free Spin Usage
The Rizk Casino makes it easy for players to claim free spins by offering them to players from time to time. However, the bonuses that you will get in this casino are meant to be spent on specific games. You may not use the free spins of the Rizk Casino to play other games other than the ones that you're being told that you can play.
You may also get free spins that are meant to be spent anywhere on the casino, in which case you might want to check out the games with the lower RPT to make the best of your bonus cash on the site.
Free Money Bonuses
The Rizk Casino might eventually reward you with free bonus money that isn't tied to a deposit. If you happen to get any free money bonuses, you will be able to use the cash in any way that you want. All you need to do is make a withdrawal of your cash and it will be deposited in your bank account, or make use of the money in the casino if you so wish.