WUNDERINO CASINO BONUSES – HOW DO THEY WORK?
As one of the most popular German casinos, Wunderino is a website to behold. The site is arguably the best German casino in which you can play bonus tournaments in the world, as the site comes packed with dozens of constant tournaments in which you can participate day in, day out.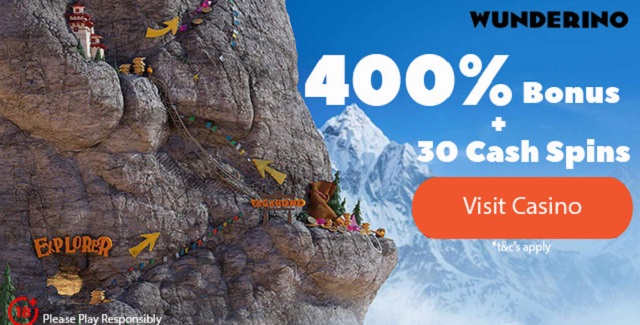 The tournaments of the Wunderino Casino might be ones to behold, but those are far from the only things that you'll enjoy at this website. The Wunderino Casino comes packed with a whole ton of amazing promotions that will reward your account with free cash every week, so you never miss out on the best rewards on the planet.
WUNDERINO CASINO BONUSES – QUICK OVERVIEW
1. Welcome Bonus – ACTIVE
The Wunderino welcome bonus allows you to claim €100 and 30 free spins upon making your first deposit. It might not sound as lucrative, but the terms and conditions make it fairly easy to claim the cash!
2. Wunderino Tournaments – ACTIVE
The Wunderino Casino also hosts a special selection of quick tournaments where players can go head-to-head against one another to try and beat their peers and get free spins and cash rewards!
THE BONUS EXPERIENCE AT WUNDERINO – WHAT IT'S ALL ABOUT
Bonuses are Wunderino work much like they do in other online casinos, but the focus of the website is clearly shifted towards the tournament experience. As such, the rewards that you can get at this casino will not only be tied to the amount of money that you can (or want) to spend, but also to how skilled you are and how well-versed you seem to be in the world of iGaming.
Bonuses at this online casino could as well be ranked among the best casino bonuses in the world, but the Wunderino casino staff has rather opted to create an environment in which tournaments are the number one priority and the competitivity can be felt in the air of the casino.
That doesn't mean, however, that the current set of bonuses isn't of the highest of quality. In fact, we advise you to register an account on the website, claim the best casino welcome bonus, and then use the money to start your tournament journey. The welcome bonus is the best way for you to get initiated in the world of Wunderino tournaments.
Are Wunderino Bonuses Fair?
Bonuses at the Wunderino Casino are fair, but given that the site's focus is solely on tournaments, you'll notice that the wagering requirements of most of their bonuses are rather high.
Most of them need you to wager the amount of the bonus plus the amount of the deposit a total of 30 times before you can claim it, which means that a deposit of €20 that triggers a €20 bonus would credit your account with a total of €40, but you'd need to wager those €40 a total of 30 times before cashing out the rewards.
Tournaments, on the other hand, are as fair as they come. You'll notice how the tournament terms are much fair and allow you to get a better grasp of rewards in a matter of minutes.
WUNDERINO CASINO BONUSES – A QUICK OVERVIEW
As we've said, Wunderino is one of the best tournament casinos in the world. If you're a competitive player, you're going to feel at home at the virtual halls of the Wunderino Casino. Going on head-to-head competitions against other players is arguably one of the best things that a competitive player can experience in an iGaming site, and Wunderino provides you with the chance to do so.
Quality Welcome Bonus
Wunderino has a world-class welcome bonus at your disposal, which allows you to get a grand total of 30 free spins and a fantastic monetary reward of up to €100, depending on how much cash you wish to deposit on the casino.
The welcome bonus could have bonus terms more fitting of a fair offer, but thankfully the number of tournaments compensate for the fact that cashing out the money is not the most likely thing that will happen in your time at this site. In any case, when it comes to winning free money, the welcome bonus does a good job of providing you with what you seek.
Booster Days
This online casino doesn't have a selection of weekly bonuses, as many other online casinos do. However, there are ways for loyal players to get rewarded with their deposits even when they haven't made a name for themselves yet within the casino's VIP program.
Wunderino calls these days the "Booster Days", which are specific days of the week in which you'll be able to multiply any amount of money that you deposit by different amounts.
Booster days are available every week, so be sure to check out the "Promotions" section of Wunderino (located at the bottom of the page) and keep your eyes peeled to see if any new promotions are available for you to claim.
Tournaments Galore
Arguably the best feature of the Wunderino Casino, tournaments are your go-to choice if you're looking to claim the best rewards on the site. You will find yourself presented with a large plethora of fantastic tournaments at which you can partake by simply depositing different amounts of cash at this world-class German casino.
There are level tournaments (also known as "season competitions") at which players can gain different sums of rewards by simply completing the challenges put in place by the Wunderino casino staff.
Leaderboard tournaments are also extremely popular among the virtual halls of the Wunderino Casino. You can browse the tournaments per week and see what rewards have been won by previous participants, as well as which prizes you're entitled to claim.
The "Tournaments:" section of the Wunderino Casino is, arguably, one of the best ones that we've seen. There are just too many options and choices, and everything is extremely well-divided. You will not struggle to find the tournament at which you would rather participate.
WUNDERINO CASINO VIP PROGRAM
The Wunderino Casino approach to their loyalty program is much different than what we're used to seeing in the industry. For starters, there aren't any levels per se, which is something that tends to form part of most online casino bonus programs.
Here, you will be judged on whether you're a "regular explorer" or a "prominent explorer", with each of these two tiers having different access to features within the VIP program. The fact that there aren't any specific requirements or conditions for reaching each tier is the one thing that we don't really like about the program, as you can't know where you're ranked within the site's loyalty standards.
Rewards are, however, nothing short of fascinating.
Every player has access to personalized bonuses, which are given to each player according to their activity on the casino. Weekend promotions and daily competitions are also awarded to loyal members of the casino, and all members also gain access to the "quick withdrawals" program.
The most loyal of players will gain exclusive access to the Wunderino staff and you'll get even better rewards as time goes by.