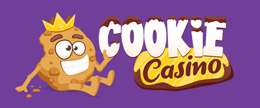 Überprüfen Sie Ihren Casino-Bonus
Cookie Spielbank Bewertung
The sweetest journey that you'll ever experience is within your grasp. The Cookie Casino comes with a fantastic and unique design that takes iGaming to another level with its world-class snack-themed website. At the Cookie Casino, you will be able to play online slots, live casino games, the most popular iGaming titles in the industry, and you'll be able to do all of this on a website that comes with exclusive animations and a player-friendly environment where dozens of payment methods are all but welcome.
Gebühren & Auszahlungsgeschwindigkeit
Großartiges mobiles Design
Live dealer Spiele
Gute Auswahl an Software-Anbietern
Nicht alle Zahlungsmethoden sind für alle Länder verfügbar.
Große Liste von Ländern mit Beschränkungen
x40 Wetten
Video: Cookie Casino in 30 seconden
The Cookie Casino takes many shapes of sweets, which range from basic cookies to complex flans and other fine (and tasty) pastries. It doesn't matter which type of pastry you like the most as long as you're into playing the best online slots on the planet, as the Cookie Casino has all of them available for you. You will be amazed at the website's landing page animations as well as the seemingly infinite game gallery that the website hosts. As if that wasn't enough, you'll also be able to experience unique and in-depth bonuses like the Grand Joust, the site's VIP scheme adventure, and even dozens of bonuses that Cookie always has available for you. There truly doesn't seem to be a better place to play online casino games on the planet.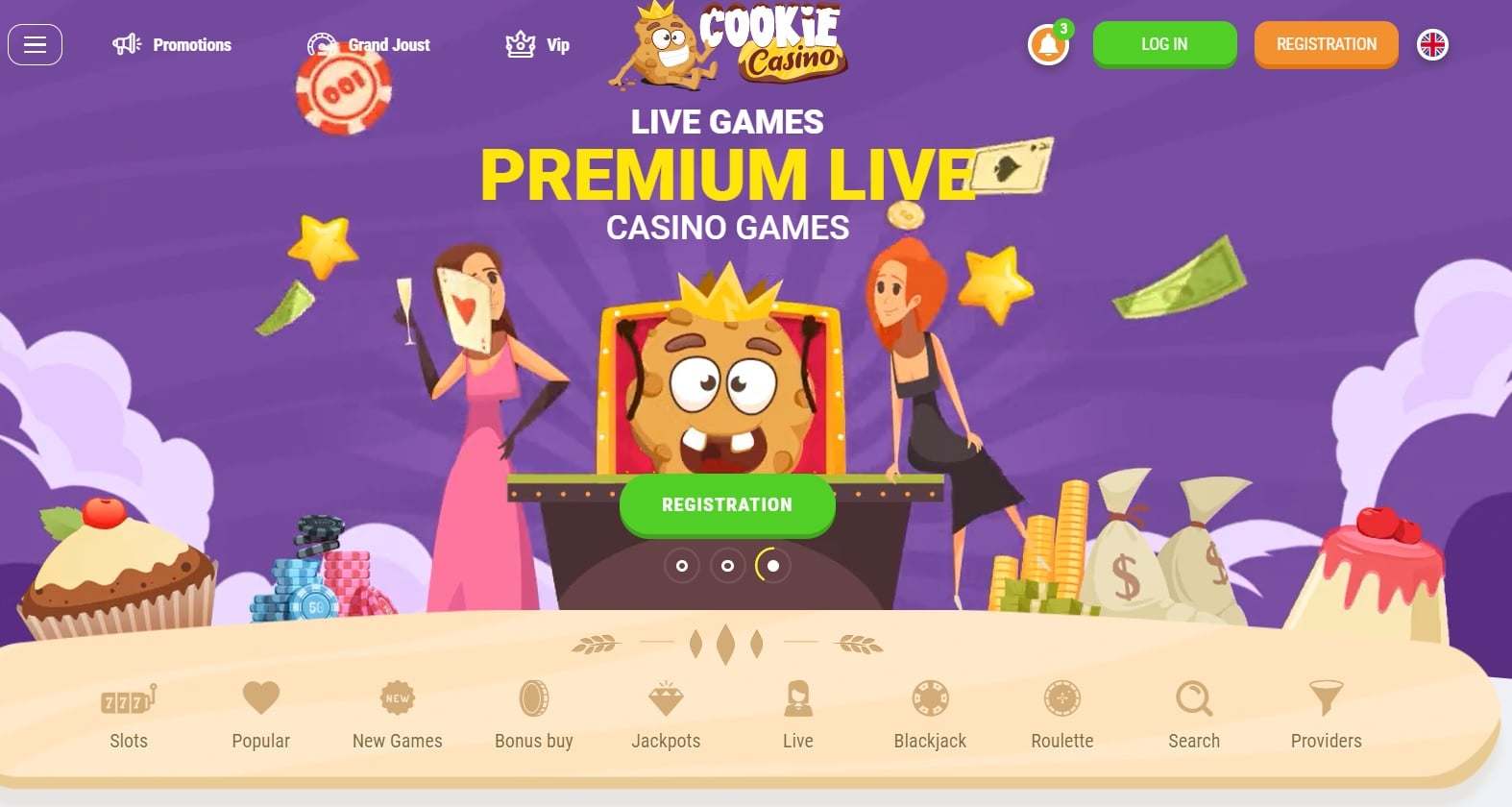 Why do we think this website is so good, and why should you visit this casino instead of others? Well, if the theme of the casino hasn't caught your attention yet, then stay with us and see what we think of the rest of this fantastic website!
Our Experience at the Cookie Casino – Sweet Like No Other Casino!
The Cookie Casino wants you to be sure that registering on the site is going to grant you bonuses. As such, it was refreshing to see that the "Notifications" tab is available to be accessed even before you create an account on the casino. It has three "notifications", which tell you all about the site's bonuses that await if you happen to create an account at Cookie. With such an enticing welcome, it was hard for us to not review this casino and register on its world-class services. The first thing we did after reading those notifications was head straight to the signup page to create our new Cookie account. We weren't going to let go of those bonuses, after all.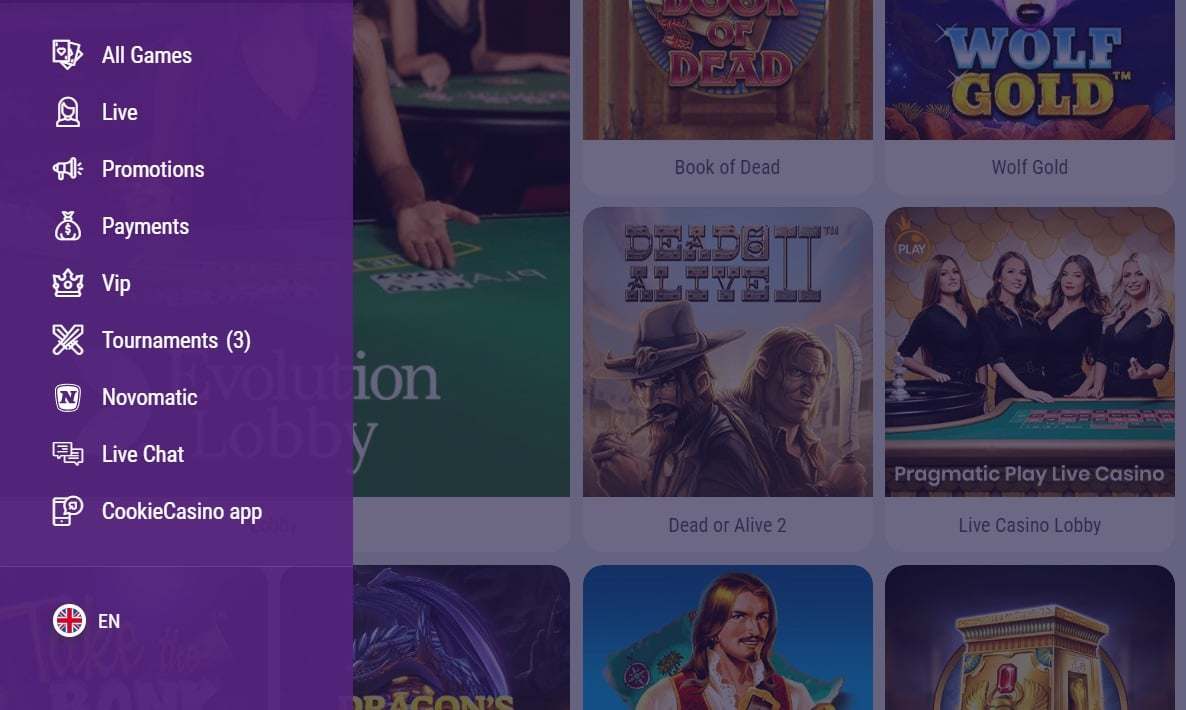 At first, it might seem like the Cookie Casino doesn't really ask for too much of your personal information. However, that's just the first part of the registration process. You will need to enter more of your data once you move forward with entering your email and password. Get through the motions of creating your account and then claim your welcome bonus. If you want to play on mobile, don't forget to check out the Cookie Casino mobile app! It simplifies the process of playing on your phone (we didn't try it out on a tablet, but one of our colleagues told us it does an equally fantastic job) more than you can imagine. Apart from that, the Grand Joust is the other feature of this casino that we have to bring into your attention. It's basically a section of the site where you'll be able to discover new tournaments that restart constantly, with leaderboards that have live updates and a prize pool that could be worth thousands of euros. Combine that with a traditional online casino layout and the site's adventure-themed VIP scheme and you'll get one of the best online casinos in the world – exactly what Cookie is offering to its players!
A Beautiful Casino Interface
Once you pay a visit to the Cookie Casino, you'll see why we're bringing the casino's interface into your attention and providing it a special section in our guide. The entire interface is themed around the concept of cookies and pastry sweets, making it very friendly instead of taking the "elegant" approach that most online casinos seem to go for. That doesn't mean that this online casino isn't aimed at high rollers or VIPs, though. If you're one of those players who absolutely love to experience something unique, you'll be able to find it at the Cookie Casino. High rollers will be treated with the respect they deserve, but newcomers will also encounter a noob-friendly interface where they'll be able to browse the site quite easily – even if they haven't played in an online casino before. This hybrid experience that Cookie has managed to create, which combines all that's needed to play like a noob and all you look for as a pro, is exactly what makes this online casino great. That's our opinion on it, though. We want you to try it out and check Cookie yourself!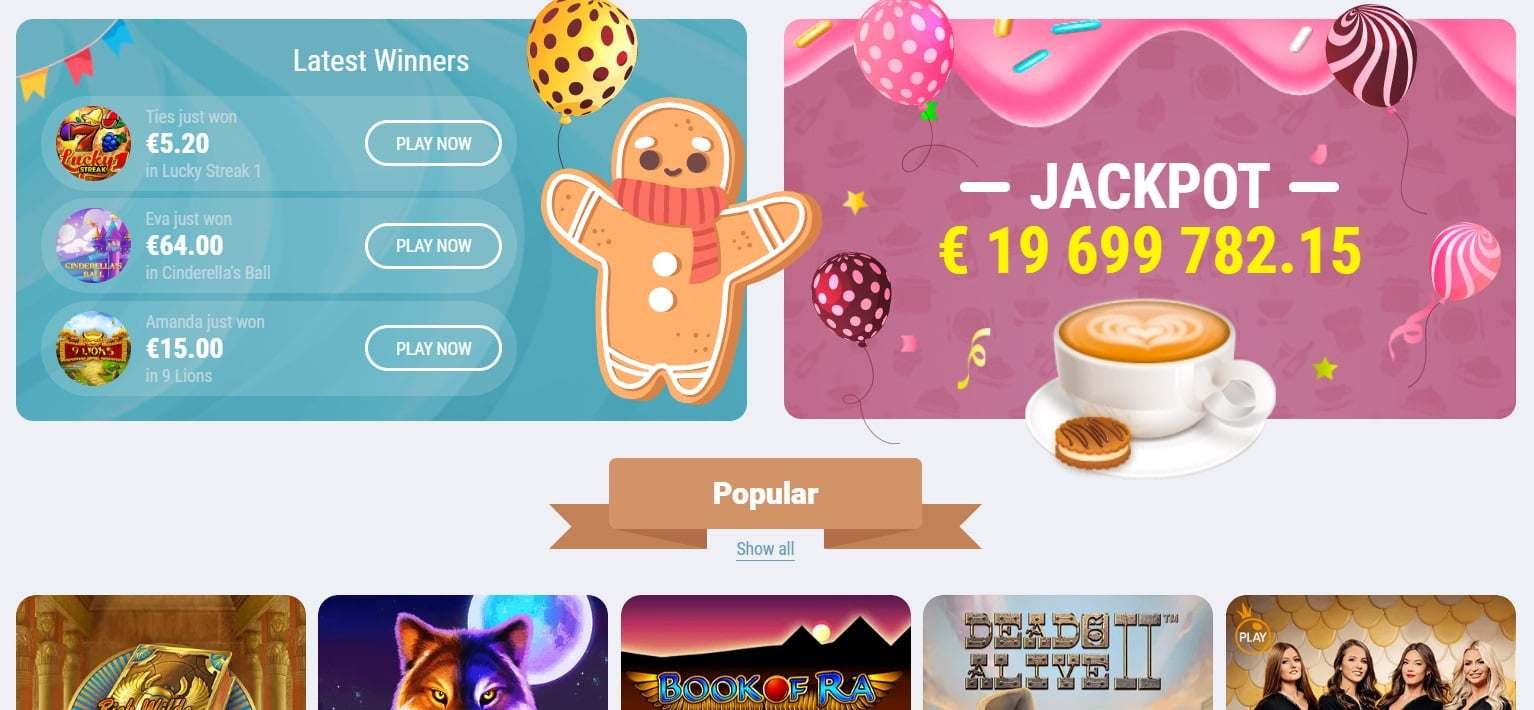 Fans of Adventure Promotions will LOVE this Site
Sites like BitStarz host some fantastic adventure promotions where you'll be able to advance in them through your playtime on the casino. However, you'll very rarely find one of those promotions in anything other than a timed tournament. At the Cookie Casino, things change. The VIP Scheme of this site is actually themed like one of those adventures, so you'll be able to track your progress in the best way imaginable. You'll advance through the ranks of the casino and claim prizes along the way, with better and better prizes being unlocked the more you advance on the website.
Cookie Casino Games – Everything at Your Grasp
The selection of games that you'll find at the Cookie Casino is nothing short of amazing. The site truly makes it easy to browse, as all games -as well as all of the features needed to browse them- can be found at the site's landing page. You only need to enter the Cookie website and select the game that you need to play. That's all! As you'll see if you choose to browse by Game Provider, Cookie is home to the best casino developers in the world. As such, the best online casino games can all be played on this fantastic website. New titles are being added constantly, although they aren't as frequently added as in other online casinos such as Betsson or other huge NetEnt Casinos. Check those out as well, in case you're looking for a casino that offers a more innovative approach.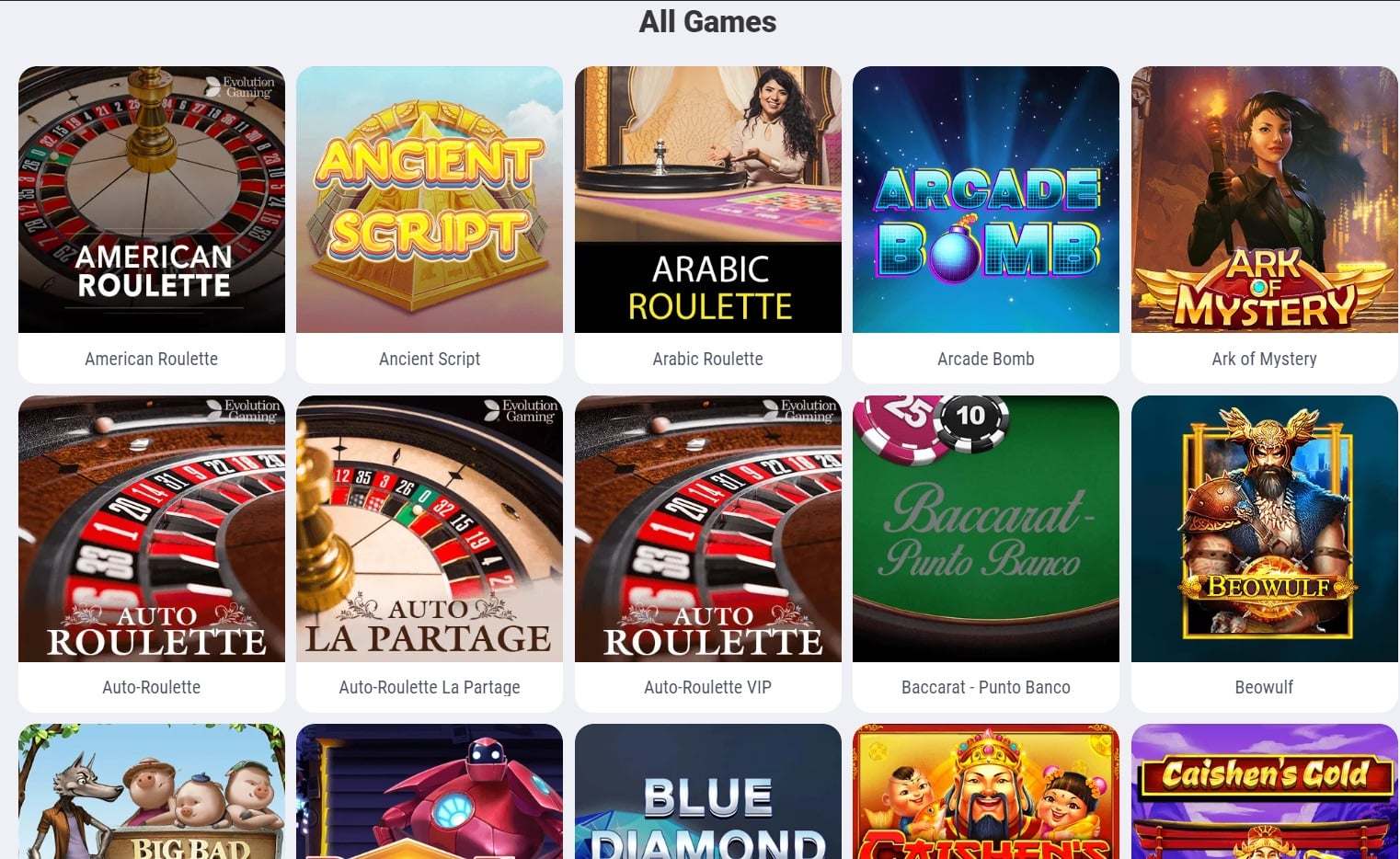 In any case, you will find all the types of games that you can play at the Cookie Casino right here.
Online Slots
Much like it is the case in all of the world's best online casinos, Cookie is home to some of the best online slots on the planet. It's clear that players love these types of games, which means that having a rich selection of such titles is all but fundamental to the proper enjoyment of an online casino.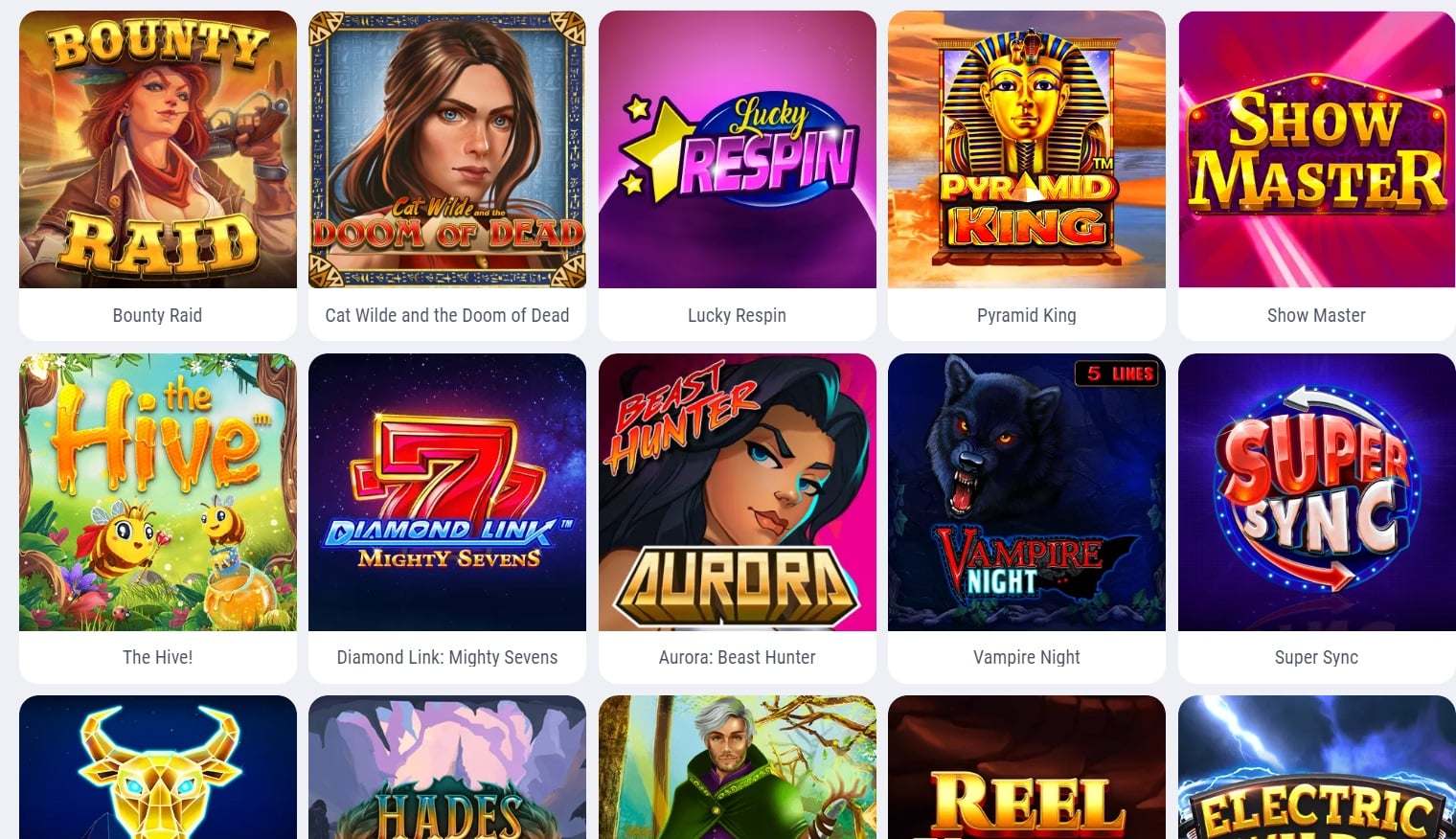 When it comes to slot variety and availability, the Cookie Casino delivers what we're looking for. Cookie is home to over one thousand online casino titles, many of them being slots, of course. Oddly enough, the site does advertise its live dealer section on the landing page. Fret not, online slots are still king at the Cookie Casino. With that said, you'll also be able to enjoy the finest live dealer games at Cookie. Players who love variety and versatility will truly appreciate the innovative approach of the Cookie Casino. Believe us, we've seen dozens of casino game galleries and Cookie's still managed to make our jaws drop.
Table Games
Oddly enough, the Cookie Casino doesn't have as much of a table game section other than its large selection of live dealer games. In fact, you'll notice that the game browser of the casino doesn't even have a "Table Games" section. Instead, you'll have to manually select the name of the games that you'd rather play at Cookie.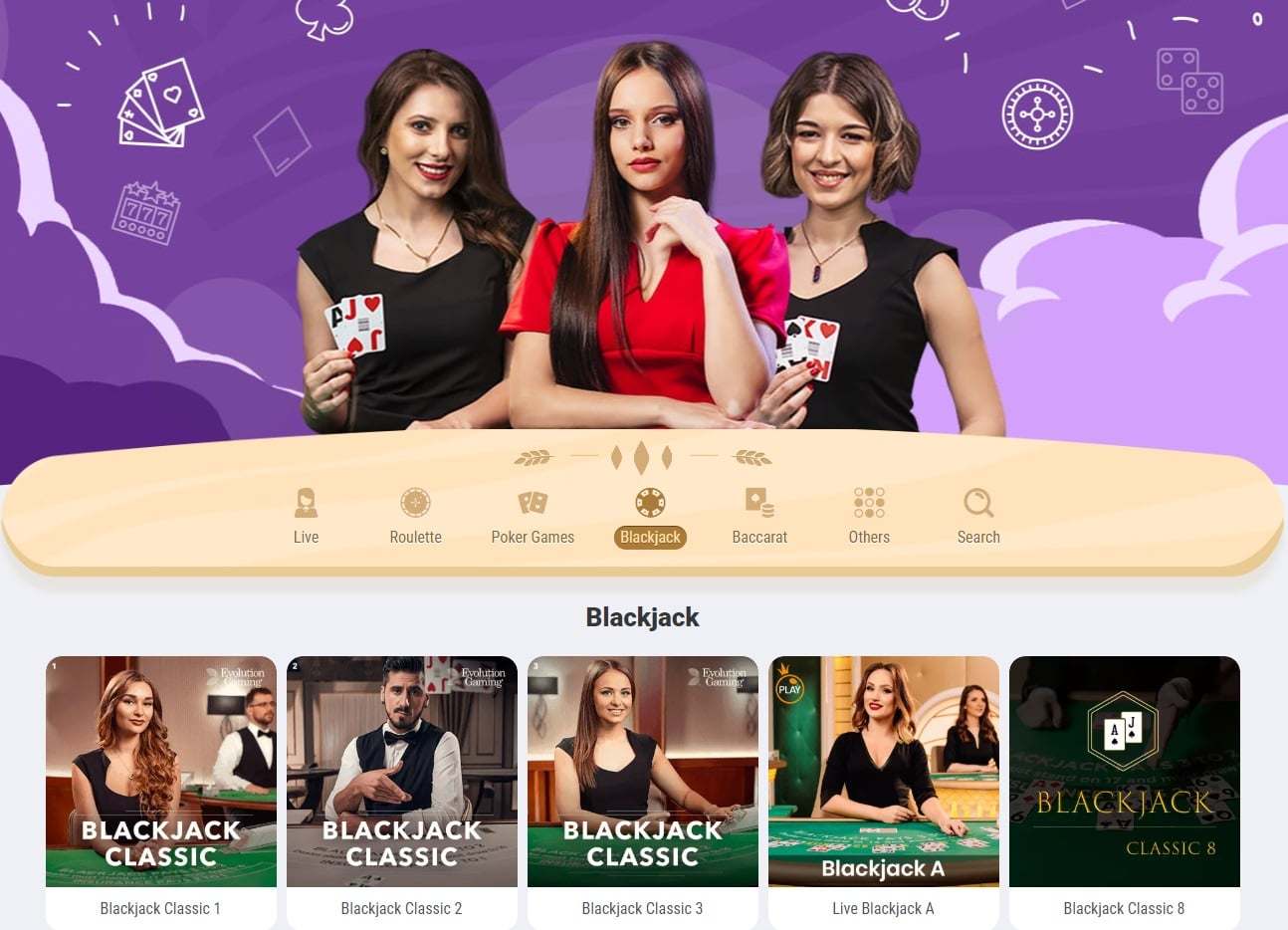 You'll notice that the selection of digital table games is also quite limited. You will be encouraged to play the site's live dealer games whenever you click on the category of any table game on the website.
This is a clear statement from the creators of the Cookie Casino. You shouldn't expect to find the best table games at Cookie, but you can expect to find a large gallery of live dealer games that honestly seems to be much bigger than those found in some of our favorite live casinos. We want to go into more detail on this later; stay tuned!
Bonus Buy Games – A Category that We're Really Digging
The "Bonus Buy" game category is one that is starting to become more and more popular in recent years. These types of games weren't common at all in the late 2000s and even in the early 2010s, but the fact that many online developers have started creating such games is turning them into fan favorites.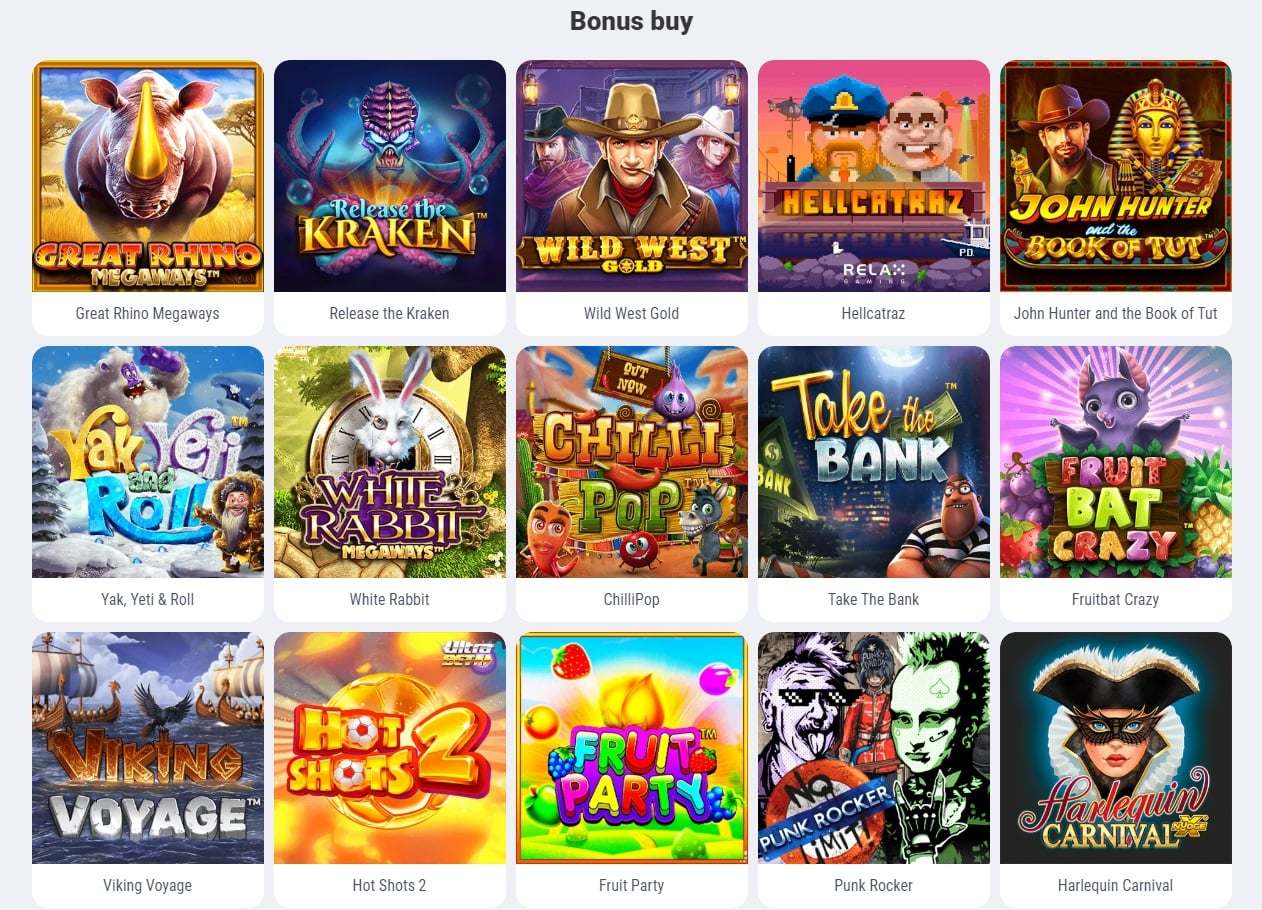 We think it's pretty cool that the Cookie Casino has a special section for them, as it still isn't an industry standard to have them listed on any game browser. Bonus Buy games are titles where you'll be able to spend your in-game money (we mean your real or bonus money converted into game credits, of course) to purchase bonuses that would otherwise need to be activated by unlocking the right symbol combinations on your reel spins. Bonus Buy games are fantastic for players who like to spend a lot of money online (high rollers). They save you the time and trouble it takes to make an online slot extremely thrilling in exchange for the same amount of money that it takes, on average, to activate these bonuses by normally playing the game. The Cookie Casino has some of the best Bonus Buy games on the planet – including Megaways titles and even the world-class John Hunter and the Book of Tut game, an online slot that has been growing a ton in popularity in recent years.
Jackpot Games
It doesn't all have to be crazy bonuses and intricate slots at the Cookie Casino, either. You can also check out the "Jackpot" section of the site's game browser if you're keen to claim bonuses that will make your eyes pop out of your head. In this section, you'll find all of the site's best slots with a jackpot to be won. Since Microgaming is not one of the site's main providers, you won't find games like Mega Moolah on the site's jackpot section. However, you will be able to play other fantastic casino games that serve to replace Mega Moolah quite well.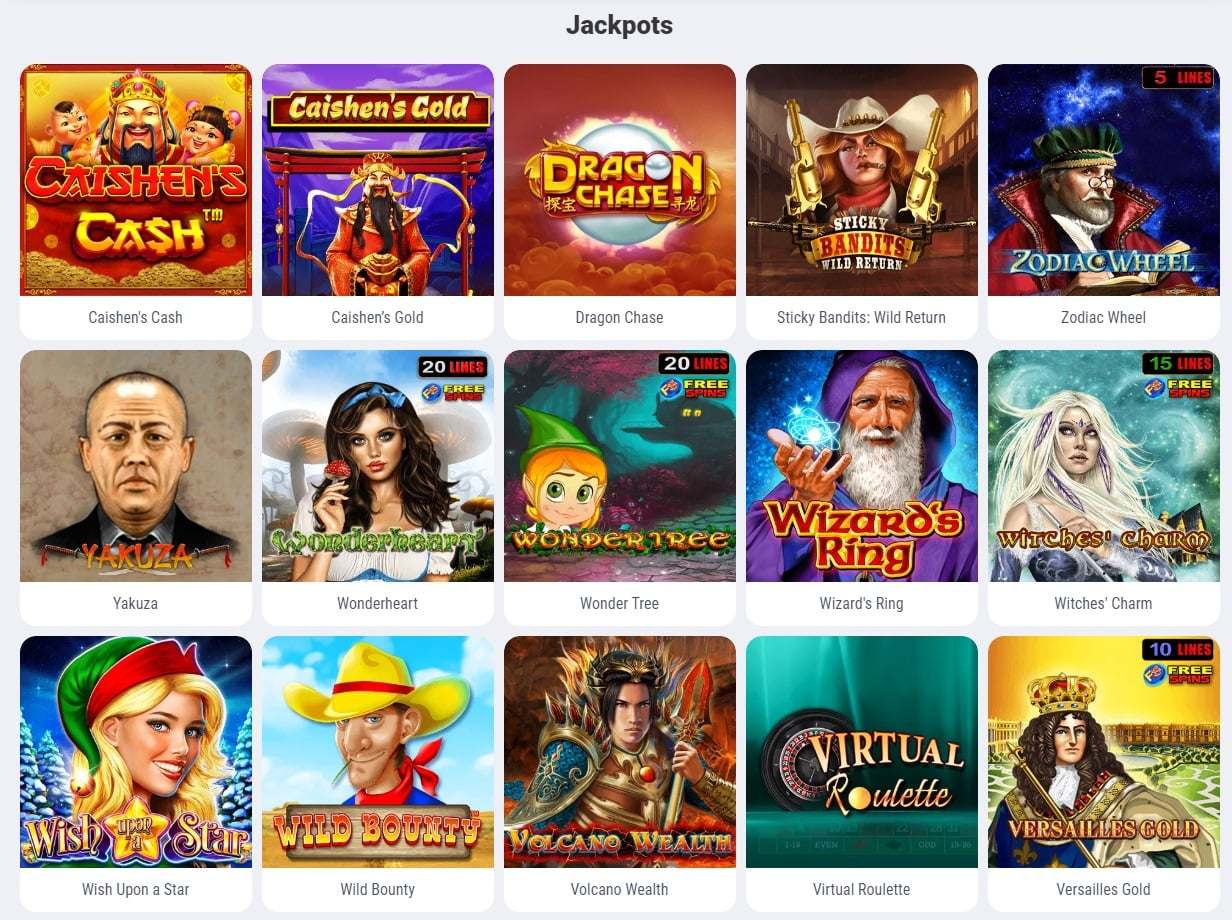 Unsure of where to start? Fret not; we can tell you which of these games will be worth your time and money to save you the time and trouble of discovering them yourself. Check out Wizard's Ring, Volcano Wealth and, if you're looking for a twist that stays away from traditional jackpot games, play the Virtual Roulette title. We know that you'll love all of them as much as we did.
Games by Provider – For the True iGaming Connoisseurs
Whenever a site has a large selection of games created by many different providers, users tend to struggle to find an online casino title that truly suits their needs. Some of us just love to have to option to filter out games and simply look for titles created by a specific company, and we're happy to tell you that the Cookie Casino allows you to do just that. As such, you can simply visit the "Providers" section of the casino and a tab will display, showing all of the providers that have their titles hosted at the Casino. Microgaming, Yggdrasil, Red Tiger Gaming, NetEnt, Play N' Go, Quickspin, and Thunderkick are all here. We've reviewed all of these companies at the Casino Wizard, so check them out if you want to learn more.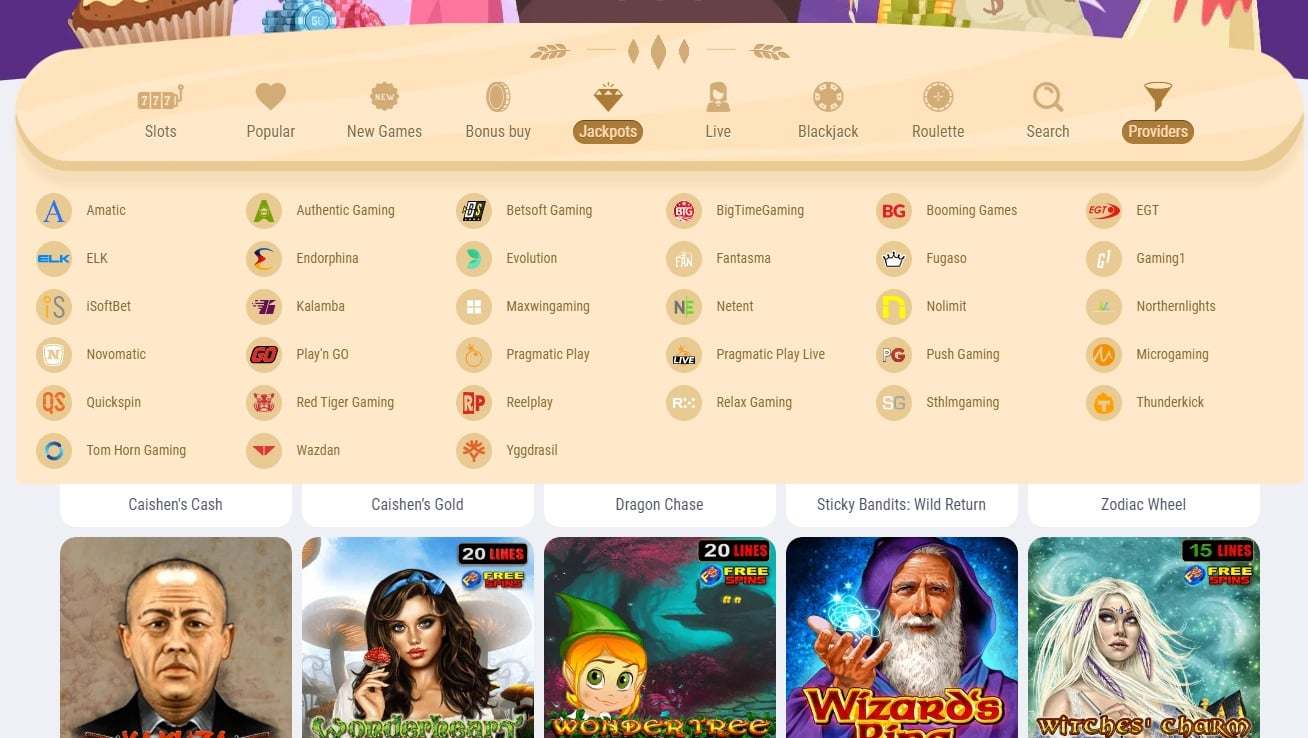 You can also find developers that aren't as reputable as the former we just mentioned, but they also provided the site with some world-class titles that you can't miss out. Fantasma and Relax Gaming are two that won't disappoint – check them out!
Novomatic Games – Slots Galore!
Novomatic is one of the main game providers of this casino. In fact, the Cookie Casino stands out among the best Novomatic casinos on the planet, being home to the company's finest online slots. If you're a fan of playing unique games with world-class graphics, sounds, and gameplay, then you'll be pleased to know that the best Novomatic games are all available at Cookie.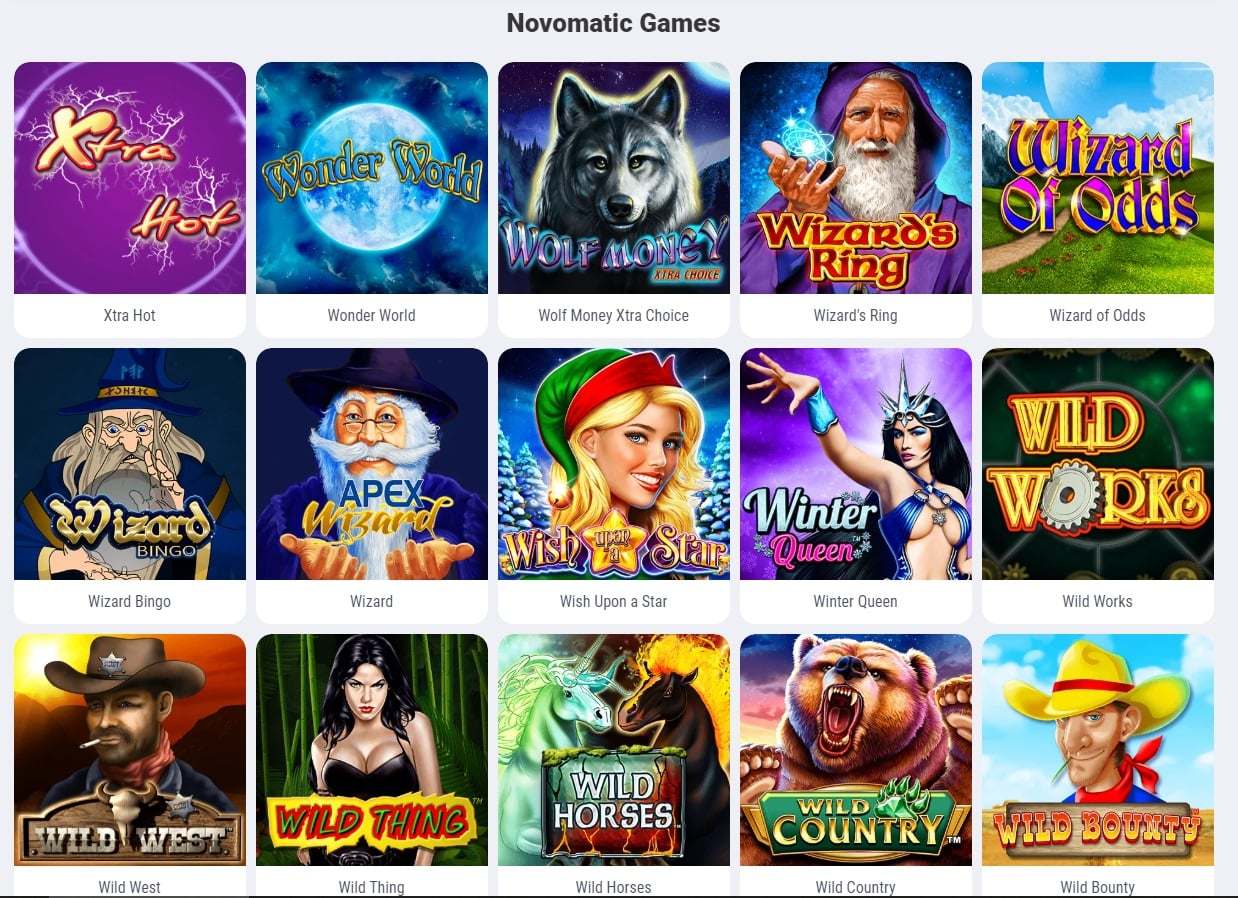 Rewards taste even sweeter when you get to spend them on the best online slots on the planet!
Cookie Casino Live Dealer Games – Evo Gaming Delivers Once Again
We wanted to create this section to talk exclusively about the site's live dealer experience because they have truly focused on offering world-class live dealer games to their players. As we mentioned before, it's rather odd that you'll see the site's live dealer games as soon as you visit the main page of the casino. Most casinos tend to be a bit more conservative with their live dealer experience.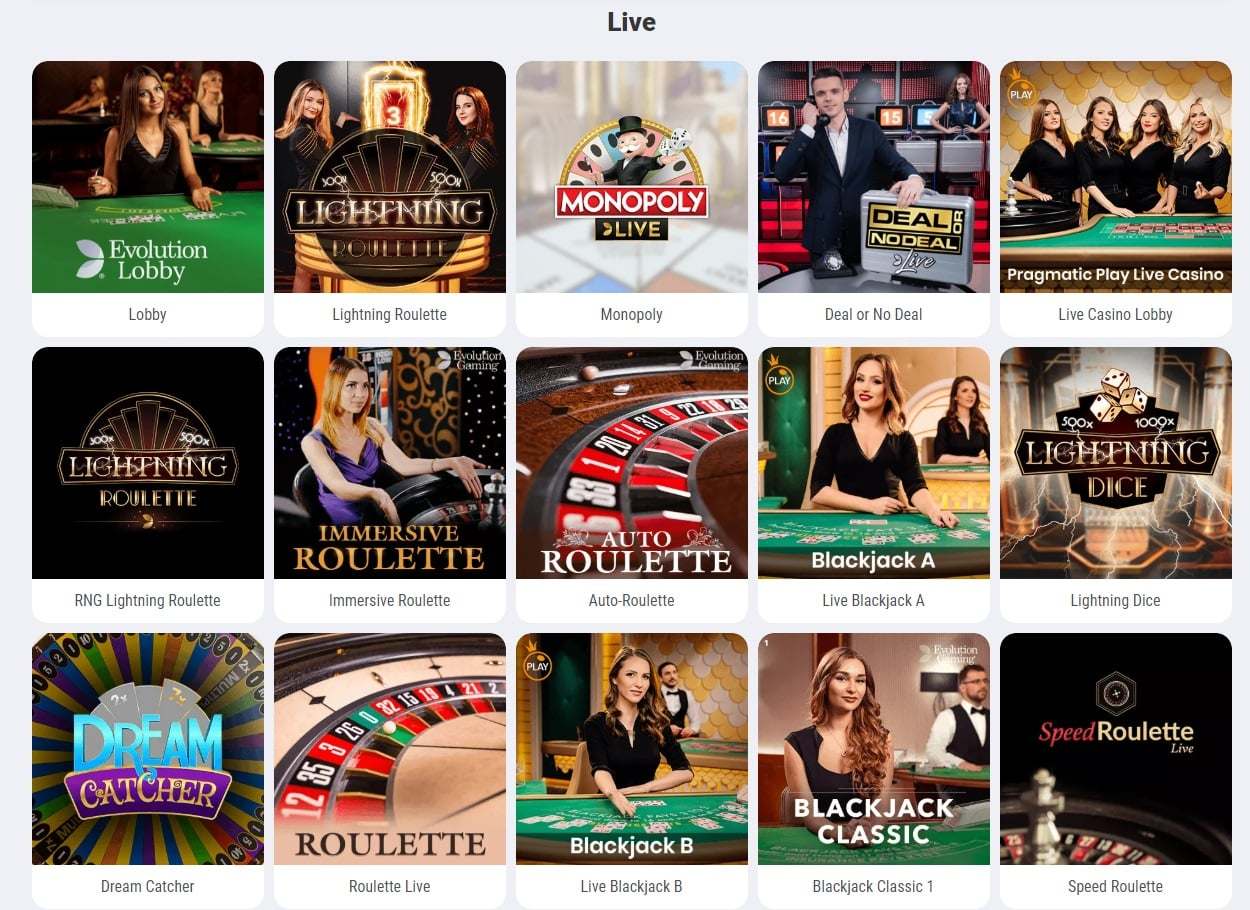 However, Cookie has truly managed to take live dealer gaming to the next level. There are dozens of tables per game, and it's clear that live dealer games are part of what makes this site such a popular one among its fans. The main tradeoff of this is that you won't find nearly as many table games with digital dealers (traditional table games) as you do in other online casinos. However, with a live dealer casino provided by world-class developers like Pragmatic Play and Evolution Gaming, you won't be craving for regular table games any time soon.
How It Works and Why It's Better than Average
The Live Dealer experience of the Cookie Casino manages to encompass a lot of content without making it too difficult to browse. There are two ways in which you can browse the live dealer casino; you can either see all of the games that the site has available, or you can browse the lobby of each game developer. There are just two (Pragmatic Play and Evo Gaming), but doing so still allows you to take a more "filtered" look at what you can hope to find at these casinos. Pragmatic Play games are also not as common as NetEnt titles – especially when it comes to live dealer casinos. However, we do think that some Pragmatic Play features make the games a bit better than NetEnt's (even though NetEnt games are far more popular). Pragmatic Play games flow better and they're easier to play on mobile, for example.
The Cookie Casino Grand Joust
One of the main features of the Cookie Casino is what they call the "Grand Joust". Yes, it's just a fancy name to call tournaments, but still – they're really worth your time and money.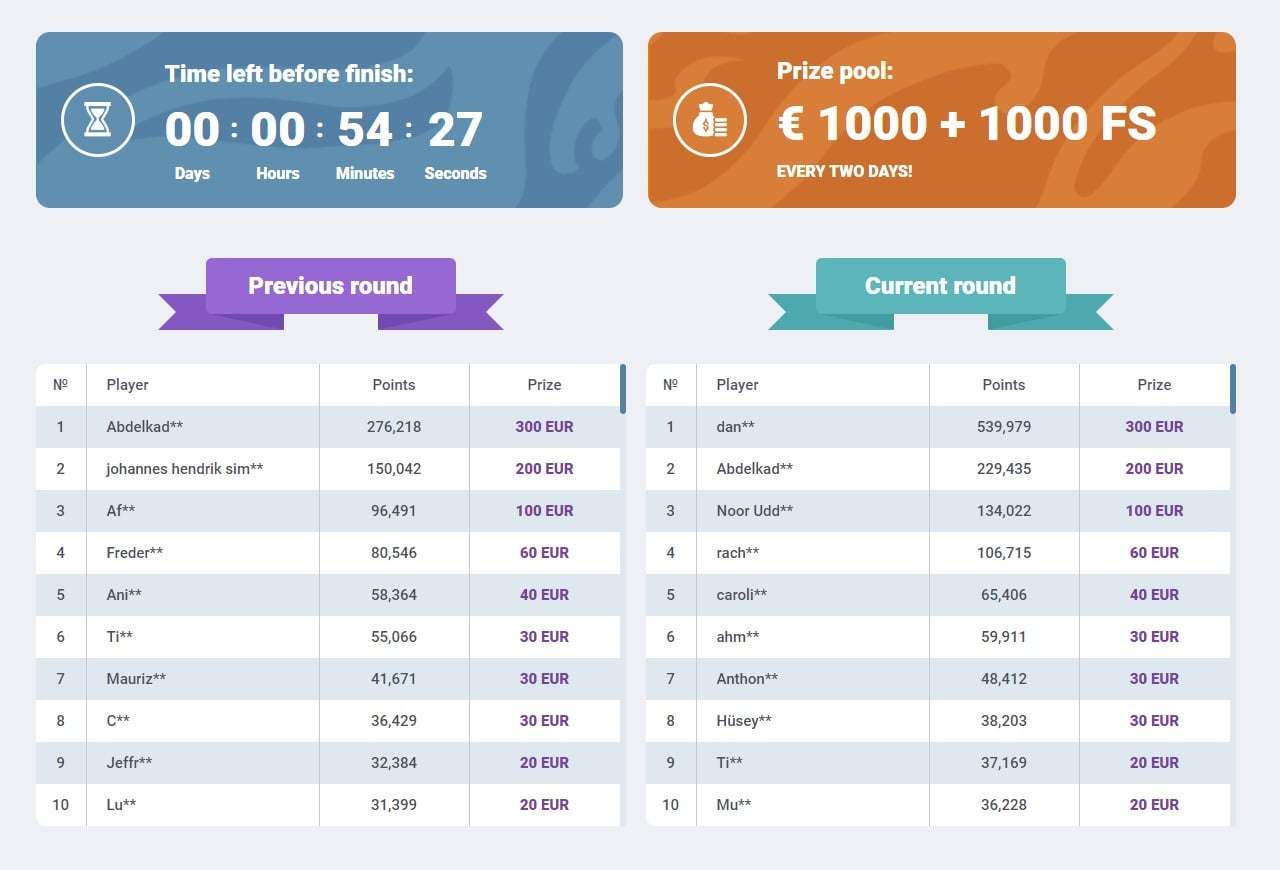 Most of these tournaments tend to reset constantly, which allows players to claim better and better rewards as time goes by. You'll also get more chances of getting rewards even when you miss out on some of them. In most cases, Grand Joust tournaments will reward you with one of two things (sometimes both) – money or free spins. Some tournaments can offer rewards worth a lot of money, whilst others last for just a couple of days with a prize pool of €1,000 and 1,000 free spins. You just need to constantly look for the best Cookie Casino tournaments by visiting the Grand Joust section on a daily basis. Remember that the tournaments have a timer and a leaderboard, so you'll always know how you're doing, how many points you need to collect, and which reward you'll get at your current placement.
How to Participate in the Grand Joust
The site has a few rules that determine whether you participate in the Grand Joust. As the site states, new tournaments begin every two days, which means you might be better off waiting for the next tournament to start instead of wagering towards trying to reach the first-placed player on the current ongoing tournament. You need to make bets on online slots, with each €1 bet granting you one point towards your leaderboard rankings. That's all you need to do to participate – quite easy, isn't it?
Is Cookie the Best High Roller Casino?
We're always super careful whenever we tell you that an online casino is "the best" at something, but the Cookie Casino truly provides you with a solid environment in which you'll be able to freely bet all of your money in any way that you want. With games that offer high limits and some of the highest withdrawal roofs that we've ever encountered, this truly is a website that welcomes high rollers.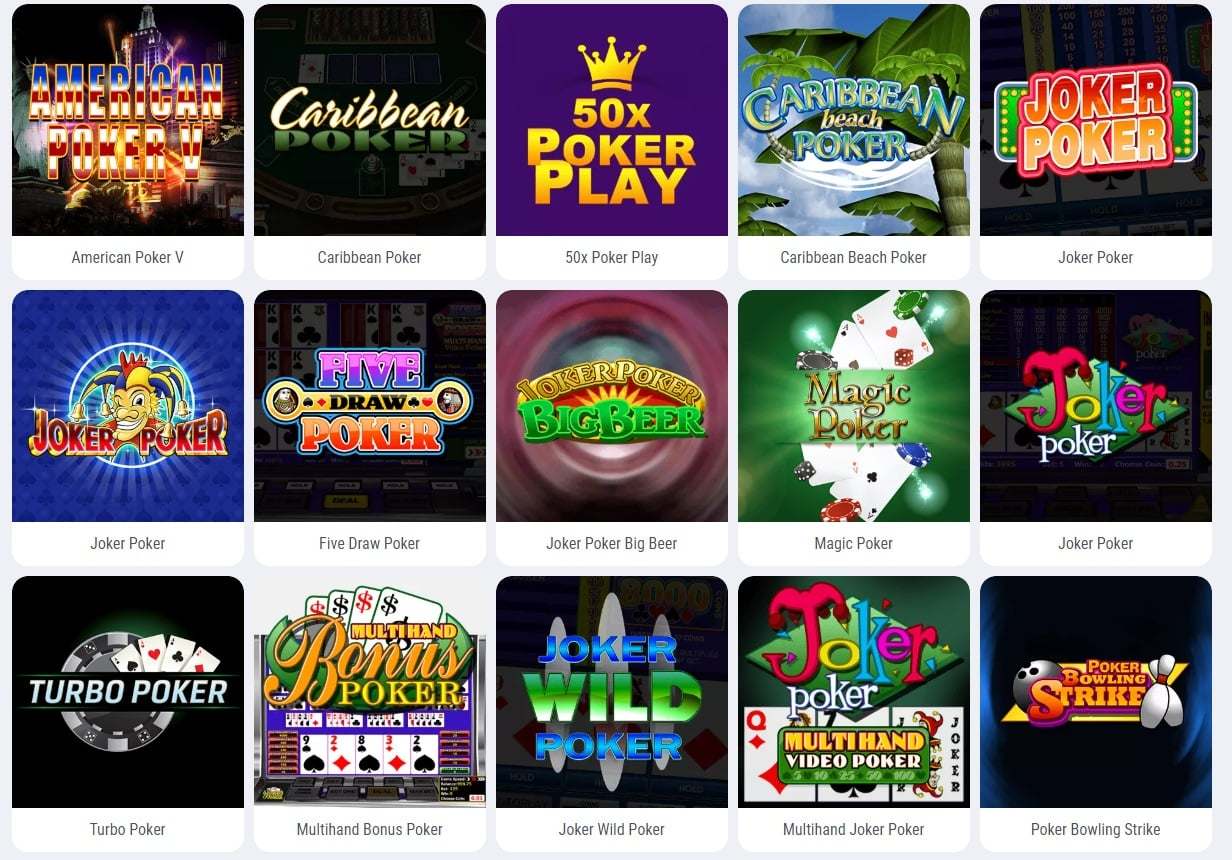 Withdrawal limits are set at €4,000 per day, which makes it an ideal casino for those looking to wager big money and for those who want to withdraw even more. Jackpot hunters absolutely love this casino and the high limits are one of the main reasons why they're so confident in it. There is a limit of €10,000 per week and €40,000 per month, though. If you want to spend that cash and watch your profits skyrocket, there's no better casino to do it than the Cookie Casino.
Cookie Casino Bonuses and Promotions
No online casino would be complete without a proper bonus program, and the Cookie Casino is aware of this. We were more than pleased with the site's bonuses and even more so when they're complemented by the Cookie Casino's Grand Joust section. It just makes the online casino that much better and makes the bonuses even better than they would be on their own.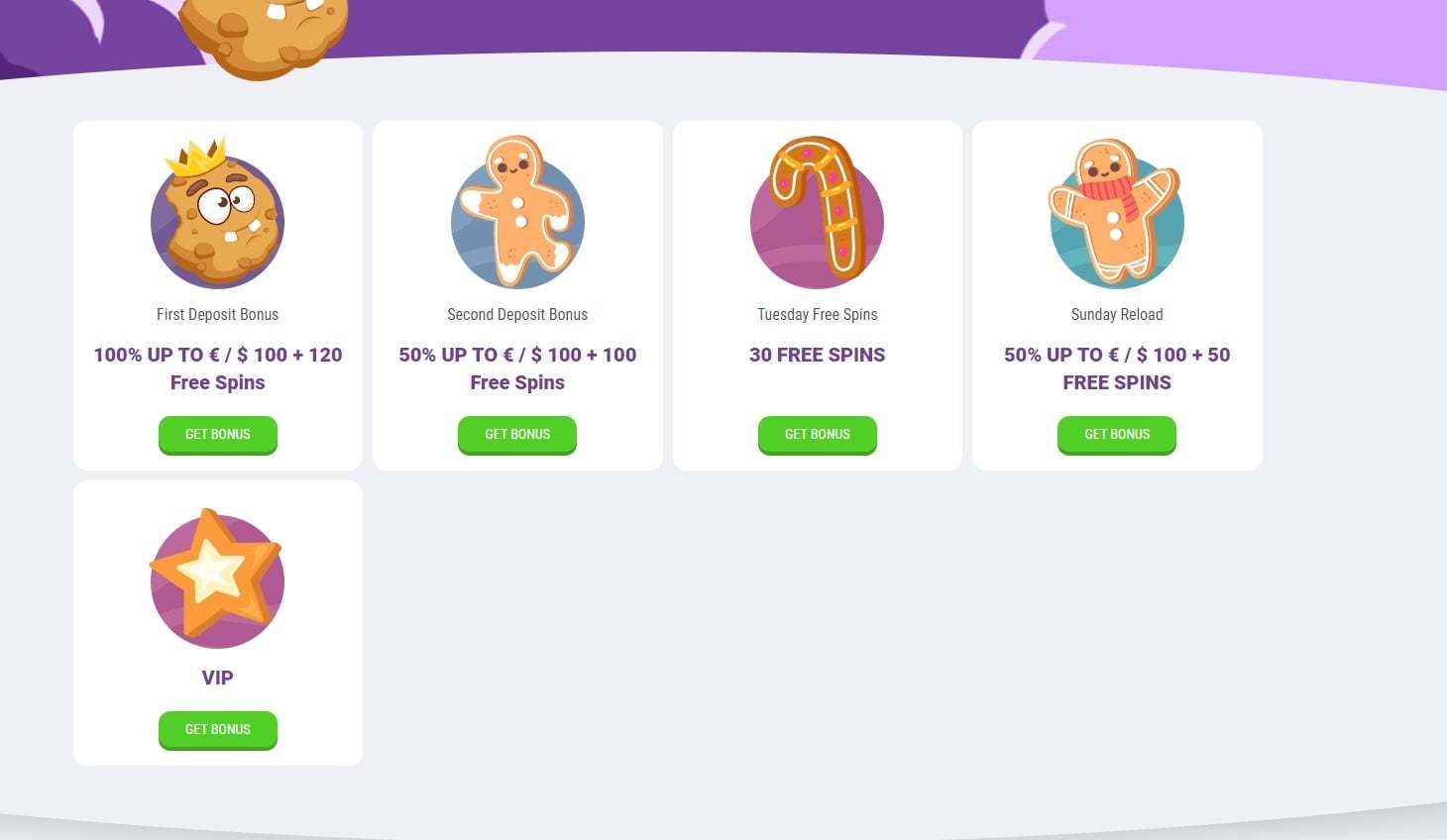 In any case, the regular bonuses that you can claim at this casino are rather common. There aren't too many bonuses that seem exclusive to the Cookie Casino. However, they're all lucrative and come attached to fair wagering requirements!
Welcome Bonus Package
Your first deposit at the Cookie Casino will be doubled, meaning that you'll get bonus money worth whichever amount you deposit. What's better than playing in an online casino with free cash? Not many things, we tell you! That's not all, though. The Cookie Casino also comes packed with 100 free spins to be spent in your favorite online casino games. With over 2000 slots to play on the site, the fact that they offer free spins to spend is just too good of an opportunity to let it pass.
Reload Bonuses
Reload bonuses happen once a week at the Cookie Casino. You just need to be aware that one deposit per week will grant you an extra sum of cash and be ready to make it whenever it happens. They're usually enabled to be claimed on Sundays, but it's better if you check out the "Promotions" section of the casino to make sure that they're available. Just keep in mind that reload bonuses at Cookie aren't too lucrative. You can only claim a small portion of your deposit and the site also doesn't allow you to claim more than €40 each week. The most lucrative bonuses will be found as part of the Grand Joust rewards instead.
Free Spins All Week
Even though the Cookie Casino VIP Program is the best way for you to claim free spin and free playtime on the best online slots that the site has to offer, you can also make deposits on certain days of the week and get rewarded with free spins for your commitment. You can claim these bonuses at any given point of the week, which means you'll always have access to free playtime at the best online slots on the planet and you won't have to spend a single dime of your money to play on them.
Cookie Casino VIP Program – Yummy Prizes for the Sweet VIP
The Cookie Casino VIP program has taken a completely unique approach to the world of VIP rewards and we can tell you that it's one of the best features on the site. Each level of the casino is represented by a different type of sweet food or pastry, which duly fits the theme of the casino.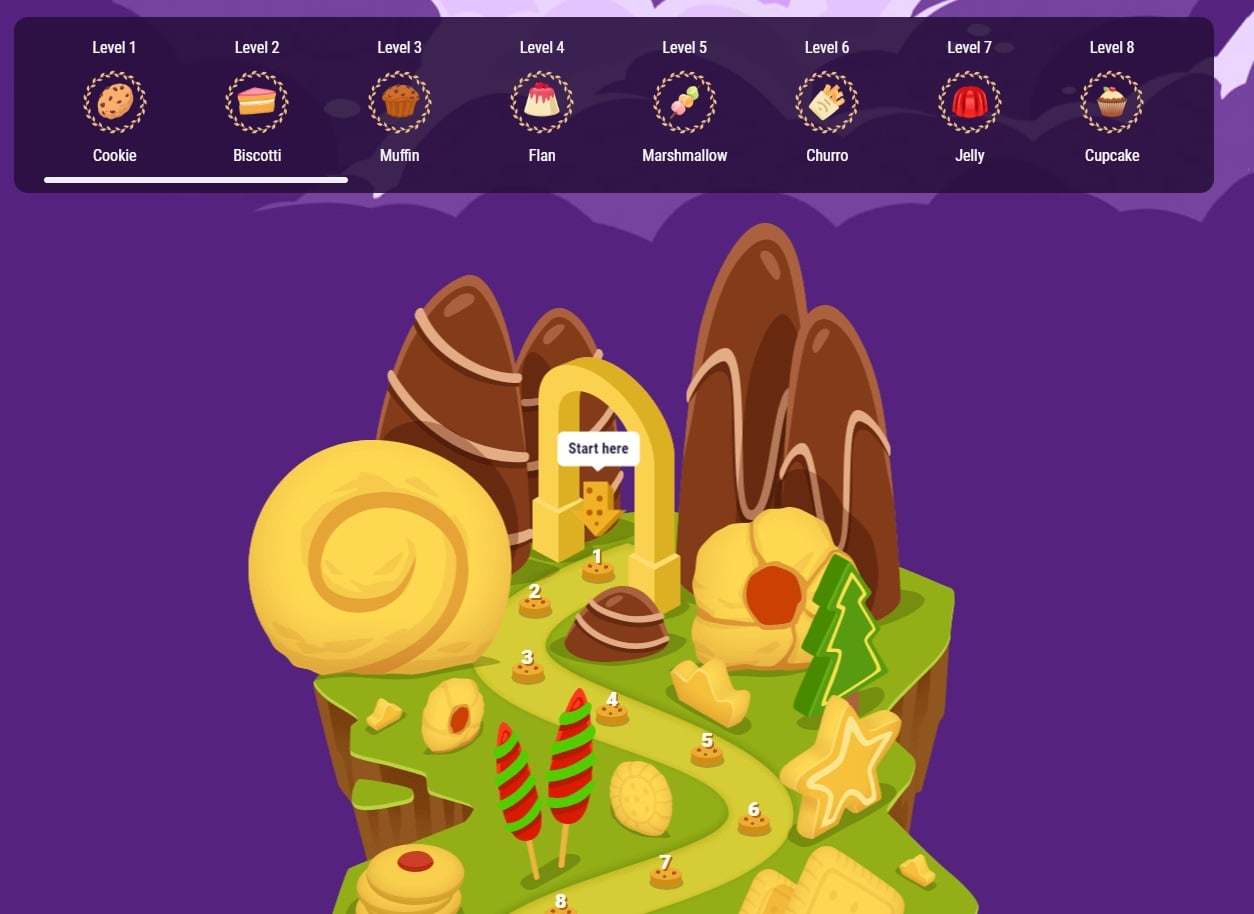 However, the theme is not what makes this promotion unique. Instead, what we love about the VIP program is that it's divided into levels, with each level being a different section of an "adventure" path, much like the bonuses that you find on BitStarz, but adapted into a VIP program instead. The Cookie Casino is, by far, one of the best sites that host a unique rewards scheme. If you love the variety and you're tired of traditional loyalty bonuses, this casino is sure not to disappoint.
How to Become a VIP
Becoming a VIP at the Cookie Casino is actually much simpler than it might seem at first glance. The first levels of the adventures are very easy to get past, but it does get more difficult with each level that you advance. In order to play at the Cookie Casino, you only need to make a deposit worth the amount is shown in the adventure path. Hover over each level and see how much money you need to play with in order to reach that level of the casino. It's quite simple. You can also see which rewards you get at each level, which enables you to see what you can expect to win before you actually earn it!
Levels are the Way to Go – An Adventure Themed VIP Path
We know that the VIP path tends to be more fitting to a bonus adventure. In most cases, these types of adventures are used to provide players with a world-class reward at the end of the road. However, given the friendlier-than-average theme of the Cookie Casino, we think that it suits this website almost flawlessly.
Rewards that Taste Too Good
The Cookie Casino is also sure to reward you very kindly with each level that you advance through its ranks. Even the early level provides you with bonus rewards that let you get free spins that generate real cash to your online casino account. All of the money generated using VIP rewards is subjected to wagering requirements, but you can still cash it all out once you fulfill them. It's also very fun to see how the rewards grow with each level that you advance. The second level grants you 10 free spins, but the last level grants you €10,000 instead. You get to choose how much cash you want to play with, and high rollers are sure going to be duly rewarded.
Cookie Casino Deposits and Withdrawals
We have to tell you – we've encountered many online casinos that offer a ton of different payment options. When it comes to a variety of payment and withdrawal options, it's hard to rank Cookie as one of the best. However, the site does provide players with solid options that are thought to be among the best and safest in the world. With just a bit more variety, the Cookie Casino would be the ideal website for payments and withdrawals on the planet. In any case, here are the easiest ways to deposit your money on the Cookie Casino: Visa, MasterCard, Trustly, Maestro, Neteller, Skrill, Rapid Transfer, Interac, iDebit, instaDebit, EcoPayz, Klarna, Neosurf, Zimpler. Withdrawals are a tad more limiting than its deposit counterparts, but they're equally as safe. Out of all the deposit methods available at Cookie, these are the ones that you can use to withdraw your cash to your bank account: Visa, MasterCard, Trustly, Interac, iDebit, instaDebit, EcoPayz, Skrill, Neteller, Neosurf, Bank Wire Transfer. The methods might seem a bit limited, but we do think that this online casino excels at one thing; the payout speed of Cookie is fantastic. Let's take a closer look at it.
Cookie Casino Payouts – Quick Enough?
The Cookie Casino doesn't offer some intricate payment options like cheques, and even though the site's payment options seem a bit limited, the payouts are processed much quicker than in some of the world's best online casinos. For example, at Cookie, the pending time of a transfer is less than 12 hours. Some online casinos take up to three days to make a request out of its pending status, which makes it take much more time than it should. At Cookie, you can have your money delivered to your account in a matter of hours thanks to this lack of a lengthy pending process. Services like e-wallet transfers take less than an hour to be processed, with bank transfers taking as little as one day on most occasions. That doesn't mean that certain transfers don't take as long as in other casinos, though. We've heard some players complain about their money being delivered in just over 4 days. However, these cases are much less prevalent at a website like Cookie than they are in other online casinos. In most cases, your cash will be delivered within a day or two. Slow payment methods are quicker at Cookie, whilst methods that tend to be inherently quick are almost instant.
The Cookie Casino Mobile Experience
As it's the case with most of the world's best online casinos, Cookie offers a unique mobile experience that enables players to wager their cash wherever they go. You can simply access the Cookie Casino website and log into your account. Then, you can play the best games that the site has to offer on your mobile phone. Almost all games are designed to be mobile compatible. However, there's one more thing about this casino that truly sets it apart from other mobile gambling pages – its amazing mobile app. Most online casinos work quite well on browser and this one isn't an exception, but you can further improve its mobile compatibility with the Cookie mobile app.
Cookie Casino App – How Does It Fare?
The Cookie Casino Mobile App improves the way your phone processes the casino page, which makes it load much better and improves the way you play games on your mobile device. If you're looking to play the best online casino games, there's no better way to do it than at the Cookie Casino with its fantastic application. Apart from improving performance, you can actually have it installed on your browser as well. It just makes the casino experience a much better one overall, and we fully recommend you check it out.
Responsible Gaming at Cookie Casino – Player Safety is Sweeter than Money
This amazing online casino comes with a special section called "Personal Limits", which goes hand-in-hand with the Responsible Gaming features that the website has to offer. Cookie is associated with many of the world's most prominent responsible gaming movements, including Gambling Therapy, GA, and Gamcare. They really do care about the safety of their players and they have an entire section dedicated to things you can do inside the casino to prevent you from falling victim to addiction. They know that their casino is better enjoyed when it's done for fun, and they want you to make the best of your experience there. Deposit limits, spending limits, and even excluding yourself from the casino are all things you can do at Cookie if you wish to keep it healthy on the site.
Cookie Casino Support Features – How Player Help Works
The Cookie Casino is also home to a solid platform of player support. If you happen to have any issues at the casino, you can count on the casino staff to help you solve them as quickly as possible. At the bottom right corner of your screen, you'll always find the "Chat" option to be opened, where you'll be able to contact the staff and let them know of any issues. You can also send an email to the direction provided at the bottom part of the website. We do recommend contacting the staff directly, as the email communication of Cookie isn't as top-notch as its chat functions.
Security and Fair Play at Cookie Casino – Cookies and Muffins Taste Better when Safety is a Priority
This online casino is fully regulated by the Malta Gaming Authority and all of the payment methods accepted at the casino are fully approved and considered to be among the safest in the world. You can visit the Cookie Casino and enjoy promotions, rewards, bonuses, and tournaments of world-class standard, and you won't have to worry about any of your personal data getting out on the open. What's not to love about Cookie?
Our Conclusion – The Site's Bonuses are Better than its Flan, Churros, Jelly, or Ice Cream!
We know that those tasty pastries are making your mouth turn into water, but what truly makes us drool is the fantastic set of games and bonuses that you can use to play them all. There are just too many fantastic games available at the Cookie Casino, as well as a massive selection of world-class promotions and tournaments to enjoy. The Grand Joust section of the casino, on its own, is more than enough of a good reason to visit this website. Good prizes await those who are willing to spend a good chunk of their cash at this online casino. In fact, the Grand Joust and the site's VIP scheme are what makes this online casino such a fantastic place to visit if you're a high roller. That, combined with the majestic set of features that this website has to offer, make the Cookie Casino one for the ages. You can spend hours upon hours a day and never get bored thanks to the variety that the website offers. Besides, the site has the most unique theme that we've ever seen in any online casino. Not overly elegant stuff, no cruise ships, and no space journeys. At the Cookie Casino, all you need to do is play and the rewards will be as sweet as the theme of this site. Head to the casino now and remember – the "Promotions" section of this website comes packed with an array of bonuses that keeps on being updated. Constantly check them out and claim the biggest prizes available!
Zuletzt aktualisiert
August 17, 2023