Everygame Bewertung
If you've heard of the Everygame Casino, then there's a very good chance that you've heard of the Everygame casino as well. Both sites are actually one and the same, but the only difference is that the Everygame Casino is the classic name that the casino has had since the 90s whereas Everygame is the newer version of the casino.
Gebühren & Auszahlungsgeschwindigkeit
Für und Wider
Zwei "Casinos" zur Auswahl
Poker & Sportwetten
Aktionen für jeden Bereich des Casinos
Ständig aktualisiert
Es fehlt an einer guten Auswahl an Spielen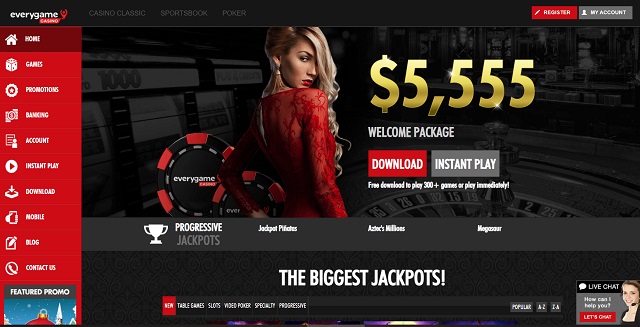 Even so, there are two types of casinos here: the classic casino and the standard site. It's not common to see casino developers taking a different approach in regards to software options at their casinos. Here, you will find the classic Everygame Casino filled with WGS games and the standard Everygame casino, which is filled with Real Time Gaming titles.
For convenience's sake, we'll refer to the casino as Everygame in this guide, so you won't struggle to understand what we're talking about.
You'll have the option to play at either casino, but worry not: both sites can be accessed with the same account. You won't have to create two to play!
With that said, we want you to discover with our review the best things about this massive casino which stands divided into two equally fantastic sites. Let's see what awaits.
Our Experience at Everygame Casino – What We Loved
The Everygame Casino experience is a very enriching one. The site comes packed with plenty of things to do, which makes it ideal for players who don't dig the idea of staying at one section of the casino only. The poker section and the site's sportsbook combine to make this fantastic website a place where all sorts of gamblers can unite.
Let's take a closer look at the two main benefits of this casino and why we think that this site is one to avoid missing out if you love poker and sports:
Cards, Sports, and Amazing Casino Games
We've always been critical of casinos that offer few gaming options, so it's time for us to praise the Everygame Casino for doing exactly the opposite of that. You will find sections of games that will adapt to the needs of every player. Poker rooms, a sportsbook with multiple matches in which to bet, and a classic casino section fill up the site with plenty of gambling activities in which to partake.
We loved paying a visit to the classic casino and the standard casino to see what games were in store before deciding where we wanted to play. We recommend you do the same, too – it's a good way to get a grip of the site and understand how it works before you begin playing.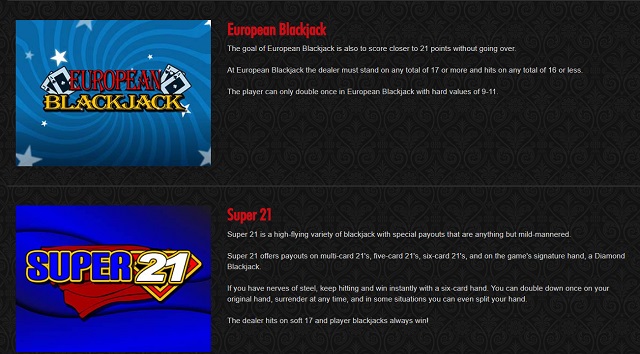 Incredible Bonuses to Start Every Journey
One of the best aspects of this casino is that you won't have to worry about starting in any of its sections empty-handed. There is a bonus for the casino section, for the sportsbook, and for the poker section of the casino. It's up to you to choose how you want to spend your money on the site, but there's also a reward waiting for everyone willing to make a deposit on the casino.
Ranging from 200% match deposit bonuses to rewards that could yield more than €5,000 in rewards, the Everygame Casino truly lets every player choose how they want to shape their journey and get extra cash no matter their preferences.
Everygame Casino Games – Slots & Table Games Galore
Arguably one of the first things that you'll notice at the casino is the site's collection of casino games. Variety of slots is not going to be questioned, but as far as table games go, this may not be the best casino to visit.
We'll be covering the game sections of both the standard casino (called the Casino Red) and the Classic casino in this section of games, for your convenience. Remember that you can use your account to play in both sites, so you won't have to worry about registering again if you want to access Red games with a Classic account or vice versa.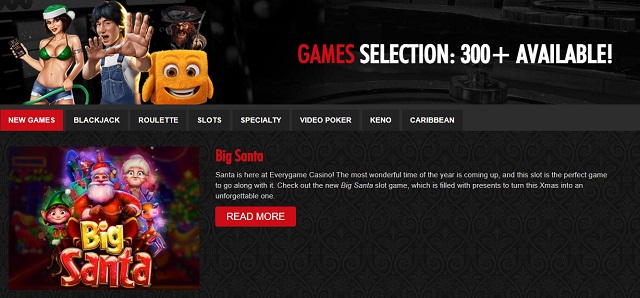 Slots
Most slot games that you'll find in this casino are provided by either WGS or Real Time Gaming, depending on which version of the site you're visiting (Red or Classic). With that said, we did find the selection of slots a bit disappointing. Browsing-wise, things weren't too good either.
This online casino could use with different software developers like NetEnt contributing to their gallery of games. Many modern online casinos mix things up, and even though there are other studios providing Everygame with quality games, they can't compare to the quality titles that larger developers currently offer.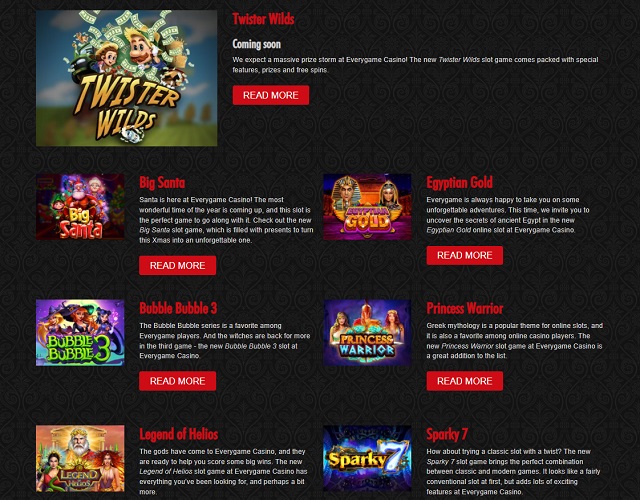 Blackjack & Roulette
There are no live casino games at the Everygame Casino, so you will find that all of the table games in the Blackjack and Roulette sections are virtual. You will be able to spend your money in any way that you prefer here, be it by placing large bets or by making smaller bets instead.
Game variety is fairly limited in this section of the casino, too. Pick games that you want to play, but don't expect variants of blackjack and roulette like the ones you can find at Live Casinos or at other sites with more game providers.
Visit the Classic Casino if you want to find more table games than the 3 options available at the Everygame Red website.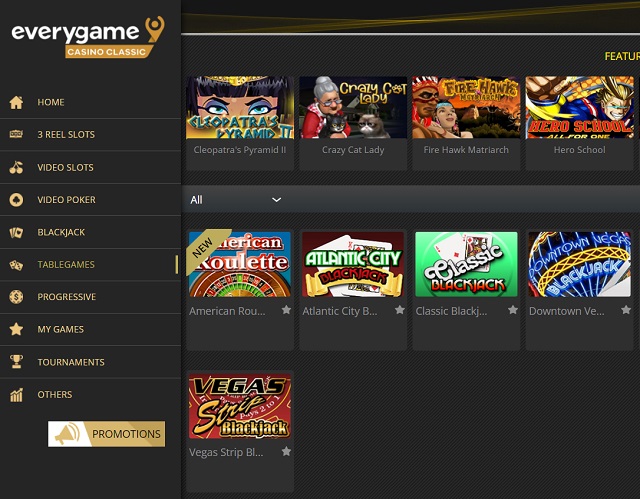 Specialty Games
There are a couple of specialty games that the Everygame Casino has in store thanks to Real Time Gaming. Games found on this section of the casino are video games more than slot games, and they involve the player's skill and decision making in order to turn your stake into rewards.
The Everygame Casino puts a couple of these games to your disposal, namely the Fish Catch slot (which is a multiplayer shooter) and the Banana Jones game (an online virtual tabletop game). If you're looking for a different experience at the casino, then you'll love what the Specialty Games offer!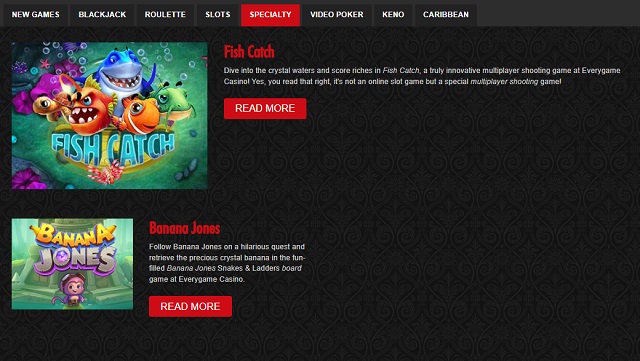 Video Poker
The Classic Everygame Casino has a bunch of video poker games that you can play, whereas the Red Casino offers nothing but 3 options, albeit high-quality, where video poker fans will be able to spend their money.
All of the video poker variants found at the Real Time Gaming section of the casino are must-try games. There may not be a lot of them, but they're fun to play and you should give them a try if you dig video poker machines.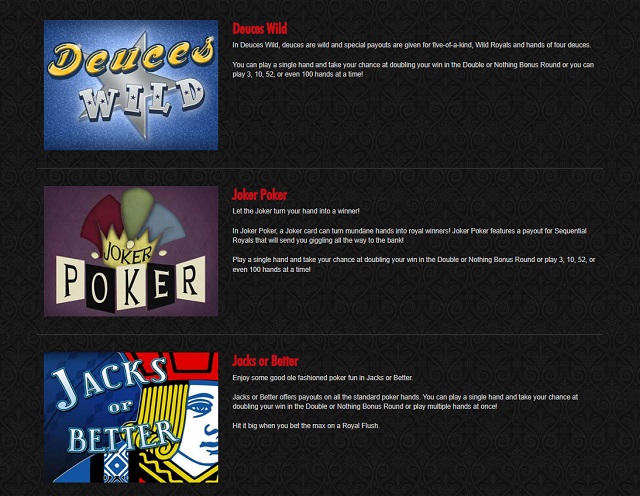 Keno
Keno may not be the most popular type of game that you can play at Everygame, but any modern respectable online casino has at least one Keno variant for those that love scratch cards and card lottery games.
The Keno software found at Everygame is developed by the Real Time Gaming group, and it's only available at the Red Casino.
Everygame Casino Sportsbook – A FIAT & Crypto Sportsbook
The Everygame sportsbook is one of the oldest that you'll find on the internet. It has been operating since the days where online casinos were much different to what they are now. In fact, back when it was opened in the 90s, you had to phone the betting staff to place your bets!
Things have changed a lot since the site opened its online sportsbook in the 2000s, though. Right now, you'll find that the sportsbook offers just enough for gamblers to be content with the setup. Live betting, a betting calendar, and basic lines in popular sports are there to be found.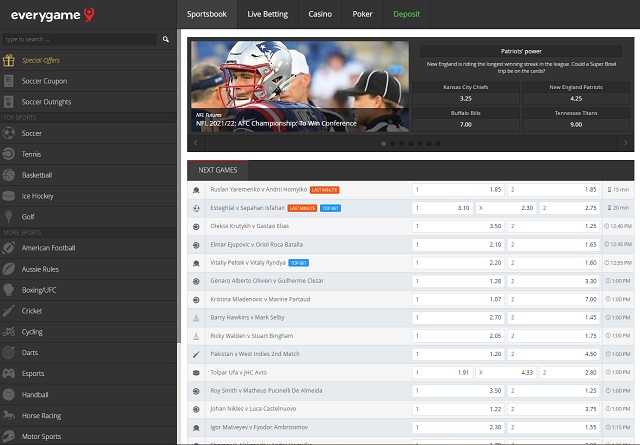 Don't expect a crazy number of features on this site's sportsbook, though. This casino may have a lot of activities in which to partake, but none of its sections is one that we'd rate as world class.
The Everygame Casino Sportsbook sets you up for victory at the sportsbook with an amazing number of rewards that you can claim from the moment you create your account.
Coupons & Bonuses Galore
We did find that the site sportsbook was really good when it comes to casino bonuses and rewards. Coupons for popular sports and a welcome bonus for the sportsbook itself make for a fantastic gambling experience that players will surely enjoy, and low wagering requirements in every bonus keep offers fair for every player to enjoy.
Everygame Poker – Play Cards at Everygame!
The Everygame Casino has been around for ages, but the site's poker tables were never the main reason why it got so popular. In any case, they are still quite a good section of the casino to visit and even better if you're already good at poker.
The casino has high roller and low roller tables just like any other poker website, even though there aren't as many tables as in other poker giants because the playerbase of this casino is far more reduced than in other mainstream sites.
However, you will find that the casino provides players with a welcome bonus to get their adventure started. Also, since the site isn't a mainstream poker casino, you will find yourself playing against players with an overall lower skill level than what you'd find in other sites.

Get a Poker Welcome Bonus
Don't miss out on the poker welcome bonus to kickstart your journey on this website! We've broken it down in more detail below, but players looking to sit at the Everygame Poker Tables are sure to be welcomed with a reward worth hundreds of euros by simply making one deposit on the casino.
Everygame Casino Bonuses – Rewards for Every Type of Player
One of the things we loved the most about the Everygame Casino is that the site comes packed with a bunch of incredible promotions. However, unlike other sites, you will be able to claim a particular bonus for each section of the casino. You won't have to miss out on rewards if you want to play poker or bet on sports – there are bonuses tailormade for every type of player.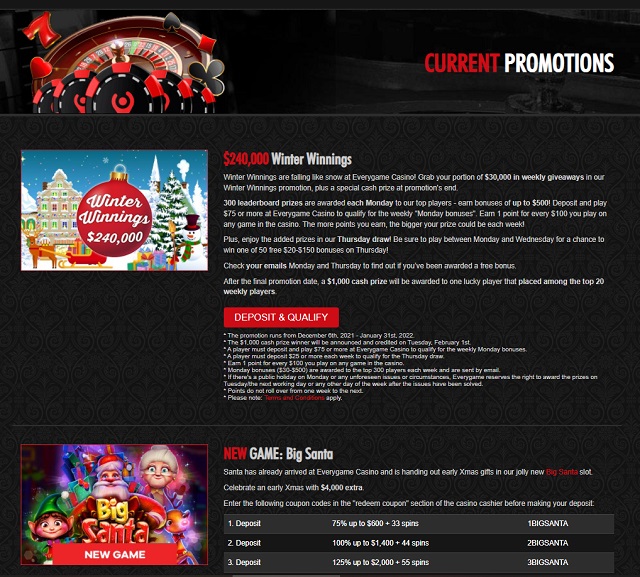 Everygame Welcome Bonus
The first welcome bonus found at the Everygame Casino is the welcome bonus for the standard casino site. It's actually a fantastic offer worth $1,000 in free rewards, and both the Red Casino and the Classic Casino have their own offers that must be spent on each part of the site even if both casinos share the same account per player.
The first deposit bonus of this incredible casino rewards you with up to €1,000 with a 125% match deposit bonus, which means that you'll need to deposit €750 to claim the full €1,000. You can also claim a smaller bonus if you want, as the minimum deposit to activate the 125% match is just €25
Everygame Sports Bonuses
Players that visit the sportsbook to place bets as soon as they register their account will be entitled to receive a staggering reward of up to $100 in free cash just by making a small deposit of $50. The bonus cash obtained with this offer may only be used in the site's sportsbook, though – if you want to play other games, refer to the other bonuses on this list.
This bonus comes with a wagering requirement of just 8 times the amount of money obtained, so be sure to place smart bets while gambling at Everygame and you may be well on your way to obtain incredible prizes.
Everygame Poker Bonus
Players that register at the Everygame Casino with the sole intention of playing poker will be happy to hear that the casino matches 200% of your deposit in free money that you'll get to spend at the poker rooms against other players.
This incredible bonus matches up to $1000 in free cash, which means that a $500 deposit is enough to claim an extra $1000 on the site.
It's one of the most lucrative poker welcome bonuses that we've reviewed, so it's one worth checking out if you're a fan of the classic casino card game.
Special Everygame Bonuses
From time to time, you may come across special promotions and rewards that boost your account balance more than other rewards on the casino. In some occasions, you will only be able to trigger the rewards with luck, while in others you may need to use your time and spend your money wisely to earn rewards. Some of these promotions are:
Some casino slots provide players with Free Spin points that can be used to claim free spins on the casino. The promotion, when active, is available every day of the week and encourages gamblers to play the slot games of the Everygame Casino.
The Wheel of Fortune promotion is another example of a great special bonus at Everygame. You'll have the chance to earn a slice of $1,000 every day while the promo is active!
The Everygame VIP Program
The Everygame Casino has a loyalty program that is very akin to what you're expected to find in a classic online casino. There aren't too many crazy rewards and bonuses, but the site rather works with a point system where players will be able to trade their rewards for extra bonus cash which can then be spent again on the casino.
There are only two VIP features that you should be aware of, which are:
You will get 1 Comp Point per each $10 that you wager
100 Comp points can be traded for $1

Everygame Casino for Mobile – How Does It Fare?
When browsing the Everygame Casino, you will notice that there's a section at the leftmost menu of the site that reads "Mobile". This section takes you to the mobile version of the casino (or to a login screen if you haven't logged into your account yet).
The owners of the website certainly have confiedence in their mobile site, so we were eager to test it out. Performance-wise, we have to say that we aren't disappointed. We do think that the landing page of the casino leaves a lot to be desired, but Everygame looks quite good once you're logged in.
Everything seems to be at hand most of the time. The only part of the casino that feels a bit awkward to browse is the dropdown menu. Games work very well on mobile and we had no issues playing any title on the site nor claiming any bonuses when playing from our phones.
A Special Section for Mobile Only
This casino prioritizes giving importance to players looking to play on mobile devices – and that's something that you'll notice by just looking at the menu.
The site works very well on mobile; so much so that you'll be encouraged to change to the mobile version of the casino if your device somehow didn't load it when you first visit it. Be sure to check it out and click the button if you're visiting the site on anything but a computer.
Everygame Casino Software
As we've already established, the EverygameCasino is divided in two different sections. Both the classic section of the casino and the standard section of the casino offer different software options, and that's actually why they're split into two.
You'll find that the red casino is provided with Real Time Gaming titles, whilst the other casino is home to WGS titles. If you're looking to have a complete gambling experience, the best way to do it is by paying a visit to the Red Casino – that's where you'll be able to make the best of their rewards.
Everygame Casino or Intertops Casino
We've seen many users confused about whether they should visit the Intertops Casino or the Everygame Casino – especially because Googling Intertops shows that the site exists, but once you visit it, you'll find yourself at Everygame.
We'll clear the air here: Intertops and Everygame are one and the same. It doesn't matter which name you find them under – both sites are the same.
However, the site is divided into two sections, each with their own software and games, but sharing the same user account:
Red Casino
Classic Casino
You will be able to rotate from site to site as you see fit on the site's homepage.
Check Out the Classic Casino at Everygame
The Classic Casino is the least "cared for" section of the casino, if you may. It is the section that, if it smelled, it would smell like antiques. The site has an archaic feel to it, as even the design feels older than one would expect to see in a new online casino.
However, we still recommend you pay it a visit. The site hosts some fantastic slot games that we'll sure that you'll love if you're a fan of classic games.
Don't expect to find this section packed with new casino bonuses or loads of rewards, but do keep your eyes open for new slots that may be added to this part of the site.
No Live Casino Games at Everygame
This is not something that you'll often see when visiting modern online casinos, but Everygame doesn't really have any live games that you can play.
The casino isn't partnered or associated with any renowned live software developers like Evolution Gaming, so you won't find yourself playing live games when visiting either the Red Casino or the Classic Casino at Everygame.
Everygame Casino Payments and Withdrawals
The Everygame Casino provides users with plenty of options when it comes to banking. Payments and withdrawals can be done in cryptos or any available FIAT currency, so it's up to you to choose how you want to use the money in the casino.
Likewise, your account in both casinos will share the same balance. You won't have to make a new deposit if you're moving from Red Casino to the Classic Casino with an account that is already loaded with cash.
Cryptos & FIAT Currency
The Everygame Casino allows players to make deposits using cryptos or FIAT currencies. Promotions can be activated with either type of money, but there aren't any special rewards for those who make their deposits in Bitcoin.
All bonuses are worth equivalent amounts of money. If you claim a $300 bonus with bitcoin, then the reward that you will receive will be worth $300 in BTC at the current exchange rate.
Everygame Casino Customer Support
The Everygame Casino has a customer support that excels for two reasons. The first one is that the site's support is available 24/7, which makes it possible for players to get in touch with them regardless of their time zone.
The second one is that response times are very quick. All you have to do to get a quick response is to contact the site's staff via the chat function of the website. In any case, should you have an issue that requires contacting the casino staff via email, they often answer within 24 hours.
Visit the Global Everygame Casino and Win Incredible Prizes
Whether you want to call it Intertops or Everygame, this online casino provides gamblers with a solid environment in which to spend their money which is as safe as things can get. The company has been around for more than 40 years and the Everygame name is very well-known in the iGaming world.
The site has bonuses for people that want to spend their money in any part of the casino, which makes it very easy for gamblers to choose a part of the casino to visit and get credited from the get-go.
There may not be a lot of lucrative jackpot slots nor will you find a larger library of games than what other casinos offer, but promotions are enjoyable and there's always something to do for every player at the casino.
Whether you're looking for the Red Casino experience or opting for the Classic Casino adventure, Everygame is an all-around good site to visit.
Zuletzt aktualisiert
August 1, 2022