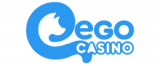 Claim EgoCasino Free Spins at the Best Casino Games
The EgoCasino is home to dozens of fantastic bonuses that will allow you to claim bonus cash and bonus free spins. Seeing as how the site houses a ton of rewards, we've decided to write this article to help you understand how you can use the money and maximize your casino profits without overspending any cash.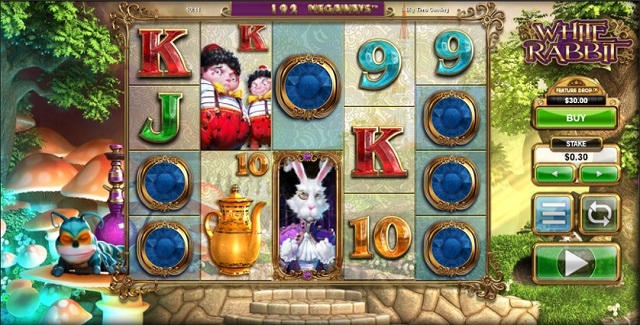 Check out the best lucrative slot games to play with EgoCasino free spins and free bonus cash and enjoy the beauty of high RTP slots!
3. Queen of Atlantis Slot Review – (96.4% RTP)
This fantastic online slot game will have you diving into the deep ocean to try to find the Lost City of Atlantis, where rewards await for those brave enough to come looking for them.
With a slightly higher RTP than your usual online slot, Queen of Atlantis has been one of the best low roller online slots that we've had the pleasure of trying out.
You'll be keeping your eyes peeled for the scatters, which unlock the free spin rounds and let you claim the game's most coveted assets: free spins with multipliers on your wins. You can earn up to 20 free spins on a single spin, which will be worth the same value as your original spin and provide you with no winning limits.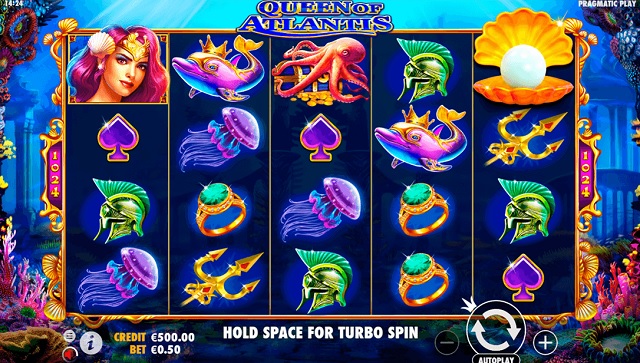 The wild symbol appears in the three middle reels (there are 5 reels in total) and it allows you to claim a staggering multiplier that lets you double, or even triple, your winnings. Combine the multiplier and the free spins to bolster your account balance through the roof!
This online slot may have an RTP that seems average at first glance, but it's a very fun and engaging slot that will have you keeping your eyes peeled as you try to dig the best rewards from the depths of the ocean.
2. Extra Chili Slot – (96.2% RTP)
Are you a fan of Megaways games? If so, you'll be happy to hear that the Extra Chili slot is here for the taking. This medium RTP slot comes with very high volatility, though, which means that you may struggle to win at times but you'll truly see the biggest payouts on winning rounds.
Regardless of how you like your food, the Extra Chili slot is a spicy flavor that you NEED to try out.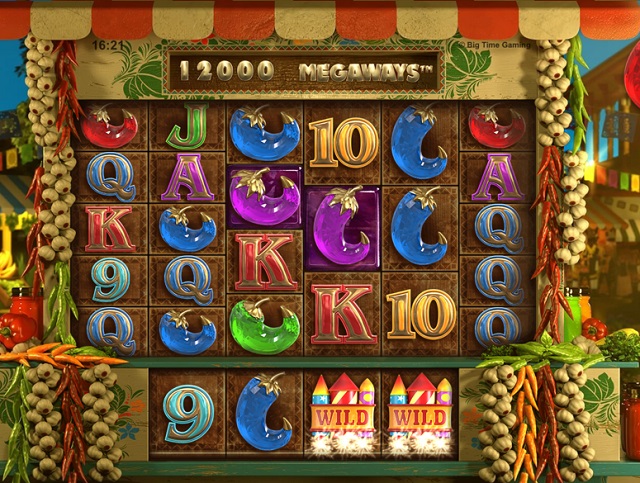 Look for the wilds and the purple chili symbols if you want to earn the best prizes that the game has to offer. The purple chili will let you earn a multiplier of 50 times the amount of your stake on a single bet, whilst the wild symbol is the key to unlocking the finest of the game's rewards.
If you love high volatility slots, you're going to love Extra Chili. The game's soundtrack makes the title ever more immersive.
We had our hopes set very high when we first played this game, seeing as it is the natural successor to one of our all-time favorites: Bonanza Megaways. It's save to say that this game lived up to our expectations, so go ahead and give it a go – we know you won't regret it.
1. White Rabbit Megaways – (97.72%) Best High-RTP Megaways Slot
As far as high RTP games go, this is the one that you'll want to try out first if you're a fan of Megaways games. In fact, we'd argue that this is the best Megaways game on the market, even if it's not the one that you'll hear the most about.
Perhaps seen as more of a hidden gem than anything else, White Rabbit Megaways will take your adventure into the world of Alice in Wonderland but with a much more mature theme than what you'd expect to find in such a slot.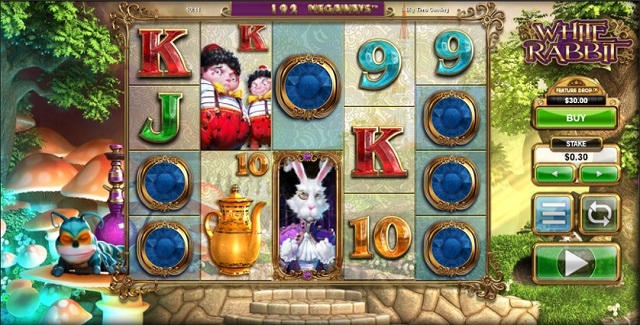 As per usual with most Megaways slots, the maximum bets are not set too high. You can spend from €0.10 to €20 per spin, but with a maximum win of 13,000 times your stake, a lucrative reward is there for the taking.
Free spins don't come with crazy high multipliers, but you do have the chance of earning a bunch of free spins per winning round.
Unearth this Big Time Gaming work of art and give a go to one of our favorite online casino games of all time in White Rabbit Megaways!
How to Claim Free Spins at EgoCasino?
The EgoCasino has proven to be home to some of the best bonuses around. There are three promotions that, in our opinion, work as the best bonuses to spend at the site and claim fantastic free spins to be spent on the best games that the casino has to offer.
Let's take a look at the 3 best free spin bonuses to claim at the EgoCasino and find out just how you can double your casino balance with free spin rewards at this fantastic casino:
3. Winged Free Spins - Free Spins Every Weekday
This fantastic promotion is one that we've reviewed independently before, and it's one of the main reasons why we love the EgoCasino as much as we do. With it, you'll have the chance to earn 40 free spins every single day, from Monday to Friday, every week of the year – provided that this winged animal keeps visiting the EgoCasino during your stay!
You can get up to 40 free spins per day, but the games at which you get to spend them vary depending on what the casino makes available to players.
Take a closer look at the Winged Free Spin bonus and earn the chance to play the best EgoCasino slots for free!
2. Morning Up Bonus - €1,000 + 20 Free Spins Every Day!
Perhaps you're looking for something more varied than a straight-up free spin casino bonus. We get it – we've been there before. Sometimes, free spins just don't cut it.
You can take a closer look at the Morning Up Bonus if you're on the same boat in which we often find ourselves. Not only does this bonus get you a 50% match deposit bonus every single day, but you'll also get the chance to claim 20 free spins to be spent in the best slot games on the site.
Spice up your EgoCasino adventure and claim the best prizes by claiming this morning-only casino bonus!
1. The EgoCasino Welcome Bonus €500 + 100 Free Spins
Perhaps the site's most popular casino bonus, the EgoCasino welcome bonus is set to pack your account with up to €500 in free bonus cash and 100 free spins to be spent in one selected online slot game.
This incredible offer is a one-time bonus only, though. You get to claim the cash once, and you get to spend the spins once. Oh, and you only get to do it as soon as you register at the EgoCasino – be sure to claim it before the other bonuses on this list!
Free Spins and Bonus Wagering Requirements & Rules
You will have to spend your bonus cash, as well as the bonus money generated with free spins, a total of 40 times before you can request a withdrawal of your money. Furthermore, free spins have a maximum winning limit of €1,000 and you need to make a minimum deposit of €20 to activate any of the aforementioned bonuses.
The Ultimate Reel-Spinning Fun Awaits at EgoCasino – Don't Miss Out!
We wish that we could tell you that the site will allow you to play slot games with higher RTP rates, but the bonus cash obtained in the casino must have its wagering requirements fulfilled in games with fair RTP rates.
You can actually unlock the bonus cash by playing other sorts of games and then withdraw the money or spend it in any slot game that you want. That's the best approach to take if you intend to use your cash in high-paying slot games.
In any case, rewards and top-quality games await at the EgoCasino. Be sure to pay the site a visit and claim the best casino promotions now!
Last updated
August 19, 2021