Fans of mythology and online casinos can rejoice at the fact that there is one game that will not only suit their needs, but also the needs of those who are looking to make a profit while playing slots.
With a great RTP and some of the most fluid gameplay features that we've ever tried out, Age of the Gods: King of Olympus has settled as one of the best online slots that we've played in recent times. The game isn't recent at all, however. The title has made its way to dozens of online casinos in the last few years and it's just one of those games that you know you can keep coming back to without getting bored at all. As such, we've decided to create a complete review of the game to help you get initiated into the world of rewards that it offers, as well as to let you know what it's all about and why this is one of the most played casino games in the industry. We know that you're going to be eager to play once you finish reading it, so we've made a point to compile the best casinos to play Age of the Gods: Kings of Olympus at the bottom of this article. Yes, there are bonuses that will allow you to play the game for free – don't worry.
Age of the Gods: King of Olympus Overview
If you're a fan of progressive jackpot slots but you'd like to stay away from the most popular titles like Mega Moolah, then you might want to pay this game a visit and try out its amazing features. Being one of the popular (but not too popular) progressive jackpot games in the iGaming industry, this game comes with a standard jackpot of 300,000 plus the normal progressive jackpots of the Age of the Gods base game. It's a spinoff to the original game that introduces new ways to win more money and creates an even more entertaining environment for those that have already played the first game in the past and are looking for a new challenge. You can already imagine how the jackpots work, but we'll tell you anyway: free spins will be your go-to tool to earn more money and the game's spin multipliers do a fantastic job at increasing the amount of money that you can earn every time you spin the reels. It's a world-class online slot that truly makes justice to the name of progressive jackpots and makes us fall in love, once more, with the Age of the Gods series of games. If you've already tried the original game, give this one a go. If you haven't, then don't even bother. Just play this one instead. It's way better than the original, in our opinion.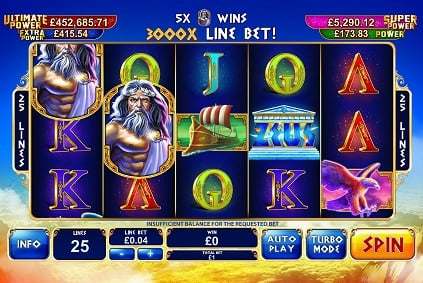 Age of the Gods: King of Olympus Basics
Age of the Gods: Kings of Olympus is a spinoff of the original Age of the Gods online slot, which was (and still is) a very popular title played by iGamers from all over the world. However, there are a few reasons why we recommend playing this game instead of the original. To start things off, we're going to take a closer look at the Age of the Gods' basic features and then we'll move on to exploring the more in-depth gameplay features of the game. We all know that the basics are what draws players into online slots, though, so we'll focus on that first!
Gameplay
Although it might not seem like it at first glance, the gameplay of Age of the Gods: King of Olympus is actually packed with cool features. Take a look at the Wild symbol that shows up in the middle of your screen (which is always there on bonus rounds) and take a further look at the amazing jackpots that can be unlocked when you land a few good wins in a row – they're there to make the game more complete than a traditional online slot. It's safe to say that they do their job pretty well.
Graphics
The game stays true to the concept of the first Age of the Gods title and it keeps the same artwork to give the game the same type of vibe. As such, graphics might feel a bit outdated, but we think that the approach taken by the developer really meant to keep the game feeling like its original counterpart. We really like the animations that we see when we win a round, though. We feel that they're the strongest aspect of the game, as most of the symbols show a different animation whenever you land a win.
Audio
We really have some issues with the game audio. Whenever you hit the "Spin" button, the game plays a sound that can turn out to be quite annoying after you've been playing for a mere 10 minutes. We do suggest you mute the game if you don't like the sound, though. It's a shame that we can't only mute the "spin" button as well, as we feel that the game's music is actually quite good. In any case, you might prefer to put on some music instead.
Age of the Gods: King of Olympus Gameplay Features
The Age of the Gods: King of Olympus slot comes packed with free spin rounds that make the game as profitable as it is fun to play. This fantastic title comes with the Zeus temple scatter symbol, which will allow you to trigger extra bonus rounds every time that you land it. As such, you're going to be chasing those temple symbols as much as you can in order to maximize your profits. When you trigger the free spin rounds, you'll notice that a Zeus symbol stays in the middle of your screen during each of them. This symbol is a sticky wild, which is the main reason why these free spin rounds tend to be so profitable. Naturally, as it is the case with many of these free-spin-rich games, you can also trigger multiplier rounds that could see your profits skyrocket with a little bit of luck. That's not all, though: you can also trigger one of four random jackpots whenever you spin the reels. They can come at any round or when you bet any given amount of money on a spin – they are not limited to anything other than your luck. Do keep in mind, however, that rounds with higher bets are more likely to trigger the jackpots than low-wager rounds.
Age of the Gods: King of Olympus Developer and Where to Play
If you've been following the online casino scene for a while, then you probably know that Playtech has been widely regarded as one of the industry's finest casino game providers. Many put the company behind NetEnt and Microgaming only, when it comes to the development of traditional casino games. With a wide selection of titles that spans all the way back to 1999, Age of the Gods has been one of the most influential games in the history of online gaming. This new spinoff title just further emphasizes the idea of it being a classic, and provides players with a new version of the game to enjoy even years after its release. In any case, Playtech casinos are some of the best places to enjoy online slots on the internet. A game such as Age of the Gods: King of Olympus deserves to be played with nothing but the best casino bonuses out there. The sites that we've compiled here are the best in which you can play the game, as well as the best Playtech casinos to claim the best bonuses out there. Choose wisely, make your bets, and may you be the lucky one to win the jackpot!
Our Conclusion – Reach the Temple of Zeus and Earn Electric Prizes
There isn't a single jackpot hunter to which we wouldn't recommend Age of the Gods: King of Olympus as a fantastic title for them to try out. This amazing game comes packed with too many good features that make it a world-class online slot to enjoy, on top of it being a much better version of an already popular game that stood out as one of the best in the industry for a very long time. We know that people are not always keen on giving spinoffs a choice, but if there's a lesson to be learned by Book of Dead and Reactoonz 2, it is that the second parts can often be much better than the first ones. If you're looking to win some cash in a world-class slot that combines traditional jackpots with progressive jackpots and gives you crazy multipliers to enhance your winnings, then this is the game that you'll want to try out.
Last updated
March 20, 2023