Claim the Jackpot City Welcome Bonus
The Jackpot City welcome bonus is a promotion that makes you rub your eyes the first time you see it. With a total prize of up to €1,600 that every player gets to claim, the Jackpot City welcome bonus is one of those promotions that you'll love to claim.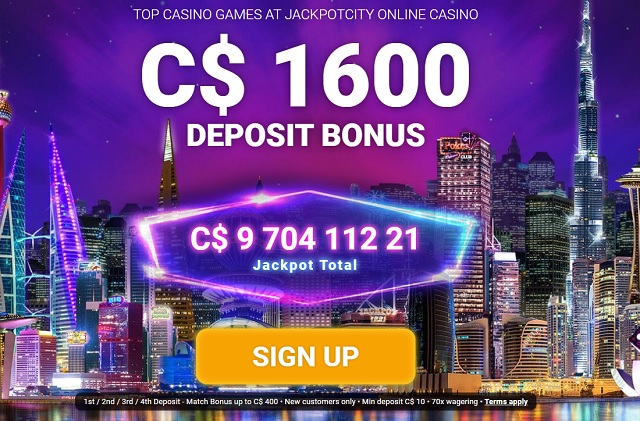 We think that the only attribute that would make it better would be if the bonus money was able to be spent in jackpot slots (you could do it before, but the Jackpot City policy has changed). In any case, even though you can't do it now nor play NetEnt slots with the bonus, it's still a highly recommended bonus.
We'll tell you all you need to know about it, as well as the bonus wagering requirements and how you can spend the bonus cash at Jackpot City!
Four Deposits, One Massive Welcome Bonus Reward
The Jackpot City welcome bonus provides you with bonus cash that doubles your initial deposit in your first four deposits at the casino. As such, you will be able to earn rewards four times with a single welcome bonus. You can get up €400 per deposit for a total of €1,600; here's how it works:
No deposit free spins; only free bonus cash
Four different deposit bonuses, with each worth up to €400
All bonuses require a minimum of €10, which means that the minimum amount of cash to be claimed with all four deposits is worth €40
This is Why You Need to Claim the €1,600 Free Welcome Bonus
This fantastic welcome bonus looks very lucrative, but we want to tell you more about the main reasons why claiming €1,600 at the Jackpot City Casino is a brilliant idea.
The bonus allows you to earn cash in four different casino deposits
You can play almost all of the online slots on the site with the bonus cash, with the exception of progressive games and NetEnt slots
It's a worldwide offer. You can claim the bonus no matter where you live, basically
Jackpot City is a world-class casino, available on all devices. A welcome bonus of this level of lucrativeness is a no-brainer to claim
The Ideal Welcome Bonus for Mobile Players
Mobile players may sometimes struggle to figure out a casino bonus that will work well in mobile devices, partly because online casinos often overlook mobile payments and because not all worthwhile casinos are mobile-friendly.
There are a couple of reasons why this bonus is the best of the bunch, in our opinion, for mobile players. Let's take a look at them:
The Jackpot City Casino is mobile-friendly. You will be able to play almost all of its games on mobile devices – including the site's jackpot slots!
This welcome bonus is divided into four different deposits, which essentially give you €400 each and make them all easy to claim on mobile
Jackpot City is a reputable online casino with player-friendly features that all of our readers will love
This bonus is given by one of the most trustworthy casinos that we have visited
The Welcome Bonus Terms and Conditions
The Jackpot City welcome bonus doesn't really make it difficult for players to cash out the rewards, as the offer is quite easy to understand. However, there are still a few terms and conditions that we want you to be fully in the know about before you claim this welcome bonus:
Wagering Requirements
The bonus comes with a wagering requirement of 70 times the amount of bonus cash earned with each deposit. Also, each deposit works like an individual bonus, which means that you will have to fulfill wagering requirements per each deposit that you make, based on how much cash each deposit is worth.
A bonus of €100 means that you would have to wager €100 a total of 70 times, which would equal €7,000.
Bonus Money Usage
You will be able to use your bonus money in most of the casino's games, but bear in mind that each game has a different stake weight (they contribute differently towards the fulfillment of your wagering requirements).
As such, these are all the games that you'll be able to freely play when wagering at the Jackpot City Casino:
Slots, Keno & Scratch Card games (Slot re-spins only count 10%) - 100%
Video/power Pokers (excluding All Aces and Jacks or Better video pokers), all Blackjack games (excluding Classic Blackjack) - 8%
Classic Blackjacks, All Aces video pokers, all Jacks or Better video pokers - 2%
All Types of Baccarat, Craps, Red Dog, Sic Bo - 0%
Bear in mind that you cannot play any NetEnt slot games or progressive jackpot games with the bonus cash.
Bonus Timeframe
You need to claim this bonus within 7 days of activating your account. If you fail to do so, you will lose out on all rewards offered by the casino. You can still use your account and qualify for other Jackpot City bonuses, but the welcome bonus will be forever lost. Be sure not to miss out on it!
Get the Jackpot City Welcome Bonus and Earn Up to €1,600 for Free!
The Jackpot City Casino welcome bonus is a very lucrative deal that, even with high wagering requirements, gives you enough bonus cash to keep playing casino games for weeks to come. Flexible timeframes and the ability to use your money in multiple game types are two of the main reasons why we love this welcome bonus.
Jackpot City is a fantastic online casino, home to some of the best casino games in the industry. Jackpots are aplenty here – if you love progressive games, you're going to want to claim this bonus and then use your profits to try your luck at the internet's finest.
Go on and pay this site a visit. Jackpot City rewards are there for the taking – what's a better way to get them than using free bonus cash?
Enjoyed this article? Please help us by sharing: