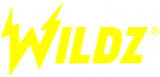 Win €250,000 Online at Wildz Casino
The Wildz Casino is one of the best online casinos in the world. With hundreds of promotions available, one of which is their popular spinback bonus feature, the site offers hundreds of ways for players to earn money in various different forms. However, one of the most lucrative ones that they're currently offering is the massive prize of €250,000, sponsored by none other than the fantastic people at NetEnt.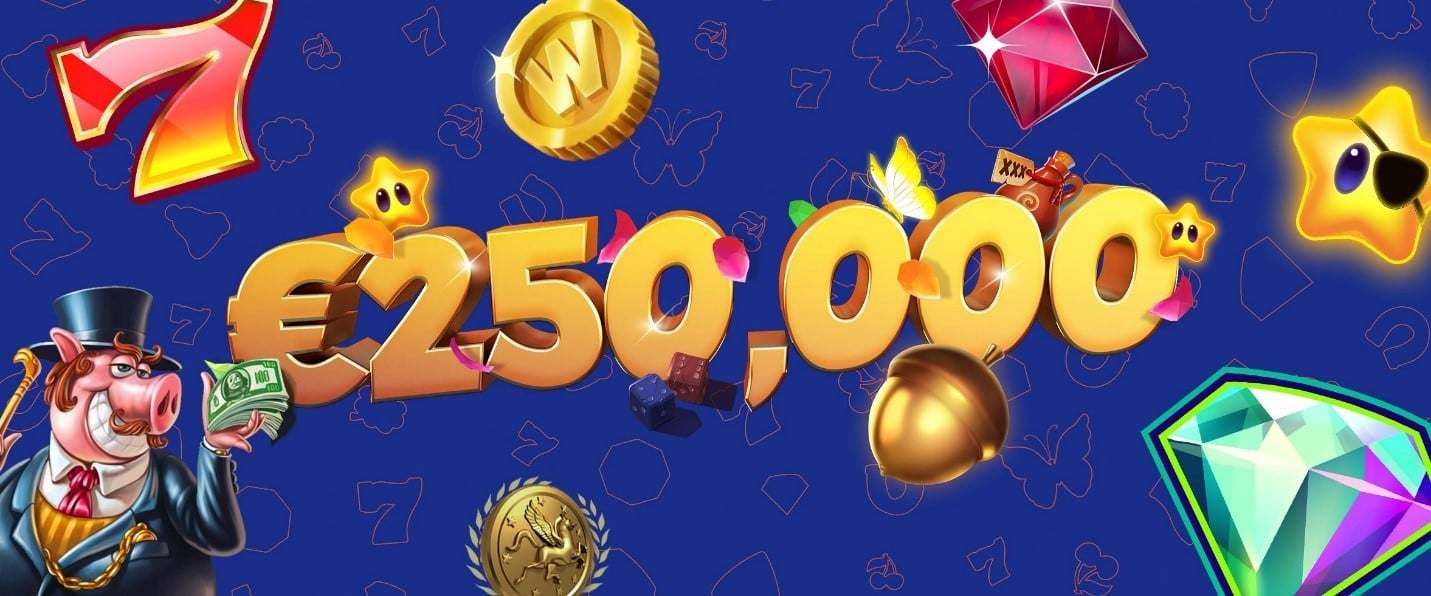 The bonus is a limited offer that must be claimed in March 2020, and it consists on participating in a tournament that is divided in four parts. All you must do is visit the Wildz Casino during March and you will be able to claim a chunk of the €250,000 reward.
All of the money that you earn with this offer will be completely free of any wagering requirements, which means that the money you earn is money you get to keep. You could also wager it on the site if you like, but that's entirely up to you! Eager to learn how to win a part of this fantastic prize?
Stay with us and find out. It's easier than it seems.
A Random Draw to Win Win €250,000 Online
This promotion is basically a gigantic random draw where you can participate by purchasing a €20 ticket. The only thing that changes is that you don't really have to buy the ticket per se; all you must do is spend the €20 in one of the games that qualify to be played with this offer and you will enter a pool of contestants that have the chance to earn the cash.
The draws are made at the end of each week, so all you really have to do is focus on spending €20 in any game that you like and you will be able to claim the bonus if you get lucky and show up as one of the winners of the draw. The dates of the tournament are as follows: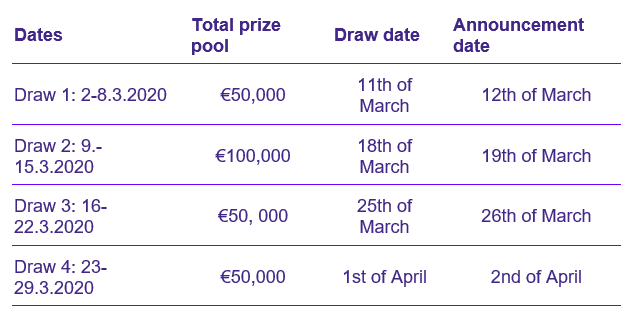 There's still plenty of time for you to participate if you're reading this on March, so don't miss out on the fantastic rewards that you can get on the Wildz Casino. The second draw is the most lucrative one, as the first place gets a grand total of €4,500. In any of the other draws, the first place gets €3,000. You just need to cross your fingers and hope you get drawn in one of the better spots. It could signify you winning a lot of money in the long run.
Which Games to Play with the Promotion?
There are many NetEnt games that can be played to participate in this promotion. Remember that the only thing you have to do is wager €20 in one of these games and you will enter in the draw to win one of the fantastic prizes. The games are as follows: Reel Rush, Finn and the Swirly Spin, Finn's Golden Tavern, Butterfly Staxx, Butterfly Staxx 2, Piggy Riches, Dazzle Me, Divine Fortune, Twin Spin, Scudamore's Super Stakes, Narcos Video Slot, Jumanji Video Slot, Conan Video Slot, Dead or Alive 2, Turn Your Fortune.
Prizes to be Won
Looking at this promotion will surely make you think that there are just a handful of winners and that you might need to get really lucky to win a single prize. However, that's not as true as it seems. Obviously, if you wish to get one of the largest prizes, you will need a ton of luck.
However, there are literally thousands of winners that get rewards from this promotion! The first ten places of each draw will get over €1,000, but the rest still qualify. There are almost 5,000 winners between all draws, and you can easily be one of them if you participate right now.
Keep in mind that these bonuses are all randomly drawn, so you can be one of the lucky ones even if you've only bet €20 to participate! Remember that you need to wager €20 on the same day if you are to qualify for the weekly draw. You may only qualify once per day as well, which means that you can only get various tickets on different days of the same week by participating with €20 on every game, every day.
Basically, bet €20 on Monday and get a ticket. If you wish to participate again, bet €20 on Tuesday, and so on. The only thing you must know is that you don't get to win more than once per tournament. Participating on various days to claim multiple tickets will simply allow you to have a better chance of winning the ultimate prize.
Rules of the Draw – How to Win
The draw per se is done once per week, but there are a few rules that oversee this tournament and that you should keep in mind if you're looking to participate on it. We've made a list of the most important rules of the tournament right here:
You can only enter the draw once. You need to do it by wagering €20 in any of the aforementioned games.
Every single type of wager count when you place it on any of the qualifying games. You just need to be sure that you bet €20 or more and that the promotion per se it's still active on the day that you're placing your bet
You can only win once per draw – even if you have obtained 5 tickets throughout the entirety of a week. Only one of those tickets will be selected as the ultimate winner, and the rest will be lost.
The prize money has no wagering requirements, which means that you can fully withdraw it as soon as you get it. There are no hidden rules attached to it!
Is the NetEnt Promotion Worth it at Wildz?
This fantastic prize pool is up for grabs, and anyone can get it. There are multiple ways in which you can participate in this promotion, but that means that you can spend upwards of €100 in weekly participations and not get rewarded in return. However, since you're not technically buying tickets but you're rather playing games, you can even make a profit whilst wagering the daily €20.
It's highly likely that you simply end up winning more money playing the NetEnt slots than you would even if you won one of the smaller prizes of the prize pool. This is because NetEnt games offer fantastic RTP rates and low house edge, which often translate in a much better, and more profitable, user experience.
If you're keen to claim the best casino rewards whilst participating in an awesome tournament, then check out this promotion at once!
The Money Awaits – Be Bold Enough to Claim It!
NetEnt promotions are always met by delight with every online casino conossieur, and having the chance to claim one of these fantastic promos in a site such as the Wildz Casino makes them even better. If you're looking to claim fantastic rewards at one of the best online casino while playing the best online casino games, we're pleased to tell you that you've come to the right place.
Be one of the lucky ones to earn a slice of the €250,000 prize pool at the Wildz Casino and get ready to receive some of the best online casino rewards that the industry has in store for players. Are you not satisfied yet? Worry not, the Wildz Casino has many other fantastic bonuses that are sure to boost your account balance through the roof (almost literally speaking!).
We recommend you check out the original Wildz Casino welcome bonus to have a go at playing the best online casino slots without using a single bit of your own cash, thanks to the Wildz welcome bonus that includes a fair amount of free spins to enjoy. We've told you enough, though, and we're sure you know what to expect by now.
It's time for you to strap on your gaming boots and head to one of the best casinos on the internet. Some fantastic bonuses wait for those who are constant enough to play as well as those who share the luck of the best!
Last updated
May 24, 2022