Blood Sucker brings us that eerie feel of old vampire movies and combines it with slot mechanics that provide us with a massive 98% RTP. NetEnt is mostly known for creating world-class online slots when it comes to graphics, sounds, and gameplay, but we all know that NetEnt is not a company to produce high RTP slots on most occasions.
Blood Suckers Slot Game

However, Blood Suckers isn't NetEnt's highest-paying online slot. That title is reserved for the fantastic Mega Joker slot, which we have reviewed in the past. With that said, we can tell you that we had more fun playing Blood Suckers than we did when we played Mega Joker. It's very possible that it happened because of the game's amazing gameplay features and the fact that we really liked the Blood Suckers music, but rest assured that this online slot is as entertaining to play as it is profitable. In any case, we think that Blood Suckers is an extremely fun title and we want you to know all about it, as well as where you can play it. We've created this review with the sole purpose of telling you all there is to know about one of the world's highest-paying online slots as well as where you can play this fantastic game.
Looking at the Game's 98% RTP – A World-Class Return Rate
Perhaps the main selling point of this game, Blood Suckers has always been known as one of those online slots that often gets banned to be played with free spin bonuses because it basically allows players to walk away with cash unless the wagering requirements are higher than x50. As such, Blood Suckers is often listed as a game not to be played with bonus money. This probably tells you why the game is a must-play, too. If an online casino would rather not have you playing a game, chances are that you have a better shot at walking away with a profit than in any other slot. That doesn't mean that Blood Suckers gives you an edge over the house, but it does mean that you get to play this fantastic slot and get the shot to claim a very good sum of cash from the get-go. With its massive 98% RTP, there's only a 2% house edge, which gives you a very good chance at winning some cash during the first few rounds. It's safe to say that the game's volatility is also quite low, as we've found ourselves winning more rounds than not winning any – and we've played for a good while.
Blood Suckers Features – Why is it So Good?
Blood Suckers might be one of the most popular titles in the online casino industry, at least when it comes to games that have a name that almost every player knows. It is to be expected, though, as this title was made by no other than NetEnt and it provides players with the chance to experience one of the most lucrative and unique RTP rates in the industry. However, as good as the game's RTP is, there are other reasons why the title is so widely popular amongst casino gamblers. Let's take a look a the game's features to see what the fuzz is all about.
Multipliers Galore
One of the main reasons why this game is so profitable is because Blood Suckers provide players with multipliers whenever you unlock a free spin bonus round. These multipliers will give you up to x50 the amount of cash that you would otherwise earn, making them some of the most profitable multipliers in the casino industry as well as some of the toughest to unlock. It is difficult to get large multipliers in the game as they are mostly given at random, but should you be lucky enough to get an x50, then chances are that you'll make a killing in rewards with a single spin of the reels.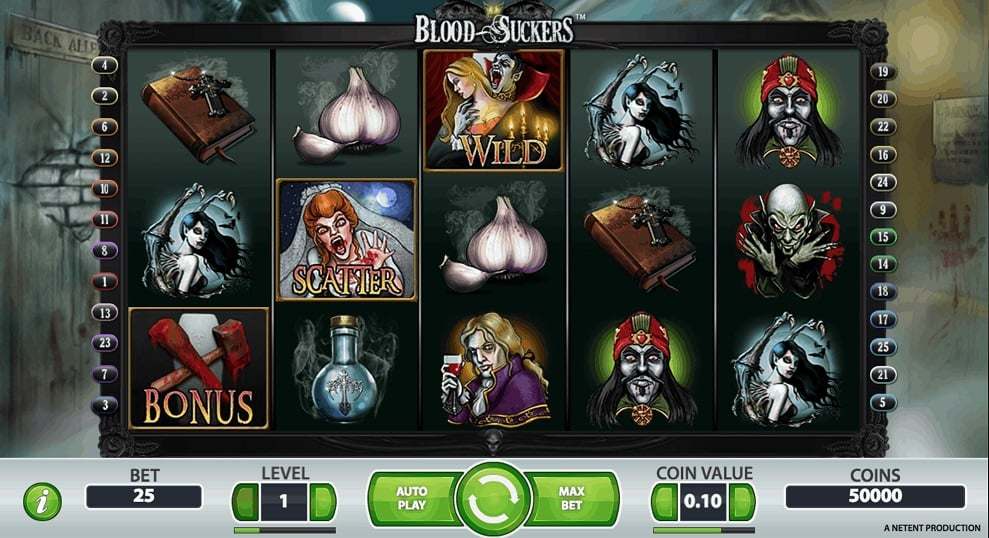 Free Spins with Scatters
Blood Suckers is a classic online slot that was made in the days where scatters provided the player with a single set of free spins that was according to the number of scatter symbols that showed up after spinning the reels. Even though that concept still remains the same in the modern casino industry, these scatter rewards have evolved to become a bit more complex to provide players with a better sense of depth in the game. Blood Suckers simply gives you free spins whenever you get scatters, which you can use to play in profitable bonus rounds that will multiply your winnings various times.
Wilds are Your Way to Glory
Blood Suckers is not packed with too many in-game bonus features. It is the game's volatility that makes every round so profitable, as classic symbols are an easy way to earn a profit in this fantastic slot game. However, if you're looking to earn massive sums of money and unlock multipliers that pay much more than a regular win, then you should be on the lookout for the creepy Wild symbols that replace anything in your board and help you achieve a winning combination. They usually don't replace an entire column, but Wilds is still your go-to bonus choice in the game.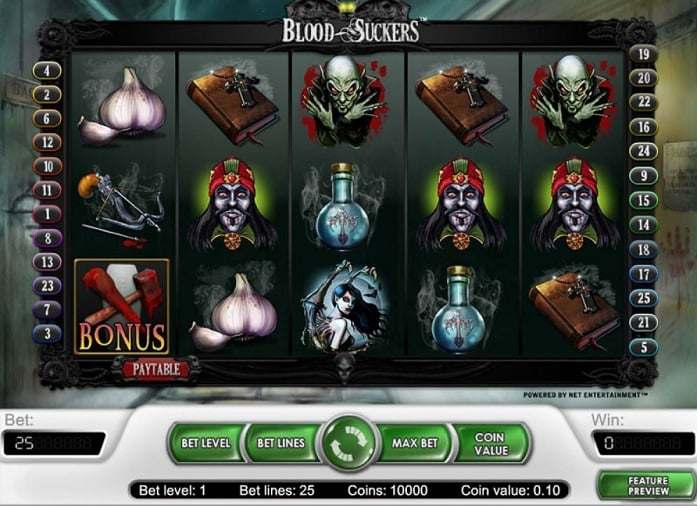 NetEnt's Classic Art Style Strikes Again
It is pretty clear that NetEnt's game design has always emphasized graphics and fluidity over many other aspects of online slot play. As such, you can expect the Blood Suckers slot to provide you with fantastic gameplay combined with one of the best graphic designs in NetEnt's history – and one that is not too common to be seen in modern casino games. With Blood Suckers, you get the traditional vampire concept incorporated into a profitable online slot. The game's graphics are very clearly created at the NetEnt studio, as the design resembles what you often see in the company's best online slots.
Can You Play Blood Suckers on Mobile?
Even though Blood Suckers wasn't made during the booming years of the mobile casino industry, the game is fully playable on mobile devices and provides mobile players with the chance to try out the game on the go, wherever they are. We wouldn't expect less from a company like NetEnt, as they currently stand as one of the main providers of mobile games on the planet. Besides, the best NetEnt Casinos are also among the best mobile casinos that you can find, so it doesn't come as a surprise that one of their most emblematic slots is fully adapted to work on mobile devices. Blood Suckers doesn't have a mobile version of the game, but you can enjoy the game in most of the NetEnt Casinos that are made to work on mobile devices.
Blood Suckers Touch™
Best Casinos to Play Blood Suckers
Now that you know everything there is to know about this amazing game, chances are that you want to dive straight into the action and start playing right now. We don't want you to waste your time in unworthy online casinos with bad bonuses and even worse customer support, so we've compiled a list of our favorite NetEnt Casinos where you'll be able to go and play this incredible online slot. Keep in mind that finding bonuses to play Blood Suckers for free is not something that will be easily done. Most of these online casinos provide you with the chance to claim bonus money, but you will need to spend it in other casino games and use the profits to play Blood Suckers later, as the game's high RTP makes it almost impossible to be played with straight-up bonus cash or free spins. Other than that, these online casinos give you the chance to play the best games on the planet as well as the amazing Blood Suckers slot. Check them out and choose whichever one you like the most to kickstart your adventure:
An Aging Slot that Stands the Test of Time
Blood Suckers was released way before the online casino industry was having as huge profits as it is turning in the 2020s, but that doesn't mean that the slot isn't one of the best ones that you can play in today's modern casino industry. Blood Suckers is one of the best online slots of all time, and even though the title comes packed with just a few simple bonuses and not as many world-class features or innovations as some of the newest online slots, it still provides every player with the chance to win a massive sum of cash in one of the most entertaining yet simple slots of all time. If you're into games that are easy to understand and titles that you can pick up quite easily and dive straight into the action, then you're going to love what the Blood Suckers slot has to offer. It's one of the best online slots of all time and a game that you can quickly pick up and earn rewards from the get-go!
Last updated
May 24, 2022