Free Bonuses at 7Bit Casino - Deposit & Win!
The 7Bit Casino is filled with fantastic games that you can enjoy wherever you go, but there's nothing better than an online casino with countless games that also offers a selection of bonuses to keep you happy and entertained throughout the entire week. Playing with free spins and bonus cash is what many of us live for, after all, and the 7Bit Casino is an ideal place to visit to get just than!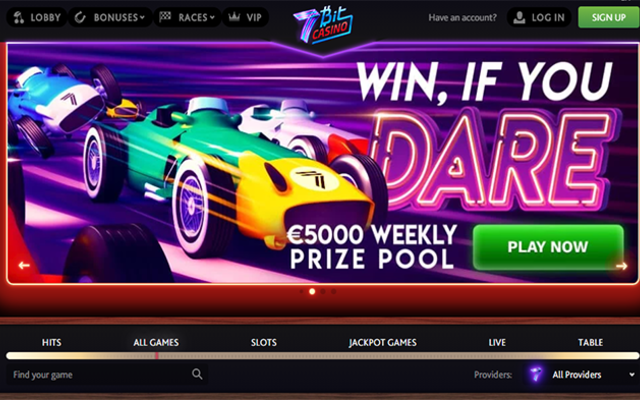 This casino has quickly grown to become one of the best bitcoin casinos on the internet, and the number of features that it offers is only rivaled by the fantastic bonuses that you'll find on the site. This online casino features a selection of offers that you can claim using regular cash as well as cryptos, so choose wisely - they're only available once!
This online casino is sure to provide you with offers that you can enjoy at any given time during the week, so if you're looking for a site that always innovates and keeps users happy, you've met your match. Find out how these offers work and why they're so great right here!
Monday Reload Bonuses – 25% Reload Bonus
The 7Bit Casino knows that every player is often looking forward to the start of a new week of gambling, but sometimes people get discouraged at the fact that they have no bonuses on try out. That's why they've introduced a 25% reload bonus that you can claim every single Monday of every week, to bolster your winnings and increase your deposits without actually having to risk more cash!
The reload bonus will give you up to €25 or 12 mBTC of every deposit that you make on a Monday, equaling 25% of your total cash. You would need to deposit €100 to get the entirety of this promotion on your account.
Wednesday Free Spins – 100 Free Spins Bonus Every Wednesday!
Making a deposit of €50 or 0.01 BTC on a Wednesday will allow you to get an extra 100 free spins that you can use on the site's best online slots. They know that sometimes you need a bit more cash during the week, so why not reward you with an extra 100 free spins to play the best games on the internet without risking your own cash?
The best thing about this offer is that you can also claim it if you don't wish to deposit as much cash as €50 on a Wednesday. If you choose to deposit €20, you will still get a total of 40 free spins credited to your account. Low rollers, rejoice! This offer is fantastic for all of you!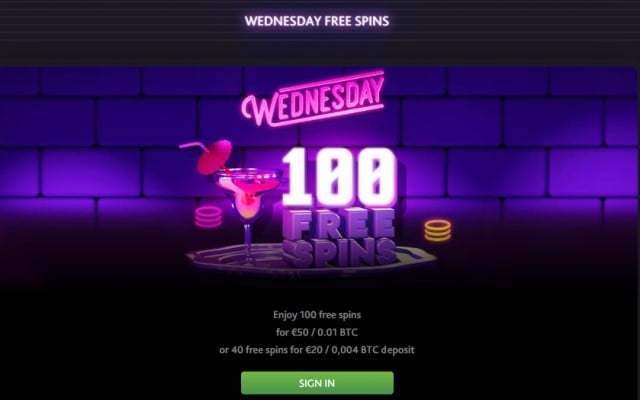 Weekend Cashbacks – 20% Cashback Bonus
Has the week been a bummer in terms of your luck? Have you lost more money than you would've wanted to? The 7Bit Casino gives you another chance by offering you a 20% cashback bonus every weekend so you can have another go with your cash and try to win the money that you've lost in the week without having to spend more of your own cash.
This fantastic bonus is valid for up to €500 or 70mBTC, so there's plenty of opportunities for you to get your money back. Don't waste them or let them go!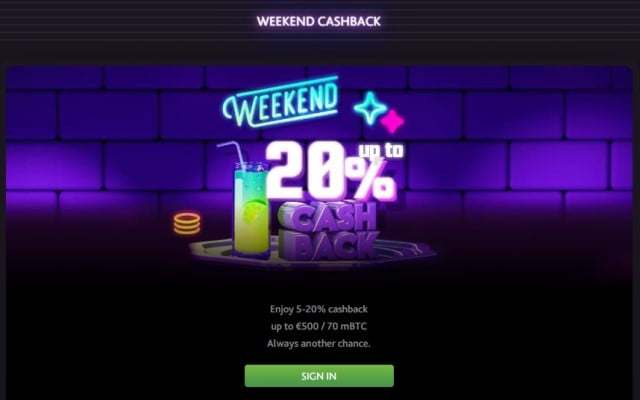 Free Bonus Terms and Conditions
These offers all sound pretty fantastic, right? They are! And you can use your bitcoins or your regular money to play them all! However, there are some rules that you need to keep in mind before you get down to work on those wagering requirements to withdraw all of the bonus money that you'll earn with these bonuses.
Wagering Requirements
The wagering requirements of the 7Bit casino bonuses are equal to 45 times the amount of money that you receive from any of the bonuses on this list. Free spin winnings are to be multiplied by 45 and the result must be wagered on the site before you can cash out the winnings as well. This is a relatively large number, and you'll need to spend the money on slots, so be sure that you're a slot fan if you wish to try out these amazing offers.
Bonus Usage
There's another fundamental rule that you need to keep in mind – bonuses are only meant to be used one at a time. You may not claim two bonuses at once, as the second one that you claim will cancel out the first one. Claim each of these bonuses as you wager on the week, and try to fulfill the requirements quickly so you can take full advantage of all three bonuses on the same week. Loyalty is rewarded at the 7Bit Casino, but you do need to spend some time playing if you wish to get all of these rewards at once!
Money Usage and Wagering Restrictions
You can use the bonus money obtained with all of these offers in a plethora of different games, but please refrain yourself from playing progressive slots. These games don't count towards the progression of your wagering requirements and are, overall, not permitted to be played with bonus money on the site. You might get your bonuses forfeited automatically if you attempt to play any progressive slots using the cash that you earn for free.
Live games, on the other hand, can be played with the bonus money but they do not contribute towards the completion of your wagering requirements at all. Most games on the site have a contribution rate towards the completion of requirements of 5%, but any video slot that you play does have a contribution rate of 100%. You're also only meant to place wagers of up to €5 each when wagering towards the requirements.
Any higher wagers might make you forfeit your bonus funds. The bonuses that you see in this article are all made to be spent on slots, so if you love these types of games, be sure to claim any of these bonuses!
Enjoyed this article? Please help us by sharing: