The Goblin's Cave Slot has made the news lately because of its seemingly low RTP rate. Some people claim that the game has a house edge of less than 1%, which is crazy for an online slot, but it's tough to actually estimate the impact of the game's RTP with Playtech not disclosing the RTP of any of their games.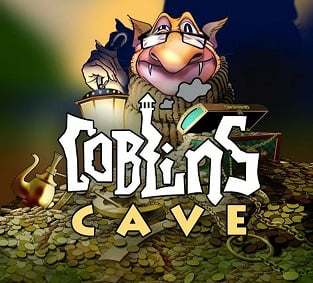 In any case, we felt that such claims are a bit unwarranted and that no online slot comes as close as having such a fantastic return rate. We were surprised to see the results of max coin bets at Goblin's Cave to write this review, though. Here, we'll explore the game as thoroughly as possible. Also, at the end of this article, we've included a list of the best online casinos to play Goblin's Cave at.
Check out the bonuses that they have to offer and don't miss out on the best rewards on the internet!
Goblin's Cave Overview
Goblin's Cave is a skill-based online slot game with an RTP that varies from 96% to 99.43%, making it one of the highest paying online slots for players that actually know what they're doing. It puts your skills to test by making you select which symbols to keep in certain bonus rounds, which does make the game more challenging but also creates a skill ceiling.
You might need to put your game face on to play this one, though. Not every player will be able to easily master the game's mechanics and it does take a bit of trial and error. The good thing is that you get to play the game for free in many of the world's best online casinos. Use the "free trial" feature to practice as much as possible before committing your own cash and see how far you go at the Goblin's Cave slot.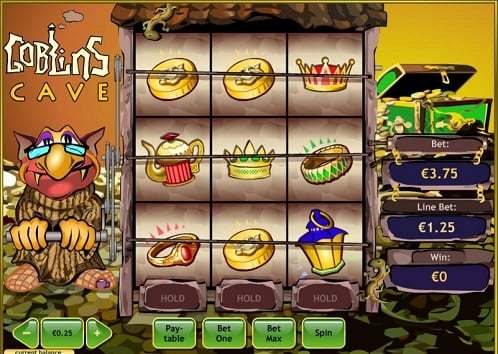 Goblin's Cave Basics
We'll be honest with you: other than how fantastic this game is in terms of its gameplay features, the title doesn't really offer much in terms of audio and graphics. However, we're going to make a small overview of each of the features to help you get a stronger grasp of what the game has to offer.
Gameplay
Gameplay-wise, even we'll be going into more details about the features later, it's safe to say that this online slot feels extremely unique. The fact that you get to choose which symbols to keep after your first spin will enable you to control the outcome of the game and maximize your chances of winning.
The fact that an online slot is so good that you can increase the RTP to more than 99% makes this title one of the most coveted and sought-after online slots on the planet. Goblin's Cave is not the best representative title of Playtech graphical quality, but it does show how fantastic the company's games can be when it comes to unique gameplay features and world-class in-game bonuses. With minigames and free spin rounds, this game is as good as things can get.
Graphics
The game's graphics are honestly pretty poor. They aren't too fluid, either, but the drawings leave a lot to be desired. It's clear that Playtech went full-on to create a fantastic online slot in terms of gameplay and the formula worked, but investing in better graphics could've turned this game into the next Starburst when it comes to its popularity. In any case, if you're looking for quality gameplay features, this game won't disappoint. Graphics leave a lot to be desired, but that shouldn't be your main source of concern when playing Goblin's Cave.
Audio
The music of the game is rather simple, but it does seem to fit the game rather well. In fact, taking a look at the game's graphics, it's fair to say that the audio of the game is on point. It is clear that the graphics and audio are meant to resemble an older slot game, but we still feel that a bit of improvement on this front could've gone a long way into helping Goblin's Cave become a cult favorite of many. It might not be as easy to play like other games, but the high RTP is loved by anyone who plays it.
Goblin's Cave Gameplay Features
The Goblin's Cave slot truly takes things back to the basics, in a sense, because it comes with a simple grid of 3x3. The simple setup of the game might be deceiving, though: you will still need to make some decisions that could be the difference between you winning or losing money at this fantastic casino slot.
It's also important to notice that bonus rounds are the ones that give you the chance to increase an RTP to the maximum. Not only that, but you need optimal strategy and to bet the maximum amount of coins if you want to increase the RTP to 99.32%. It does take a lot of money, but that's almost as far as going even against the casino.
You can get lucky enough and beat it in the short term. At Goblin's Cave, you get to choose which symbols to keep when certain rounds end. This allows you to create a winning combination based on your luck, but the symbols you keep are the ones that will put the RTP in your own hands.
It's a fun and varied game with a simple setup that makes it easy to play but very hard to master. Bonus rounds are not too common, though: your main goal is to master the idea of which symbols to keep and which ones to get rid of to maximize your profit with each spin that goes.
Goblin's Cave Developer and Where to Play
Playtech has been one of the world's leading developers of top-quality casino games over the years, but Goblin's Cave is one title that truly sets the company apart from the rest. With a massive selection of games at their disposal, it feels like Goblin's Cave is the cherry on top of the cake. You can find this game, as well as some of the best titles in the world of iGaming, in the best Playtech casinos!
Our Conclusion – Steal the Rewards from the Goblin's Cave
If you're one of those players who just need to feel in control of the game, this is one of the few online slots that we would recommend you play. In general, players who like to feel in control should be better off playing games like poker or blackjack, but Goblin's Cave makes it easy for some to make a profit with some skill.
In fact, this is one of the few online slot games that we really recommend to high rollers. Since you actually get better odds with max bets, those who are looking to splash the cash can find themselves at home when playing the Goblin's Cave slot. A fantastic title meant to be played by the highly-skilled and the high rollers, but a title that will be very tough for a newcomer to the online casino industry.
Last updated
March 20, 2023