Seasonal Events with Massive Rewards at Wunderino
The Wunderino Casino, an online gambling site that has specialized in providing German gamblers with a safe place to visit, hosts a fantastic welcome bonus to introduce you to the site.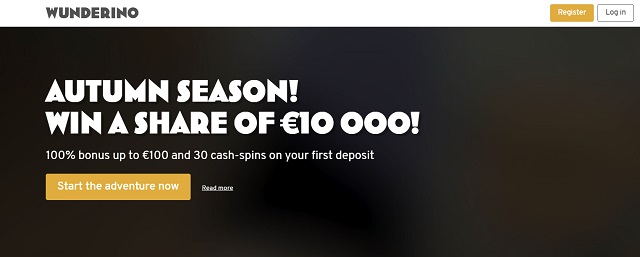 However, with the presence of the contest that puts €10,000 up for grabs, it's hard to argue that this casino's welcome bonus is the best offer that you'll find at Wunderino.
We're going to be taking a closer look at the Wunderino €10,000 tournaments to see how you can earn a share of this amazing prize pool. Participation attempts are unlimited – be sure to make the best of them!
Win €10,000 at Wunderino – How Does It Work?
The Wunderino Casino puts money up for grabs to keep players interested in the site, which we think it's truly important given the site's lack of other casino games apart from slots.
Variety comes to the table and plays a much more important role when you take a look at the Wunderino tournaments to earn a share of €10,000. There are two main ways in which you can earn money at Wunderino, apart from playing slots, which are:
You'll have the chance to participate in weekly tournaments, which you can see the standings of by checking the leaderboards at the bottommost part of the site's homepage. Winners will get the chance to earn extra cash on top of what they'll get to keep with their slot earnings!
Take a look at the Wunderino Drops & Wins program. You'll be able to earn extra rewards for performing easy tasks like playing slots – but you'll need to be lucky enough to earn prizes!
Weekly Competitions at Wunderino to Win €10,000
The Wunderino Casino hosts Weekly Tournaments that let you try your luck to earn a share of the €10,000 prize. The total amount of money that you can earn depends on how many points you're able to collect, as the higher your rank in the leaderboards means that you will have access to better and better rewards.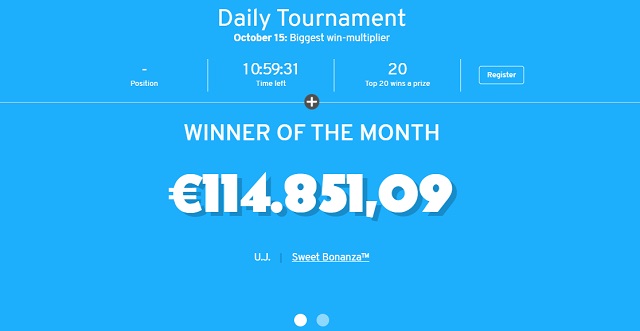 Competitions change every week, and the leaderboards reset once the competition ends. A new one starts almost as soon as one ends, and you can participate in it even if you have received rewards in the previous week.
It's up to you to decide how many tournaments you want to participate in. As long as you have money to continue playing, you will be able to earn weekly rewards.
Drops & Wins to Earn Amazing Prizes at Wunderino
The Drops & Wins promotion has been around for a while. It was introduced by the Pragmatic Play staff, and it remains hosted by the major slot developer ever since its introduction.
Drops & Wins is a special event that, when active, will be able to reward players that are playing Pragmatic Play slots with random rewards – even when they haven't been able to win any money at the slots that they're playing.
The Drops & Wins aspect of the Wunderino website works pretty much in the same way. The only difference is that you won't be able to earn money playing online table games, but only in slots, since that's the main type of game that's in store at the Wunderino website.
Every active member of the Wunderino Casino will be able to participate in the Drops & Wins competitions. Just be sure to have made at least one deposit on the site before you try your luck, and see if you're lucky enough to keep claiming those prizes.
Different Slots, Incredible Prizes
Tournaments at the Wunderino Casino give you the chance to play one of the multiple online casino games. Every tournament is tied to one or multiple online slot games, but new tournaments always give you the chance to play something new.
Variety plays a major role within the Wunderino Casino, so let's take a look at 3 crucial aspects of these tournaments which will prove to be definitory during your time at Wunderino:
You will have to read the terms and conditions of tournaments, as well as the Drops & Wins terms and conditions, to see which games you can play on each specific tournament. They always change, so be on the lookout for that.
Slot games have different RTP rates. Take them into account to see if some of the tournaments are worth it or not
You will not receive the money instantly after finishing each tournament. Wait a few days before the cash is credited to your account, but be sure to contact the site's staff if it's not!
Visit Wunderino if You Live in Germany!
The Wunderino Casino is a fantastic German iGaming site that you will have to take advantage of visiting if you live in any part of the country. Seeing as how German laws have been modified to ban certain online activities from being partaken, German-exclusive casinos have become much more popular than international sites.
You now have the information that you need to start playing at the Wunderino Casino and earn a share of €10,000. Remember: there's no limit as to how much money you can earn with these promotions
Win €10,000, or a share of the money, while you can. It's all there for the taking, so wait no further and visit Wunderino now!
Enjoyed this article? Please help us by sharing: