Gambling Tattoo Ideas within Your Reach!
To get a gambling tattoo means to commit to our passion for the rest of our lives. As such, getting the best ideas for inspiration is going to help you settle for a fantastic design that you'll happily commit to for the rest of your life.
If you're looking for gambling tattoo designs that stand out, then you've come to the right place! The Casino Wizard staff has come together to make a list that includes all of our favorite designs, but we decided to do more than just showing them to you – we're going to tell you about ways in which you can get them to look even more unique and have them tailored to look the way that you envision.
Sit back, relax, and get ready to take a few notes with these fantastic gambling tattoo ideas! Oh, and don't forget to check out these fantastic online casinos if you're feeling like playing a round or two of your favorite games
| | | |
| --- | --- | --- |
| 1 | | Claim bonus |
| 2 | | Claim bonus |
| 3 | | Claim bonus |
| 4 | | Claim bonus |
| 5 | | Claim bonus |
2023 Trends in Gambling Tattoos
We've done some research to find the best gambling tattoo concepts for 2023. Doing so, we noticed that there are three main types of tattoos that modern gamblers are getting.
Gambling sleeve tattoos with different concepts. Sleeves are, and will always be, some of the most popular forms of tattoo art, as they allow the ink to be visible more often than not.
Poker tattoos help players show their love for one of the most popular card games in the world.
Card tattoos encompass all sorts of casino card games, creating unique concepts that incorporate Kings, Queens, and Aces.
We've based our research on these three popular gambling tattoo concepts in an attempt to stay on track with modern trends. Let's take a look at tattoos and gambling tattoo designs for each of these categories.
Gambling Sleeve Tattoos
Few types of tattoos show more commitment and love for an activity than sleeve tattoos. Everyone you know, and everyone you meet, will always know your passion for something if you decide to make a sleeve tattoo out of it.
When it comes to gambling sleeve tattoos, your options are almost endless. All sorts of combinations and ideas could make for a sick sleeve gambling tattoo - so let's check out some of our favorites!
1. Gambling Essentials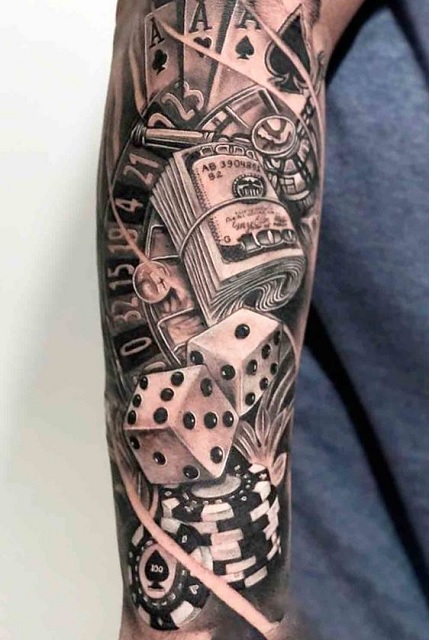 Money, chips, dice, roulette, and cards. What else does a gambler really need? Getting a tattoo that encompasses all the basic aspects of gambling is one of the best ways to show your passion for the games that we all love.
The best aspect about this tattoo is that you can alter it to make it more personal. Add your favorite poker hand, or your lucky dice combination, or even add the roulette ball on top of the number that you wish. Options are aplenty!
2. Bravery & Power
Why settle for the games alone when you can incorporate multiple concepts at once? This gambling tattoo design is a clear example of it: two kings and a king; the classic lion that represents bravery; a skull, and a bottle of scotch. There are many ways for you to add a personal touch to this tattoo – especially if you have a good tattoo artist capable of creating great designs with multiple concepts.
3. City of Sin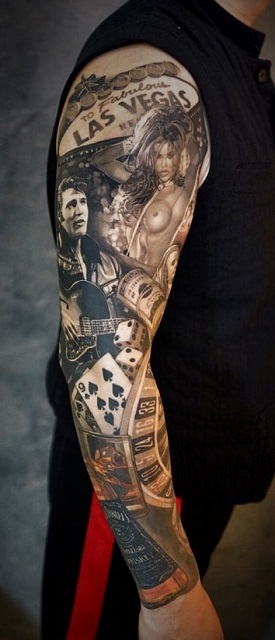 Arguably the most popular "Sin City" in the world, Las Vegas is the undisputed number one location to go gamble in Hollywood movies and American culture. Getting a Las Vegas tattoo is certainly a bold move, but one that would truly resonate with gamblers from all over the world. The best thing is that, when it comes to Las Vegas, it can never be too over-the-top. Let your artist go ham with their design and it may look as great as this one.
4. The Classic Quote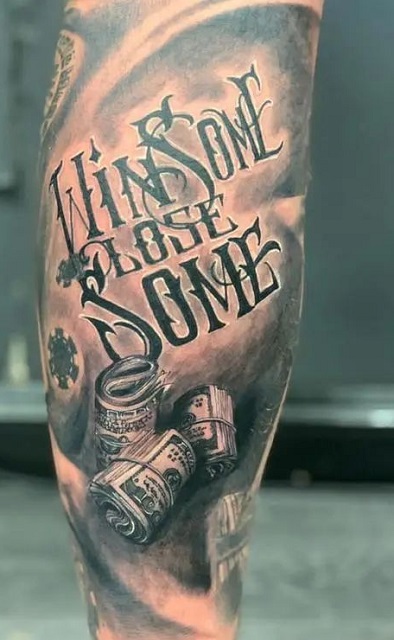 When in doubt, go with the quote. Incorporating a quote in a tattoo is a great way to give it more substance and meaning, leaving less room for interpretation but making a clearer statement on what you wish your tattoo to represent. See what your artist thinks about lettering in a sleeve and ask them to help you incorporate them into your desired concept. Something amazing could be born.
Poker Card and Poker Chip Tattoos
Poker is one of the most popular gambling games of all time. Its popularity was boosted thanks to the WSOP being televised and the mainstream reach of the famous card game. As such, it's only natural for you to consider getting a sick poker-inspired piece anywhere in your body. From complex tattoos to small symbols that show your love for the game, poker tattoo options are aplenty. Let's take a look at our top picks.
5. Chip of All Suits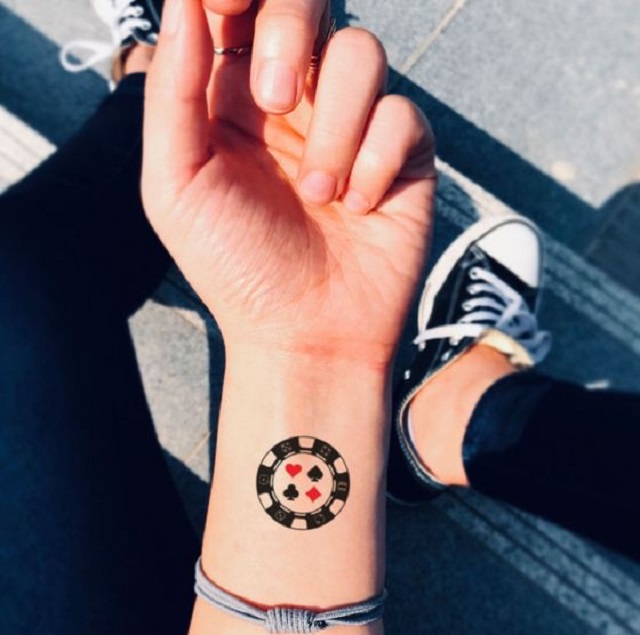 A tattoo doesn't necessarily have to cover your whole body to have an impactful meaning. Something as simple as a poker chip with all suits in it could be the way to go if getting a whole arm inked is just not your thing. You can get something like this anywhere you like, as it fits almost any part of your body.
6. Royal Flush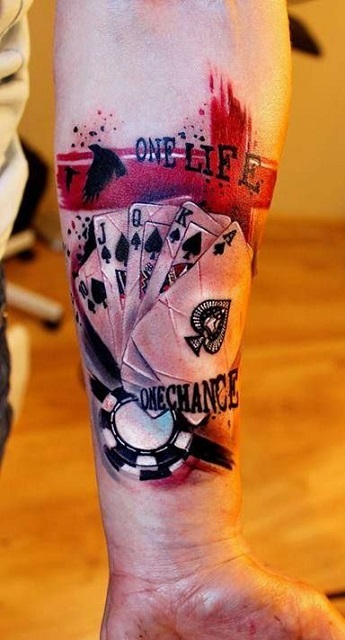 Gambling tattoo ideas that incorporate the royal flush are some of our team's favorite types of gambling tattoos. If you're a fan of poker and you're considering getting something artsy, then you surely have to take the best hand in the game into consideration. In this example, the artist also incorporated a quote, some chips, and the classic flying black birds to create a unique design, but you may also opt to just get the royal flush if you're keen to get some simple ink on you.
7. The Classic Americana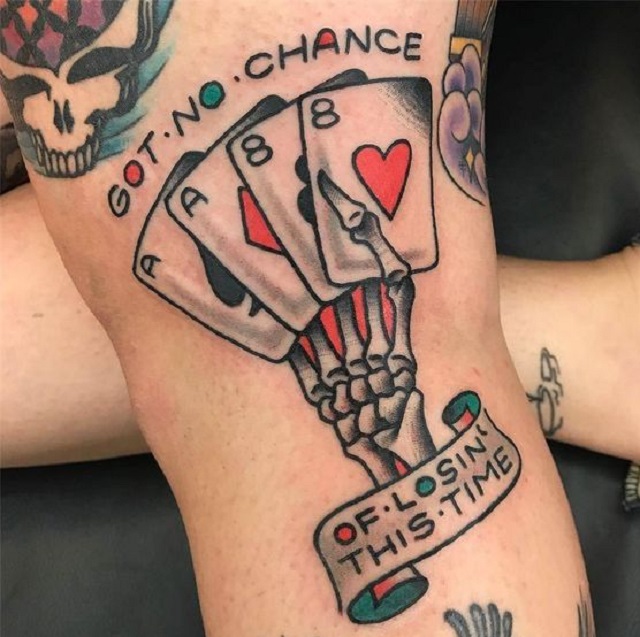 If you thought we weren't going to talk about the classic Americana artwork in this guide, think again. This is the ideal type of tattoo if you're thinking of getting multiple tats on your body, or if you already have many small tattoos and wish to add another one to your ink collection. Now, if you love poker and you already have tats that fit the Americana style, then getting one of these designs is a must for you.
Playing Card Tattoos - Ace King, and Queen
It's wrong to assume that someone loves poker just because they rock a card tattoo. Blackjack and Punto Banco fans, as well as those who love other card games, need representation too! For them, we've compiled some awesome tattoo ideas that fans of playing card tattoos are sure to love. Let's take a look at them.
8. Queens and King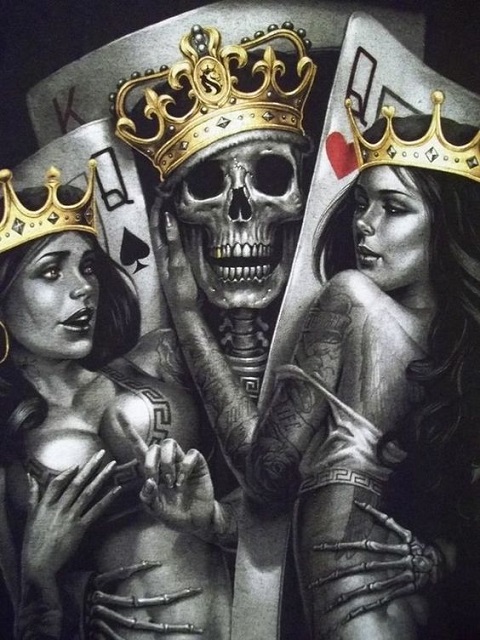 This is one of those tattoos that, within a few years, are sure to become classics among tattooed gamblers. You will see it as part of different tattoos, as it is often found on gambling sleeve artwork, and it's one of our favorite tattoo statement-makers. If you want to get something that commands respect, this is a design to consider.
9. Twenty One
A blackjack fan who loves tattoos but isn't inked with the game's best play is missing out on one of our favorite concepts, and one that fits almost any type of tattoo. We went with the classic semi-realistic 21 cards and chips tat, but you can get almost anything to rep the world's most popular casino table game. From minimalistic artwork to blackjack on a sleeve, your options are wide and aplenty.
10. Pair of Aces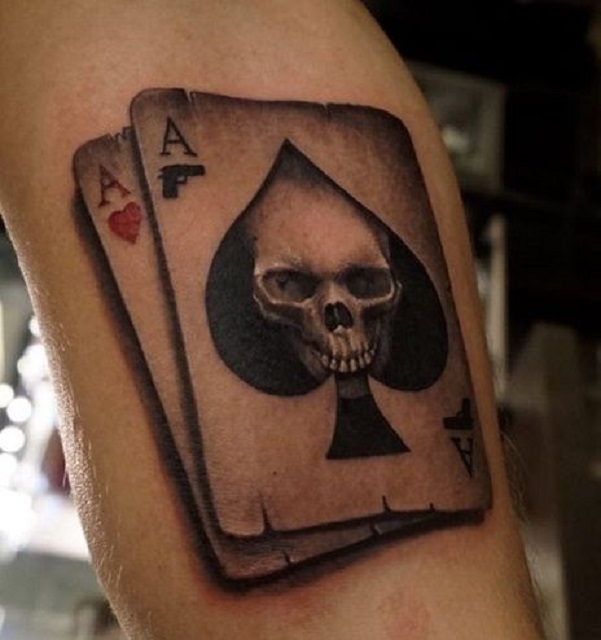 When in doubt, go for the A's. There's hardly a more inclusive tattoo, for all gambling fans, that the pair of Aces. In the example that we've provided, you'll see a skull incorporated into it, but something as simple as an Ace of hearts and an Ace of spaces could be all that you need to rep your passion for gaming.
Last updated
October 2, 2023