Cookie Casino (No) Deposit Bonus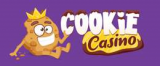 The Cookie Casino comes packed with sweet rewards that every player would love to claim, themed as pastry and candies that you would also love to eat in real life. With the amount of money that you can get on this casino, you're more than likely going to delight yourself with a whole lot of candy once you've managed to cash out these fantastic bonuses!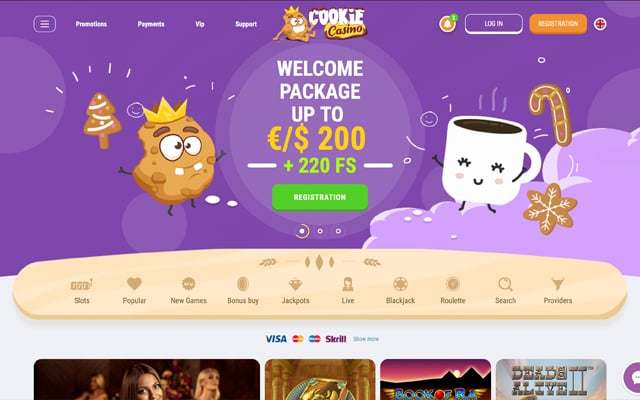 The Sweetest Bonuses Await At Cookie
All promotions and bonuses available at the Cookie Casino are themed as sweets and tasty rewards, which means that you won't only be claiming the best bonuses on the internet, but you'll also struggle with the need to eat some candy along the way. You'll need to have a good level of self-control to keep you from binge-eating while claiming these fantastic bonuses!
With that said, this online casino has managed to find the perfect combination between the best casino bonuses and the finest VIP program on the internet. There's just a little bit of everything for everyone, and you'll get to enjoy it whether you're a high roller or a low roller.
Cookie Casino Bonus Overview
1. Welcome Bonus Package – ACTIVE
The Cookie Casino gives you the option, upon first registering on it, to claim two deposit bonuses that could see your account credited with up to €200 and 220 free spins. Spend them wisely and claim some of the best rewards on the site from the minute you first create your account on it!
2. Tuesday Free Spins – ACTIVE
Making a €20 on Tuesdays will qualify you to receive 30 extra free spins along with the money that you'll be committing to your account. Save your cash and splash it on the second day of the week to bolster your money balance! To redeem the bonus, type "TUESDAY"in the bonus code field.
3. Sunday Reload – ACTIVE
Every Sunday, the Cookie Casino rewards every player with the chance to claim a staggering up to €100 and 50 free spins with a 50% match deposit bonus. Granted, the offer is not as good as the welcome bonuses, but it's still a ton of free cash to claim!
4. Wheel of Fortune - ACTIVE
Make a deposit with the bonus code "FRIDAY" (on Fridays, of course) and get the chance to spin the fantastic bonus wheel. Earn random rewards and boost your winnings through the roof!
Cookie Casino Bonuses – Are They Fair?
The bonuses at the Cookie Casino are fair, although we would love to see them with lower wagering requirements. In any case, all of the bonuses that you can claim at the Cookie Casino come wit ha wagering requirement of 40 times the amount of money that you receive, but with a large timeframe of 14 to 30 days.
Even though the wagering requirement is high, you do have a ton of time to fulfill it and you don't need to rush it at all. Just be sure to claim the best bonuses on the site and spend your due time at the best casino games of the Cookie website. You should be able to fulfill the requirements by playing naturally.
What You'll Find At The Cookie Casino – Full Overview
The Cookie Casino has proven to be a worthy home to some of the best online casino bonuses on the internet. With rewards that vary in shapes and forms, you can expect this online casino to provide you with a bunch of fantastic bonuses that go from free spins to free money bonuses and even random rewards. These are the most common types of free money bonuses that you'll find at the Cookie Casino.
Deposit Bonuses
Deposit bonuses are found in all of the best casinos in the world, so it comes as no surprise that such a bonus-rich casino comes packed with a handful of quality deposit bonuses to enjoy. At the Cookie Casino, you'll be able to claim some of the best we've seen.
For example, the site has a handful of quality bonuses (three, in total) that will help you get started at Cookie with match deposit rewards on your first three deposits. It is up to you to enjoy them and deposit as much money as you want to claim them.
Keep in mind that the deposit bonuses of the Cookie Casino are suitable to be claimed by low rollers and high rollers alike. You can deposit as little as €20 or as much as €100. You get to choose!
Free Spins
Free spin bonus rewards also run rampant across the virtual halls of the world-class Cookie Casino. You can start your adventure with a handful of free spins, courtesy of the site's fantastic welcome bonus package.
That's not nearly enough for us, and we know it isn't for you, either. You can rest assured that the casino will also provide you with extra spins every Tuesday, plus additional free spins with your reload bonus every weekend. That's a lot of free spins to enjoy!
Reloads
Reload bonuses are available every week, so you can claim some extra cash even when there isn't another bonus ongoing at the time. Reload bonuses at the Cookie Casino get activated every weekend, and all you need to do to claim them is to make a deposit on the right day.
It's really simple, but the rewards are aplenty. You'll get extra cash plus free spins every weekend if you take advantage of this world-class offer!
Tournaments (Grand Joust)
One of the casino's finest features is the Grand Joust, which is the main type of tournament ran by the Cookie Casino staff. It's a special type of tournament that resets every few days, where players compete in leaderboards to try and get the finest rewards given by the casino.
Seeing as these tournaments happen quite often, you cannot expect the Grand Joust to provide you with a ton of free spins or a lot of money. However, winning the tournament does give you a fair share of cash (€300!) and players in the top 50 are all getting rewarded. Some get free spins while others get money. The higher your rank, the more money you receive!
Lottery
This online casino has also taken a different approach when it comes to their lottery promotion. Every 5 days, the online casino gives away 5,000 free spins split among 125 winners. You can be one of the lucky ones – all you really need to do is deposit €10; that'll get you one lottery ticket. You can get as many as you want every week!
Drops & Wins
The Drops and Wins promotion has been ongoing for a while in some of the most important casinos in the world, and it doesn't seem to be going anywhere. You'll be able to play Drops & Wins to claim various random bonuses that could see your account credited with a large sum of cash taken from a pot of money that is split among many of the internet's best online casinos.
Getting random rewards is always great, and getting them in an online casino like Cookie is even better. Obtain extra bonuses and claim fantastic rewards whilst wagering towards obtaining fantastic random rewards!
The Cookie Casino Vip Program – Level Up And Get Amazing Rewards!
We will never get tired of praising the Cookie Casino's VIP rewards program, which comes packed with a full adventure that will see you advance in a digital journey until you reach the very best rewards on the internet. Each rank represents a step of the way, and each step that you take is also meant to give you better rewards.
The Cookie Casino program makes it very clear as to how many bonuses and free spins you'll get when playing on this site. Each rank lays out the amount of money and free spins before you reach it, so you can always get a clear idea of how much money you need to spend in order to get to the next rank.
What we truly love about Cookie's VIP program is that every player has the chance to claim rewards. If you're a low roller, the first 5 levels will be perfect for you. However, should you be a high roller on the site, you can actually claim rewards that go as high as €100,000!
Most online casinos with adventure-themed promotions often have them as tournaments, but Cookie takes it a step beyond by presenting you with a truly unique VIP journey with dozens of rewards along the way.
Last updated
July 27, 2022