Read the Definitive Ultimate Texas Hold'em Guide
Ultimate Texas Hold'em is a variation of the classic Texas Hold'em game, which offers much more fast-paced gameplay as well as the chance for you to play against the house. It offers an RTP of 97.80% when playing perfect strategy, which is pretty good for a carnival game or poker variant.
The game operates under a very similar concept to traditional Hold'em Poker, although it is played only against the house and in a similar table layout to blackjack, where other players may also sit and play against the dealer.
We want you to be fully aware of how the game works, both in its digital version as well as on its live dealer version. We're going to show you how you can play Ultimate Texas Hold'em with perfect strategy and we're going to tell you which are the best online casinos to play the game with real money or for free. Read our guide and become a master of Ultimate Texas Hold'em!
How to Play Ultimate Texas Hold'em?
The entire concept is based on showdown poker, which means that every player will essentially play in a "1v1" against the croupier. The game itself is quite fun and faster-paced than standard Hold'em, so, mastering basic strategy is the first step to follow before moving on to play with real money in an online or land-based casino.
The best way to play the game is with perfect strategy, which follows statistically-proven steps that give you the best odds of winning every round based on what you have and what community cards are there.
This is what you need to know to play it Ultimate Texas Hold'em with Perfect Strategy:
Before the game begins, players have to place two forced bets: the ante and the blind.

The ante wins if you beat the dealer AND the dealer qualifies (if they have a pair or better). The pair could be in their hand or on the table (community cards). If the dealer does not qualify, the ante pushes.

At this point, you may also make a Trips bet. If you want to play Perfect strategy, this is one to avoid, but it can be really fun to try it out. Trips pay if there is a three-of-a-kind or better in the table.

The blind wins if you have a straight or better AND you beat the dealer.
You will be dealt two cards, called "hole cards". Now, you'll have the option to either check, raise 3 times your bet, or raise 4 times your bet.

If you check, you'll keep the same stakes before the flop. You may also up your wagers by x3 or x4 if you're confident of your starting hand. Check this strategy chart to make sure that you only bet in the correct situations:
After betting, the flop is dealt. These are three community cards, usable by both player and dealer

At this point, you will only be allowed to double your ante. With Perfect Strategy, you should always raise if you have a pair or better at this point in the game.
After this point, the final two cards will be dealt. This is called the river. You will be allowed to either raise one time your Ante or fold.

You must always make a bet equal to your original Ante in order to have a shot at winning. To know whether you should bet or fold, the optimal way to do it is by counting the outs. This means that you should count the number of cards that the dealer could have in their hand that beat you.

If the dealer has less than 21 cards that could potentially beat you, play your hand. If the dealer has 22 or more, fold.
That's all you need to know for perfect strategy gameplay. If you have a better hand than the dealer, including community cards, you win. Otherwise, you lose.
Ultimate Texas Hold'em Rules
The game allows you to raise at any given time, a feature that also earns this game the name of "Extreme Texas Hold'em". The concept of the game is quite simple, as it works like normal poker in every sense except in payments and bets and one less community card round. As such, you will get a couple of cards to start your hand, and so will the dealer.
You will notice that the basic Ultimate Texas Hold'em variant, the one found in most land-based casinos as well as online casinos that have the Evolution game, follows a similar set of rules to other poker table games. Ultimate Texas Hold'em Rules are the following:
The game is played with a 52-card deck. There aren't multi-deck tables.
Hand values are the same as they are in poker, from high card to royal flush.
There are three potential bets, but only two aren't optional. Trips bet is optional, whilst ante and blind bets are mandatory.
Both dealer and player play with their own cards and with community cards.
The dealer only qualifies with a pair or higher.
There is one less betting round compared to classic Texas Hold'em. After your two cards are dealt, there will be a flop (3 community cards) and a river (two community cards). There is no turn in Ultimate Texas Hold'em.
Some Ultimate Texas Hold'em sites and casinos offer a progressive jackpot that pays when players have three-of-a-kind or better. It is treated as a side bet.
Ultimate Texas Holdem Strategy
Unlike traditional Hold'em against other players, there are statistically proven ways to play Ultimate Texas Hold'em that maximize your odds of winning to the fullest, and make the house edge a mere 2.2%.
We've already touched on many of the concepts of Ultimate Texas Hold'em in our "How to Play" section, but let's dive into it with a little bit more depth.
Here are some must-know Ultimate Texas Hold'em tips that'll help you when starting to memorize the perfect strategy of pre-flop betting, depending on what you have on your hand:
ANY pair of 3s or higher is a raise. Pocket deuce is a check.
Always raise with an A in hand.
Always raise with a K if you also have a 5 or higher. Raise with 2-4 if they're suited (same symbol) as your K
Raise with a Q if you also have an 8 or higher. Raise with 6 or 7 if they're suited (same symbol) as your Q, and never raise if you have a Q and a 2, 3, 4, or 5.
Raise with a J if you also have a 10 or higher. Raise with 8 or 9 if they're suited (same symbol) as your J and never raise if you have a J and 2 to 7.
ANY other hand dealt, check.
Other useful betting tips for playing Ultimate Texas Hold'em:
In Perfect Strategy, you should NEVER raise 3x. If you're going to raise, do so by 4x.
You may want to consider betting on the progressive jackpot if the game gives you the chance to do it. The House edge of these bets is high, but it could be worth it.
Trips bets are a fun way to play the game and give you the chance of winning more, although their house edge is generally high.
Follow the perfect strategy tips given in this guide to maximize your odds of winning.
Treat the game as a Heads Up Hold'em game where the house has an edge.
Play Ultimate Texas Hold'em for free to practice before moving on to real money wagering.
Ultimate Texas Hold'em Payouts
In Ultimate Texas Hold'em, ante bets pay 1 to 1 when players when. True profit can be made when raising by 3 or 4, whilst blind bets offer different payouts based on the type of hand that the player wins with.
The Ultimate Hold'em Payout table for Blind bets is as follows: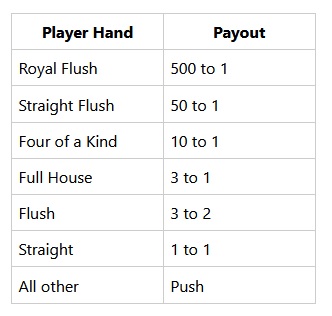 The payout table for Trips side bets is as follows:
Royal Flush - 50 to 1
Straights - 40 to 1
Quads - 30 to 1
Full House - 8 to 1
Flush - 7 to 1
Straight - 4 to 1
Trips – 3 to 1
Tables or games that offer a progressive jackpot will generally pay six figures if you hit a royal flush on a jackpot bet, whilst a portion of the jackpot will be paid based on the type of hand that you get. Payouts for progressive jackpots vary per casino, but the standard ones are as follows:
Royal Flush pays 100% the value of the jackpot
Straight Flush pays 10% the value of the jackpot
Four of a kind pays 300 to 1
Full House pays 50 to 1
Flush pays 40 to 1
Straight pays 30 to 1
Three-of-a-kind pays 9 to 1
How to Win at Ultimate Texas Hold'em
If you already know how to play Texas Hold'em, then you know what it takes to win the game. You just need to take into consideration that, as low as the house edge is, it's almost impossible to profit from this game in the long run, so we recommend playing for fun and not as a means to earn money.
Things to Consider when Playing Ultimate Texas Hold'em
If you want to win at this game, there are a handful of things that will form an important part of your strategy and that, therefore, you really need to have a strong conception of them. Keep all of these in mind before reading our tips on how to win at the game:
Your only rival here is the house. It doesn't really matter what other players get – even if you're at a table in which many people play at once. This ultimately functions like a Heads Up Hold'em Game against the house.
Your original bets on the blind, trips, play, and the ante will always remain in place. There's no such thing as making the dealer fold, nor can you get your money back if you get a bad hand.
Unlike regular poker, strategies like check-raising or bluffing are simply not viable. The game is much more straightforward and there isn't anyone on it that you can trick. Play traditional card strategies if you want to win – the mind factor plays no important part.
Last, but not least, it doesn't matter where you sit at the table at all. Your only focus should be on the cards in front of you and what the dealer has. The position is way less important than it is in most blackjack tables.
Hands That You Should Always Bet on Ultimate Texas Hold'em
As complicated as the game might sometimes feel, there are a few hands that you might always want to bet on whenever you get them. Unlike traditional poker, since your only opponent is the house, you should place much more priority on what your hand is. Other players don't play a role, so your main focus will be to beat the house. The following hands give you the best odds of doing so:
Aces in hand give the best odds of winning
Pairs of 3s or anything above that
Q + 6 or anything better
K + 5 or higher
Any King, regardless of suit
Q + 8 or anything above that
J + 8 of equal suits or higher
Live Dealer Ultimate Texas Hold'em Casinos – Do They Exist?
Yes, they do! You can actually play one of the best Ultimate Texas Hold'em live dealer games by visiting any Evo Gaming casino that has it available. You can check out our list of the best Evo Gaming websites where you can play their games and choose whichever one you like the most. Here are a few of our suggestions:
The popular casino game has proven to be one of the most impactful additions to the online gambling market in the past few years, even with a house edge lower than 98%. Ultimate Texas Hold'em is really fun – and you're now ready to practice or play with real cash!
Where Can You Play Ultimate Texas Holdem for Free?
SG Gaming has developed a fantastic version of the game that you can play for free right now. Scientific Games is a top-rated developer that's found in many of the world's best online casino, including LeoVegas and Captain Spins.
Keep in mind that the game isn't available in every jurisdiction, so you may not see it available in every SG Digital Casino. In any case, you can play Ultimate Texas Hold'em for free by clicking this button:
Ultimate Texas Hold'em – Origins and History
Ultimate Texas Hold'em has been a registered trademark for over a decade, as it was developed by Bally Gaming (formerly known as Shuffle Master) and distributed to some of the world's best online casinos. The game has reached the peak of its popularity recently, and it's sure to surpass it in the coming months and years.
Evolution has obtained the license for the game and it can now be found in Evolution Gaming casinos worldwide. The game has also made its way to virtual casinos from all over the world, which means that you can play Ultimate Texas Hold'em for free.
Ready to Win? Visit the Best Online Casinos and Have a Go!
If you feel like you're ready to try out one of the best online poker games to ever grace the internet and land-based casinos alike, then it's time to do so now. Discover casino sign up bonuses for the best online casinos where you can play Ultimate Texas Hold'em as well as Extreme Texas Hold'em and start the adventure of a lifetime.
We're just here to guide you on your quest to obtain the best online casino rewards. It's up to you to decide what you want to do with them, and where you want to enjoy them! Be sure to stick to our perfect strategy guide if you wish to get the best of the game.
Try out the game for free or wager with real money if you feel confident enough. With a house edge of just 2.2%, a bit of luck could be all you need to win by following our strategy guide!
Last updated
October 2, 2023