The Best NetEnt Games (Updated in 2023)
Online casino aficionados have probably heard and played countless of NetEnt games in the past. Every seasoned veteran of the online casino industry knows that NetEnt (fully known as Net Entertainment) is one of the household names that stand out from the rest of the online casino game developers - and that's why you'll find NetEnt games at world-class casinos. Most of their games can be played with bonuses, too! Check out these NetEnt casinos with free spin bonuses:
| | | |
| --- | --- | --- |
| 1 | | Claim bonus |
| 2 | | Claim bonus |
| 3 | | Claim bonus |
| 4 | | Claim bonus |
| 5 | | Claim bonus |
We've made this article to comprise the top 10 NetEnt games and explain to you why these titles are so sought-after by the majority of online casino players. If you're a fan of online slots, videopoker, or even if you're looking for the best casino games overall, then you'll find comfort in the best NetEnt games listed here!
Starburst - Best NetEnt Slot Overall
Gonzo's Quest - Best NetEnt Slot to Play with Free Spins
Mega Fortune - Best Progressive Jackpot Slot
Jack and the Beanstalk - Best Classic NetEnt Slot
Jack Hammer 2 - Best Interface in a NetEnt Slot
Guns N' Roses Slot - Best Soundtrack in a NetEnt Slot
Starburst XXXtreme - Best High Volatility NetEnt Slot
Divine Fortune - Best NetEnt Slot with High Payouts
Mega Joker - Best High RTP NetEnt Slot
Twin Spin - Best NetEnt Slot by Bonus Feature
1. Starburst
RTP: 96.09%
Volatility: Low
Year Released: 2012
Min/Max Bet: €0.1/€100
Max Payout: €50,000
Paylines: 10
Reels: 5
Rows: 3
If you've taken part in welcome bonus packages before, you've more than likely heard about Starburst. This game is offered as a part of free spin promotion by many of the best online casinos in the world, and there's a good reason for it – the game is fun to play and offers users the chance to obtain countless rewards by spinning away some cash in the slots.
The game was released in 2011, but it's still considered as one of the best online slots in the world, let alone one of the best NetEnt games of 2020. If you're a fan of slots, you've probably played it before, but if you're new to the online casino scene, then this classic of a game should be one of those must-try's on your list. Play it with a Starburst bonus to win more rewards!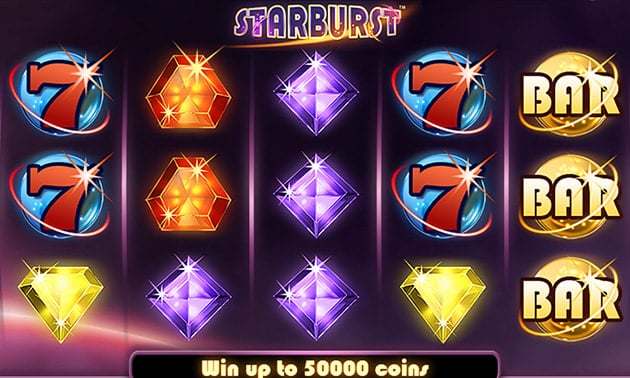 Starburst offers stunning visuals and a large variety of paylines, which make the game appealing to gamblers of all sorts. You can win up to €50,000 with this incredible game, so be sure to wager as much as you can and cross your fingers – your lucky day might be around the corner!
2. Gonzo's Quest
RTP: 96.00%
Volatility: Med/High
Year Released: 2011
Min/Max Bet: €0.20/€50
Max Payout: €125,000
Paylines: 20
Reels: 5
Rows: 3
Join Gonzo in his adventure to find treasure with the popular Gonzo's Quest slot game, which is easily one of the most played slots across the internet. In fact, Gonzo's Quest is almost as popular as Starburst in welcome promotions, as many casinos choose this game to reward players with free spins and other awesome prizes.
The game isn't made for those who love large bets, but it still allows you to wager up to €50 on your spins. The cartoony artwork makes the game appealing for all sorts of audiences, with all kinds of adults reporting having a lot of fun in the game.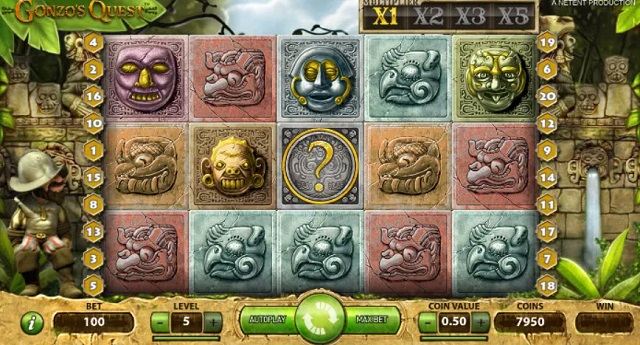 The game has been around for quite a while, but it's fair to say that it has properly withstood the test of time – even after years of its original release, the game remains as one of the best NetEnt slot games of 2020 and one of the best slot games that you'll find online. If you happen to help Gonzo fulfill his goal and find El Dorado, then the number of rewards that await you are nothing short of incredible.
3. Mega Fortune
RTP: 96.60%
Volatility: High
Year Released: 2009
Min/Max Bet: €0.10/€50
Max Payout: €1,000,000+ (Progressive Jackpot)
Paylines: 25
Reels: 5
Rows: 3
Mega Fortune is another one of those popular online slots with a name that floats around the best online casinos on the planet. Every NetEnt casino offers Mega Fortune, not only because of the visual connotation of riches that attracts countless players, but also because of how fun the game is to play. If you're keen to enjoy your time in an online casino, then this NetEnt game might be what you're looking for.
Did you know? Players who have enjoyed Mega Fortune have also received some of the best casino rewards in the history of online gaming.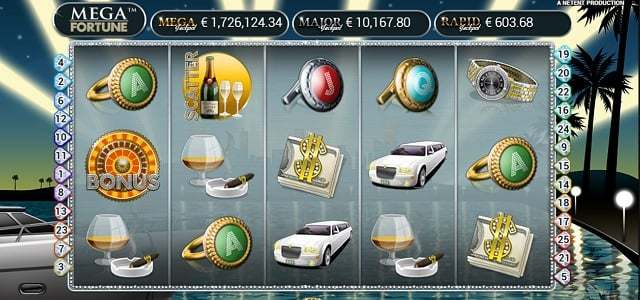 This game honors its name by offering players very large payouts when meeting certain parameters in game, all of which can be done by playing your regular bets and staying a little on the lucky side of things. If you're a fan of slots and money (which you probably are if you're here), then Mega Fortune is probably one of the best NetEnt games of 2020 for you and your wallet!
4. Jack and the Beanstalk Slot Game
RTP: 96.30%
Volatility: Low
Year Released: 2011
Min/Max Bet: €0.20/€10
Max Payout: €30,000
Paylines: 20
Reels: 5
Rows: 3
You've probably heard of Jack and the Beanstalk fairytale from those days back when you were just a kid. NetEnt has managed to turn a traditional popular story into one of the most popular slot games on the internet. In fact, if you've visited some online casinos before, you've probably already seen the art of this game shown around in the sites – many casinos use NetEnt's Jack to showcase their slot sections.
As you might already know, Jack is a small boy that sets himself out on a search to find riches and earn himself a fortune – the problem is that the riches belong to giants, and he has to steal them! The game loosely takes you through the adventure of Jack and aims to represent his success when you find yourself netting rewards on one of the best NetEnt games out there.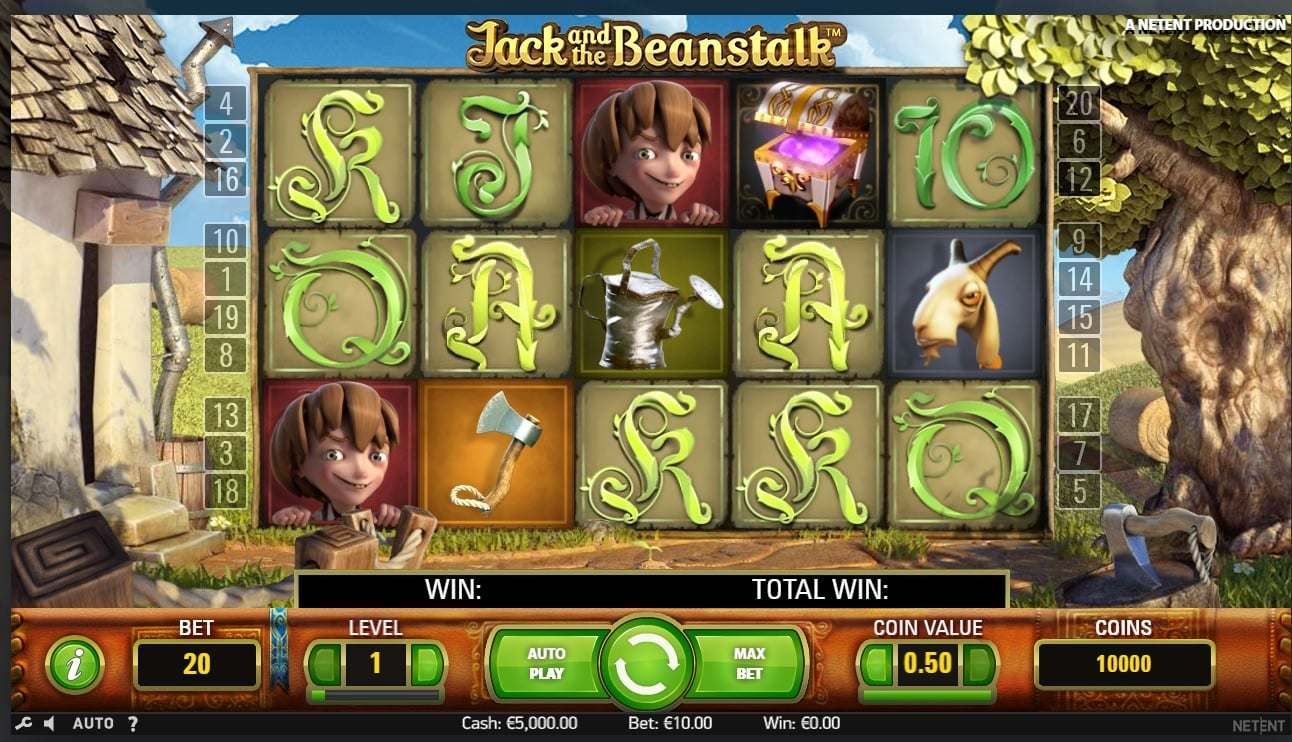 This game is a five-reel slot with 20 paylines for you to wager on. It allows you to select large ranges of wagers, making it ideal for the low roller as well as for the high roller. You can place wagers of just €0.20 per spin if you wish (which is what you often get with Jack and the Beanstalk free spins), but you may also place wagers of up to €100 each!
5. Jack Hammer 2
RTP: 97.07%
Volatility: Low
Year Released: 2013
Min/Max Bet: €0.50/€50
Max Payout: €250,000
Paylines: 99
Reels: 5
Rows: 3
If you love games with a lot of paylines and reels, then Jack Hammer 2 is the best NetEnt slot for you. The game comes packed with 25 different paylines as well as 15 reels, and a theme that makes it very popular amongst a wide variety of gamblers. The game is set around Jack Hammer, a superhero that aims to save the day of a city in a comic book-esque universe.
Your goal is to join Jack Hammer and stop the evil doctor from destroying the city by netting payline wins in this incredible slot game. Many people think that Jack Hammer 2 is not only one of the best NetEnt games on the planet, but also one of the best online slots that you'll find in any online casino. This is especially true if you're a fan of comic books!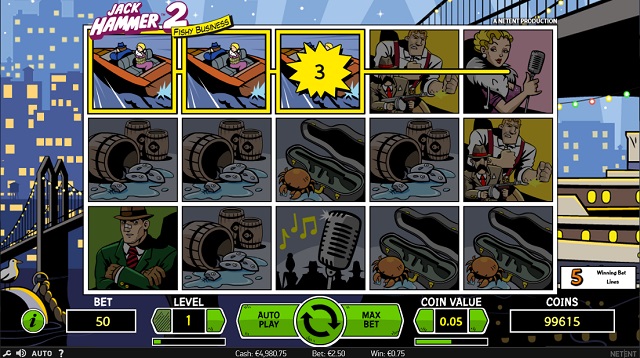 The art of the game is only matched by its epic sounds and incredible rewards. It reminisces the days of the early comic book era and takes you back in time while also helping you earn some decent money along the way. What's not to love about the awesome Jack Hammer 2?
6. Guns N' Roses Online Casino Slot
RTP: 96.98%
Volatility: Medium
Year Released: 2016
Min/Max Bet: €0.20/€200
Max Payout:
Paylines: 20
Reels: 5
Rows: 3
Arguably one of the most popular NetEnt titles, the Guns N' Roses slot game comes packed with an incredible and selectable soundtrack that includes the best songs from the popular rock band, as well as the option to earn a huge sum of cash in rewards and a galore of bonuses that will keep you hooked for ages.
Rock gambling fans tend to feel that the Guns N' Roses slot game is one of the best overall casino games on the planet, and many people find enjoyment in the game almost exclusively because of its soundtrack. Rock classics like Sweet Child O' Mine are there for your enjoyment while you gamble whichever amount of cash you want.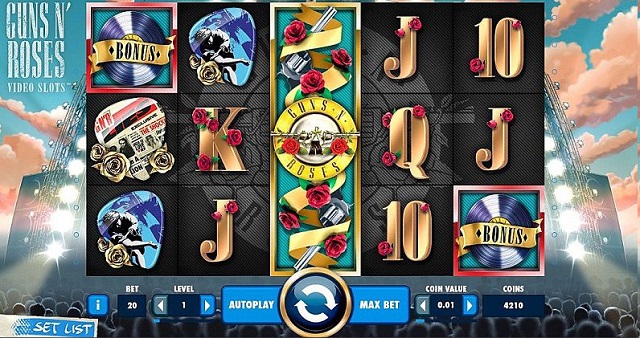 The game is not all about music, though. You can profit very decently out of the slots with its multi-reel system and the number of bonus possibilities that the game has in store. The icons are representative of Guns N' Roses and the members of the band can be found as images as well – you even get the chance to use each member as part of the bonuses!
7. Starburst XXXtreme
RTP: 96.26%
Volatility: High
Year Released: 2021
Min/Max Bet: €0.10/€50
Max Payout: €10,000,000
Paylines: 9
Reels: 5
Rows: 3
The popularity of Starburst never went unnoticed, but it stayed relevant for so long, that NetEnt could ride the wave of the original game for almost a decade. After many years of playing the same game, many gamblers craved something different - and that's where Starburst XXXtreme comes in.
Although the game features similar gameplay mechanics, visuals, and sounds as the original game, Starburst XXXtreme has three key differences from its predecessor: the removal of the win both ways feature, much higher volatility and the bonus buy feature.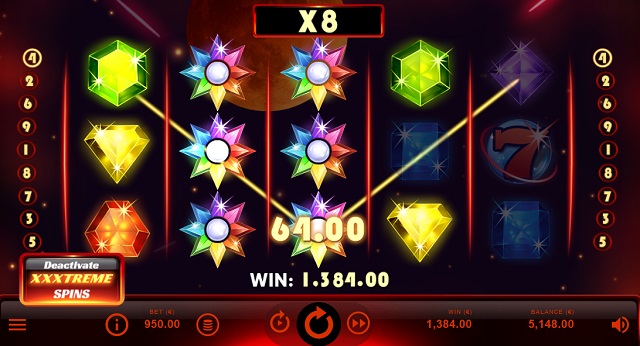 This version of the game is also much better for those who feel that monotony strikes early when playing the popular NetEnt slot. With the bonus buy feature, you can jump straight into the action by paying a chunk of your stake to trigger the multipliers, allowing you to instantly enter the bonus rounds and upping the stakes whenever you want.
8. Divine Fortune
RTP: 96.59%
Volatility: Medium
Year Released: 2017
Min/Max Bet: €0.20/€100
Max Payout: €300,000
Paylines: 20
Reels: 5
Rows: 3
Divine Fortune is a game tailor-made for those people who love mythology. The game embarks the player in a quest for riches with one of the best styles of artwork that NetEnt has to offer. Collect the right mythological creatures and watch your bonuses pile up and become incredible rewards! The game even comes packed with a special bonus mode, which can be accessed by spinning special characters on the screen.
You'll be able to use the bonus games to earn extra rewards – all of it within the incredible Divine Fortune slot game. The best thing about Divine Fortune, apart from its art, is the feel of the game. You can almost feel immersed in the incredible world of Ancient Greece when spending time with this incredible title. Be sure to select your paylines accordingly and let those rewards become large sums of cash.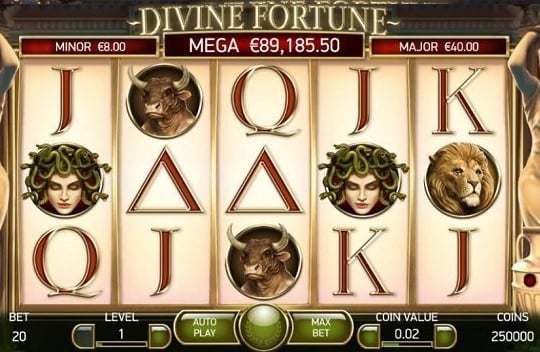 The game also comes with a jackpot which is very difficult to get, but it nets the player enough money to settle down for the rest of their life. You just need to be lucky with your paylines and keep playing the game – the next spin might grant you enough money to travel the world!
9. Mega Joker
RTP: 99.00%
Volatility: High
Year Released: 2013
Min/Max Bet: €0.10/€10
Max Payout: €2,000 (non-progressive); €10,000+ (progressive jackpot)
Paylines: 40
Reels: 3 (Dual Reel Set)
Rows: 3 (Dual Reel Set)
Although the vast majority of NetEnt slots feature a modern look and dynamic gameplay, Mega Joker's classic feel and its high RTP make it one of the most popular slots ever developed by the company - and one that has definitely managed to stand the test of time with its fun albeit simple gameplay, as well as its dual board setup where the upper set of reels is reserved for bonus rounds.
This game has gained massive popularity over the years thanks to its small but everpresent progressive jackpot and because it's one of the highest-paying NetEnt slots of all time. Although some may not call this a video slot per se but rather a virtual recreation of a classic slot machine, the game's Supermeter will have you chasing the biggest payouts once you enter the bonus rounds.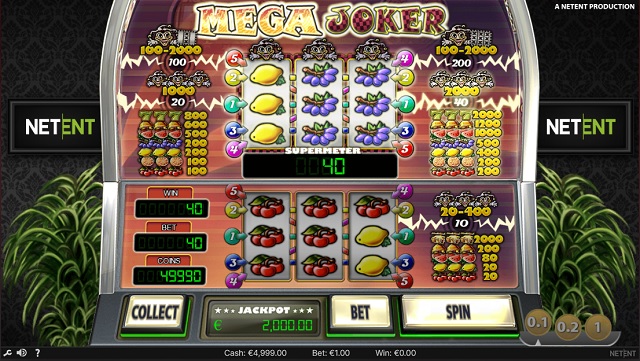 Mega Joker strikes the perfect balance between classic and modern slots, creating a high-paying game that appeals both to those who chase games with high payouts and games with potentially huge wins.
10. Twin Spin
RTP: 96.60%
Volatility: Med/High
Year Released: 2013
Min/Max Bet: €0.25/€125
Max Payout: €135,000
Paylines: 243
Reels: 5
Rows: 3
If you love games with a lot of ways to win, then Twin Spin is exactly your type of slot. This game has 5 reels for your enjoyment, alongside over 240 ways in which you can earn rewards depending on the type of spins that you choose to play. The game can expand a few extra reels, which gives you a lot more options to wager on as well as many more possible winning scenarios.
It lets you wager as little as €0.20 on a single spin, but you may also choose a larger wager of up to €125 – you choose how much cash you want to wager according to your own needs. You'll find a couple of Twin reels which offer a symbol repetition feature in the game, which allows your profits to be doubled thanks to the availability of more winning lines created by these reels.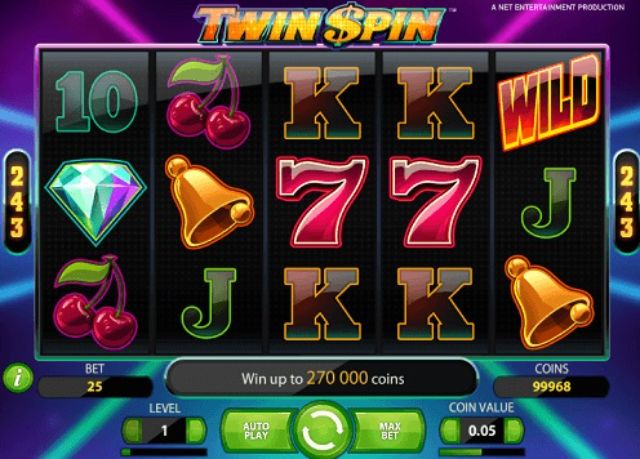 However, this does come with an added consequence – the game is fully dependent on its extra reel feature (honoring the Twin Spin name), which means that you won't find any extra bonus rounds or free spins while wagering in this game, which is one of the best slot games in 2023!
History of NetEnt Slots
NetEnt is one of the precursors and promoters of the online casino world, having been founded in 1996. However, as a company, NetEnt has its roots in the land-based casino world, and you could date back the origins of the company all the way to the partnership Per Hamberg and Lars Kling in 1968.
NetEnt came to be in 1996 and started developing games since its very beginning. You'll now find NetEnt games all over the internet, in hundreds of online casinos. This page helps you find the most popular NetEnt online casino games that the company has ever developed!
Payment Options at NetEnt Casinos
NetEnt games are available all over the world, with few countries being excluded from its coverage area. That means that you'll be able to enjoy the best NetEnt slots and play its most lucrative games using almost any payment method that you could think of - and it's always good to know them even if your plan is to play free NetEnt slots. Among the most popular payment options found at what's likely going to become your favorite NetEnt casino, you'll see:
Bank transfers
Credit card payments (Visa, MasterCard, AMEX...)
E-Wallets (Skrill, Neteller, PayPal)
Cryptocurrencies (Bitcoin, Ethereum, Litecoin, Bitcoin Cash, Tether, ADA...)
Local payment options (based on where you live)
Cash deposits
Other payment processors (Trustly, AstroPay...)
Security of NetEnt Software
NetEnt is one of the biggest iGaming software developers in the world. The company has been around since the 90s and it forms part of the Evolution group, having been responsible for the creation of many of the world's most-played online casino games. Thus, all NetEnt games are safe, reliable, and fair. If you're still unsure of whether you should trust the company, take a look at the following features:
NetEnt is a publically traded company and it is regulated by the UKGC, one of the strictest online gambling regulators on the planet;
All NetEnt games are created with an RNG (Random Number Generator) that ensures the safety and legitimacy of every result;
Licensed online casinos that offer NetEnt games are safe. You need to be aware that some sites offer fake NetEnt games, though, which is why you should only play in licensed online casinos.
Play NetEnt Games with These Fantastic Bonuses
Why play the best NetEnt Casino games with your own cash when you can claim fantastic bonuses and play for free? We've collected a list of the best casino bonuses offered by the casinos mentioned earlier in the article so you can collect free spins and enjoy your favorite games for free!
| | | |
| --- | --- | --- |
| 1 | | Claim bonus |
| 2 | | Claim bonus |
| 3 | | Claim bonus |
| 4 | | Claim bonus |
| 5 | | Claim bonus |
Will you experience the classic feel of Starburst? Will you experience the adventure of a lifetime alongside Jack in his quest to climb the beanstalk? Or will you try to win the progressive jackpots of Mega Joker or Divine Fortune? Your options are aplenty, bonuses are within reach, and the beast casinos await. Visit the best casinos and play top-rated NetEnt games now!
Last updated
April 27, 2023