Live Dealer Blackjack Online Guide for 2023 Games
Live blackjack is the most immersive game to play blackjack without having to visit a land-based casino.
If you want to feel like you're playing at a real table and enjoy games with 99.50% RTP from home, then this guide is just what you need to learn how to play live blackjack, which version of the game is the best, and which casinos you can visit to play live blackjack in 2023.
How to Play Live Blackjack Online? Step-by-Step Guide
Regardless of whether you intend to play blackjack simultaneously with other players or take a spot at a virtual table, the steps that you have to follow are the same. Here's how a normal game of blackjack develops:
The croupier deals two cards to each player, and two cards to himself.
If the dealer's face-up card is an Ace or a 10-value card, they will check for blackjack and you'll be offered the chance to pay for insurance. You lose if the dealer gets a blackjack and you haven't paid the insurance. The game will go on normally if the dealer does not have a blackjack or doesn't draw an ace or a 10-value card on the initial deal
Players must decide whether to ask for another card or pass. If they have a hand of two cards worth the same, then they can split and play two different hands. The player may also double the bet, which means they will receive one extra card and then automatically end their turn
The player can ask for as many cards as they want until they reach six or until they bust. If the player busts, the game ends and the house wins. If the player passes with a hand value equal or lower than 21, it's the dealer's turn
On most tables, the dealer will play until 17, at which point the game will end. If the player's hand is worth more than the dealer's, then the player wins
Some steps may be slightly different depending on the version of blackjack that you're playing. Some classic blackjack games offer side bets, for example, which are separate to the regular flow of the game.
Rules of Live Blackjack
There are multiple versions of live blackjack, just like there are dozens of iterations of the blackjack game all over the world.
Different rules translate into different estimated return rates, but all of them are based on the original blackjack game. I'm going to explain to you the rules of standard blackjack, as they will make it much easier to understand the many variants that await in the world's best online casinos.
Each player is dealt two face-up cards to begin the round, while the dealer gets one face-down card and one face-up card
The player wins when they draw a hand with a value higher than the dealer's
The player must decide whether to place a bet, split, or double down whenever they get their initial hand
Any initial hand can be doubled down, regardless of the value of each card
You can only split hands with cards of equal value (2,2 or K,Q, for example)
If you split, you must place an additional bet worth the value of your initial stake
Players may pay insurance, which protects their bet agaisnt a dealer's blackjack
A "blackjack" is the name given to a two-card hand with a value of 21 (an Ace and a 10-value card)
Some games have the "Six Card Charlie" rule, which means that you'll win if you ever get a hand of 6 cards without it going over 21
How Does Live Blackjack Work?
Live blackjack, much like other live casino games, works by filming a dealer playing the game in real time while players from all over the world interact with them as if they were sitting at the same table, via interactive streaming software. Live blackjack can be played in either of two ways: one with unlimited players, and the other one with locked seats (limited players per table).
Live blackjack games with locked seats, where each player that sits on a table takes a spot that other players can't occupy. This is the most realistic way of playing live blackjack, but minimum bets are usually worth at least €10.
Live blackjack with unlimited players, where the dealer only plays one hand and everyone that joins gets to place their own bets. This allows for lower minimum bets as hundreds of users can be playing at once and still make it worth it for the casino and for the live game provider.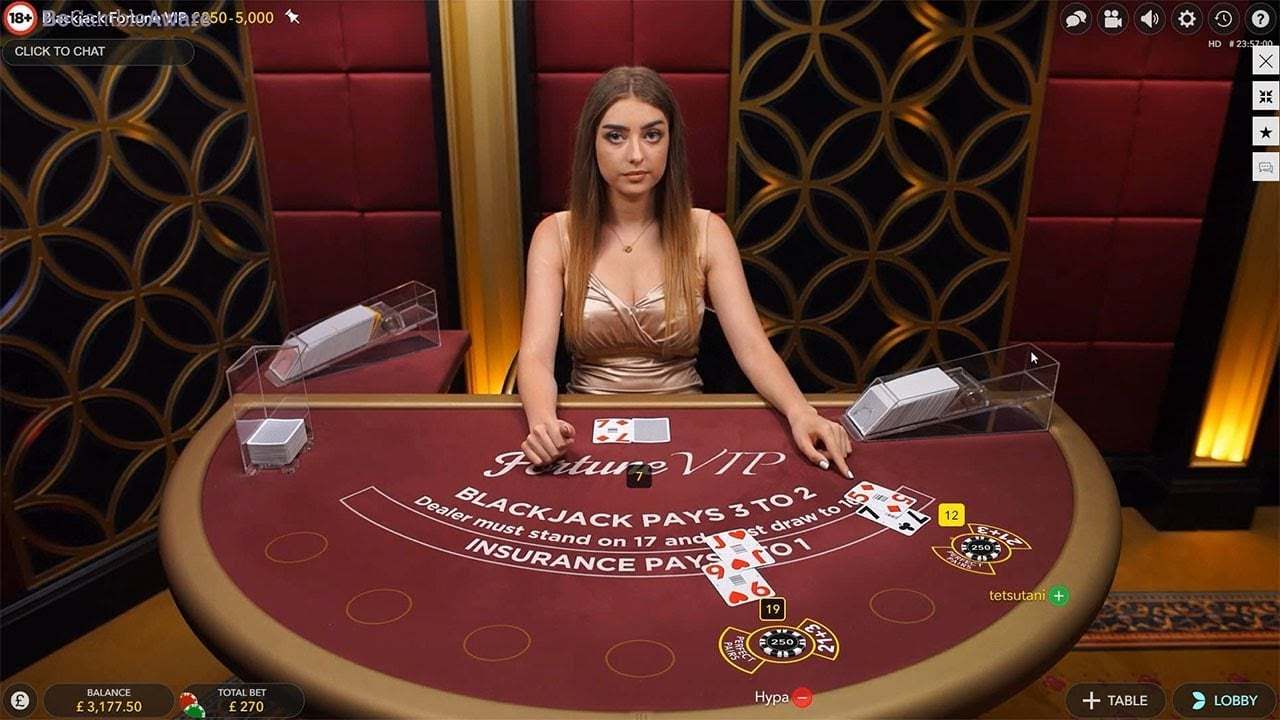 Top Tips to Play Live Blackjack
Blackjack is one of the casino games with the biggest return rates in the online gambling world, but it's one that requires plenty of skill. With these expert tips, you'll manage to improve your game without even having to try that hard:
Double down a hard eleven. It doesn't matter which cards the dealer has, it's always a good idea to double down on a hard eleven as there's a very good chance that you land a 21.
Aces and 8s should always be split. A lot of people opt not to split 8s if the dealer has a 9 or a 10, but two hands with a base 8 give you a much better chance of beating a dealer's high upcard.
Never split 10s. It may seem like a good idea, but splitting 20s means losing a twenty and the risk may not be worth the reward.
Never pay the insurance. You'll end up paying more money unnecessarily and it's almost never worth the cost. Take the loss if the dealer gets a blackjack and move on to the next hand.
Avoid 6 to 5 blackjack tables. If the blackjack is paid 6-to-5 instead of 3-to-2, the house edge increases at least 1%, but it could be greater than 2% at multi-deck blackjack tables
Types of Live Blackjack Games
The live casino world is nurtured by dozens of studios that host live games from all over the world. This has led to the creation of unique blackjack versions and a large array of blackjack tables with different rules that suit the needs of different types of players.
I'm going to tell you about the most popular live blackjack games in the world, meaning that I'll focus on blackjack games created by Evolution, Pragmatic Play Live, and Playtech. You'll find other variants made by smaller studios, but they aren't as popular as the ones I'll mention here and frankly bear too many resemblances to the classic game and aren't worth explaining.
Live Blackjack
All games categorized under the "Live Blackjack" name generally offer standard blackjack rules, regardless of which studio is hosting the title. Evolution, Pragmatic Play, and Playtech all have their own classic live blackjack tables, and this is also the most commonly hosted blackjack game by smaller or lesser-known studios.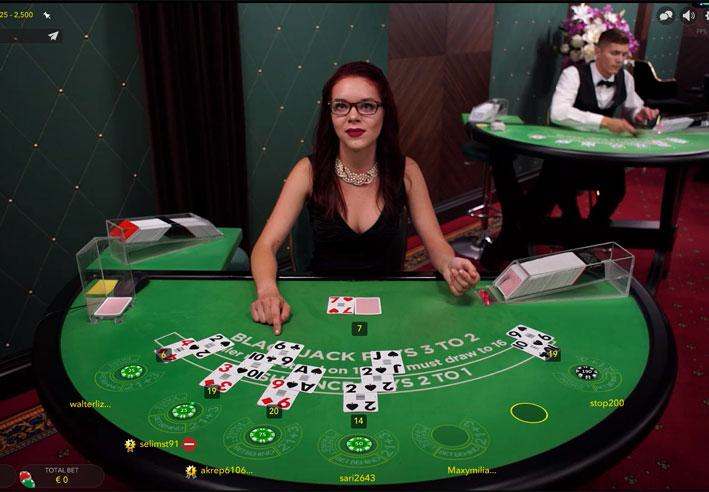 Lightning Blackjack
This is the blackjack variant of the popular "Lightning" games, created by Evolution, where all player wins are subject to a multiplier of at least 2x and at most 25x. The caveat? Players need to pay a 100% of their bet as a playing fee, which could be easily recouped on any winning hand.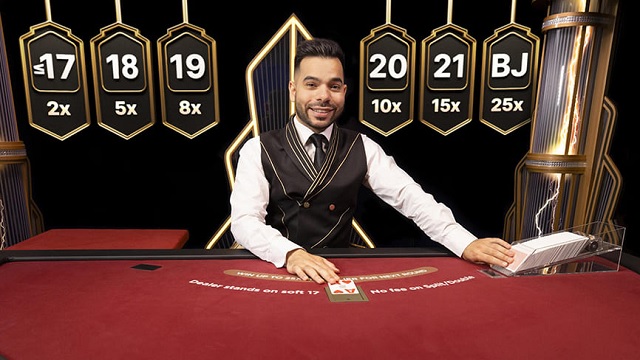 Speed Blackjack
Speed Blackjack is a version of regular blackjack with locked seats (limited players) where all players must decide whether to double, split, or bet at the same time, which makes each round much quicker than in a regular game of blackjack,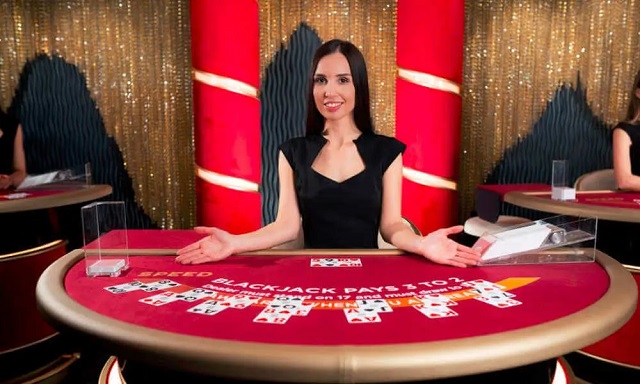 One Blackjack
A variant of classic blackjack developed and hosted by Pragmatic Play, where all classic rules apply but with an additional rule that further benefits players: a six-card hand ensures the player a win (Six Card Charlie). It comes with four side bets and allows for unlimited players to enjoy the game at once, as no seats are occupied and a single hand is always played.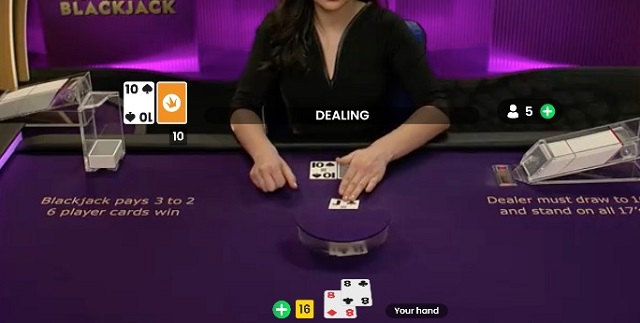 Infinite Blackjack
Infinite Blackjack is basically One Blackjack but created by Evolution instead of Pragmatic Play Live. It also offers four side bets, the Six Card Charlie rule, and the option for multiple players to play classic blackjack simultaneously thanks to everyone playing a common hand.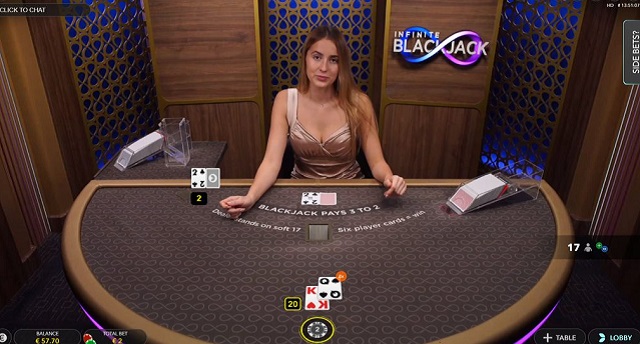 Free Bet Blackjack
Standard blackjack game with no additional rules but with two added benefits: hands equalling a total of 9, 10, or 11 are offered the chance to be doubled down for free, whilst hands of any pair except those with a value of 10 can be split for free as well.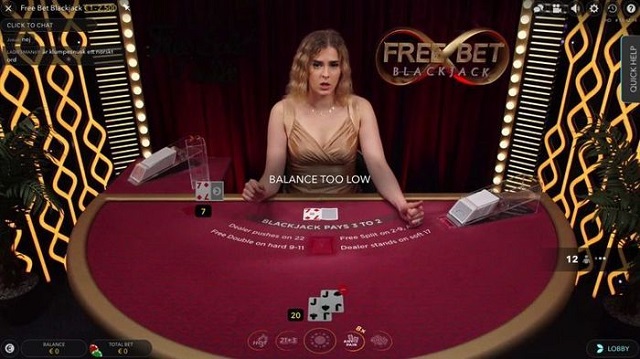 Power Blackjack
Variant of Infinite Blackjack (with unlimited players) played with 8 decks and no 9s or 10s, but with all symbol cards included (J, Q, K, A). Players can choose to double, triple, or quadruple any initial bet - even after a split. It also comes with multiple side betting options but leaves aside the Six Card Charlie rule to balance the RTP.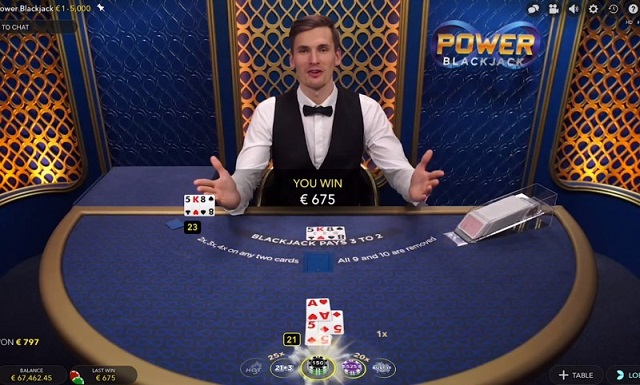 Unlimited Blackjack
Classic blackjack version created by Playtech, played with eight decks and with an unlimited number of players. It's a highly customizable game with a lot of user-friendly features that enhance how immersive the game feels, and gives tools to the player to make the game more suited to what they're after.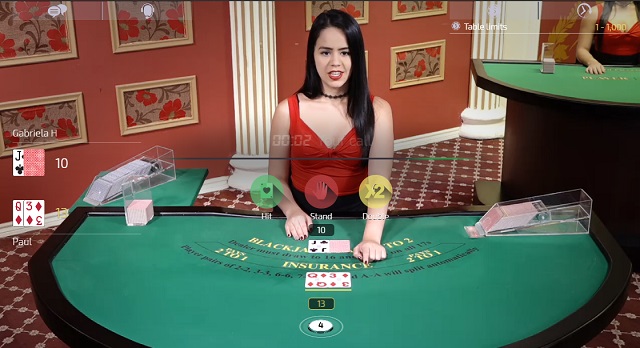 When to Hit in Blackjack?
The first thing that you should know about hitting in Blackjack is that, in most cases, new players hit when they really shouldn't hit. This includes rounds where they win. Remember that blackjack is a game of probability, and chances are that many of the times in which you have asked the dealer for one more card were actually terrible times for you to do it.
The best way to understand when to hit is with a basic strategy chart. Here's my "when to hit" chart for hards, which also show you when is the best time to double:
| | | |
| --- | --- | --- |
| Hard | 2 to 6 | 7 to A |
| 4 to 8 | Hit | Hit |
| 9 | Double | Hit |
| 10 or 11 | Double | Double (when worth more than the dealer) |
| 12 to 16 | Stand | Hit |
| 17 to 21 | Stand | Stand |
And here's my "when to hit" chart for soft hand values:
| | | |
| --- | --- | --- |
| Soft | 2 to 6 | 7 to A |
| 13 to 15 | Hit | Hit |
| 16 to 18 | Double | Hit |
| 19 to 21 | Stand | Stand |
| 13 to 15 | Hit | Hit |
Best Time to Split in Blackjack
We know that splitting can be extremely tempting, and even more so if you're just starting to play. However, if you check out streams or videos of pros playing blackjack, you'll notice that they only split their cards in very specific situations that, in most cases, end up being quite similar to one another.
Here's my "when to split" blackjack chart:
| | | |
| --- | --- | --- |
| Splittable Hand | 2 to 6 | 7 to A |
| 2/2, 3/3, 6/6, 7/7, 9/9 | Yes | No |
| 8/8, A/A | Yes | Yes |
| 4/4, 5/5, 10/10 | No | No |
Cutting Your Loses is Just as Important as Winning
Before we begin with this next point, it's important for you to know that this cannot be done in all blackjack tables in the world.
In fact, casinos that allow surrendering are in the minority, as you end up paying less money in the long run. Surrendering is also a tough decision to make, and there are only two clear scenarios in which it can be a good idea.
The hard 16 must be surrendered unless the dealer has anything worth 9 or above. Of course, you shouldn't surrender a hard 16 if you get it with double 8s.
In that case, you should split. The only other hand in which you might want to surrender is with a hard 15, but only if the dealer has a 10.
The Best Blackjack Strategy – Does it Exist?
Technically speaking, there is no strategy that guarantees that you'll beat the house.
In the gambling days of yore, when fewer decks were used, it was far easier for the player to count cards and create a strategy that would almost guarantee a win in every round that they counter correctly.
Recreational players can use entry level card counting systems to become better at Blackjack

Henry Tamburin, expert blackjack player
However, you can play an optimal strategy that will ensure that you always make the correct call regardless of what the dealer has in their hand.
You can read our noob-friendly blackjack strategy guide if you want to learn more about how to play the game as close to perfect as possible, ensuring the highest RTP.
Best Casinos to Play Live Blackjack
Are you ready to play live blackjack in the world's best live dealer casinos? It's important that you pick sites that offer the world's best games, hold reputable licenses, and offer quick payments. These are my top picks:
What Are You Waiting For?
Live dealer casinos don't seem like they will close any time soon.
In fact, they're currently being played more than ever, with hundreds of new players joining the ranks of online casinos to enjoy some of the best online casinos to claim blackjack no deposit bonuses and play without having to leave the comfort of their homes. There's never been a better time to play the game in the entire history of blackjack.
We have given you the tools to succeed (and we also have a guide of how to win at online casinos that could also be of help), but now it's up to you to decide how want to utilize them.
Pick your favorite live blackjack casino and play your favorite blackjack games!
Last updated
October 2, 2023