What is "Monopoly Slots"?
Monopoly Slots is a Monopoly casino game developed by SciPlay under license by Hasbro, which aims to combine the thrill of the classic board game with online gambling. The game features 10+ free Monopoly slots, as well as other slot games with games made by Hasbro (including Clue and Battleship), and classic Vegas slots like Mega Fire Link and The King and the Sword.
Although the game features a Monopoly Casino with a great variety of games, it can only be played with fake money, hence the reason why you'll find the game in the Google Play Store. However, if you'd like to play Monopoly casino games with real money, you may want to check out the live casino present on each of the following websites:
How to Play Monopoly Slots
Monopoly Slots is easy to play. You'll be taken through a tutorial that explains all of the game's basics, including how the Monopoly Casino board works, how to unlock new games, how to complete Monopoly Slots quests, and the most important feature of all: how to earn more money to continue playing!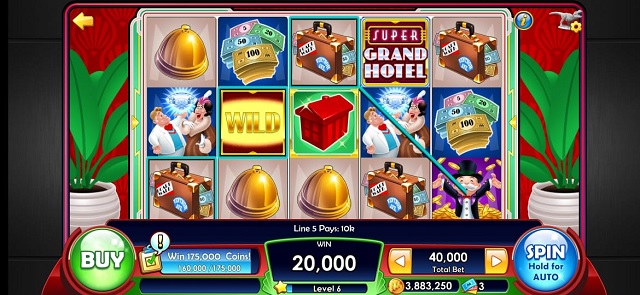 There are two types of currency in the game: coins and Monopoly Slots Bucks, both of which are earned freely. Since the game is free to play and cannot be played with real cash, you'll have a few money-earning methods at your disposal as you wager your cash at the casino. These methods are:
Completing Quests & Tasks: Completing quests earns you the right to earn Monopoly Bucks, which can then be spent to earn more coins. You use coins exclusively to play slots!
Building Hotels: Building a hotel in any unlocked area of the board ensures a passive coin income. This is the best way to ensure that you never run out of money even if you go on an unlucky streak and lose all of your Monopoly Slots coins.
Playing Games: The best way to earn more money is to simply play the slots that are available in the game. We'll tell you more about their RTP shortly, but here's an appetizer: don't expect to lose as much cash as you would in a regular casino.
In-Game Features in Monopoly Slots
Monopoly Slots features a wide array of Monopoly casino games. Each game has its own gameplay features that set it apart from the rest. Each slot has different minigames and its own RTP, as well as its own jackpots and in-game bonuses. You can unlock each game fairly quickly by completing quests or otherwise simply spending your in-game coins.
Generally, the games found at Monopoly Slots have the following attributes:
Monopoly Casino RTP: Unlike your average casino slot, which tends to have an RTP of 96%, Monopoly Slots undoubtedly have a higher return percentage. Although each slot does not disclose its actual RTP, it's safe to assume that it stands somewhere above 100%, as you'll find yourself winning money and hitting big wins more often than not.
Cash Prizes: Much like each game has its own set of features, cash prizes vary based on how much you bet in each game and which symbol combinations you achieve. Wilds, like in classic slot games, make your cash prizes increase. You'll be allowed to bet more money as you level up and complete in-game quests, which in turn allows you to win more cash in each slot.
Monopoly Slot Machines – Jackpots: Naturally, there are no progressive jackpot Monopoly slots, since it's a single-player game. However, some machines offer massive payouts worth 10,000x your bet or more!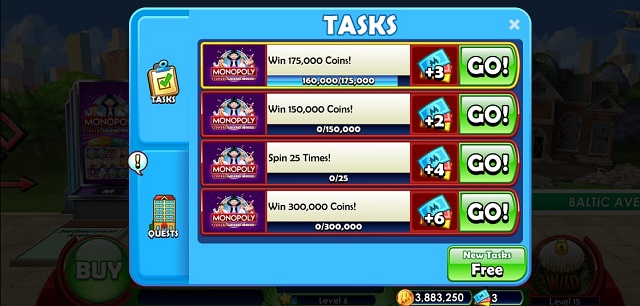 If you want to learn more about the specifics of each game, as well as how paylines work and how each game's minigame is activated, you can click on the "Info" tab when you open a new game at Monopoly Slots and you'll be presented with its full breakdown.
Symbols Overview in Monopoly Slots
Symbols in the Monopoly Slots game vary per game. Each game has its own set of features and symbols, and each symbol -even if similar between titles- serves a different purpose in each slot game. They all have one thing in common, though: they resemble Monopoly features or board game artwork.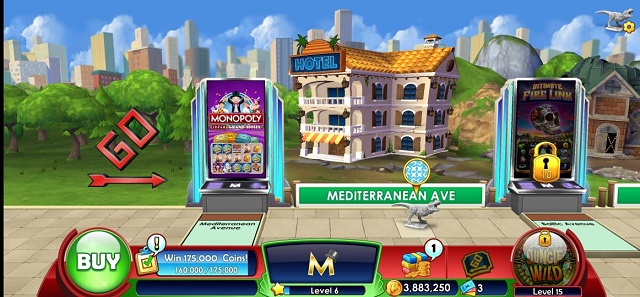 Standard Symbols
Standard symbols found in Monopoly slots are mostly game pieces, bills, coins, or characters that aim to resemble the inhabitants of Monopoly City. The average payout of these symbols varies depending on how many of them you manage to get within a single payline and the inherent value of each symbol per se.
Just like in any other slot game, the likelihood of creating paylines with each symbol varies in relation to how profitable each combination would be. However, you're far more likely to earn a ton of in-game money with standard symbols than you are to do the same thing playing real money slot games.
Wilds
Wilds form a crucial part of your Monopoly Slots experience. They are not only responsible for being the pathway between a standard bet and a massive win, but they may also trigger random minigames and other high payout events within each themed Monopoly slot game.
Much like standard symbols, you'll notice that creating wild combinations in these games is far easier than in a regular casino slot. This aids to boost each game's RTP.
Themed Minigames
Access the monopoly board and get random rewards, climb a luxurious tower and earn a random prize with each spin, or place hotels to boost your winnings. Themed minigames vary from slot to slot, but they do a fantastic job of capturing the essence of the classic board game and turning basic gameplay features into an amazing way to earn a ton of money.
Are Monopoly Slots the Only Monopoly Casino Games?
Monopoly Slots is the most popular free casino Monopoly game, but it's not the only one. Hasbro has collaborated with popular casino software developers to create real-money Monopoly games that fuse the thrill of classic casino games with the popular board game, creating an amazing experience for low-rollers and high-rollers alike.
The most popular Monopoly casino games are the following:
Super Monopoly Money – Super Monopoly Money is a themed online slot with wilds, in-game free spins, and minigames, with symbols designed as the board game's money, cards, and characters. It has an RTP of 95.97%
Monopoly Live – Monopoly Live is a live game show and the most popular Monopoly casino game in the world. The game show is created and hosted by Evolution, formerly known as Evolution Gaming, the world's leading developer of live casino software. It has an RTP of 96.23% and it shines as Evolution's most popular live casino game show.
Monopoly Big Baller – Big Baller combines the thrill of Monopoly with bingo to create a fantastic live gambling experience with a 3D bonus game where you'll visit the Monopoly board for the chance to win additional prizes. If you love Monopoly and you can't get enough of bingo, be sure to play Monopoly Big Baller!
Play the Mobile Game or Monopoly Slots in the World's Best Online Casinos
Monopoly Slots is a fantastic game for online casino fans that are looking to play some slots in a laxer environment, without having to wager real cash, but with the chance to experience the thrill of online casino gameplay from their mobile phones.
It's a fun game that casino fans will surely love – and trust us, it's as addictive as mobile games come. Thankfully, you don't need to wager real money to play, so feel free to get as hooked as you like. There are no risks nor is there cash at stake!
However, that's not where your Hasbro casino fun ends. Monopoly is one of the most famous board games to have made its way through the online gambling world and established itself as a popular title loved by gamblers from all over the planet.
Last updated
December 19, 2022