These 5 Bitcoin Jackpot Slots Could Change Your Life
Progressive jackpot slots stand out as the highest-paying online casino slots of all time. These games collect a small percentage of bets made by players from all over the world and add them to a common pool, which will be triggered by one lucky player that will have their life changed with a single spin of the reels. These are the best bitcoin jackpot slots available in 2023:
| | | |
| --- | --- | --- |
| Game | Why We Love It | Where to Play |
| Immortal Romance Mega Moolah | Best Bitcoin Jackpot Slot Overall | |
| Queen of Alexandria WOWPot | Best WOWPot Bitcoin Jackpot | Play at Katsubet |
| Jackpot Giant | Best Bitcoin Jackpot Slot by Playtech | Play at Betsson |
| Mega Fortune | Best Bitcoin Jackpot Slot by NetEnt | Play at N1 Casino |
| Age of the Gods: God of Storms | Best Age of the Gods Slot | Play at CobraCasino |
Each of these games offers something unique, but we've made sure to pick the best jackpot slots that can be played with bitcoin and other cryptocurrencies. Let's take a more in-depth look at the best bitcoin jackpot slots that you can play in some of the world's best bitcoin casinos.
1. Immortal Romance Mega Moolah
The Mega Moolah jackpot is the most popular jackpot slot of all time and the highest-paying out of the best bitcoin jackpot slots.
We recommend Immortal Romance Mega Moolah instead of the classic version of the game if you wish to try your luck at this high-paying jackpot slot. The Immortal Romance variant comes with an RTP of 93.40%, whilst the original game offers an RTP of 88.12%.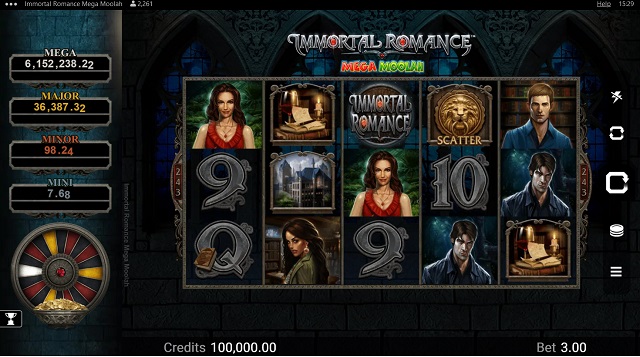 You have a much better chance of making a profit by playing this variant of the game even if you don't manage to hit any jackpot – but you still have access to Mega Moolah's Mini, Major, and Mega jackpots anyway!
Mega Moolah usually pays out more than €10,000,000 as its major jackpot and drops multiple times per year.
2. Queen of Alexandria WOWPot
WOWPot is Microgaming's second-largest jackpot, sitting right after Mega Moolah's. There are multiple games that you can choose to play if you want to try your luck at this legendary, multi-million reward, but we're recommending this game because Queen of Alexandria is one of the WOWPot slots with the highest RTP, standing at 92.30%. African Legends has a higher RTP, but the game does not feature the actual WOWPot!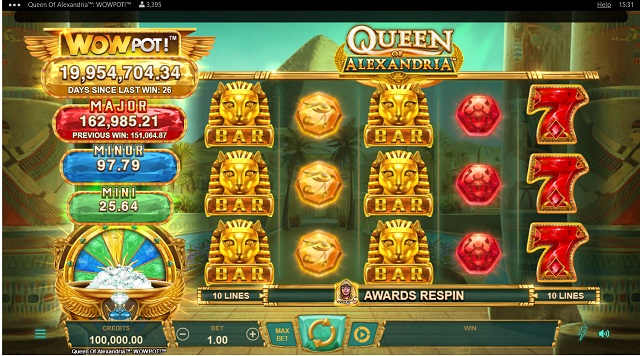 The Queen of Alexandria game isn't as popular as Wheel of Wishes or Sisters of Oz, but its high RTP, combined with fantastic game mechanics like low minimum bets (you can play with just €0.10 per spin) and low volatility, make it a game that you can't miss if you're a fan of Egypt-themed slot games.
WOWPot games have paid out more than €110,000,000 in prizes in the last few years. Book of Atem features the highest-ever WOWPot win: a staggering €17,529,047.11!
3. Jackpot Giant
Jackpot Giant is one of Playtech's most popular casino games, and one of the best bitcoin jackpot slots that you can play in the most reliable online casinos. It features an RTP of 94.22%, which is quite good for a progressive jackpot slot, and unique gameplay mechanics that are combined with a max non-jackpot payout of up to 50,000 times the amount of your wager.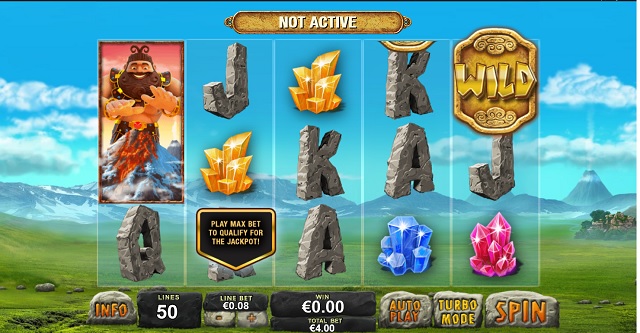 The game's fixed paylines go hand-in-hand with a max bet of just €4, which is all you're going to need if you want to qualify to earn its progressive jackpot that averages payouts of more than €1,000,000.
Jackpot Giant once paid out €5,000,000 to a mobile player in Scotland, which made it one of the biggest mobile jackpot wins of all time.
Just beware: the game can be difficult to find in Bitcoin casinos.
4. Mega Fortune
Mega Fortune is one of NetEnt's most popular jackpot games and one that was awarded a Guinness World Record for having paid €17.860.000 to a single player, a record that was later broken by Microgaming's Mega Moolah.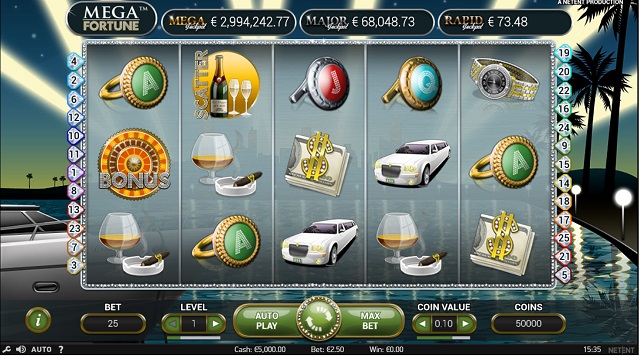 Besides the fact that it's one of the highest-paying jackpot games of all time, it comes with an RTP of 96.60%, making it the game with the highest base return rate on this list.
Mega Fortune also held the world record for the highest mobile jackpot payout of all time, having paid €8.600.000 in 2015.
It's a fantastic online slot to play when chasing a big win, as well as a great slot for standard slot fans considering that it features a higher RTP than both Book of Dead and Starburst.
5. Age of the Gods: God of Storms
Age of the God slots are some of the most played jackpot games in the world, mainly because they offer a very formidable RTP in most of its versions. In fact, we are yet to come across an Age of the Gods game with less than 90% RTP, something that isn't common among progressive jackpot games.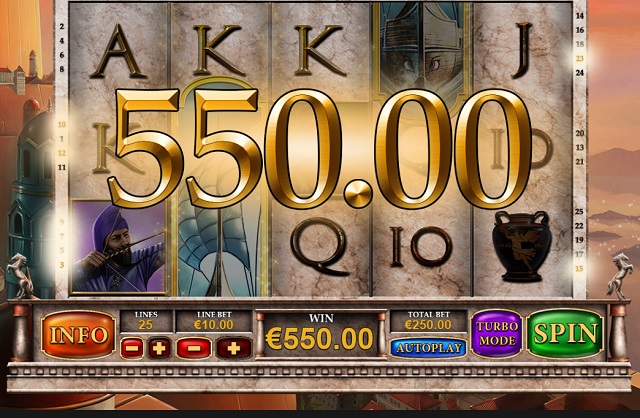 Nevertheless, Age of the Gods: God of Storms is one of the best games of the series.
The Age of the Gods Jackpot drops quite often, paying out rewards that range between €500,000 and €1,000,000.
It comes with the Wild Respins feature, which provides the game with unique gameplay mechanics and potentially high payouts for non-jackpot winners. With an RTP of 96.14%, it's one of the best progressive jackpot games concerning return rate.
The Best Bitcoin Sites to Play These Slots in 2023
Knowing which are the best bitcoin jackpot slots is equally as important as knowing which are the best bitcoin casinos to play progressive jackpot games. It's of utmost importance to play in safe online casinos when it comes to bitcoin gambling, as you may otherwise expose yourself to scams.
The casinos that I'm including in the following list are also packing some of the finest casino bonuses out there. Few of them can be used to play jackpot games, but they will help you earn some extra cash that you can use to try your luck at the world's best bitcoin jackpot slots:
How Do the Best Bitcoin Jackpot Slots Work?
Progressive jackpot slots work, for the most part, like any other casino slot game. You decide how much cash you want to wager and you make the reels spin. You'll be paid based on the symbol combination that you achieve.
However, the main difference between the best bitcoin jackpot slots and standard casino slots is the way money is collected. Each player wager contributes towards both the network and local pools.
These jackpot slots have more than one jackpot. Most games have at least three of them!
Smaller jackpots are much easier to win than the biggest jackpot.
These are the two types of jackpots that exist in progressive jackpot slots:
Progressive Network Jackpot: The network pool is the amount of money that is paid by the game's biggest jackpot, and it is collected from players that play the game in casinos all over the world. It doesn't matter if you play Mega Moolah at Betsson or LeoVegas, the money goes to the same network pot.
Progressive Local Jackpot: Local jackpots are usually paid as part of the game's "Mini" jackpot and tend to pay less than €15,000 on average. A small percentage of player bets contributes to the local jackpot pool, but the pool is different for each casino that hosts the game. Visit two casinos that offer Mega Moolah and you'll notice that each one has a different "Mini" jackpot. That's because rewards are collected from players of each casino and not globally, unlike Network jackpots!
What you should know, however, is that these games generally have a lower RTP rate than other casino slots. For example, Mega Moolah, the world's most popular progressive jackpot game, has an RTP of around 88%, whilst the average slot RTP is 96%.
The reason for such a low expected return rate is that player wagers aren't only going to the casino's operator and software provider, but they also help form the pool of money from which all jackpots are paid out (local and network). That's why the best bitcoin jackpot slots with high RTP tend to pay less money than games with 94% or less.
Tips That You MUST Know Before You Play the Best Bitcoin Jackpot Slots
I know that you're eager to begin playing the world's best casino slots right now, but I'm going to give you a few tips that will help you better understand the best bitcoin jackpot slots and give you a better perspective on how you can tackle them, or how you can incorporate jackpot games into your casino playtime repertoire.
Some casino jackpot games give you a better shot of winning their big jackpots when you place large bets. A game like Mega Joker, which has a progressive jackpot, offers a 99.00% RTP when placing max-money bets!
Remember that jackpot games have lower return-to-player rates than standard casino slots. The house edge is much bigger in these types of casino games.
You may come across progressive jackpot games that aren't as popular as the ones I've mentioned in this article. These jackpots tend to drop more often, which makes them great to try out even if they aren't as lucrative.
The World's Best Bitcoin Jackpot Slots Await!
The best bitcoin jackpot slots of all time are available in some of the safest online casinos in the world. Modern crypto casinos that hold licenses in Curazao or Malta are safe to visit, and many of them choose to partner with top software providers like NetEnt, Microgaming, and Playtech, which gives them access to the world's finest bitcoin jackpot slots.
You are now fully aware of how these games work, which are the best ones to play, and the most crucial aspects that you have to know about them before you embark on a journey to find the world's best bitcoin jackpot slots. Get your crypto wallet ready and keep your head held high: the best bitcoin jackpots are there for the taking.