The world of online gaming has come a long way since its initial inception in 1994. Over the course of two decades, online casinos have turned into a 50 billion dollar industry—and that's just in the US. You can play from anywhere in the world, and most importantly, you can play from the comfort of your own home. Being able to stay home in your underwear while you're playing? You can't get much better than that.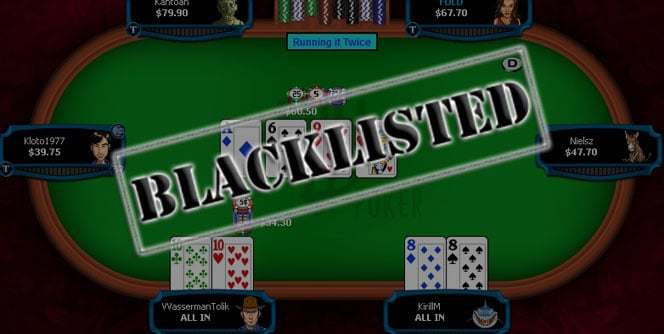 But where there's gambling and games, there's fraud, deception, and shady practices. A large majority of online casinos are completely legitimate—they take the necessary time to pay meticulous attention to every single rule and regulation in order to provide an honest service. However there's been a steady and consistent increase in illegitimate casino establishments over the years.
Determining the Culprits
Determining just how many online casinos are a scam is a difficult process to nail down. This is primarily due to the fact that an exact number of just how many there are floating around on the internet simply doesn't exist. Back-alley gaming sites that skirt the law's edge and dark web (.onion) sites that deal strictly in Bitcoin (not all crypto-only casino sites are illegitimate) are near impossible to keep track of. Additionally, a lot of websites earn a place on warning lists because of how they handle certain situations, rather than being completely fraudulent. We can't keep track of everything though, so if you're gaming on a lesser known site, keep your eyes open and do your research. There are plenty of clever ways for tricksters to part you from your money.
How Many Online Casinos Are Scams?
Out of the estimated 1,500 most popular online casino websites around, 115 sites in total are outright blacklisted. Blacklisted simply means you should avoid them entirely. 115 is a strikingly high number—the number should be much, much smaller. 115 comes out to about 8%, so 8% of all popular online casinos have turned out to be scams. Members of this list are all previously well-known online casinos, with more being added every week. Due to the internet having about the same consistency as a drunken bar fight, the list is in a constant state of flux. Some companies do actually work to fix whatever problems are plaguing them. Many simply disappear and close up shop, most likely to reopen again elsewhere under a different name.
Warning List Sites
These sites are not quite ready for full blacklisting just yet, but you should still be cautious about using them. Site warnings consist of anything from slow payment processing to "changes" in the terms and conditions. Out of an estimated number of 1,200 sites tested for warning signs by multiple online casino review websites, there are at least 121 casino sites, or 10%, to keep an eye on. These sites have raised suspicion by performing a few shady practices, but they still have a chance to fix the problems.
Safe Sites
The most unfortunate part about all of this is that these sites often run rampant until someone loses money. More often than not, a lot of players lose a great deal of money before the site is blacklisted. It's an unfortunate aspect of the online casino world, but it can be avoided if you follow the right rules and guidelines. We've outlined multiple things to look out for below but the easiest way to find safe online casinos is to have a proper list of trusted casinos on your side. You don't have to take our word for it either, check out the sites yourself and make your own assessment! Regardless of whether you use a list of not, it's always important to make sure you check out the company you're using before handing over your cash.
How We Determine What Sites Are Legitimate and What Aren't
There are several variables we and other sites consider when drawing such conclusions on the legitimacy of an online casino. Incredibly long "delays" when processing payouts, nonpayment of payouts, sneaky terms and conditions, nonexistent or evasive customer support, and unfair gaming software—all of these are big red-flags.
How To Spot Rogue Casinos?
Not every site will be listed on the watchlist websites, so it's important you know a few key things before throwing your money at a flashy new online casino.
Do they have a license? – All proper gaming establishments must have a gaming license—without it they're operating illegally. If you're unsure about a site, you can always check out our list of trusted online casino establishments.
How's their RNG? – RNG, or Random Number Generation, is the backbone of casino games, both online and offline. Each game contains a complex random number generator that ensures the player has a fair, but still entirely random, chance. Many shady sites manipulate their gambling software so that the house has unfair advantage over the players, which is illegal. The law requires casinos to have their games tested by an independent, third-party auditor. So, find out who checked their games and determine their authenticity.
Payout methods – This is where the majority of players first run into problems when dealing with shady online casinos. They win some money and decide to cash out, but the money never shows up, or it takes an extremely long time to show up. Slow payout methods that "eventually" show up earn an online casino a warning label. Payouts that never show up earn them an instant spot on a blacklist.
Customer service – Poor or lacking customer service is a pretty common red-flag to look out for when using a new online casino. Assuming their customer service exists in the first place, shady sites will deflect and evade any questions you have about the site, especially questions concerning payout methods and time frames. Every legitimate company offers customer service. Even if the service is terrible, they'll still answer precise questions about their services.
Check the Terms of Service – We know no one actually reads these things nowadays (or probably ever) but we highly recommend taking some time to comb through the terms of service of any online casino you're using. This especially applies to newer and overly enticing casino sites with little to no reviews available.
Flashy Marketing – This is sometimes a difficult method to use because not all flashy marketing techniques are trying to scam you. Some companies think that's the best way to advertise and, if it works, we can't really argue with that. However, plenty of flashy marketing techniques employ ridiculous or false claims. When in doubt, always read the fine print. If there is none, they're most likely scamming you.
Are Online Casinos Worth it?
In short, of course! Playing in online casinos is a smooth and rewarding experience for the vast majority of users. Many players never have to deal with slow payments or shady practices at all. Though legitimate sites have turned fraudulent, plenty of people are scammed simply because they employ a method similar to RNG when picking an online casino. Do not just pick a random online casino and start playing! Do your research, read casino reviews, check warning/blacklists make an informed decision, and then reap the benefits!
Last updated
May 24, 2022