The Coinslotty Casino cashback bonus is a way for the Coinslotty Casino to further reward players – even when an unlucky streak is on the books. In fact, a Cashback bonus is sure to provide you with a way to reduce the impact of bad luck and get some of that cash back, allowing you to better balance the money lost on high RTP games and giving you a better chance of winning more money when playing online.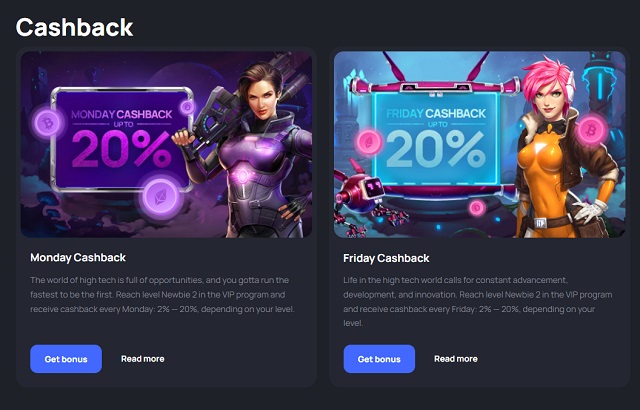 Coinslotty comes with a massive selection of rewards that you can collect, and even though the site's cashback bonus is one of those that you wish you won't ever need, it's always good to understand why its an important part of the Coinslotty bonus repertoire.
Learn all about the offer's bonus terms and conditions and explore how to make the best of the Coinslotty cashback bonus to earn as many bonus rewards as possible in the Coinslotty casino!
How to Claim the Cashback Bonus at Coinslotty?
The Cashback bonus that you can claim at the Coinslotty Casino is divided into two different rewards, as there are two cashback bonuses that work similarly. Both Coinslotty bonuses are tied to similar terms and conditions as well, but one is meant to be a cashback of the money you spent during the week and the other is meant to reward players with some extra money after they've played on the weekend.
Here's how to claim both rewards:
Coinslotty Cashback Bonus (Monday) – This offer gives you a cashback of anything between 2% to 20% based on the money that you've lost from Friday to Sunday and depending on your bonus level. You need to lose at least 1 USDT to qualify for the offer.
Coinslotty Cashback Bonus (Friday) – You can get a bonus cashback of your losses between Monday and Thursday, up to 5,000 USDT, by claiming the Friday cashback bonus. This reward gives you back money lost through the week. Percentages and qualifying bets are equal to the Monday bonus.
What is the Coinslotty 20% Cashback Bonus?
The Coinslotty Casino cashback bonus is the name we give to the cashback rewards that you can get on the Coinslotty Casino, but there are actually two ways in which you can obtain cashback bonuses at Coinslotty. Both are tied to your current level at the casino's VIP program, so you'll have to play at the site and earn your spot among the top earners before getting a good cashback bonus.
Let's take a look at both types of cashback bonuses offered at Coinslotty, both claimable on a weekly basis and based on your current level as well as your spending at the casino.
Coinslotty Monday Cashback
The Coinslotty Monday cashback bonus is meant to reward players with money lost from Friday to Sunday. This offer can be claimed on Monday from 12:00 UTC to 13:00 UTC.
Coinslotty Friday Cashback
The Coinslotty Friday cashback bonus is also a 2% to 20% cashback bonus that rewards players with money lost from Monday to Thursday. Much like the Monday bonus, this offer can be claimed on Friday from 12:00 UTC to 13:00 UTC.
Where to Spend the 20% Cashback Bonus
The cashback bonus is meant to be spent in almost any area of the casino. You just need to respect the stake weights of each offer, which enables you to quickly turn the bonus cash into real money. Slots have a contribution rate of 100%, whilst other games only contribute 5% towards the fulfillment of the bonus terms.
Coinslotty Cashback Bonus Terms and Conditions
The amazing Coinslotty cashback bonuses are subjected to rules that make them fair for you and for the casino. Some rules need to be seriously considered before you claim your rewards – especially as some terms could prove to be a tad hefty for some players. Let's take a look at the reward rules that Coinslotty has with our complete overview of the site's most important bonus terms:
The wagering requirement of the cashback bonus is just 5 times the amount of money received, meaning that there's a really good chance that you manage to walk away with a profit after playing.
The wagering requirement is the same regardless of the cashback percentage that your account is entitled to.
You can get up to 5,000 USDT, or its equivalent in another cryptocurrency, with the cashback bonus
Cashbacks are available for players that have lost over 1 USDT of their cash balance in the past three days before the Monday cashback and 4 days before the Friday cashback.
Only players with an account of at least level 2 will be able to claim the cashback bonus.
You will get 2% cashback if you're level 2, whilst players that have reached the upper echelons of the program will get up to 20% of their lost money credited back into their casino account
Both cashback bonuses are available for 7 days. You cannot claim another cashback bonus without first complying with the bonus terms and conditions of the one active in your account, though – take this into consideration when playing at Coinslotty
Claim a Coinslotty Bonus to Get Rewarded Even When Luck Doesn't Shine!
This remarkable online casino bonus allows every gambler to collect cashback rewards when the week starts and when the week ends. Not only will you find more money to motivate you to start your week with a bang, but you'll also have the chance to get cash to help you get a power boost through the weekend and collect even more prizes as time goes by.
Sites like Coinslotty are always going to be among the ones that we recommend the most, so don't miss out on the rewards that await and start earning money in this top-quality casino. We hope that you don't ever have to collect any of the site's cashback bonuses, but there's only one way to find out whether Lady Luck will shine light your way: register at Coinslotty and play!