Cookie's Welcome Bonus - It Tastes SO Good!
The Cookie Casino might already seem really sweet from a distance, but you'll only notice how truly tasty it is to play on this website once you come closer to it. The site welcomes you with a massive welcome bonus that is packed with free money and free spins, which you'll be able to spend on the site however you want.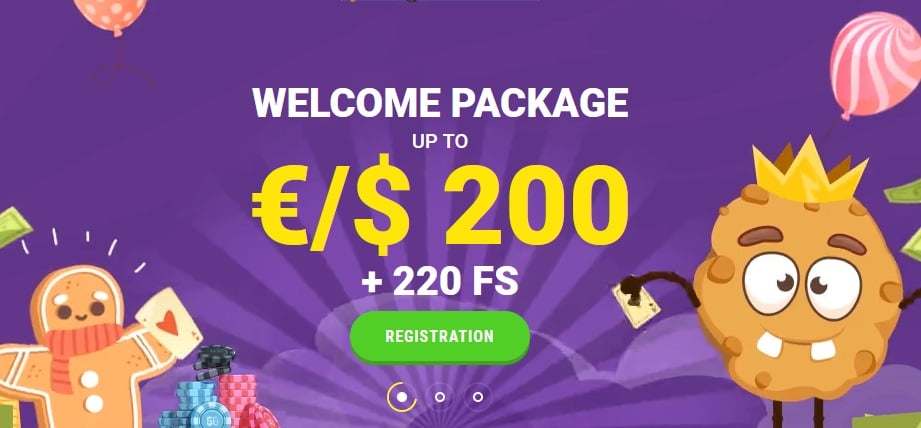 We're always eager to review these bonuses and bring them to you, so we were more than happy to see the Cookie Casino offering such a generous bonus when we first came across it. We're happy to tell you that we were not disappointed in the slightest. Stay with us through this article and learn why the Cookie Casino welcome bonus currently stands out as one of the best welcome bonuses on The Casino Wizard. It might be better than all of the welcome bonuses you've claimed in your life!
How to Claim the Cookie Casino Welcome Bonus
The Cookie Casino welcome bonus can be claimed by making two deposits on your newly-created casino account. Much like the bonuses themselves, your account will also need to be taken straight out of the oven if you wish to have it credited with some free cash to spend at one of the world's highest-rated online casinos.
Remember that you'll get all of those €200 with two different deposits. The first bonus will grant you €100 + 120 free spins; the second bonus gives you €100 + 100 free spins.
Each welcome bonus needs to be claimed by entering different bonus codes upon making your deposit, though. Whenever you visit the casino's cashier, you will be presented with the option to enter a code. These are the two codes that you'll need to enter in order to claim each of the site's bonuses:
First Deposit Bonus Code: CAKE
Second Deposit Bonus Code: SWEET
Sounds pretty easy, right? It is! The process of claiming bonuses at the Cookie Casino is just too straightforward. You only need to create an account and get down to business. It's all pretty simple.
Two Deposits to Spend However You Like – What to Do with the Money?
One of the things we love the most about the Cookie Casino welcome bonus is that you can spend the money on any part of the casino, except the live dealer section of the site. The stake weights allow you to play with the money in any part of the casino and still fulfill the wagering requirements, which enables you to spend the cash in your favorite games.
As it is often the case with most of these promotions, though, you will get better rewards if you spend the cash on the site's online slots. The casino puts the decision in your hands, so it's up to you whether you'd rather play games with better stake weights or table games/video poker. What will you do with those sweet €200?
Terms and Conditions – Simple Rules to Follow
Rules that are difficult to understand tend to be a detrimental factor for us to recommend a welcome bonus. Thankfully, the Cookie Casino presents players with understandable rules that make every bonus super easy to claim and even easier to understand how to spend the money. In any case, the offer still has a decent number of rules, and we don't want you to be wasting much time reading them. That's why we've compiled a list of the most important bonus terms and conditions for your convenience:
The offer is subjected to wagering requirements worth 40 times the amount of money that you get from the bonus (as well as the free spin bonus money)
You can only claim one bonus at a time. Do not try to claim both deposit bonuses. You cannot fulfill the terms of both at once.
You are not allowed to place minimal risk bets on table games whilst fulfilling the wagering requirements for this offer (red/black on roulette, for example)
The wagering requirements can be fulfilled by playing various games, but each type of game on the site has a different stake weight. Please refer to the table below to understand them better
Table games – Baccarat, Blackjack, Hi-Lo – 5% (except for games with a live dealer); Video poker – 5%; Roulette, Poker – 5% (except for games with a live dealer); Slots – 100% (except for the games listed below) Live Dealer Games – 0%
All Must-Know Bonus Information
This welcome bonus consists of two different deposit bonuses, which will allow you to get rewards during the first couple of times that you commit some of your money to your Cookie account. The bonus will feel like a cookie fresh out of the oven, and trust us – the rewards are sweeter than any candy or pastry could ever be.
Your first deposit bonus on the casino will grant you a staggering €100 plus 120 free spins to spend on the best games that the casino has to offer. It's a 100% match deposit bonus, which means you need to deposit €100 if you wish to claim the extra €100 in free bonus cash.
The free spins will be granted to your account with a deposit as little as €20. The conditions for the second deposit bonus are virtually the same. You need to make a larger deposit in order to claim all the money, though. The second deposit is comprised of a 50% match deposit bonus up to €100, meaning that you'll need to deposit €200 to get those extra €200.
The free spins will also be granted to your account with a deposit of just €20, in case you don't want to spend more money. Also, keep in mind that the free spins will not be given to you in a single batch.
Instead, you will have to wait some days to get the full amount of spins. The minute you make your deposit, you will get 30 free spins. The next will come the next day, so on and so forth, until you get them all on the fourth day. Your spins will always come in batches of 30 for your first deposit, whilst they'll come in two batches of 50 for your second one.
Two Bonuses are Much Sweeter than One
Why claim one simple deposit bonus when you can, instead, claim two? This fantastic promotion allows you to claim two deposit bonuses and kickstart your journey at the Cookie Casino with a ton of sweet rewards and prizes. We also love the fact that both bonuses work differently, which gives each of them a sense of authenticity and uniqueness. It's also really cool that each bonus has its own set of advantages and disadvantages.
For example, the second one might only be a 50% match deposit bonus, but it makes up with two sets of 50 free spins to be spent on consecutive days. Use the first bonus to claim a massive prize and the second one to enjoy some spins, in case you're on a budget, or make a total deposit of €300 to claim all of the bonus money available with the welcome package. It's up to you, but one thing's for sure – these bonuses are waiting for you at the Cookie Casino. Don't let them slip!