There's no denying that free spins are some of the most popular bonuses that people love to claim in online casinos. However, one of the things we tend to find the most underwhelming is whenever we come across a bonus that promises tons of free spins, but it's being offered by a casino that just doesn't have a large variety of games to allow us to properly enjoy the bonus.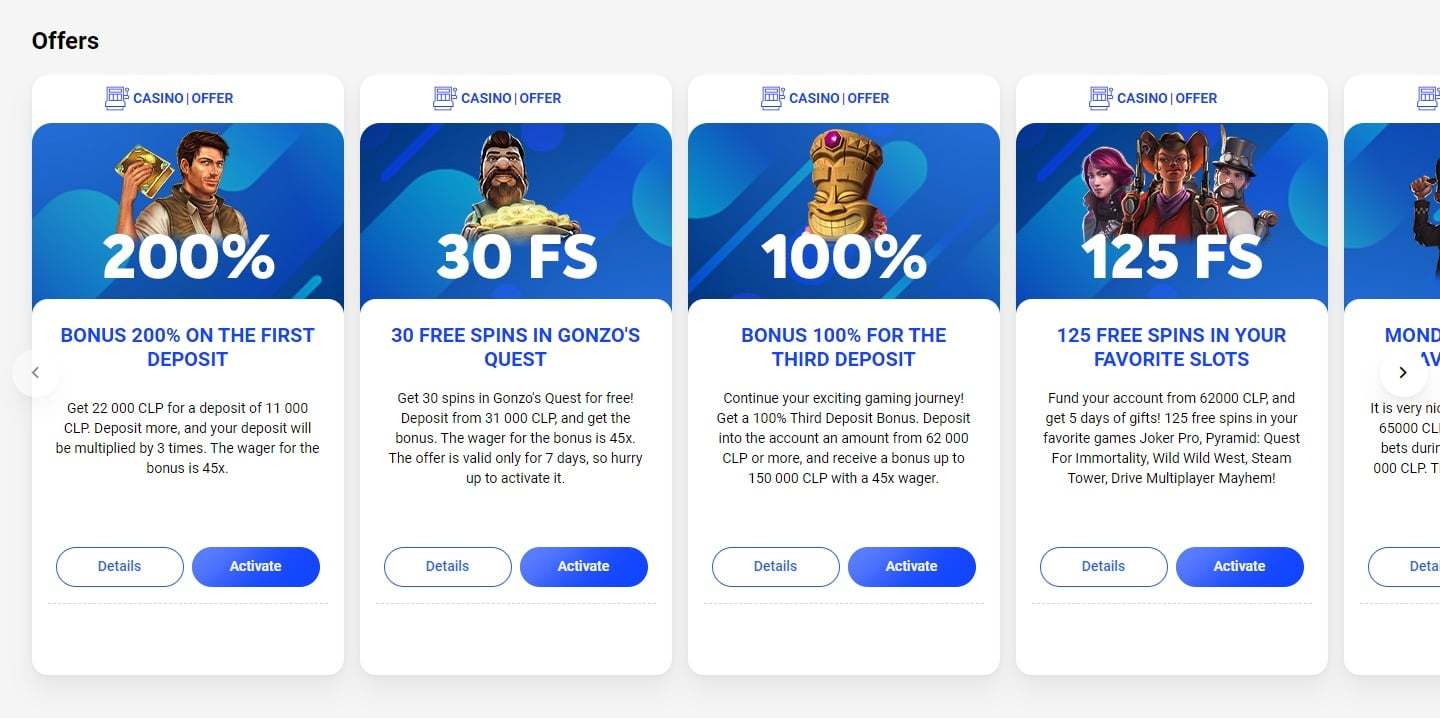 That's one of the reasons why we loved the Slottica Casino free spins so much.
Slottica is "the" online casino to visit if you're looking to play slots (not a surprise, given the site's name), so it's only natural that the large selection of games that the site has to offer is able to turn a bonus of 125 free spins into one of the best rewards that you can claim in the iGaming world. In this article, we'll teach you how you can claim 125 free spins at Slottica and why you need to do it now!
125 Free Spins at Slottica – Bonus Information
The Slottica Casino 125 free spin bonus is not subjected to any crazy rules, nor is it part of the casino's welcome bonus. That means that you need to make a regular deposit to claim it, and it doesn't even need to be a crazy deposit – a small deposit is enough to claim al 125 free spins. What's the catch? There's none, except for the fact that you can only use those spins in a selected handful of games that the casino has listed for you. The games that you can enjoy with this bonus are as follows:
Joker Pro
Pyramid: Quest for Immortality
Wild Wild West
Steam Tower
Drive Multiplayer Mayhem
All of the games available with this promotion are all extremely fair titles with a house edge of around 5%, with some of them having 4% and even less, in some cases (like Joker Pro, which stands at 3.2%). This unique promotion is exclusive to the Slottica Casino, which is just one extra reason for you to pay a visit to this amazing site. We think that this bonus would only be better if we were allowed to play Novomatic Live Slots using the spins, but hey – nothing's perfect in this world!
Most of the free spins that you claim on this casino are all subjected to wagering requirements of 45 times the amount of money that you make by using them. If you happen to make €20 with those 125 free spins, for example, you would need to wager €900 before you can cash out that money to your bank account. With these games having such a high RTP, we're sure you'll be able to do it rather quickly. It only took us a couple of days and we weren't particularly lucky!
How to Claim the Spins and Play
One of the best features of the Slottica Casino is that the site's bonuses are extremely easy to claim. They aren't granted to your account upon making a deposit, though, unless you make a previous activation of the bonus before financially committing your cash to the site. You just need to follow a few simple steps in order to claim the rewards and spend them freely:
Create a new account at the Slottica Casino
Make sure that your country is eligible to participate in the offers available on the site
Claim the welcome bonus first – if you claim the 125 free spins before the welcome bonus, you will miss out on the other rewards!
Go to the "Promotions" section of the casino
Select the 125 free spin bonus
Make a deposit of at least €70
Wait to receive the bonus spins and spend them in the pre-determined games!
Remember that you will get 25 free spins per day, which means you need to be patient if you want to get all of the spins. You cannot play them together nor can you accumulate them on your casino account. Spend all 25 free spins before receiving the next 25!
Where to Spend the Spins?
Given that this offer is specially created to be used in a handful of games, you will only be able to use the free spins on the five games we mentioned before. However, there's a trick that we'll be more than happy to tell you! You can actually spend the spins, claim the money, fulfill the requirements, and then use the bonus cash to play any other game on the casino. Once the requirements are fulfilled, you will have access to using the money in the best games at the Slottica Casino.
Table games, live casino games, and even all online slots will be able to be played with the bonus cash once the requirements are fulfilled! WE suggest you check out our article on the Slottica Casino if you want a full breakdown of all the features and games that the site has to offer. That will help you get a better idea of where you can spend the bonus cash generated with these amazing free spins.
Slottica Casino Free Spins Terms and Conditions
Before we analyze the most important terms and conditions of the Slottica Casino free spin bonus, we do want to tell you that the wagering requirements of the offer are not as lenient as they are in other online casinos. A wagering requirement of 45 times the amount of your bonus money seems a bit too high and we know that many players agree on this.
However, there are still many things that you can enjoy from this casino and other rules that make this offer much fairer than it may seem on paper. The most important terms and conditions of this bonus have been listed below.
Wagering Requirements & Conditions
As we've said, this bonus comes with wagering requirements worth 45 times the amount of your cash. You need to spend all of the free spins within the same day upon which you receive them, which will allow you to claim the net batch of 25 free spins the next day. You may fulfill the wagering requirements of all 125 free spins at once, though. You can only bet up to €2 per wager when fulfilling these requirements. If you bet more than that, you risk having all of your bonus money voided from your account.
Betting with Bonus Money
Even though the offer's wagering requirements are quite high, it makes it better than you can actually use the bonus cash itself in order to fulfill the requirements. That means that you don't need to spend your own money in order to fulfill them. In short, you will lose nothing even if you go on a crazy unlucky streak whilst fulfilling the requirements of this bonus. Be smart with the money and remember not to go over the €2 per wager limit. Use the money in slots, too, if you want to avoid having your cash voided from your account.
Fulfilling the Requirements
You can fulfill the wagering requirements of the offer playing online slots that aren't necessarily the five listed above. However, you do need to spend the money on slots and you cannot use the cash on table games until you've fulfilled all of the wagering requirements of the offer. Also, remember that the money is a part of a bonus reward, which means it cannot be replaced by other compensations on the site.
You can collect points to the site's VIP program, but you cannot cash out any of the money or trade it for free spins unless you fulfill the requirements first.
Visit Slottica and Rejoice in the Magic of the Best Online Slots
If you're a fan of online slots, then the Slottica Casino surely offers exactly what you need. A large selection of fantastic games, the best Novomatic features, and even a section of live slots, are just some of the things that make this online casino worth your while. If you see a site that offers so much variety in the world of online slots and you can also add 125 free spins to spend in its best games, it just gets too good to let the chance slip.
That's why we think that you need to visit Slottica before this promo runs out – we've seen less lucrative bonuses get removed from online casinos because players tend to profit too much from using them, Ranging from Book of Dead to lesser-known titles like Viking Wilds, the Slottica Casino has games to suit the needs of all types of gamblers. Do not let go of the unique opportunity provide by this casino and enjoy rewards like no other website has to offer – including 25 daily spins to spend on your favorite slots!