As one of the leading online casino game developers, Play N' Go has games in some of the world's best online casinos. Which are the new Play N' Go slots that you can try out right now, though? We are here to answer that exact question for you, so you can look for the best online slots developed by Play N' Go and enjoy them today at the best online casinos in the world. We know that many of the games that we're about to mention might sound extremely lucrative and you'll want to dive straight into the action, but hold on to your hats; we'll also be telling you all about the best casinos with the best casino bonuses in which you can play the majority of these games. Do keep in mind, however, that some of these games might not yet be available in some of the casinos that we're listing after the slots. Don't you worry, though – they'll be joining the catalogs of these casinos shortly. In the meantime, learn all about these games, the best Play N' Go casinos, and get ready to make a large profit for yourself while playing them!
The Best Play N' Go Slots to Play in 2020
Even though 2020 has been quite a crazy year, that doesn't mean we haven't had the pleasure of enjoying some of the best online casino games to have been released this year. We have compiled 10 of the best Play N' Go slots to have been recently released for you to try them all out. Here they are!
Sticky Joker
A 3x3 format makes this game one of the finest classic slots that you will play this year. Sticky Joker has been released in early 2020 as an ode to traditional slots were you only had access to 5 paylines, but it does come with a touch of modernity to spice things up for those who simply don't want to play classic games with no innovations. The concept of the game is quite simple, and it will surely help you reminisce of old online slots if you have been gambling for a couple of decades. Sticky Joker does include wilds, which allow you to chain combos and get fantastic rewards – even if the game only offers 5 paylines. There are no free spin rounds, bonus rounds, or even progressive jackpots. What makes this game so popular, you ask? The sheer fact that its simplicity is wrapped around a magnificent 96.76% return rate, which has been rewarding players with profits ever since the game was released. We can't tell you to expect anything fancy from this game, but you can expect to have a ton of fun if you're into classic slots!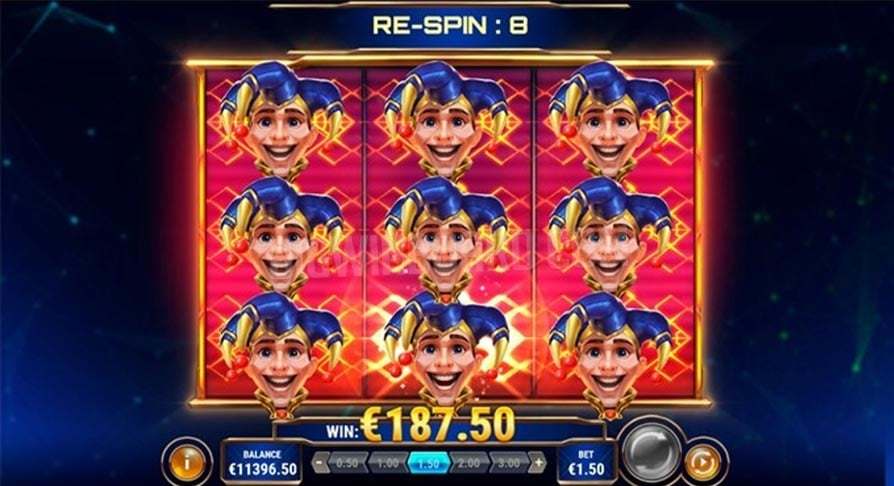 Riches of Robin
It's time to steal from the rich and give to the poor! Robin Hood is back, and you can claim a part of his profits by joining his adventure in the Riches of Robin online slot. The game does vary in terms of how many rows and reels are available, which makes the RTP of this game quite variant and changing depending on the online casino at which you play it. It's a fun game, but it can be extremely volatile at times. It's one of those online slots with 5 reels that you might want to play with low wagers if you don't want to run out of cash too quickly. The main issue with this game is that each casino operator can adjust its RTP, as we said above. You might want to stick to the online casinos that we're mentioning after this list if you wish to play on sites that offer Riches of Robin with an RTP higher than 96%. Join the adventures of everyone's favorite hooded hero and the heist feature, the respin feature, and the free spin feature to get even more rewards out of this fantastic online casino game.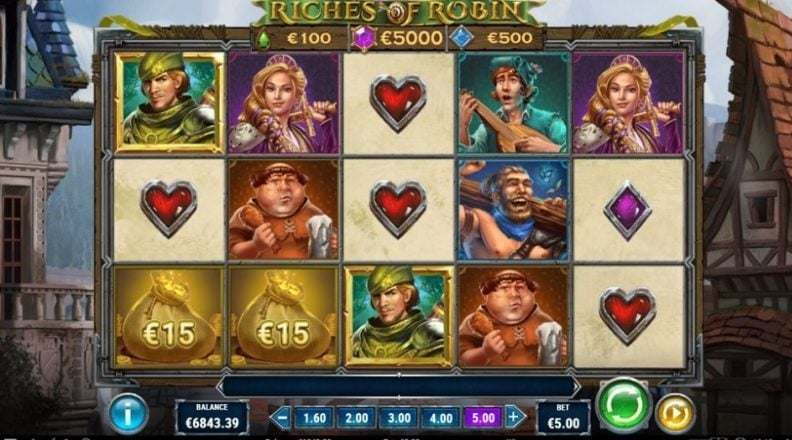 Testament
Varying paylines, bonus lines, and insane multipliers. All of these fantastic features are available at the Testament slot, one of Play N' Go's latest additions to their online casino game catalog. Watch those reels stack and flow in this cascading slot game themed after what seems to be a sort of hellish landscape. Fight the demons and get combo wins to unlock multiple paylines, which can range from 243 to 2,400 per spin! This game is completely based on the concept of getting additional wilds on your screen. Most of the bonus features that you'll find at Testament add new symbols to the reels, which basically work as extra wilds and help you get even better rewards after each round is done. Some symbols also give you free spins, in a feature called "Cold Embrace". Watch the grid expand by landing the Throne of Thorns feature, though, and increase the paylines to the fullest in order to ensure that you'll get as many rewards as possible. Grow those grids, land the best symbols, and get the most profit out of this amazing yet creepy online slot!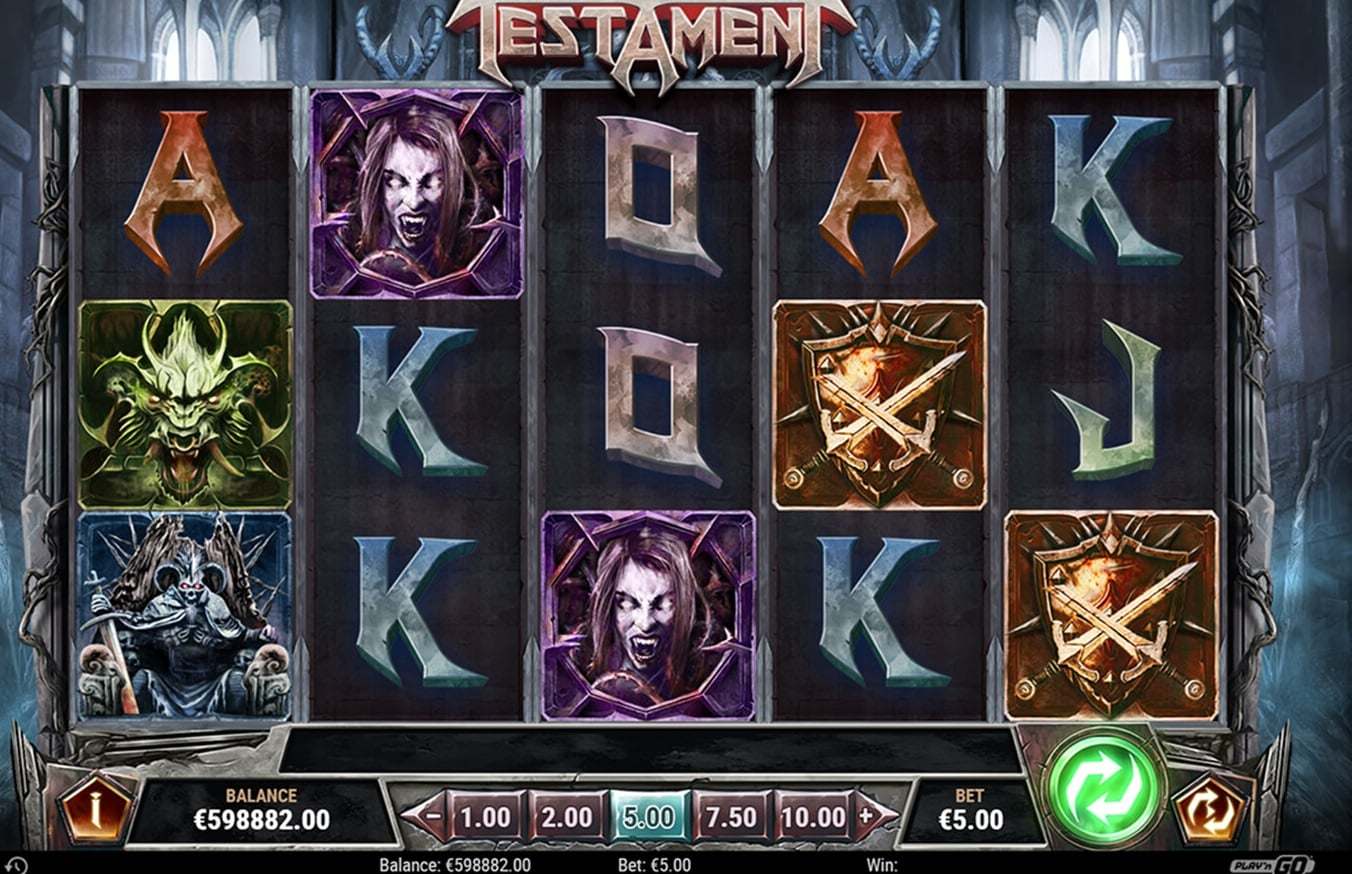 Fortunes of Ali Baba
It's time for you to grab your sword and embark on an adventure towards Arabia. You might have to travel a few years into the past, though, to see for yourself that the legend of Ali Baba is as real as it gets, and so is the fortune that Ali Baba so desirably chased. This fantastic online slot doesn't really have too many exclusive features, but it does come with a couple of wilds (the Ali Baba symbol is the wild symbol itself) as well as a "level-up" feature that gives you free spins and other rewards the more levels you get. You will have to trigger the bonus game in order to access the levels, though. Each bonus game will present you with a few pots, which you will have to break to reveal what's inside of each. Break the right pot and you might end up with quite a few free spins to use in the game! Some prizes, depending on how much you happen to level up, can be equal or higher than 100 times your stake, but your main goal will be to get the free spin feature activated whenever you play Fortunes of Ali Baba. That is, in fact, the easiest way for you to get your hands on his fortune!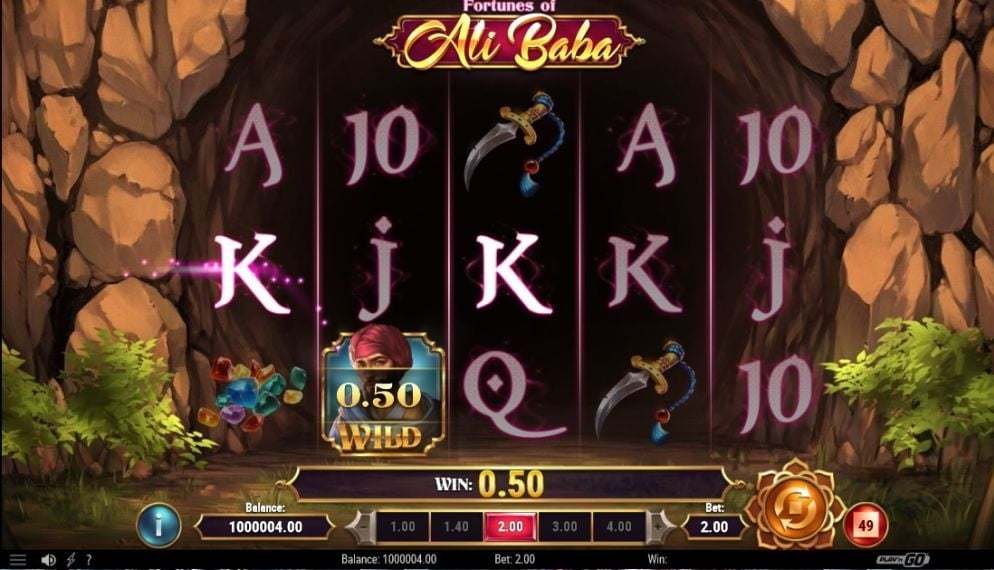 Dawn of Egypt
We've already been to Arabia, so now it's time for us to take a trip to the desert of Egypt and explore the tombs of the gods. If you happen to land three pyramid symbols on your spin, you will activate the free spin feature that comes with the game and is, arguably, the one that you'll be looking forwards to the most. Dawn of Egypt is a great game with high volatility that seems to be a way for Play N' Go to show off the skills of their artists. This fantastic casino game has some beautiful artwork that truly lets you get immersed in the concept of playing with the Egyptian gods as if they truly were around you. The free spins at the Dawn of Egypt game have something that is particularly amazing, though: each free spin will make the game randomly select one special symbol (often of high value). Many of the other symbols in the game will be replaced by this randomly selected symbol, which will make you earn even better rewards per free spin! With an RTP of 96.23%, this game is certainly one of the best online slots to have been released by Play N' Go in recent years. It might not be the best one to play if you're chasing a profit, but it's certainly extremely entertaining.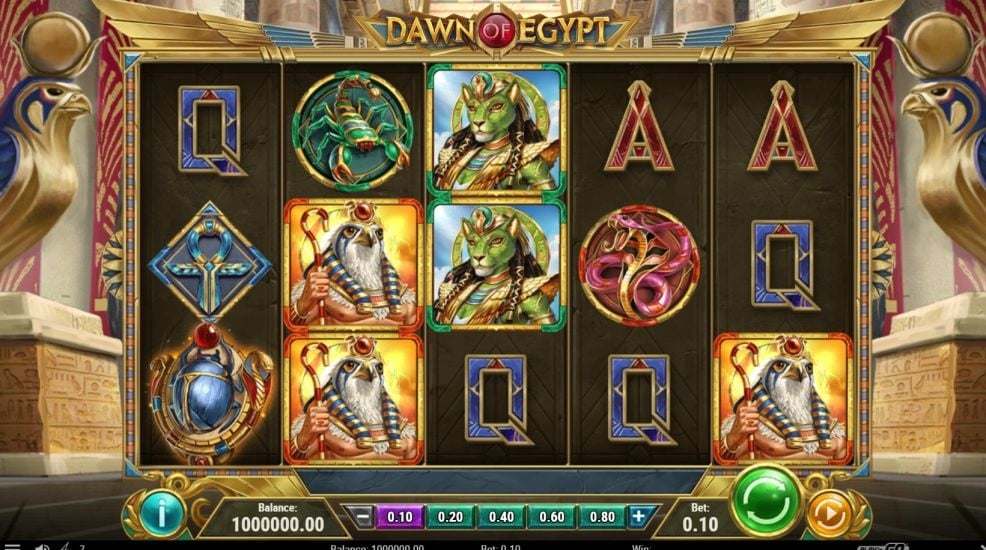 Coywolf Cash
Scatters, special symbols, and a whole lot of amazing wolf art to please your eyes. The Coywolf Cash slot is one of the newest additions to the Play N' Go gallery of games, which comes packing a bite. This amazing online slot consists of 5 different reels, with each of them having different effects depending on which symbols land on them. As such, the game does offer a lot of variants and every spin feels unique – even when you're winning time and time again. It's hard to get bored of playing a game like Coywolf Cash, and the hook factor is something that plays a huge part in this game making it to our list. Free spins in this game trigger extra wilds; free spin rounds can be really, really lucrative. They're not the main aspect of the game, though, as there are actually plenty of things you can do and many ways in which you can win. Which one would it be for you and the wolf, though?!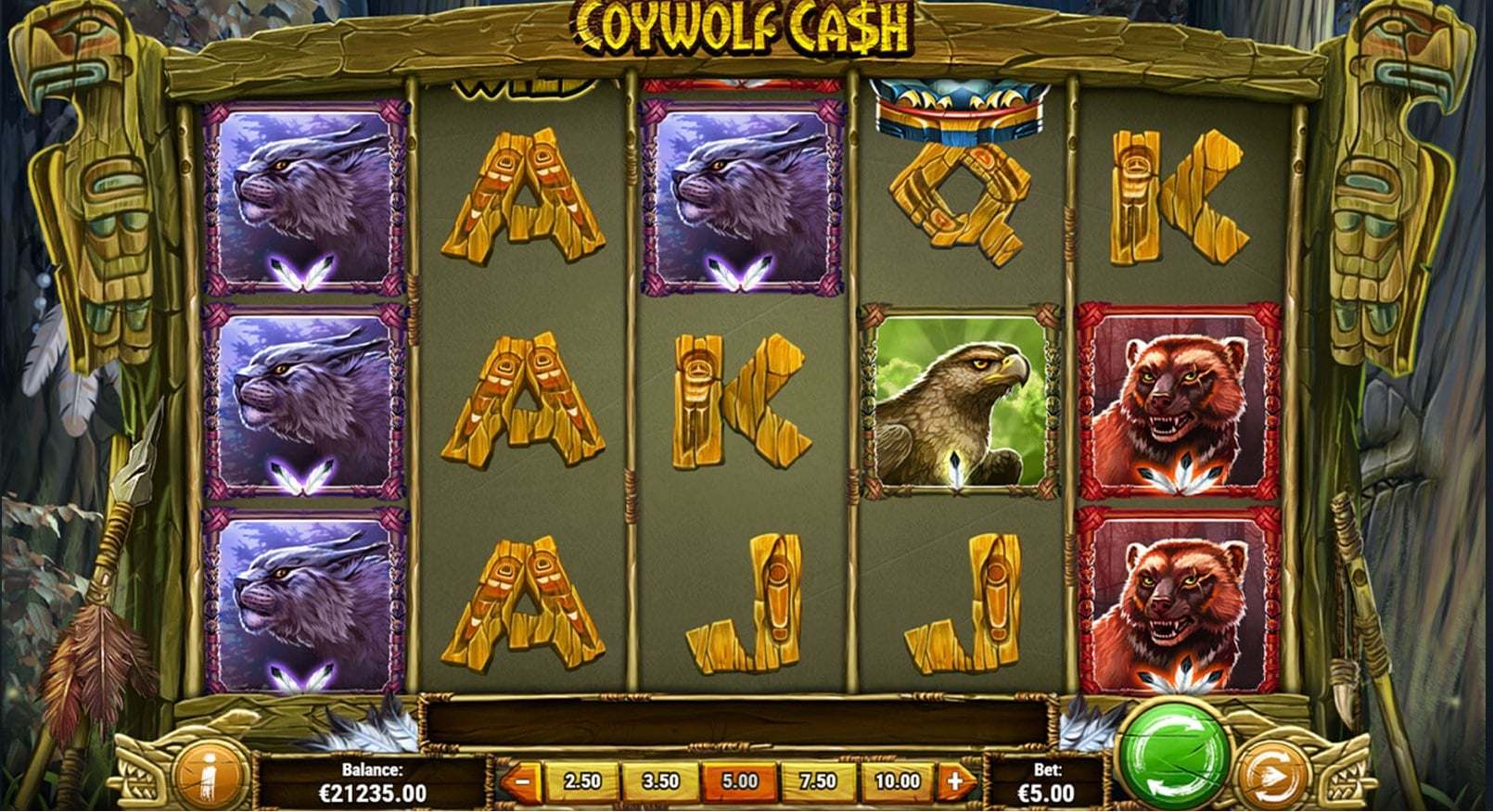 Wild Blood 2
Vampires and blood are, apparently, the gateway to a world of fantasy that is filled with incredible rewards. Made for high-rollers and low-rollers alike, this amazing online slot can be played from €0.20 to €100, depending on your personal preference. This game has a staggering total jackpot of 5,000x the amount of your stake, which makes it one of the most lucrative online slots developed by Play N' Go in the history of the company. That doesn't mean that the reward is easy to get, though! The game comes with five reels and medium volatility that makes you see a profit every other round or so, on an average day. When it comes to its RTP, you can expect to receive 96% of your original money, on average, when playing Wild Blood 2. The game is arguably one of the best fantasy-themed slots that have been released in recent years, even though the original game (Wild Blood) had already been hailed as a massive success by many experts in the industry. The second installment is even better, and the rewards that await players are far bigger than they were in the original game. It's up to you to join this dark quest and claim them.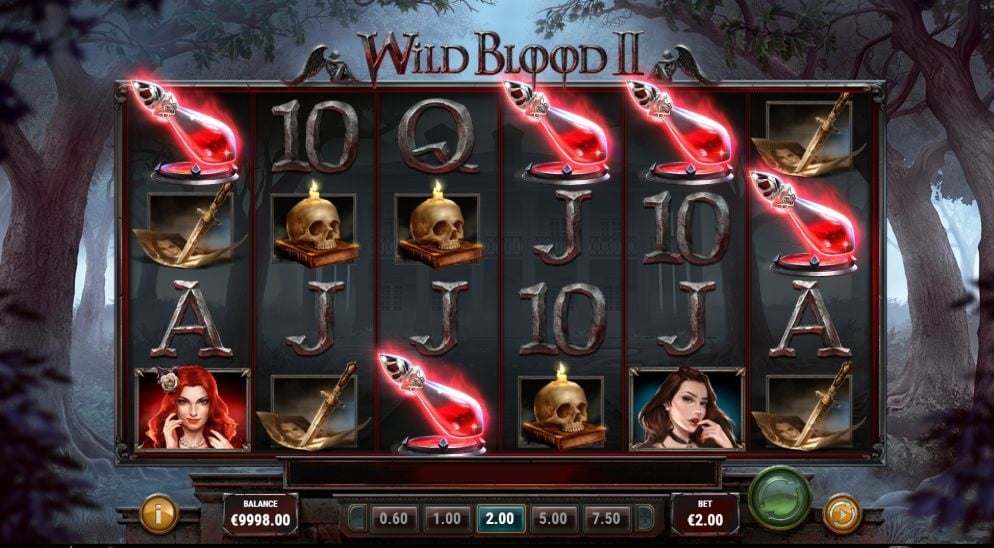 Legacy of Dead
Yet another Egypt-themed game made by Play N' Go makes it to our list of the best online slots you can play in 2020. This amazing casino slot is based on the concept of maximizing expanding symbols. If you haven't played a game like that before, expanding symbols basically means that your symbols can multiply, offering you rewards of the highest order and worthy of any pharaoh. Continue the Legacy of the Dead by trying to land the symbols of some of the most legendary pharaohs in the history of Egypt. Should you happen to be lucky enough to win rewards with the expanding symbol of Tutankhamun, you can get a total jackpot worth 5000x the amount of your original stake. Each type of symbol offers different rewards, but even the traditional letter symbols can be extremely profitable in this game. That's basically the only feature that Legacy of the Dead has, though, which means you won't be chasing anything else when playing this legendary online slot.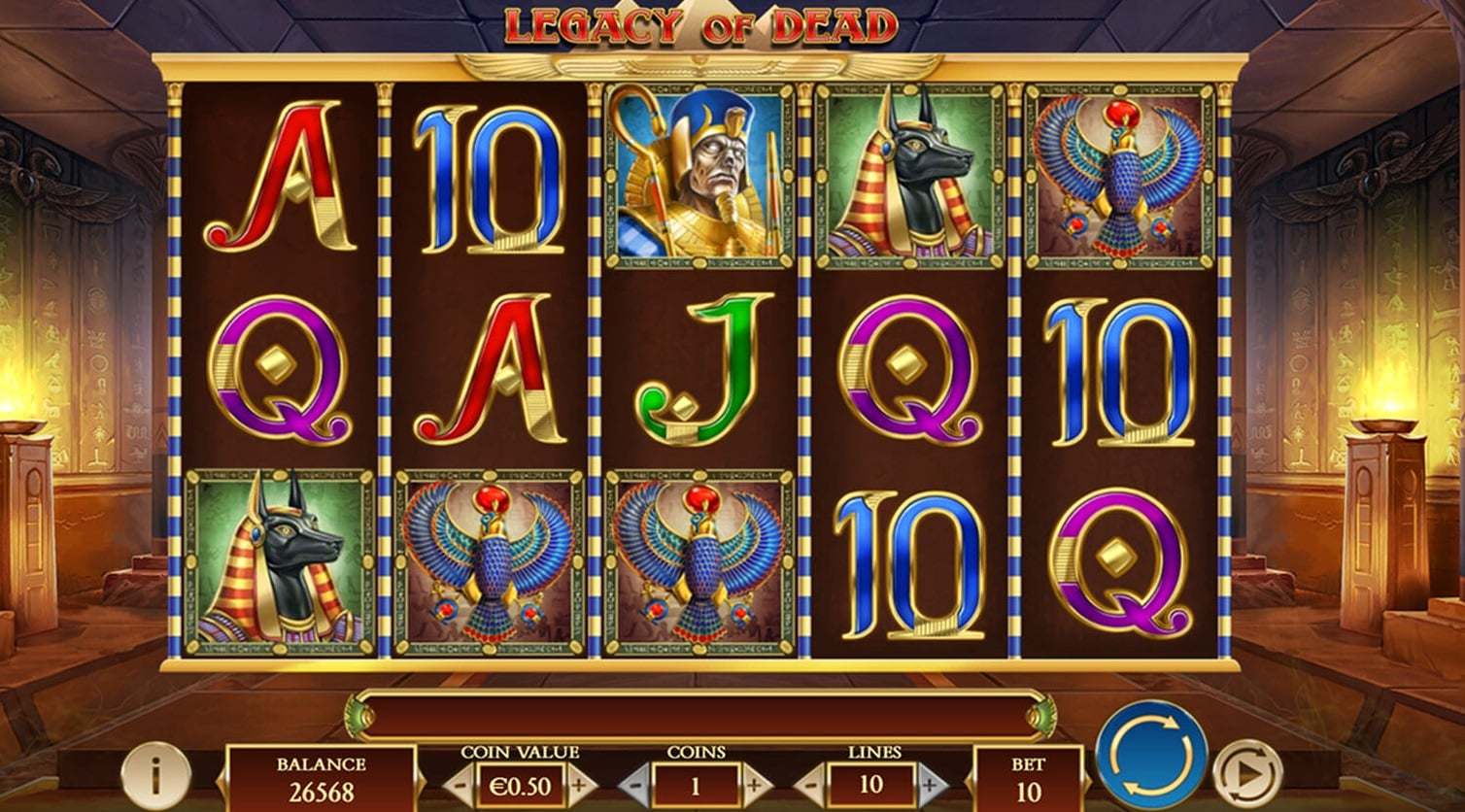 Wild Frames
Do you like games where the symbols fall into your screen? If so, check out the Wild Frames slot, which revolutionizes the modern online casino industry with the falling symbols concept once again. When you first play this game, you will encounter a 7x7 grid, where all symbols will fall into place as soon as you press the spin button. Apart from its majestic 96.50% RTP, this amazing online slot is based fully around the concept of multipliers. Basically, all of the bonuses that you get in the game are multipliers, which are won when you manage to land 5 or more symbols together. That means that the volatility of this game is also quite high, and the total amount of cash to be won is as humongous. In fact, the game doesn't have a jackpot per se, but you can strike a win worth 7,000x your stake if you're lucky enough with the falling symbols. Games like this one have a lot of winning ways, which means that the replay value of Wild Frames is certainly quite big. It's not easy to get bored by playing a slot with as much variation as this one!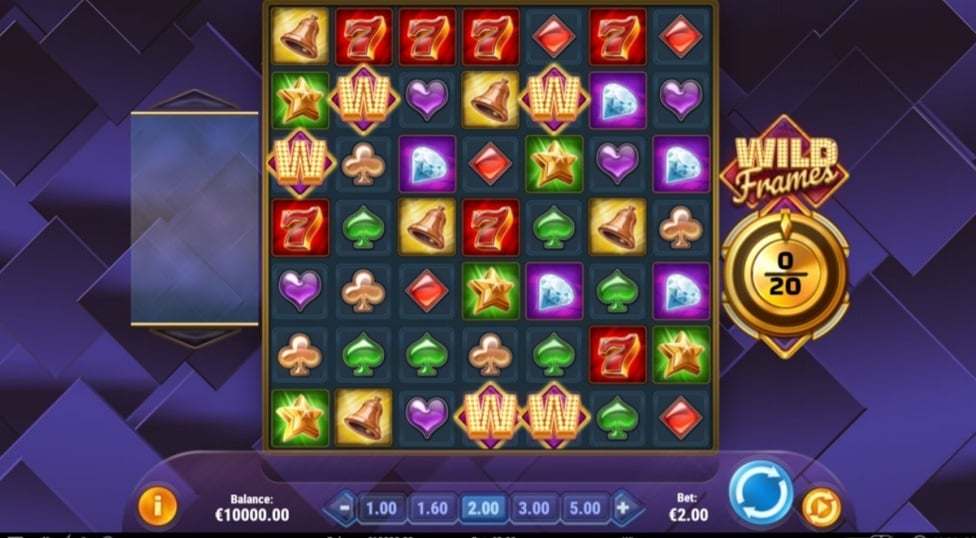 Divine Showdown
The mightiest gods from various mythologies have come together to clash in an epic battle, and you might be the one to claim the spoils of their war. If you've come this far on our list, then you already know that the graphic quality of Play N' Go games is something to behold, and Divine Showdown follows the same pattern of quality. This one is quite similar to most online slots, and it doesn't really have too many variants. However, we felt that our readers might want to check out a game with a more classic approach such as this one. Combining symbols in the correct reels will multiply your stake. There's also a random spin feature that could multiply your winnings even further, depending on which God symbol you land. Thor is, by far, the best symbol that you can chase to get. He can turn all other high-value symbols into himself, which can cause you to win a metric ton of money on a single spin. Divine Showdown is a simple online slot, but with a large profit margin thanks to its 96.51% RTP, it's one of the best additions to the Play N' Go catalog in recent years.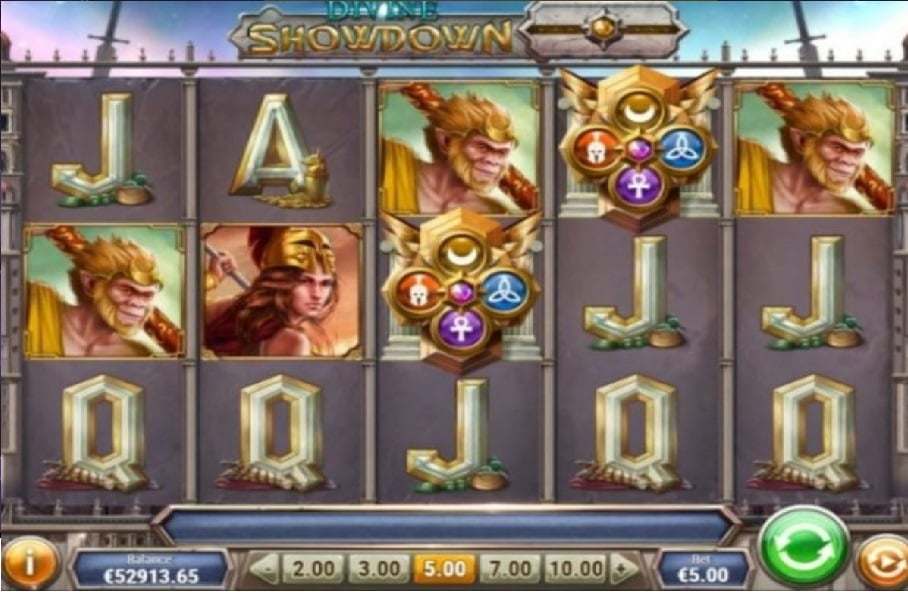 Where to Play the Best Play N' Go Slots
Play N' Go casinos are aplenty, and we know that it can be overwhelming to choose just one of these casinos to visit. We're going to give you three online casino choices, all of which are ranked as some of the best online casinos in the world, and all of which have Play N' Go games in their galleries. Each of these casinos has different mojo and appeal. If you're keen to claim amazing rewards and bonuses, though, you can rest assured any of them will do the job. We'll be starting with the one that offers the biggest rewards.
mBit Casino – Wager with Bitcoins and Win
Why wager with traditional money and get normal bonuses when you can visit the mBit Casino and play with cryptos? The mBit Casino review that we have here at The Casino Wizard shows exactly why mBit is rated as one of the best bitcoin casinos in the world. With offers that could make you earn more up to 5BTC in rewards, mBit is the place to be for the savvy bitcoin gambler. The mBit races are also a thing to behold on this website, and we're sure that you will love them if you give them a try. This unique online casino loves offering players the chance to try out something completely unique, so, why not do it with cryptos and claim the best and most lucrative casino bonuses along the way?
Casino Winner – Slots & Sports for the iGaming Enthusiast
As one of the leading Betsson Group Casinos, the Casino Winner is already one of the most popular online casinos on our website. This amazing gambling site comes with a selection of sports games that you'll love to play and wager on, but their gallery of online slots is second to none in terms of quality. Play N' Go games fill the Casino Winner gallery with quality online slots, and even if you get tired of playing all of these new titles that we just mentioned, worry not; this fantastic online casino also offers titles from others of the world's leading developers.
Go and Play Now!
Are you keen to wager in any of these online casinos? If so, what are you still doing here? Head straight to the fantastic virtual halls of any of these websites or other Play N' Go Casinos and discover a world of rewards that remains hidden in your device's screen. Will you opt to take the challenge that the Rizk casino has for you? Will you rather use some of your bitcoins to bet in one of the best bitcoin casinos in the world at mBit? Maybe you would rather visit the Casino Winner and enjoy some sports bets on the side of your Play N' Go adventure? It truly doesn't matter what you choose to do. Options are aplenty, the games are really fun, and you'll be set for a long time of fun regardless of which casino you choose. One thing's for certain, though: there's no time to waste. New promotions and games are always popping up at these online casinos, and the Play N' Go titles that we mentioned are already entering most catalogs. Head straight to any of these sites and bet your money in some of the best Play N' Go games in the world!
Last updated
May 24, 2022