The Cleopatra slot game is not exclusive to the online casino industry. In fact, it seems to be quite the opposite: the game is extremely popular among land-based casino enthusiasts, which has positioned it as one of the most played slots of all time.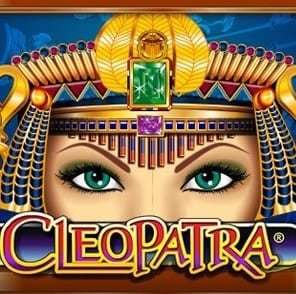 If you've ever visited any Las Vegas casinos, there's a good chance that you've come across this game on more than one occasion. We want to show you all about this game and why it's such a popular slot, as well as how the Cleopatra slot has made such a huge impact in the iGaming world with what seems to be a lot of ease. This Cleopatra slot review serves to break down the features that make this game one of the most popular online slots of all time!
Cleopatra Slot Review – Quick Overview
With an Egyptian theme, bonus multipliers, free spin rounds, and the chance for you to win a massive jackpot, the Cleopatra slot is rightfully one of the most sought-after online slots by our fellow casino enthusiasts. This title allows gamblers to unlock a staggering 180 in-game free spins, one of the best in-game slot rewards that we've ever come across. That, coupled with the fact that the game is ideal to be played by both high-rollers and low-rollers alike, has made the Cleopatra slot accessible to all sorts of gamblers regardless of their betting preferences.
Cleopatra Slot Features
There are some features that make the game stand out. Even though some of these features are commonly found in other popular casino slots, the Cleopatra slot has had them for years before some of the most popular games in the industry. This title was one of the first "hit" slots on the planet, which explains why so many other slot-makers have taken ideas from this game to create their own products.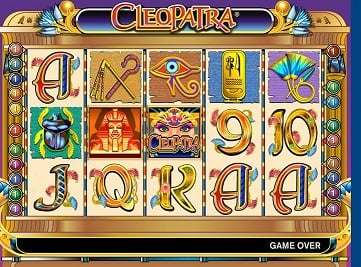 A Theme to Fall in Love With
To start things off, and probably one of the reasons why the game is loved by so many players, the theme of the game is something to behold. A fun Egyptian theme, catchy "ancient-like" tunes, and artwork to go alongside it are just some of the audiovisual features that give this slot the identity that it deserves to have. The catchy tunes and fluid albeit a bit outdated graphics make this game a fantastic choice if you're looking for a chill video slot experience that won't inject too much thrill into your veins.
No Games, But Many Free Spin Opportunities
The Cleopatra slot game is a classic, which means that it has been around for quite some time. As such, it's only natural for the game not to come packed with as many features as other titles in the industry. The game's longevity has kept it popular through the years, but it does feel like the Cleopatra slot is lacking a touch of modern. In any case, a lack of in-game minigames is compensated by giving players the chance to earn many free spin rounds within the game. A total of 180 free spins may be unlocked if you're lucky. The value of each free spin depends on how much cash you're playing the game with, so you may earn spins worth €10 each if you're on a high-roller rampage!
Low-Value Bets are a Flagship Feature
We've come across many games that have betting limits that surpass the €100 per line with a low bet of at least €1, but the Cleopatra slot keeps things traditional and strays away from that concept. Here, you can place bets from €0.05 to €200, making it one of the best online slots that you can play as a low roller or as a new player to the online gaming niche. If you want to bet a ton of money per spin, you can – but the game is ideal to be played by those who aren't willing to commit a lot of money to the game.
Massive Jackpot Payout
The Cleopatra symbol gives you the ability to unlock the game's ultimate jackpot payout. You will be able to earn yourself a jackpot worth 10.000 times the amount of your initial bet, which could be up to €200,000 depending on how much cash you're wagering! In any case, a massive jackpot like this one is not to be earned with ease. Should you be one of the lucky winners, you will probably make headlines in the world's leading gaming magazines. There's nothing to lose and much to win by trying out your luck in the new Cleopatra slot!
Where to Play the Cleopatra Slot?
If you've made it this far, it's only natural that you're as excited as we are to play the fantastic Cleopatra slot. We've already made our way to some of the best online casinos in the world, though, so we can swiftly tell you where to play this incredible game. Being an IGT product, you can expect to find this title at the best IGT casinos in the world. Looking for a specific casino in which to play? Pay a visit to one of our picks for the best IGT Casinos:
Can You Play Cleopatra Slots on Mobile?
Yes, the Cleopatra slot is fully mobile compatible, even with the slot being one of the oldest popular titles in the industry. You do need to find a good online casino to play the game, though. You may pay a visit to one of the best mobile casinos in the world if you want to make the best of your time playing the game. Thankfully, all 3 online casinos that we mentioned in our "where to play" section are also listed as some of our top picks for the best mobile casinos out there.
Visit the Best Online Casinos and Play Cleopatra Slots Now!
The Cleopatra slot game might not be one of the newest titles in the online casino industry, but it certainly comes packed with enough features to be one of the most entertaining games that you can play. Classic titles are always fun to try out, so you might as well give this one a go and test your luck in a traditional game of the industry. Which IGT casino will you visit to win big at the Cleopatra slot? The choice is all yours – get down to business now!
Last updated
May 24, 2022