Are you a fan of classic Monopoly? We bet you are, as this game has been in the hearts of generations upon generations thanks to its global popularity. If you're here, though, that probably means that you're also a huge fan of online casinos. Now, you can combine the classic board game with the world of online gambling and put a unique twist to the traditional game in hopes of claiming bigger rewards than ever before. This fantastic title, developed by none other than Evolution Gaming, is a contest type of game made to be played in the world's best live dealer casinos. As a contest type of game, you will be played with multiple others simultaneously, and you're going to have a fantastic time doing so – it's almost a given! You should find this amazing game in most online casinos that host Evo Gaming titles, but not every casino has it, and we want you to play in the best of the best; that's why we've selected the best Monopoly Live casinos and listed them at the end of this article.
What is Monopoly Live?
Monopoly Live is a contest casino game which is hosted in some of the best live dealer casinos on the planet. As a contest game, it does share some similarities with the traditional game of monopoly, but you'll find the game to be quite similar to the popular Dream Catcher. If you're a fan of contest TV shows and you'd like to participate in one without leaving your home, this might be a good game for you to start! In any case, the game consists of a massive wheel and one or two hosts that spin it and narrate the outcome of each round. You will have the option to bet on the bills of monopoly that are there on the bottom of the screen, which represent some sections of the wheel. If the wheel happens to land in the number that you bet, chances are that you're going to win a decent sum of money.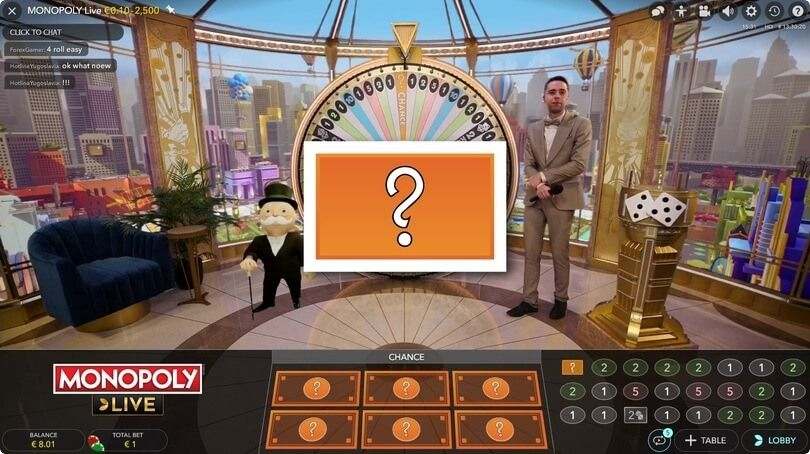 Game Features
Monopoly Live is a game created by Evo Gaming but with the legal support of the Hasbro team, and it's by far one of the best variations of Dream Catcher that exist on the internet. As such, you will find that the game is actually really similar to Dream Catcher itself, and many of the features are shared between both titles. What's the difference between Monopoly Live and Dream Catcher, you ask? Well, for starters, this game gives you the chance to win with an extra section, which is called Chance, honoring the classic Monopoly box. That's not all, though; you will also be able to bet on 2 rolls and 4 rolls, features that activate a massive bonus that is set to let you earn much more cash than in Dream Catcher.
Chance
Chance is the most unique and amazing feature of the game. This feature is, arguably, what makes the game so fun to play and what gives it a unique twist that makes many players prefer it over the classic Dream Catcher live casino game. Whenever Chance lands on the wheel's arrow, all player bets will remain locked and in place. You won't be able to place any new bets until the next round ends. You cannot bet on the Chance segment being the one that wins the roll, but it's more like a random bonus that benefits all players. You will get a Chance card when the Chance icon shows, which can be given as a cash prize to every participating player or as a multiplier. If you (and all who are playing) get the multiplier, the wheel will spin again and you will have to see if you win. Any winnings made after the multiplier has been activated will be increased by the number shown in the Chance card. However, if you happen to get another multiplier, both of these will stack. That means that a x2 multiplier and a x4 multiplier become a x8 multiplier!
The Bonus Round
All of that sounds quite fantastic, doesn't it? It is! But there's more. The bonus round also gives you the chance to earn even more rewards! To enter it, a player in the game must've bet on the 2 Rolls or 4 Rolls in a spin in which any of these two have landed. When that happens, the bonus round will be activated and all players will be taken to a 3D Monopoly board in which they'll be able to collect more prizes than ever before. You will have the chance to roll the dice depending on which feature you bet on. For example, if you had bet on the 2 rolls you'll get two dice rolls to move your "piece" through the monopoly board. You will collect rewards along the way, and you'll be able to get a whole lot of fantastic prizes from the board. It's one of the best bonus rounds that you will ever see in any live game, and even if you don't get to play in it (if you didn't bet on the rolls), you will still be able to watch how other players do and, hopefully, get encouraged to try out your chances at getting on the bonus round next time!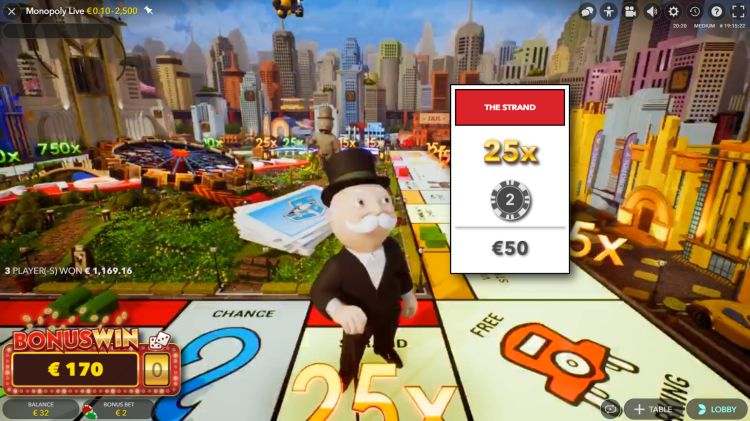 Are there Bonuses for Monopoly Live?
Apart from the bonus rounds and multipliers, there are no extra bonuses or rewards inside the game, but you might be able to come across some online casinos that let you spend the bonus money that you get when you first register in their live dealer games. This is unlikely, though, so if you wish to play with bonus cash in live dealer games, you might start looking for a casino that allows you to do it right now. That's not the end of the world, though, as the in-game bonuses offered in the Monopoly Live game are more than enough to grant you with an afternoon of riches!
The Best Casinos to Play Monopoly Live
Now that you know all about this amazing game, we're sure that you're really keen to try out. However, where are you going to play it? How do you know which are the best online casinos to play Monopoly Live? There's no need to worry about that – we have you covered! We have a list comprised of the top 3 best casinos to play Monopoly Live, which also happen to have some of the best live dealer casino sections on the internet. We're also going to tell you all about the best bonuses that these casinos offer, so you can claim the most lucrative of bonuses and promotions while playing your favorite games.
Casumo Casino
The Casumo Casino is a great website with quite a minimalistic design, which makes it very easy for the player to spend hours without getting tired or overwhelmed by looking at it. The site comes packed with hundreds of fantastic games, and a live dealer section worthy of being visited by any gambler that loves to play from home but feel like you are at a real land-based casino. It doesn't matter what your ultimate purpose is – it's highly like that you'll have a world of fun in this site. There are a handful of exclusive games at Casumo that can't be played anywhere else, and the site often gest exclusive access to new online casino games on a monthly basis. If you're all about exclusiveness and rewards, you'll want to check out the Casumo welcome bonus as well. Get started with a bang and earn a small fortune while playing Monopoly Live at Casumo!
Dunder Casino
The Dunder Casino won't let you fall behind if you're looking to play the best games on the internet. The site is one of the most player-friendly online casinos in the world, as it is shown by the use of the "Reality Check" feature that keeps the time and money that you've spent on the site in check. As if the fact that this online casino cares for you is not enough to visit it, you may also want to check out the Dunder Casino bonus and claim some of the rewards that you have available as soon as you finish registering on the website. Dunder might not have as many games as other sites, but it loads fantastically on mobile and you're certainly going to enjoy the experience of a lifetime when gambling on this site. Be sure to use the bonus before playing Monopoly Live at Dunder so those rewards don't go to waste!
Betsson Casino
Betsson is the largest online casino in this small list, and with size also comes quality. This fantastic website comes with hundreds of online casino games to play and enjoy, as well as a huge sportsbook and a live dealer section like no other in the world. Monopoly Live is just one of the many games that you'll find here, and if rewards are what you're after, Betsson is not the place to be disappointed. Don't start your adventure at Betsson without first claiming at least one of the bonuses that the website has laid out for you. The Betsson welcome bonus is the best way for you to get started in one of the best online casinos on the planet with some free bonus cash. Why start empty-handed when you can use the Betsson offer to get your wallet filled up with cash from the get-go? Monopoly Live is certainly found as one of the many live dealer games that Betsson has to offer. This fantastic online casino packs as many promotions as it has games, and you're certainly not going to be bored while playing here. Once you're through playing Monopoly, you can always check out the Betsson sportsbook to try some cheeky wagers in your favorite sports. Betsson has made available leagues from all over the world for you to wager on, so be sure to check out this section before you leave the Betsson casino! Offers and games are aplenty!
A Universe of Rewards Awaits – Visit the Best Live Dealer Casinos and Win Big!
There really is no time to waste right now. There are countless online casinos that host Monopoly Live games, and we've just told you all about the best online casinos in which you can play it. Most of them pack fantastic rewards ready to be claimed by anyone that registers on each site, so you'd be a fool not to try them out! In any case, Monopoly Live per se doesn't really have many bonuses with which you can play it. Use the bonus cash generated with any bonus that you've claimed and fulfill its wagering requirements to then play Monopoly Live for free and earn big rewards in the process. Is the game looking appealing to you? What are you still doing here, then? Head straight to any of the aforementioned casinos and play one of the most popular contest games in the history of online casinos! [table_casino]
Last updated
May 24, 2022