We all know that there's a massive treasure at the top of the beanstalk. Will you be one of those who are brave enough to climb it alongside Jack, or will you rather stay on the ground and avoid a risk that could yield world-class rewards? https://youtu.be/8JQWb1VsD7o This game was released in 2011, making it one of the oldest online slots that still holds a degree of relevance to this day. The game consists of 5 reels and 3 rows, but it has a grand 20 paylines, which puts it ahead of many titles that were released around that time. Games with more paylines got even more popular near 2015, but Jack and the Beanstalk made a big impact in the early 2010s. In any case, this game is still widely popular and remains one of the most played online slots in the 2020s. It doesn't seem to be going anywhere and we don't want you to miss out on getting the best out of this game, so we've compiled this complete guide on Jack and the Beanstalk to help you learn where you play it, how the game works, and why it's so good. Be sure to stay with us until the very end – we also have some bonuses that will help you play Jack and the Beanstalk for free!
Jack and the Beanstalk Bonus Features – A Game to Enjoy Playing
Just like most games created by NetEnt, Jack and the Beanstalk is filled with features that keep you hooked to the game even after days of playing it. One thing we noticed with this online slot is that every round truly feels unique, which makes you feel more confident heading into your next spin. Its good RTP reaffirms that, in fact.
Free Spin Round
If you've played NetEnt games before, you know most of their games have either a free spin feature or a re-spin feature. Jack and the Beanstalk is no exception to this. The game comes with an incredible free spin feature in which you can obtain 10 free spins if you get 3 scatter symbols in your reels. Keep in mind that the value of each free spin will be equal to that of the value of the spin in which you won them. For example, if you play a spin of €1 and it results in you activating a bonus free spin round, then you will get 10 free spins with each one being worth €1, for a total of €10. If you happen to get 3 more scatter symbols during a bonus free spin round, you'll get an extra 5 free spins worth the same amount of money. The scatter symbol is the treasure chest – keep an eye out for it!
Treasure Keys Bonus Multiplier
Apart from getting free spins with the scatter, you will also get one additional bonus: whenever you play a bonus round, you will have the option to win more bonuses by collecting the keys that appear in the fifth reel on the screen. You can collect these keys by spinning the wheel on each free spin round, so look for them whenever you play the game. You will be rewarded whenever you collect 3, 6, or 9 keys, with each bonus being better than the last one. These bonuses will come up in the wild round that we will explain shortly. With each of these bonuses, you will get even more wilds on your screen. Collect as many monkey keys as possible before the Walking Wilds round starts and you just might be able to achieve a win worth the maximum sum of cash that the game allows you to win!
Walking Wild – Jack and the Beanstalk Wild Feature
Even though the free spin feature sounds pretty appealing on its own, the Walking Wild feature is the one unique feature of this online slot that makes it different from the rest and incredibly appealing to most players. The Walking Wild symbol is represented by the game logo itself, so it's easy to tell when it comes up. Should you happen to get it, the game will give you re-spin rounds. The wild symbol will move between reels with reach re-spin that you get, causing you to get monstrous wins with just a little bit of luck. For example, if you get the wild symbol on the third row, the next round will move either right or left to the second or fourth row. You will keep getting free spins until you run out of wild symbols, which means that winning is almost a given with the Jack and the Beanstalk bonus rounds. It's no wonder why so many people love it – the game guarantees payouts in each bonus rounds, and chasing bonus rounds is as fun as it gets with this classic NetEnt slot.
Where to Play Jack and the Beanstalk for Free? – Jack and the Beanstalk Slot Free Play
There are many casinos in which you can play this fantastic game, although not many of them offer the same level of quality bonuses nor the same features. We have decided to compile a list of three online casinos to play Jack and the Beanstalk for free, either with free bonus cash or with each casino's free play feature.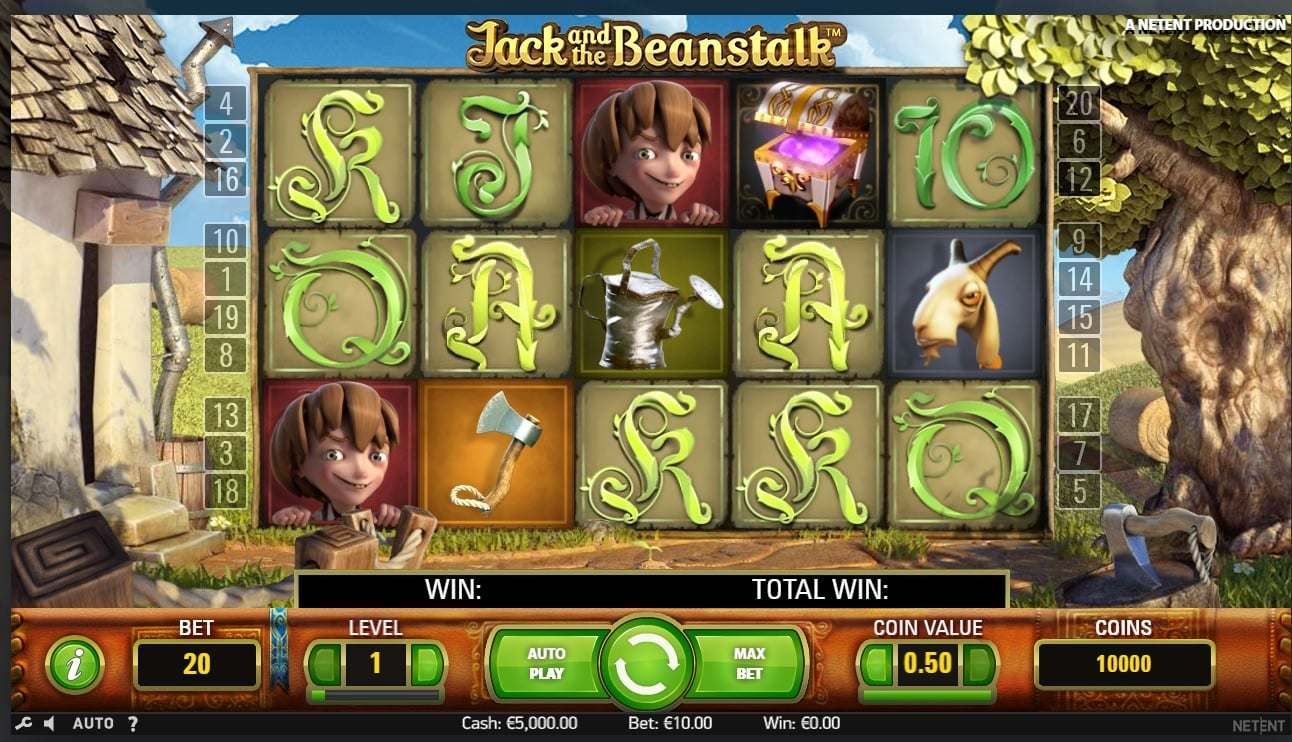 We do suggest you check out the game first and see whether you like it or not before making a financial commitment to the game by playing it with real money. All in all, the game is extremely entertaining and there's no reason why you wouldn't like to play it, but it's better to be sure before spending your money on it. Most online casinos that offer NetEnt games have this game available in their repertoires of titles. In fact, many online casinos use the Jack and the Beanstalk protagonist as a mascot for their sites. He looks a bit too creepy for our liking, but the figure has become a very recognizable character in the online casino industry.
Top 3 Casinos to Play Jack and the Beanstalk and Enjoy Exclusive Bonuses
All of the following online casinos allow you to play Jack and the Beanstalk for free, but each of these casinos also packs fantastic bonuses that make them even more appealing to play to the average player. Check them out and see for yourself! We've reviewed each of these casinos before, so you can head straight to our review page if you want to know more about them before making a final decision! mBit The mBit Casino is a fantastic online casino, and one of our favorite places to visit whenever we feel like wagering with bitcoins or other cryptocurrencies. This online casino provides players with a safe gambling environment in which you will be able to make deposits directly from your bitcoin wallet, saving you the time and trouble of making any bank transactions, which usually take a lot of time and money.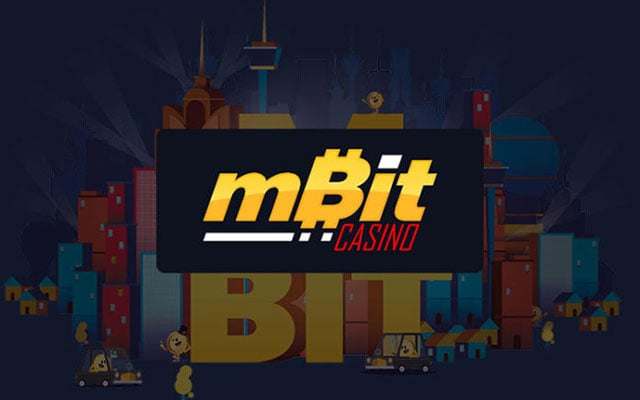 You can claim free spins and bonus money upon registering on the mBit Casino, which you will be able to use in Jack and the Beanstalk and other fantastic games available at the mBit Casino. The mBit welcome bonus is also a fantastic one to claim if you love online slots, but keep in mind you might need to make a large deposit to get the best out of it. Use the free spins and claim free money to play Jack and the Beanstalk and other fantastic casino games at one of the world's best bitcoin casinos. Videoslots There's hardly a better place to enjoy a few slot rounds than the Videoslots Casino, the world's largest legit hub of online slot games. As one of the largest hosts of NetEnt games, it's no surprise to use that the Videoslots casino has the Jack and the Beanstalk slot available. In this online casino, you will be able to play some of the world's best online slots from the major developers of the industry.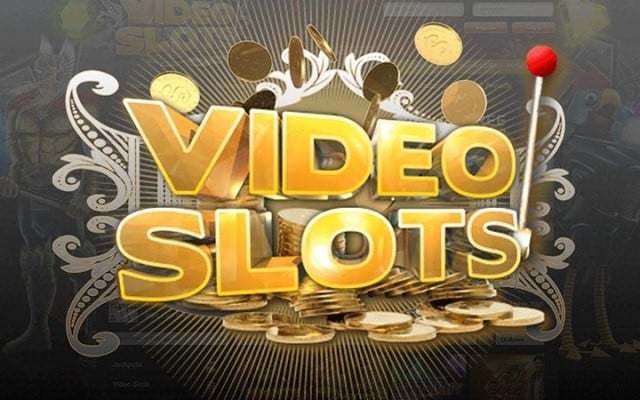 Check out the Videoslots no deposit bonus and claim some free cash to play Jack and the Beanstalk for free, but with the chance to earn real money in return! This online casino might not provide you directly with free spins, as is the case with other sites like mBit. However, you can use the bonus money that you get upon registering and spend it playing any of the best online slots that the site has to offer. Once you get bored of Jack and the Beanstalk, you'll still have over 4,000 online casino games to play. Anything from live dealer games to the best online slots and table games is available here – don't miss out on your chance of playing them all! Wildz Wildz is an amazing online casino with plenty of exclusive features and a gallery of online slots that any other online casino owner can be jealous of. With exclusive re-spins and some of the best cashback bonuses on the internet, Wildz is an online casino that has quickly cemented a place among the world's best online casinos.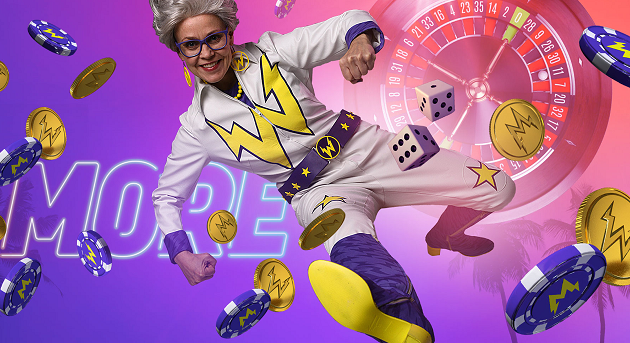 In this online casino, you will be able to play Jack and the Beanstalk using free money provided to you upon registering and making your first deposit at Wildz. Being a fully withdrawable bonus, you will be able to play the game and spend the money however you wish! Check out other Wildz games and play them with free money if you wish – there's too much to do at Wildz and you would be wise not to miss out on any of its exclusive features.
Jack and the Beanstalk RTP & Volatility - Jack and the Beanstalk Technical Info
These 5 columns, 3 rows, and 20 paylines make Jack and the Beanstalk a fantastic game to try out if you love games with a good RTP. The game comes with an RTP of 96.28%, which makes the house edge lower than 4%. When it comes to online slot games, it's a very fair RTP. In fact, it's an even better RTP than Starburst's 96.10%! Given how much you will depend on bonus rounds to make a large profit, though, the game is considered a title with a volatility that ranges from medium to high. As you know, it's hard to tell the actual volatility of a game, but the fact that you could spend many rounds playing it without obtaining any monetary compensation suggests that it's actually higher than average.
Jack and the Beanstalk FAQ – Must-Know Questions About the Game
Now that you've come this far, you know everything there is to know about this fantastic casino game and why so many people seem to love it. However, there are still a couple of questions that might need answering in our part, just to clear any remaining doubts that you might have.
Can You Put Jack and the Beanstalk in Autoplay?
Indeed. Jack and the Beanstalk has an autoplay feature that allows you to set up the amount of money that you wish to wager in each round, how much money you wish to wager, and spin the reel until you either run out of money or after you play a certain number of rounds. Your safest bet will be to simply stop the reel from spinning once you feel that you've won (or lost) enough. We have seen games with better autoplay features than this one, so just be sure that you have a clear idea of how much cash you want to deposit and get those reels spinning. It's as easy as things get.
Is it Better to Play Jack and the Beanstalk with Free Money?
It depends on whether you mind the wagering requirements or not. If you don't, then, of course, it's much better to play the game using free money. Check out the individual rules of each online casino and discover whether the wagering requirements feel fair or if you'd rather avoid them. All of the online casinos that we've provided to you in this article come with very fair wagering requirements, which allow you to use your money in any way you see fit and play the game comfortably without having to worry about complying with distasteful terms.
Can You Play Jack and the Beanstalk on Mobile?
Jack and the Beanstalk is designed to work in most mobile browsers, so the game can be comfortably played in any mobile device with no problem whatsoever. However, you still need to make sure that the online casino in which you play the game offers browser compatibility. https://youtu.be/keN10ET2Dps Remember that some online casinos tend to be more resource-heavy than others. Sites that require your device to use many of its resources can make the games very laggy, which could cause a ton of performance issues and simply make your experience much less enjoyable. Not to worry, though. All of the casinos provided on this page come with mobile compatibly, too, so you don't have to worry about it if you choose any of these sites. The game is also available on Netent Touch®, on Android, iOS and Windows.
Is Jack and the Beanstalk Worth Playing?
Jack and the Beanstalk has a fantastic return rate as well as a ton of bonus features. In terms of fun online slots, it definitely takes a place up there with the best options in the world. If you're a fan of games like this and you can't wait to play them, then Jack and the Beanstalk is one of the finest titles that you could have at your disposal.
Jack and the Beanstalk Software Provider
The game was created in 2011 and published by Net Entertainment, better known as NetEnt. This company is widely known as one of the main forces behind the online casino industry, as the company has developed many of the world's most played online casino slots. Among the best NetEnt creations, you will be able to find industry classics like Dead or Alive and the mighty Starburst, the world's most played online slot. NetEnt has been widely known as one of the world's best source for online casino games ever since the early 90s and the rise of the iGaming industry. In any case, Jack and the Beanstalk might not be the latest creation of this company, but it's certainly become one of the most influential NetEnt games of the first two decades of the 21st century. Be sure to play it in the world's best online casinos if you want to ensure a maximum degree of quality.
Jack and the Beanstalk Biggest Win – A Life-Changing Jackpot to Hunt
Many NetEnt games with no progressive jackpots offer some fantastic in-game jackpots (we don't really like calling these jackpots per se, as they are just big wins). However, with how much money you can earn at the Jack and the Beanstalk slot, it would be more than a wise thing to call it a jackpot. You can win a reward worth 3,000 times the amount of your stake if you're lucky enough. Naturally, with "lucky enough" we meant that you need to get a few free spins together with the 9-key multiplier and a wild round where you get the best symbols in the game. It's hard to tell whether or not you'll be able to win such a lucrative reward, but the game certainly gives you the option to obtain it. The card symbols could let you earn a reward worth 100 times your stake, but your ultimate goal will be to chase a big win with the wilds and jackpot feature.
The Casino Wizard Verdict – Your Journey to the Clouds Starts Here
Climb the beanstalk and reach the clouds in one of the most entertaining online casino games in recent times. The design of the character in this game might be a little creepy (or eerie, if you may), but the game itself is extremely fun and proves, once again, why NetEnt is one of the finest creators of online casino slots on the planet. With a jackpot worth 3,000 times your stake, this game is surely a promising one for those looking to earn a fortune in a couple of spins alone. The only thing that this game is missing is a progressive jackpot – everything else that you often want to see in an online slot game is more than present here. You can enjoy some of the best rewards on any NetEnt game by playing Jack and the Beanstalk. In short, this is a game that we would recommend to anyone who feels the need to try out the world of slots for the first time, or to those who have already played NetEnt games and loved the feeling of it. Most NetEnt games have a similar feel to them, and Jack and the Beanstalk encompasses it perfectly. A fantastic game without a single shadow of a doubt. Fully recommended by The Casino Wizard.
Last updated
May 24, 2022