Casino eXtreme Jackpots: Thousands of Euros in Prizes Await!
An online casino is only as good as the games that it offers – and we're sure you're as big a fan of high-paying games as we are. That's why we're going to tell you about the best jackpot slots at Casino eXtreme, how much cash you can earn playing them, and which bonus you can use to play jackpot games on the site!
1. Aztec's Millions
Potential Jackpot: €1,000,000+
Aztec's Millions is our favorite progressive jackpot slot at Casino eXtreme. It is Realtime Gaming's most memorable jackpot, with a winning potential of more than €1,000,000. Even though you'll need to line up all idol symbols to win the progressive jackpot, the game's fixed jackpots are not to be shrugged off: you will be able to collect a massive win worth more than 2,500 times your bet at any point.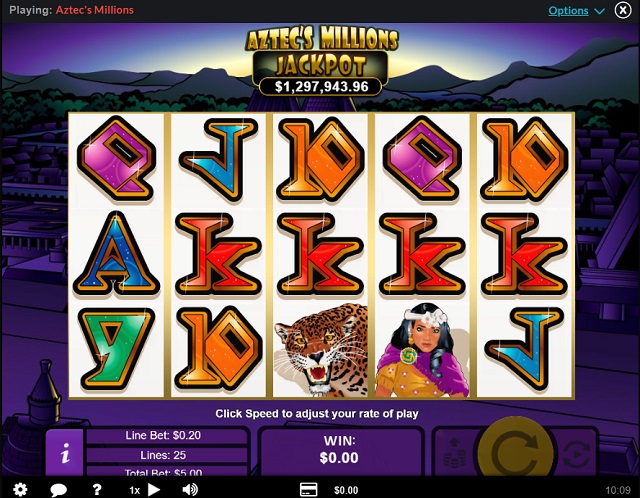 The game comes with a minimum bet of €5, so you'll need to have quite a budget if you are to chase a jackpot win, or you'd need to be extremely lucky with one of your spins.
2. Megasaur
Potential Jackpot: €800,000+
Megasaur is a classic 5x3 video slot that takes you on a Jurassic journey with minimum bets of €1.25, making the game much more accessible to those who don't have the budget to sustain a bad luck streak playing Aztec's Millions.
But beware: you will need to place wagers of at least €5 if you want to qualify for the mega jackpot of the slot!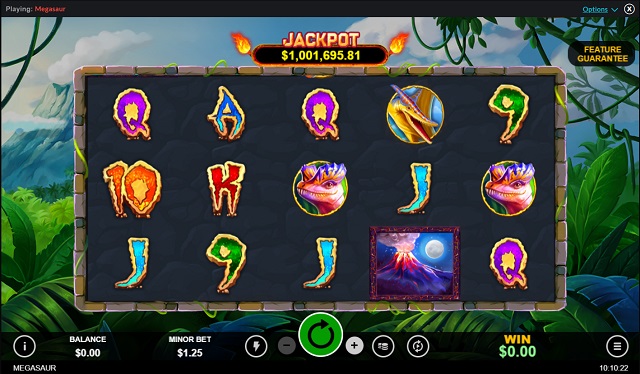 This is one of our favorite high-volatility jackpot slots to play at Casino eXtreme, and with a prize that seems to pay out at least €800,000 to lucky players, few could argue that it's one of the best RTG progressive jackpot games to play here.
3. Shopping Spree II
Potential Jackpot: €500,000+
Shopping Spree II allows you to play with a minimum bet of €2.50. The game has a lovely feel to it, which we attribute to the music, with plenty of multipliers and scatters to give you access to a fantastic overall experience.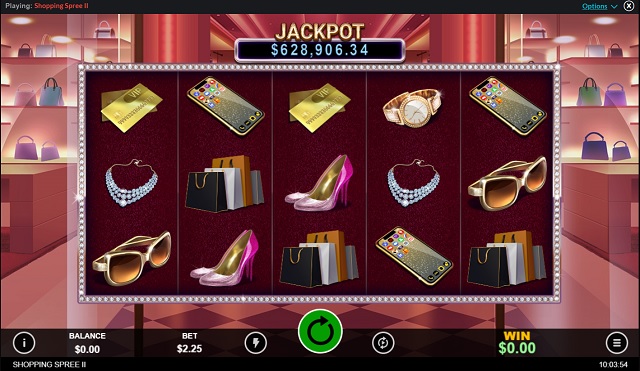 The game has quite a large average payout even if you don't trigger the mega jackpot, as players can expect to win up to 5,000 times the amount of their bet with the game's bonuses. It tops off our list of the three best jackpot slots at Casino eXtreme!
Casino eXtreme Progressive Jackpot Bonuses
Even though Casino eXtreme doesn't offer the same massive payouts in its progressive jackpots that you'll find in other casinos like Betsson or BitStarz, this site has a massive advantage over others: you will be able to play its jackpot slot games with many of the bonuses found on the casino.
This is our favorite Casino eXtreme bonus that you can use to play progressive jackpot games. It comes with very low wagering requirements, so be sure to take full advantage of this incredible reward:
50% No Rules Bonus (Bonus Code: Not needed) – Can be used to play progressive jackpot slots and comes with a wagering requirement of 1x your bonus plus your deposit.
Realtime Gaming and Casino eXtreme Jackpots
All Casino eXtreme jackpots are provided by an online casino games developer with over two decades of experience: Realtime Gaming. Even though the company offers games with simple graphics and rather standard animations, you can rest assured that the rewards that are won will be paid.
The slots don't have too high an RTP, but return rates are good enough for players to make a profit even if they don't trigger a jackpot win.
You will also find other jackpot games at Casino eXtreme, such as:
Jackpot Cleopatra's Gold
Rudolph's Revenge
Hillbillies
Jackpot Piñatas
How Do Casino eXtreme Jackpots Work?
There are different types of jackpots at Casino eXtreme, even though all of them are offered by Realtime Gaming. You'll notice that some of them pay out really large sums of cash, like Aztec's Millions, while others reward you with much smaller average sums.
These are the two types of progressive jackpot slots offered by RTG:
Local Jackpots: Local jackpots are games that pay out a progressive jackpot that is accumulated based on the bets that are made within the online casino from which you're playing the game (Casino eXtreme, in this case). All games with a local jackpot share a prize that is collected from the best made by other Casino eXtreme players.
Networks Jackpots: Network jackpots, such as the one offered by Aztec's Millions, are shared between all sites where the slot game is available. That's why they're much larger than their local counterparts!
Some online casino game developers, such as Microgaming, offer games with mixed jackpots. For example, Mega Moolah has its massive network progressive jackpot but also boasts an in-game local jackpot. RTG tends to offer games with one or the other, as you'll notice while playing at Casino eXtreme.
Play Your Favorite Jackpot Games & Try Your Luck!
We may not have some of the biggest jackpot games in the world when playing at Casino eXtreme, but the site's solid selection of games gives us a few jackpots where we could be winning thousands of euros in free rewards.
All of the games that we've listed here can be played with Bitcoin. In fact, the casino encourages crypto play by giving away much more lucrative versions of available bonuses if claimed with Bitcoin, Litecoin, or Ethereum.
Get ready to begin your gaming journey at the Casino eXtreme, pick your favorite jackpot game, claim your bonus, and put your luck to the test!
Last updated
April 19, 2023
Frequently asked questions
Yes, some of the bonuses found at Casino eXtreme allow you to spend the money playing progressive jackpot games.
Generally, the highest-paying jackpot at Casino eXtreme is Aztec's Millions, but this could vary depending on when was the last time that the jackpot dropped-