Best Mega Moolah Bitcoin Games to Play at CryptoLeo
Mega Moolah is the world's most famous slot game, and even though most jackpot winners have used fiat currencies to play the game, it is possible to claim the slot's Mega Jackpot with the world's best cryptocurrencies. All versions of the game are available at CryptoLeo!
| | |
| --- | --- |
| Mega Moolah Bitcoin Game | RTP |
| Gold Factory Jackpots Mega Moolah | 93.42% |
| Mega Moolah Goddess | 93.30% |
| Fortunium Gold Mega Moolah | 92.67% |
| Atlantean Treasures Mega Moolah | 92.08% |
| Juicy Joker Mega Moolah | 92.03% |
Let's take a more in-depth look at the highest-paying Mega Moolah games that you can play at CryptoLeo:
1. Gold Factory Jackpots Mega Moolah
Gold Factory Jackpots is the highest-paying Mega Moolah version, with a staggering 93.42% RTP without taking into consideration the jackpot contribution! The game features outstanding features that help players collect amazing wins, including a free spin round that gets triggered by collecting 3 scatter symbols.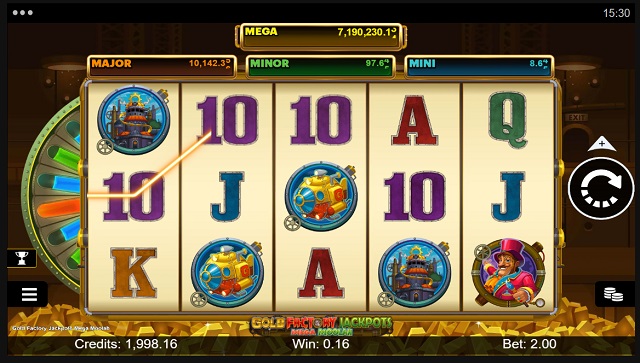 Lining up wild symbols in a single payline could multiply your wins by up to 600 times the amount of your stake, which also makes this one of the Mega Moolah variants with the biggest in-game payout combinations.
2. Mega Moolah Goddess
Goddess is one of the most popular versions of Mega Moolah – even more popular than Gold Factory Jackpots, but that does not come as a surprise considering that this is the only Egypt-themed Mega Moolah game (equivalent to the Queen of Alexandria WOWPot slot).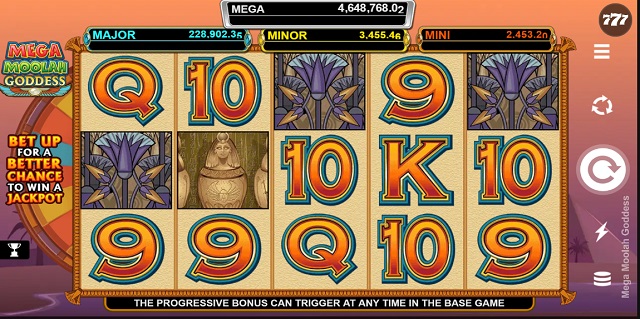 The game's most significant feature is its free spin rounds.
Mega Moolah Goddess is the rebranded name of Mega Moolah Isis, which had to be changed for obvious reasons.
You can earn up to 30 free spins with the game's scatter symbols, with a multiplier of up to 6x. This means that you could win up to 3,612x your stake without including the total jackpots that are there to be won!
3. Fortunium Gold Mega Moolah
Those who love the Steampunk vibe are sure to feel at home playing the fantastic Fortunium Gold slot, one of the versions of Mega Moolah that have had winners of the Mega Jackpot. Win boosters and mystery symbols play a key role in making this Mega Moolah game one of the most unique of the bunch.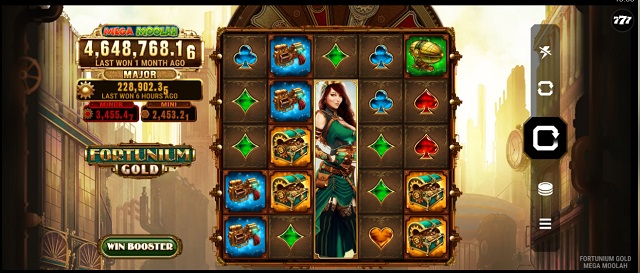 The game lets you win a lot of money per spin thanks to its massive symbols feature, which could help you get a max win of up to 800 times your stake – that would translate into €24,000 on a single spin excluding all of the game's jackpots!
Play Fortunium Gold Mega Moolah
4. Atlantean Treasures Mega Moolah
Atlantean Treasures Mega Moolah is another version of the game that has seen a huge surge in popularity thanks to many players who have won the Mega Jackpot playing it, but its high RTP makes it an even more attractive slot game for casuals or those chasing non-jackpot wins.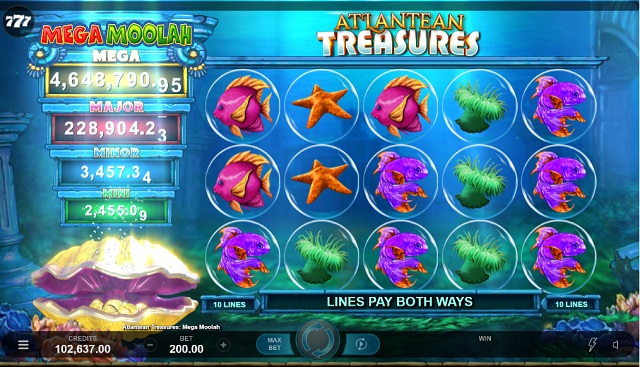 Its 5x3 classic video slot setup and a max bet of up to €200 per spin make this game one of the Mega Moolah variants that resemble the most a non-progressive slot game. Those features, combined with a max payout of up to 500x your stake, make it one of my favorite versions of the classic slot game.
Play Atlantean Treasures Mega Moolah
5. Juicy Joker Mega Moolah
Juicy Joker is the Mega Moolah version developed and tailored towards fans of respins. The game features a fantastic respin round, where players can collect respin symbols and get their reels "marked up" with jewels, which will then be replaced by a Wild symbol on the final respin round, multiplying their chances to win.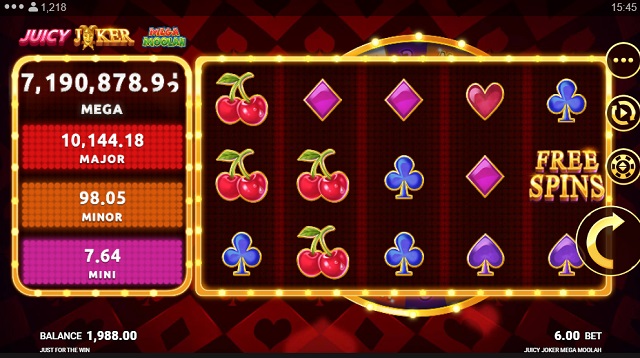 This is the best Mega Moolah game to play if you're a fan of classic-themed slots. Joker symbols and fruit symbols make up the majority of the slot board.
Can You Win the Jackpot of Mega Moolah with Bitcoin?
Yes, the Mega Moolah jackpot can be won with cryptocurrencies if you play the game at a Microgaming-licensed casino like CryptoLeo. This online slot can be played with multiple types of currencies from all over the world, even though it has been won with dollars, euros, and pounds more than with any other types of currencies.
The same concept applies to cryptocurrencies. You can play the game with Bitcoin or Ethereum if you like, and you'll be able to win the jackpot as long as you're playing in a legit online casino.
Why Play Mega Moolah Bitcoin Games?
Mega Moolah slots don't have the best RTP rates, as is customary in most progressive jackpot slots. However, there are some reasons why it would be a fantastic idea to play the legendary slot game, which are:
A Life-Changing Jackpot – The thrill of knowing that the next spin of the reels may change your life is unparalleled in the casino industry. That's why so many players opt to play progressive jackpot slots over high RTP fixed-jackpot games.
Decent ReturnRates – Mega Moolah is, overall, one of the best jackpot games that pays the most money whilst still offering return rates of 90%+. For a game that grants lucky players over €10,000,000, that's not too shabby!
Multiple Variants Available – Just like the WOWPot slots, Mega Moolah comes with variants aplenty. You can choose your favorite game to play based on RTP or theme, depending on what your priorities are.
Advantages of Playing Mega Moolah with Cryptocurrency
Mega Moolah can be played in many top-class casinos that don't accept cryptos, so why is it a good idea to play Mega Moolah at CrytpoLeo? In my opinion, there are three main reasons why playing Mega Moolah with Bitcoin is better than doing so with dollars or euros.
Bitcoin casinos offer much better bonuses than average casinos. Claim rewards worth more than 5 BTC in free cash to bolster your account balance and have more chances of winning the renowned jackpot by risking much less of your money.
A wider selection of games – and better loyalty rewards! If you get tired of playing Mega Moolah, you can always check out other casino games and climb your way to the top of CryptoLeo's loyalty program to collect amazing free money rewards.
Worldwide accessibility to the famous jackpot game. Crypto casinos are far more lenient with where players connect from than other online casinos. You can enjoy the game from almost wherever you are.
The RTP of All Bitcoin Mega Moolah Games
All Mega Moolah games have a different estimated return rate. The OG title, which many still prefer over its variants, is one of the versions of the game that contributes the least towards the fulfillment of the requirements. Take a look at The Casino Wizard's list of all Mega Moolah RTP rates:
Gold Factory Jackpots Mega Moolah: 93.42%
Mega Moolah Goddess: 93.30%
Fortunium Gold Mega Moolah: 92.67%
Atlantean Treasures Mega Moolah: 92.08%
Juicy Joker Mega Moolah: 92.03%
Absolootly Mad Mega Moolah: 92.02%
Thunderstruck II Mega Moolah: 92.01%
Mega Moolah (Original): 12%
Mega Moolah The Witchin' Moon: 88.12%
Pots O' Riches Mega Moolah: 88.01%
Mega Moolah Lucky Bells: 86.76%
If you take into consideration each wager's contribution towards the progressive jackpots, Mega Moolah has an RTP of 96.92% - the rates listed in this article do not take jackpot wins into consideration to better reflect average payouts.

Minimum Mega Moolah Crypto Jackpots
All Mega Moolah jackpots are seeded! There's a minimum amount of cash that can be won with each jackpot, and progressive betting just grows from there. The game's four jackpots are seeded as follows:
Mega Jackpot: €2 million
Major Jackpot: €10,000
Minor Jackpot: €100
Mini Jackpot: €10
Visit CryptoLeo to Play Mega Moolah with Bitcoin Now!
Mega Moolah is one of the world's most popular casino games and the highest-paying progressive jackpot slot in the history of the online casino industry. You can play all of its most popular versions and choose to play the ones with the highest return rates by paying a visit to the world-class CryptoLeo website.
Be sure to create your account and claim any available bonuses. The world's best jackpot slots are there for you to try your luck to play Mega Moolah with cryptocurrencies!