Large jackpots; massive wins; life-changing fortunes. The one thing that all of those sentences have in common, apart from representing large sums of money, is the fact that they all can be won at the Mega Moolah slot (and you can play Mega Moolah with Bitcoin at CryptoLeo).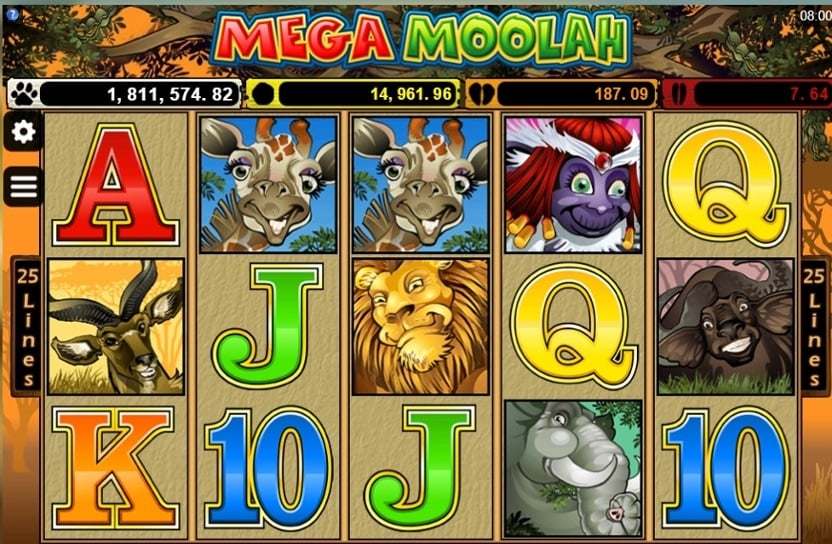 This online casino game is the most played online progressive jackpot on the planet, which naturally makes its prize one of the biggest jackpots that you can win. The more people that play it, the larger the amount of money that the jackpot amounts to.
That's why most of the Mega Moolah winners tend to walk away with more than €3,000,000! This online casino game is, however, not as lucrative for the average player as many people think. We have decided to compile a list of features about Mega Moolah and create a complete guide to one of the world's most-played casino games.
You can walk out as a millionaire, win a smaller jackpot, lose all of your money, or win a smaller amount of cash without getting a large jackpot win – will Lady Luck smile today? Find out all there is to know about Mega Moolah and discover it yourself - play it in the best online casinos in the world!
Be sure that your country's inhabitants are allowed to play at the best casinos - check out the 5 best countries for online gambling before you dive into this guide.
Mega Moolah Bonus Features – The World's Most Played Progressive Slot
This fantastic online progressive jackpot comes packed with the largest reward you can win on the internet, making it a game that all players tend to love playing at least once in their life as iGamers. However, the game isn't all about spinning and spinning until you trigger a jackpot win.
Mega Moolah has a few features that make it a fantastic title to try out and play, which could help you win some money even if you don't get the chance to claim any of the game's jackpots. There's a reason why so many people play it, after all, even when not many manage to win the jackpot. Don't kid yourself, though – this is a jackpot hunter's dream.
Wild Lion
The Lion is the wild symbol at the Mega Moolah slot, which makes it the most coveted animal in the jungle whenever you play this amazing game. The Wild symbol will allow you to get massive wins, as it doesn't only serve as a regular wild, but it also doubles any amount of money that you would win in a regular line.
For example, let's say that you'd get three regular symbols lined up, which would pay you a total of 30 coins. If one of those symbols were to be replaced by a lion, you would get 60 instead of 30. Not only does the symbol replace another one to create more winning opportunities, but it also grants you the chance to double any amount of cash that you would otherwise win!
Do keep in mind that, on most occasions, the lion wild symbol will simply allow you to boost your wins by a bit. It's not common to see this symbol multiplying your winnings too much. However, should you happen to have a bit of luck, you could multiply those wins and get rewards worth 15,000 coins, which would equal the base game jackpot.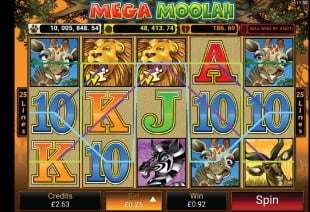 Mega Moolah Free Spins
The Mega Moolah in-game free spin feature can be triggered by collecting three scatter symbols across your reels in a single spin. The scatter symbol at this game is the monkey, which pays out more and more depending on how many of these monkeys you manage to get in a single spin. Landing five scatter symbols on a single spin would pay a massive 100 times the amount of your stake, making it one of the largest base-wins that you could get at the Mega Moolah slot. Whenever you land three or more scatters, you will trigger the bonus free spin game.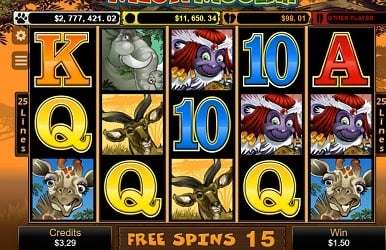 The magic about free spin rounds at the Mega Moolah slot is that the wins are often accompanied by a multiplier (it's a 3x multiplier, in most cases). You can use the bonus cash won with these multipliers to get some of the most lucrative rewards on the internet.
The maximum number of coins that you can win with said multiplier is 225,000, but you do need to be extremely lucky to even get close to that number. In any case, your rewards will be better whenever you get more scatter symbols in your spins. Most Microgaming slots tend to have these sorts of lucrative free spin features.
You will often come across bonuses that are this generous whenever you play Microgaming titles.
The Coveted Jackpot Bonus Game
It's no secret that the best feature of Mega Moolah is its fantastic jackpot game. Whenever you get to the jackpot bonus minigame, you will be closer than ever to obtaining one of the three jackpots that this game offers – including the fantastic multi-million jackpot that all gamers often chase.
Contrary to what many Mega Moolah noobs tend to think, there's nothing you can do to trigger the jackpot game. In fact, it can even be triggered on a regular round that you either win or lose. It doesn't really matter. No symbol combination activated the jackpot round, nor is it specially activated when getting jackpot rounds.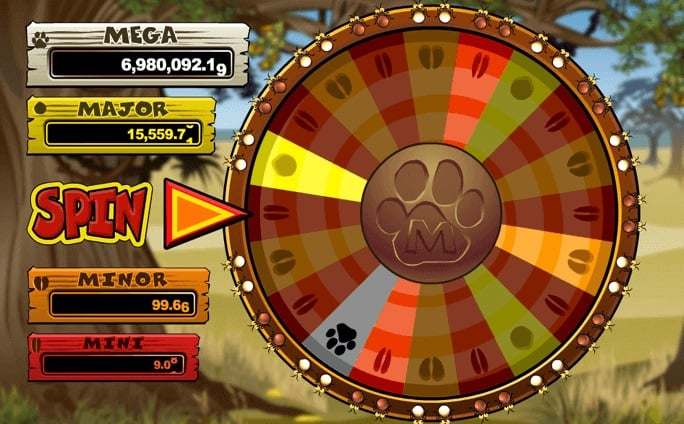 The only thing that impacts whether you get a bonus round or not is the amount of money that you bet on the game. You need to increase the worth of your coins to as much as you can if you wish to get the bonus jackpot round at the Mega Moolah. Please keep in mind that it is not easy to trigger this feature.
Players could go on for ages without triggering. You might need to play a few sessions before you're able to get the chance to play the bonus jackpot game.
Triggering the Bonus Wheel
The Mega Moolah Jackpot Bonus round simply means that you'll have access to the game's bonus wheel, which will enable you to win one of the many jackpots that the game has to offer. Spinning the wheel could make it land in one of its many sections, but keep in mind that most of the slots on the wheel will trigger one of the smaller bonuses of Mega Moolah.
Both of these bonuses are good, with the smaller one still being worth a ton of cash (usually €1,000, but it isn't a worldwide bonus but rather dependent on which casino you're playing). The biggest chance that you'll have is to win the Mini jackpot, which is just a small sum of money. The Bonus Wheel is very difficult to trigger and we cannot stress this enough.
Jackpot hunters tend to believe that they are the ones that will get it, but on most occasions, no one does. If you want to play this game with the sole purpose of triggering this wheel, suit yourself. However, we do recommend you rethink your goals. Whenever the bonus wheel appears on your screen, you will also be able to land the Mega Jackpot, which is a life-changing sum of money like no other.
This jackpot is represented by an amount of money collected from all online casinos that host Mega Moolah, and it's given to you directly by Microgaming.
Where to Play Mega Moolah for Free? – Mega Moolah Slot Sites Free Play
The Mega Moolah slot can be played in some of the world's best online casinos. Many sites in the world like to host this game because it attracts a ton of players toward their sites, and you will often find it in most of the online casinos that have access to Microgaming titles. Even though Mega Moolah is a game that has the potential to pay a ton of money to players, you can also play it for free.
The game comes with a free play feature that many online casinos keep on, which allows you to try Mega Moolah before you commit your own money to it. However, if you wish to trigger the jackpot round, you'll need to be playing the game with real money. That's the only caveat – you will be able to play the game for free, but you won't trigger any bonus rounds whatsoever.
Many online casinos also like to give players bonuses to play Mega Moolah. If you happen to hit the jackpot with these bonuses, you will get to keep it anyway!
Casino Wizard Tip
Top 3 Casinos to Play Mega Moolah – Play Mega Moolah with Bonuses
We have compiled a list of casinos that host Mega Moolah and that have fantastic bonuses that you can claim and use to play the game for free. Keep in mind that the only one of these casinos that don't come with a free play feature is the LeoVegas website, but you can still play the game with the bonus cash that you earn on the site.
In any case, all of these online casinos are rated in our top 15 picks for the best online casinos in the world. Playing Mega Moolah in any of these websites will ensure that you'll have access to legitimate bonuses that stand as some of the best on the internet, in websites that have proven to be reliable many times in the past.
LeoVegas Casino
Known as the king of mobile gaming, LeoVegas is an online casino packed with a sportsbook, live dealer games, and some of the best online slots on the internet. Naturally, that large selection of slots includes the popular Mega Moolah progressive jackpot slot and many other jackpot games. This site is a paradise for jackpot hunters from all over the world.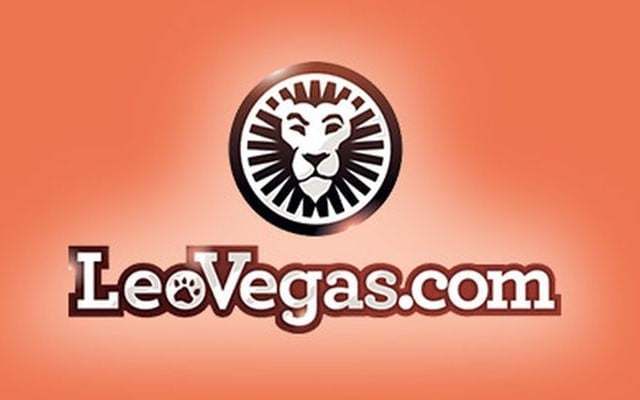 You can also claim the LeoVegas welcome bonus and use your free spins to generate cash that can then be spent in the best jackpot slot of all time.
If you want to play Mega Moolah on mobile, one of the best options that you have is to visit the LeoVegas casino, register, and claim your welcome free spins as well as the site's first deposit bonus. Rewards are aplenty at this site!
Wildz Casino
The feature-rich Wildz casino comes packed with bonuses and games galore, but it also provides players with the chance to play Mega Moolah for free. When it comes to casino bonuses, Wildz is one of those sites that doesn't disappoint. In terms of game variety and quality games available, it doesn't disappoint either.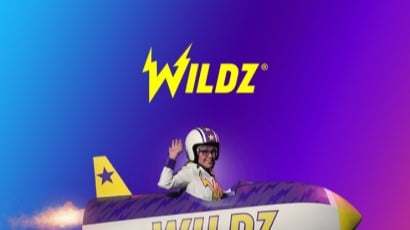 Check out the Wildz welcome bonus to claim free money and spend it on any game that this casino has to offer, to maximize the profits that you can make in one of the world's best sites.
Mega Moolah RTP & Volatility – Mega Moolah Technical Info
It's not fair to be too harsh on the Mega Moolah slot because of its below-average RTP. In fact, part of the reason why this game is able to pay so much money in rewards is exactly because of its RTP. No one really knows, with precision, what the RTP of Mega Moolah is. Some sources claim it to be 86%, but that's not true – it's just too low to be true.
The most accurate estimate of the Mega Moolah RTP that we've seen is 93%. That's a solid 3 points below the average RTP for most traditional online slots, but keep in mind that the game's RTP doesn't take the bonus round into consideration. Well, it does, but it doesn't increase the percentage too much because of how difficult it is to trigger the bonus wheel.
Naturally, as is the case with most progressive jackpot games, Mega Moolah has a medium-to-high level of volatility. It's difficult to tell how much money you will win or lose at the game because sessions of Mega Moolah can go from catastrophic losses to multi-million wins. Will luck be on your side when spinning the reels?
Mega Moolah FAQ – What You Need to Know Before Joining the Fun
Now that you know how Mega Moolah works, it's time for you to clear up any remaining doubts out of your mind. We have collected a list of four questions that we've often seen asked on the internet, which should help you remain doubt-free for the better part of your Mega Moolah experience.
Any other questions that may arise about this fantastic online slot will be cleared once you play it. Trust us, it's way more straightforward than you think. All you need to do is set your bankroll, decide how much money you want to spend at the game, and get down to business. Cross your fingers and pray for that Bonus Wheel to appear, though!
Can You Put Mega Moolah in Autoplay?
You can, but don't you dare miss out on the bonus jackpot round! The game comes packed with bonuses that are randomly triggered, and you wouldn't want to miss out on any rewards that the game has to offer just because you set it on autoplay. Be near your computer or device if you're going to do so – any interruptions could be catastrophic for your profits. In any case, the game does come with the option to put it on autoplay and you will be able to use the feature as much as you want.
Can You Win the Mega Moolah Bonus with Free Play Money?
Yes. You can either play Mega Moolah in free play mode, which will allow you to play the game without spending your own cash but rather using fake money provided by an online casino, or you could use a bonus in any online casino to spend that money instead of yours.
Regardless of what you choose to do, Mega Moolah can be played with free money. If you're going to use a bonus, be sure to do it in an online casino that offers great terms and conditions that aren't predatory or unfriendly to the players. LeoVegas, Jackpot City, and Wildz are great options to do this.
Can You Play Mega Moolah on Mobile?
Yes. This game can be played on all mobile devices as long as the online casino that you're visiting is compatible with mobile phones or tablets. The game itself, when it was developed by Microgaming, was created to allow touch features and mobile-friendly browsing to make it easy for mobile players to enjoy the game.
We still haven't; read about a case of a mobile player winning the jackpot, except that girl from Canada who won it on her iPad. You might become one of the exclusive few who has done it if you dare try your luck at Mega Moolah!
Is the Mega Moolah Jackpot Worth Chasing?
By all accounts, yes. However, what we do not recommend is to play this game exclusively for its jackpot. Remember that Mega Moolah is a game that triggers its jackpot round without any prior notice nor can you do anything to trigger it yourself other than spending more money on the game.
If you don't take care of your bankroll and you only play until this special round triggers, you can (and most likely WILL) lose a lot of your money. Be careful with how much cash you bet and play smartly. Play for fun and hope to win smaller prizes along the way. Don't be shy of calling your session quits if you're losing too much money.
Mega Moolah Software Provider – The Mind Behind the Masterpiece
The Mega Moolah slot was developed by Microgaming, one of the world's largest companies in regards to iGaming. They have been one of the main promoters of the iGaming industry ever since it began in the 90s, creating some of the most recognized games that online casinos have.
However, it wouldn't be too crazy to say that Mega Moolah has been the most influential Microgaming title ever created. The company, hosted in the Isle of Man, hit the jackpot when it released the game to the public, rising its stocks through the roof. Microgaming is a reliable developer of online casino games and one of those companies that you just know to produce quality titles regardless of the type of game that they create.
Mega Moolah Biggest Win – How Much Can You Win at the Game?
The biggest non-jackpot win of the Mega Moolah slot is extremely large, even though it doesn't come close to how much cash you can win with the actual jackpot of the game. Combining wilds with scatters could get you a total of 225,000 coins, which equal different sums of money depending on your preferred currency and how much you bet per coin.
The Minor and Mini jackpots are also quite good, but they are even smaller than the 225,000 reward that the game offers as a progressive reward. The main prize that you'll be chasing when playing Mega Moolah is, of course, the Mega Jackpot. Whenever someone wins this jackpot, it resets at €1,000,000.
It keeps building up from there, though, with the smallest win often being around €3,000,000. Some people have managed to win much more, though! The biggest Mega Moolah win registered as of 2020 is €18,915,872.81. Will you be the lucky one to break the record?
The Casino Wizard Verdict – The One to Try for Jackpot Hunters
Even though we do not recommend playing this game with the only intention of chasing a jackpot win, it's still the one to try if you're a fan of progressive jackpot slots. The game offers players the chance to claim great traditional rewards with its free spins and scatters, but makes it even better for players by providing the bonus wheel as a random factor that can be triggered with a ton of luck.
If you happen to be one of the lucky ones to reach a bonus round, you'll be set to receive a reward worth more than you can even imagine. If you ask us, we'd tell you that this game is completely worth your time and money, but we really cannot stress this enough: do NOT play Mega Moolah if you're only going to chase the jackpot round.
It can turn into one of the most frustrating experiences of your life. The bonus round is not easy to trigger and you could go on hours and hours without spinning that bonus wheel. Even when you do, you might only win a small amount of money. However, you could also be the next lucky player to claim the largest jackpot of them all. Try your luck and win big!
Last updated
April 28, 2023