Claim your €10 Free at One Casino & Play for Free
Finding an innovative game is always fun, but it's even better when the game is actually unique and offers players the chance to try out something that other online casinos haven't thought about yet. That's why we loved to find Bingo Jockey, one of the best creations of the One Casino and an exclusive product that truly differs from the rest.
Back when we came across this game, we were really eager to try it out and see what the fuzz is all about. The One Casino is, after all, pretty much revolving around the concept of Bingo Jockey. If you're here, then you've probably had the same doubts that we did back when we first played it.
We're going to tell you all you need to know about Bingo Jockey, as well as the reasons why we think this game is so fantastic and what makes it so unique and easy to enjoy. If you're keen to try it out, read our review first!
What is Bingo Jockey? - All You Need to Know About the Game
Bingo Jockey is one of the strangest hybrids in the industry. It's acombination of horse racing and bingo, something that doesn't seem possible at first, but it works fantastically well. The combination of both games also means that the types of bets that you often find on horse racing and bingo will also combine when playing Bingo Jockey, and that means bingo with live bets!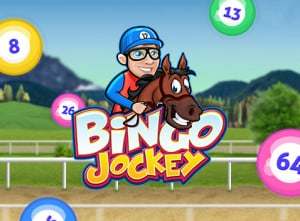 As you'll see, the concept is extremely friendly for all players to enjoy it and it aims to resemble the format of a traditional 2D videogame. The graphics of the game are quite good, as is the music, but the most important feature that we need to point out is that the gameplay of the Bingo Jockey is just out of this world.
With Live Bets being as much of a fundamental part of the game as the buying of bingo cards, the game brings something completely different to the online casino industry. The fact that the One Casino is the exclusive home to this fantastic game also means that you'll be getting some free cashto play it upon registering on the site, so stay with us to learn how!
How to Play Bingo Jockey
Every player gets an avatar, which you'll be able to fully customize, and each of these avatars will get a horse. The horses will start racing when the bingo round starts. Whichever horse is on first place represents the player who's winning at the bingo round. The more bingo cards you buy, the better your chances of winning will be!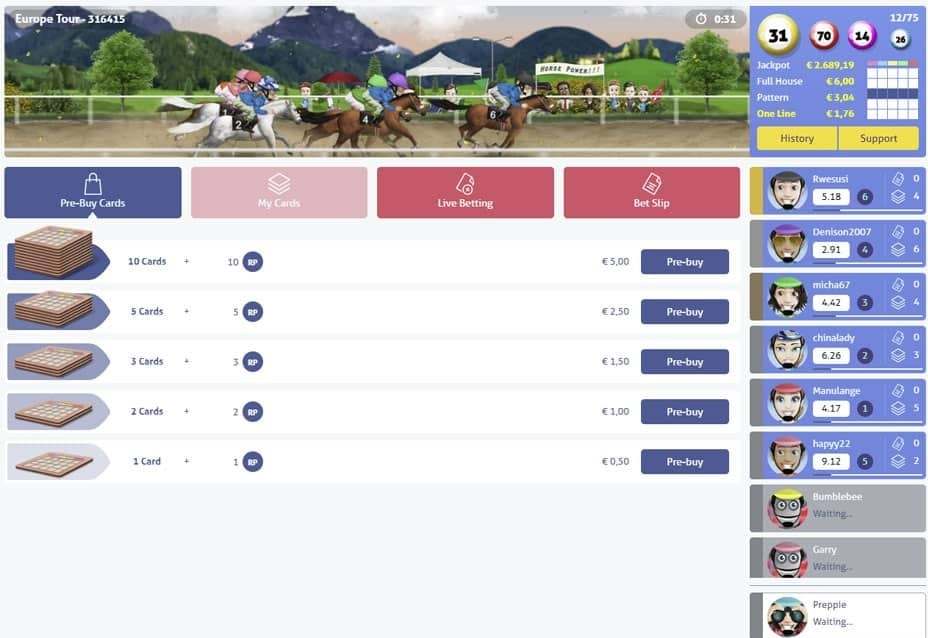 That's just the bingo part of the game, though, and there's another important feature that comes into play when sitting at a Bingo Jockey table. Live betting plays a fundamental role in the game, and it works like it would whenever you bet on a horse race. You can click on the bet slip to place bets on the winning players and, should they win, you will get even more money in return.
This is feature makes the game thrilling even when you're not being lucky getting numbers on your bingo cards. If you're falling behind, you can always place a bet on whoever's winning the race and hope for them to continue like that until the finish line. The concept is easy to grasp and extremely fun to put into practice!
Where to Play Bingo Jockey?
Bingo Jockey is a One Casino exclusive, which means that no other site in the world hosts a game similar to this one. You can expect to find this title at the One Casino and the One Casino only. The game has proven to be a massive success for the site, having driven a lot of traffic towards it in the last few years. We know you'll enjoy it, so give it a go.
Bingo Jockey Features
There are a handful of features at the Casino Jockey game that makes it one not to miss. We have enjoyed playing it for the last year, so we're going to make a full breakdown of all the features that come with Bingo Jockey so you can get a better idea of what you're getting into. Keep in mind that the game might look like too much at first, but we got the hang of it extremely quickly.
We know that you'll do it too. For the sake of not being as overwhelmed with the game, just be sure to take things slowly and read all of the menus before placing any bets. It's easy to understand anyway, but it's better to be safe than sorry!
Side Bets on Other Players
The main feature of the game is the ability for you to place bets on other players. As we explained before, you can place bets on any horse jockey in the race (including yourself) and you'll be getting better rewards depending on the outcome of each race. Basically, this feature aims to keep the game interesting regardless of how things are going for each individual racer.
Side bets form a fundamental part of the Bingo Jockey game and you'll find yourself very wary to place them at first. However, as you play more and more games, you'll find that they're a great way to maximize your profits when things go south for you.
Multiple Bingo Cards for Purchase
Even though you will only be able to have one avatar in the game, that doesn't mean that your avatar will have a single chance of winning. On the contrary – the fact that you can purchase multiple bingo cards makes the Bingo Jockey game a much more entertaining one than it otherwise would be.
You'll be able to see all of the cards presented on your screen so you can keep a clean track of how your bets are going, even though you can also check out your racer's progress and position on the uppermost part of the screen. The balance between horse racing and bingo is perfectly found in this fantastic game.
Bear in mind that, just like it happens in a regular game of bingo, your chances of winning the "race" will go up with each bingo card that you buy. You can win with a single card on your hand, of course, but that would mean that you'd be winning as an underdog.
Full Character Customization
All of the characters in the Bingo Jockey game can be fully customized. This feature makes each player stand out from the rest and it also shows which players are more successful than others, as winning races will enable you to get better clothing items thanks to the large number of racing points that you receive when you win.
Customizing your character only provides you with a different aesthetic look, but we believe that it's still one of the best features of the game. It's really fun to compare your character to how others look and see them stand out in a crowd of many other racers. In fact, character customization is the first step towards the social features that make this game such a unique one to play. Soon, we'll go into more detail on the latter.
Tour Jackpots & Super Jackpot
Depending on which race you rather visit, the Bingo Jockey game will allow you to gain access to different jackpots. Each type of race costs a different amount of money to participate in, whilst the most expensive races will also give you access to the site's most lucrative jackpots. Even though each race has its own jackpot, there's also a Super Jackpot, which is shared between all the tours.
Bear in mind that each tour is a "room" where you'll be able to play and compete against other players that fall in the same economic category as yourself.
Understandable Setups and Menus
The game might introduce you to a unique concept, but everything is so well laid out that the game is very easy to understand and get into. All of the features can be found in the basic menus of Bingo Jockey. Even though there are actually a ton of features that you need to get used to, none are overly complex and all are easily accessible.
Get used to the menus quickly and you'll understand the game in a heartbeat. That's all it takes!
Status & Trophies
This fantastic game also comes packed with a Trophies feature, which allows you to fulfill and complete achievements to unlock additional rewards in the game. In most cases, completing an achievement will unlock extra credits for you to spend them in new clothing items in the game. You cannot use your real money to buy clothing items (or, at least, that's not required at all). You only need to play the game and you will gain access to credits (known as Racing Points), which will allow you to buy better outfits!
Friend Menu
Arguably the reason to why so many people play this game today, the Friend Menu allows you to add friends and socialize with other Bingo Jockey players. This, in turn, creates a much more interactive environment within the One Casino, which also makes it easy for players to keep themselves hooked to the game and makes them come back to keep playing with their acquaintances.
The feature is basically a way for you to socialize with other casino players outside of any chat that might be located on the landing page of the website, which is something that has become quite a common practice among online casino hosts.
Free Play - €10 Bonus
To top things off, the One Casino also provides you with €10 to play the Bingo Jockey game completely for free. Given that the site is the only home on the planet to Bingo Jockey, they've made sure that their free play no deposit bingo bonus is credited to players who only wish to spend it on their unique casino game.
Claiming the bonus is also extremely easy, as all you really need is a registered account on the One Casino. Get that, and you'll be more than good to go. Just visit the Bingo Jockey section of the site and discover the world of rewards that await on the other side.
Play Bingo Jockey at One Casino today!
Bingo Jockey has proven its worth as one of the best variations of traditional casino games for many a year. Right now, we believe that it's the hottest feature of the One Casino, and we're sure that you'll enjoy playing it as much as we did. However, we want you to make sure that you don't miss out on any promotions (apart from the €10 to play the game for free), so be sure to visit the site and explore all of its features before playing Bingo Jockey.
For starters, we're sure you'll want to check out the One Casino welcome bonus, which will help you kickstart your adventure. It's one of the best free spins no deposit bonuses in the UK, and we're sure you're going to love it even if you don't live in Britain. The bonus is available to players from all parts of the planet, ensuring a high degree of quality for all to enjoy.
Regardless, the One Casino is home to some of the finest online casino games on the planet. Apart from the Bingo Jockey, you'll be able to enjoy a plethora of fantastic games that range from traditional online slots to the most advanced table games on the planet. You get to choose how you want to spend your money – options are aplenty!
There's no more time to waste. Head down to the One Casino and claim the best rewards on the internet now!
Last updated
August 9, 2023