Online Casino Tournament Guide – What, Where, How
Online casino tournaments could reward you with thousands of euros, free spins, and even real-life prizes like cars or paid holidays.
In this article, we'll be breaking down the world of casino tournaments to help you better understand how they work, how to know which ones are worth it, and how to pick the right tournament for you.
Ranked: The Best Online Casinos with Tournaments in 2023
What Are Online Casino Tournaments?
Online casino tournaments refer to competitive events in which users are pitted against one another, usually in point-based leaderboards, and where everyone competes for a piece of a prize pool.
Although every tournament has a winner who takes the major prize, it is common for tournament hosts to reward users in the top 10 at least. Some tournaments even reward users in the top 200, depending on how many players are participating in the event.
In most cases, you'll find two types of tournaments in the world's best online casinos:
Freeroll Tournaments: Freeroll tournaments are events where participants don't need to pay money to sign up. Generally, they need to meet some prerequisites, but the entry itself is free.
Buy-In Tournaments: Buy-in tournaments tend to be open to most players in an online casino, but they require the user to pay an entry fee to participate.
These tournaments can be further divided into multiple types depending on how they're set up. You will also find that, in online casinos, the host could be the casino itself, a software developer, or a partnership between a software developer and the casino operator.
Types of Online Casino Tournaments
Online casino tournaments have certain rulesets that make it so players can only participate while playing certain games. Some casinos are known for their slot tournaments, while others are better known to host events where users play against one another.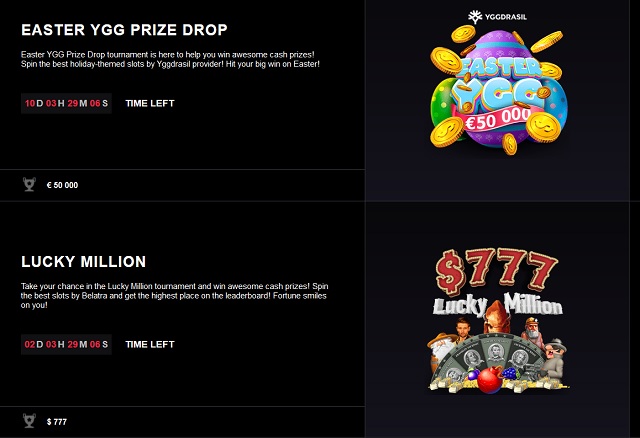 These are the most common types of casino tournaments based on available game type:
Slot Tournaments: Slots tournaments are casino events where players spend their money to play slots and collect points based on how much cash they win in the game. Rounds with multipliers and large payouts will translate into more points collected.
Table Game Tournaments: These leaderboard-based events will have you competing for points while playing any popular casino table game. Some of these events are only available in live casinos, while others allow players to participate in virtual table games. These include blackjack, roulette, baccarat, or dice games like Sic Bo.
Poker Tournaments: Poker tournaments could be hosted against other players in poker rooms in elimination events, similar to the WSOP, or similar to table game tournaments where users play games like Caribbean Stud or Casino Hold'em and collect points.
Software Provider Tournaments: Software provider tournaments, otherwise known as network promotions, are events hosted by a casino software provider. They are generally available in most online casinos partnered with the developer, meaning that thousands of players can participate at the same time and across dozens of casinos.
Other Types of Types of Casino Tournaments
Some casino tournaments could fall into any of the aforementioned categories, but they may require players to take additional steps before participating in them. They could also work like these other tournaments but share other similarities worth noting. For example:
Registration-bound Events: These types of tournaments require the user to sign up before the event occurs and only those who sign up in anticipation will be allowed to participate.
Loyalty or VIP Tournaments: These are online casino tournaments for players that are part of an online casino's loyalty system. They're generally reserved for users that have managed to reach a certain level;
New Player Tournaments: These events are generally reserved for new players. Only new accounts are bound to participate in them, making them ideal for low rollers.
Re-Buy-In or Reload Events: Events that require users to buy a certain number of chips to participate but are allowed to buy more chips after they run out of money or get disqualified from the event.
Elimination Tournaments: These are events where participants are progressively disqualified until one user remains, who will become the winner of the event.
Key Features of Online Casino Tournaments
There are some important aspects of these events that you should know before you sign up for an online casino tournament. These features are ever-present in almost every single type of tournament, except for raffle-like events.
Leaderboards
Leaderboard systems are where the leaders of the tournament are displayed. The position that a player occupies within a tournament leaderboard is bound by how many points they've collected across the competition. Leaderboards are updated until the tournament ends.
Leaderboards also display the prizes that each user's position qualifies them to earn. You can look at leaderboards to determine the expected sum of cash that you'll collect in one of these events.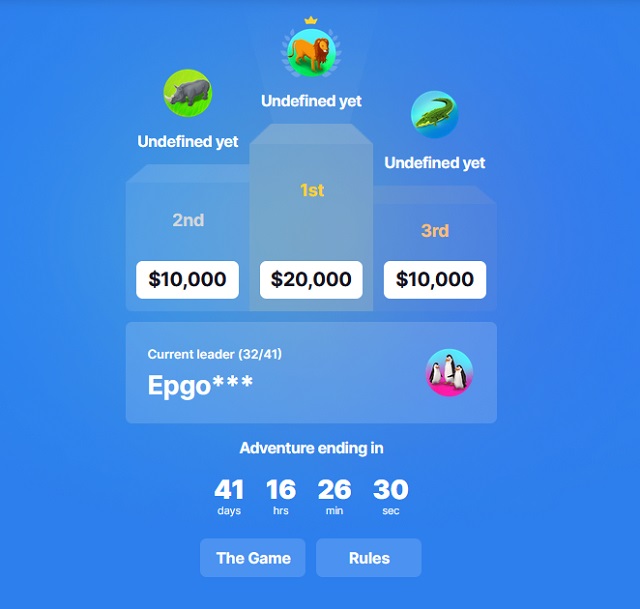 Point Collection Systems
Every tournament has its own point-collection rules. Some casinos may require players to make a minimum stake of a determined devalue in a certain casino game to collect points, while others will give them points just by playing their game of choice.
Some point collection systems in tournaments where many games are allowed to be played will make it so users collect more points when playing low RTP games, to balance out against those who play high RTP games and thus have a higher chance to make a profit and stay active for longer.
Tournament Timeframes
Every tournament is available for a certain amount of time. You will only be able to collect points within the timeframe of the tournament, but these vary depending on the event. In most cases, tournaments with larger timeframes have better prizes, whilst short tournaments will reward users with smaller sums of cash.
Must-Know Online Casino Tournament Rules
Online casinos are subject to rules that you need to comply with if you are to properly compete against other participants and have a shot at winning the entire event.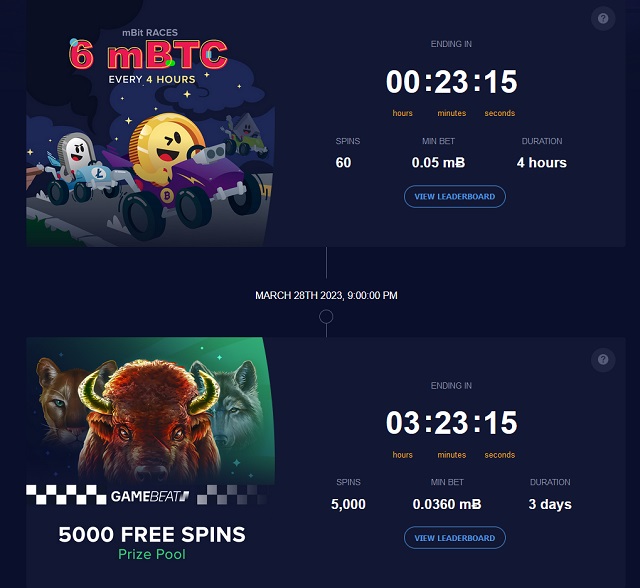 Casino tournaments tend to have stricter participation rules than network events, but it's still good to have a general grasp of the following conditions before you opt-in on an event:
Chips and Funds: Some casino tournaments (especially poker events) need you to buy a determined number of chips to sign up, which you'll have to use to play within the event. Other tournaments allow you to play with your own balance. The latter are more favorable for high rollers.
Maximum Stakes: Some casino events need you to place a maximum wager on certain games in order to participate. Some tournaments even set limits to the minimum allowed betting sums per stake in a casino game. Always read the rules to make sure that you're compliant with these limits.
Potential Prizes: The prizes of a tournament are generally based on your position by the time the event ends. Always make sure that you meet all of the necessary conditions of a tournament to qualify for the prizes, otherwise, it could be withheld from you even if your leaderboard position would allow you to qualify for it.
How to Sign Up for a Casino Tournament
Signing up for a casino tournament is quite a straightforward process. There are only three key steps that you need to follow to participate in one of these events.
Be sure that your casino account is verified before you participate in a competition
Read the rules of the event and check that you comply with the qualification conditions
Pay the sign-up fee or choose the option to opt-in for the event
Some casino events, especially network tournaments, don't even need you to opt-in to participate. The Drops & Wins event by Pragmatic Play, for example, simply needs you to play a specific type of game and you'll be participating to receive a share of the network prize.
How to Win an Online Casino Tournament
In our experience, winning in a casino tournament takes far more than luck. You can increase your chances of winning at any type of tournament if you follow a few simple pieces of advice, no matter whether you're looking to participate in a high-roller or low-roller event.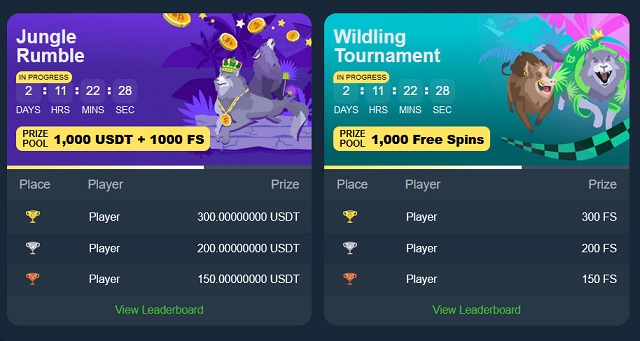 These are some pro tips on how to win with much more ease at online casino tournaments where you compete against other players:
Take advantage of games with the highest RTP in the tournament.
If you're participating in an event with a short timeframe, high-volatility games will be your best bet to win.
Pick an event that looks promising. Take into consideration how many users are playing and, if possible, study other casino events to see at which time tournaments are won with the lesser number of points. Sign up at those times to increase your chances of winning!
Some online casino tournaments, like certain network promotions ghosted by developers, are won at random. Promotions where no leaderboards are involved simply require you to play the best casino games of a certain kind to qualify for rewards.
Low Roller Tournaments vs High Roller Tournaments
Casino tournaments, no matter the setup, can be labeled as low-roller or high-roller events. Low-roller events are accessible to anyone as they require low sums of cash to participate, whilst high-roller events are better off avoided by those who lack a significant budget since they encourage users to spend more to win more.
This is how both types of tournaments compare, based on their main features:
| | |
| --- | --- |
| Low Roller | High Roller |
| Low entry fee | Large entry fee |
| Low-value free spins or small sums of cash given as rewards | Massive prizes worth a lot of money |
| Prizes generally come with a wagering requirement | Rewards tend to be wager-free and instantly withdrawable |
| The money that can be spent is generally limited | Generally, no budget or chip limits |
Luck Vs Skill-Based Tournaments
We can dive even deeper into the world of casino tournaments to categorize them based on the types of games that can be played in each event. The biggest distinction between tournament types comes on whether games are influenced by player skill or simply require luck to win and reach the highest available positions.
This also means that some tournaments are affected by house edge while others aren't. As a general rule of thumb, tournaments with no house edge are much more skill-based than others.
What are "Luck" Tournaments?
We call "luck" tournaments to all events that need you to be lucky to win and take more than skill. These events include most slot, roulette, baccarat, andarcade gametournaments, where skill plays a role but just a small extent.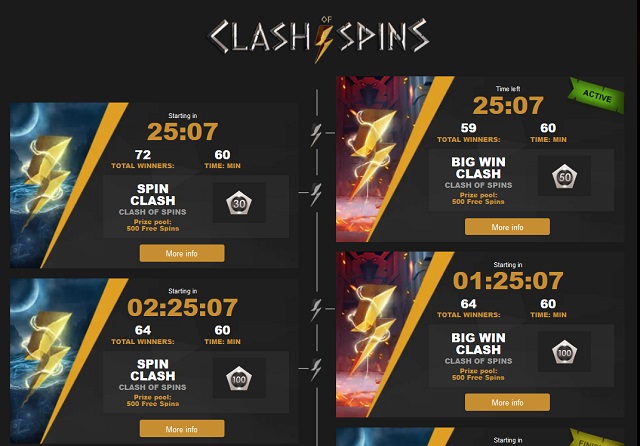 Games where luck plays a larger role than skill are generally better for casino newcomers, as quite literally anyone canwin. Players with a large budget will undoubtedly have an edge, but luck-dependent tournaments with budget limits make it so prizes are always there for the taking.
Skill-Based Tournaments
Skill-based tournaments refer to events in which the available games are skill-based. Poker tournaments are the clearest examples of skill-based tournaments, as players don't compete against the house but rather against other players.
However, some online casino tournaments where players compete against the house, and where luck is also involved, could still be considered skill-based events as your ability in a game plays a large role in your eventual position in the leaderboards.
These include blackjack tournaments and events where you play poker against the house (games like Casino Hold'em or Caribbean Poker events).
How to Choose the Right Online Casino Tournament For You
The vast majority of casino tournaments are worth it, provided that they are hosted by reliable online casinos. However, some events may be better suited to your particular needs than others. You should know how to pick the right event based on your needs to make sure that you'll make the best of your time playing on it.
Matt, Klaas, and Marco from our Casino Wizard team have compiled some key factors to take into consideration when choosing a casino tournament in which to participate:
Look at the potential prizes. Some casinos offer massive prizes for tournament wins, but you should also consider how much money is given to players that achieve a top-10 finish in each event.
Make sure that the tournament is offered by a legit casino. Legit casinos will never refuse to acknowledge a tournament win and prizes are always paid out as long as you follow the rules. Some rogue casinos like to offer seemingly good tournaments, but they never pay event winners!
Consider the available games and whether they take skill or not. Always see which games can be played in a casino before choosing one to participate in. Consider whether the games require luck or skill, and plan your approach accordingly.
Always look at country eligibility before signing up for a tournament. Some casino events are only available to players of certain jurisdictions. This is the case both for casino and network events.
See how many people are participating in each event. If the final prize isn't influenced by the number of participants, you'll be better off playing in events with a reduced number of users.
Useful Tips for Online Casino Tournaments
Few aspects of a casino experience are more satisfying than winning a tournament, or at least getting a good final placement in the casino leaderboards. Although it is impossible to guarantee a good finish in a tournament, you can follow a few simple tips that will help you increase your chances of winning.
Based on our experience in slot and poker tournaments, these are some tips that are likely to come in handy if you've never taken part in these events:
Only sign up if you have enough time to play. Some casino tournaments last for a few hours, so be sure to sign up only if you have the time to play for the duration of the entire event. You could otherwise miss out on some rewards.
Take your bankroll into consideration before opting in. Casino bankroll management online plays a crucial role in giving you the best odds to win in online casino tournaments. Wagering in accordance with how much you can afford will allow you to wager for the duration of the entire tournament – especially if you're allowed to play with your own cash and not using chips.
In slot tournaments, go for max bets whenever you can. Placing the highest possible bet will give you the best chance of collecting as many points as possible, hence it presents the easiest path toward the top of the leaderboards.
Look at the rewards before you sign up – not all casino events are worth it. Some casinos offer rewards that are either not worth it or come with a large wagering requirement, which ultimately makes each bonus unworthy of your time. It's better to participate in tournaments with wager-free rewards.
Take full advantage of raffle-like events, where you can opt-in multiple times. These types of events are ideal for high rollers as casinos let them partake multiple times in a single raffle, essentially multiplying their chances to win.
The Most Popular Online Casino Tournaments in the World
In today's gambling world, most online casinos opt to host some sort of tournament or event in which users can be pitted against one another.
However, tournament popularity grows beyond the reach of casino operators. Modern software developers opt to host competitions where users from all over the world, and from many different casinos, can participate for a cut of a large prize pool.
Some casinos also host frequent events where users can participate multiple times a day!
Let's take a look at the most popular online casino tournaments that you'll find in The Casino Wizard's highest-rated online gambling sites.
Online Casino Tournaments in Top Online Casinos
These are our top-rated casino tournaments in which you can participate by simply signing up on each of these online casinos. The one that say "Daily" is hosted more than once per day, giving you multiple opportunities to win.
| | | |
| --- | --- | --- |
| Casino (Host) | Tournament or Event | Prize Pool |
| | Grand Tournaments | €100,000 |
| | Level-Up Adventure | €50,000 |
| | VIP Slot Battles | €10,000 |
| | mBit Races (Daily) | 5,000+ Free Spins or 2+ mBTC |
| | Jungle Rumble (Weekly) | 1,000 USDT + 1,000 Free Spins |
Developer Tournaments & Network Events
These are some of the most popular casino events hosted by software providers, also known as network events. These are varied and they aren't always active, as they generally last for just a short span of time.
The biggest network event in the casino world is the Pragmatic Play Drops & Wins tournament. It has been active for a long time and rewards millions of euros per year to players from all over the world – and all rewards are wager-free!
| | | |
| --- | --- | --- |
| Developer (Host) | Tournament or Event | Prize Pool |
| Pragmatic Play | Drops & Wins | €500,000 per month |
| Push Gaming | Network Events | €5,000+ |
| Quickspin | Festivals | €50,000+ |
Ready, Set, Go!
The world of online casino tournaments is vast, rewards are aplenty, and events are not coming to an end any time soon. The world's best online casinos are on a constant quest to host the best tournaments, which gives you a lot of options to choose from.
You're now ready to participate in any event of your liking, whether you're looking to play skill-based events or participate in slot tournaments. Visit any of the casinos that we've listed in this article and try to beat other players with sheer determination (and some luck, too!).
Go on and play in the world's best online casino tournaments to get a share of eye-watering prize pools. BitStarz tournaments are always ready for you to take on the challenge!
Last updated
October 2, 2023