Live slots are extremely fun to play, but what are they and how did they come to be? We're here to answer all of the questions that you may have regarding live slots, as well as why we think you might want to play these games instead of traditional online casino slots. We'll be focusing on the Slottica Casino live slots, of course, which are created by Novomatic.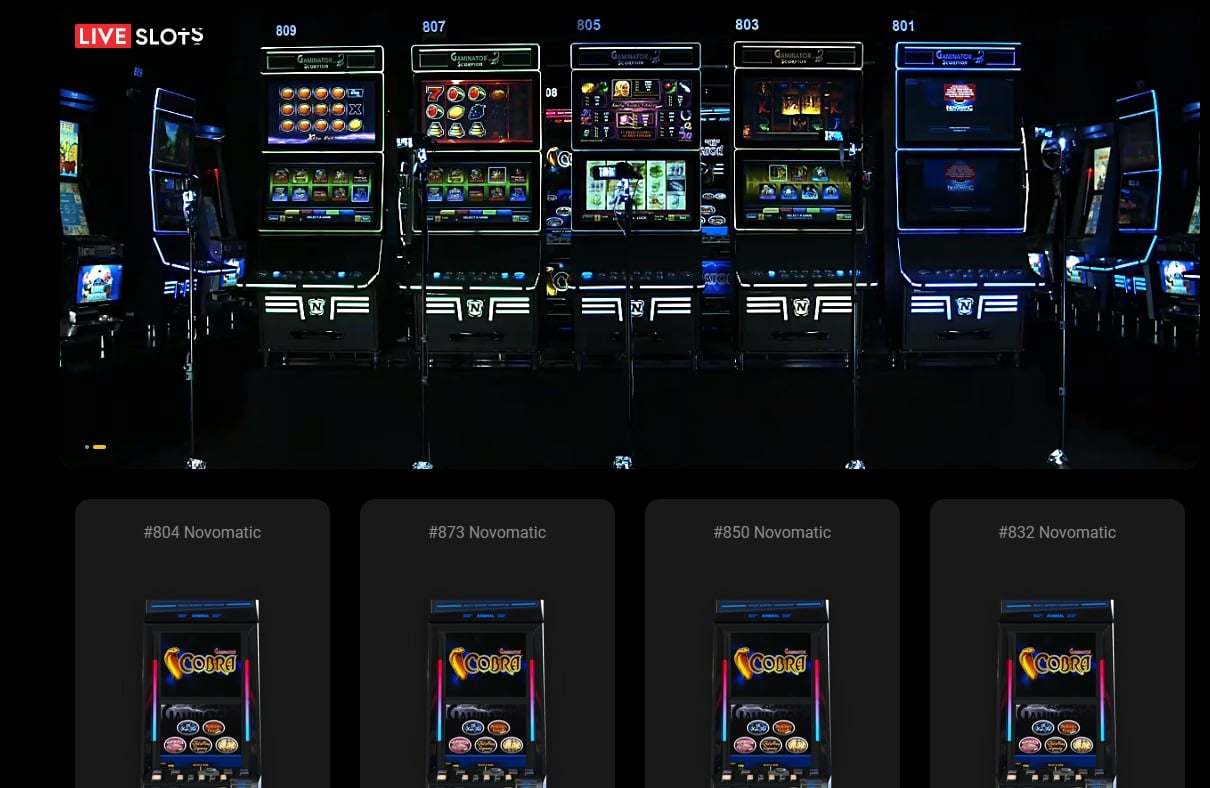 The prominence of Live Slots started in early 2020, but it's safe to say that they have been a huge success. Players from all over the world seem to love it, and we sure do as well. This fantastic type of game has revolutionized the online casino industry as we know it, providing online casinos a whole new meaning for the word. There's still a lot to be done before live slots become the norm, but it sure is refreshing to see these games coming to prominence in the world's best online casinos. One thing's for sure – we expect to see many more of them popping up in the next few years.
What are Live Slots?
Live slots are the equivalent of live table games, but using slots as the main game that you'll play. Basically, you'll be taken to a real environment with various slot machines, but instead of them being basic video slots, you will be able to actually sit in some of those machines and play the game exclusively without anyone else being able to sit alongside you. Whenever you click a button on your screen, the button will actually be pressed in the real slot machine. These machines are located in a brick-and-mortar casino, and what you're seeing is basically a live stream of what's actually on the casino site itself. You will have the chance to place your bets as you would in any normal online slot, but the difference is that things are happening in a real slot machine located many miles from your current location. All in all, Slottica Casino live slots play much like a real video slot machine. The main appeal of these games is that you will actually feel like you're playing in a real establishment. It's a cool twist to an otherwise traditional way of visiting the world of iGaming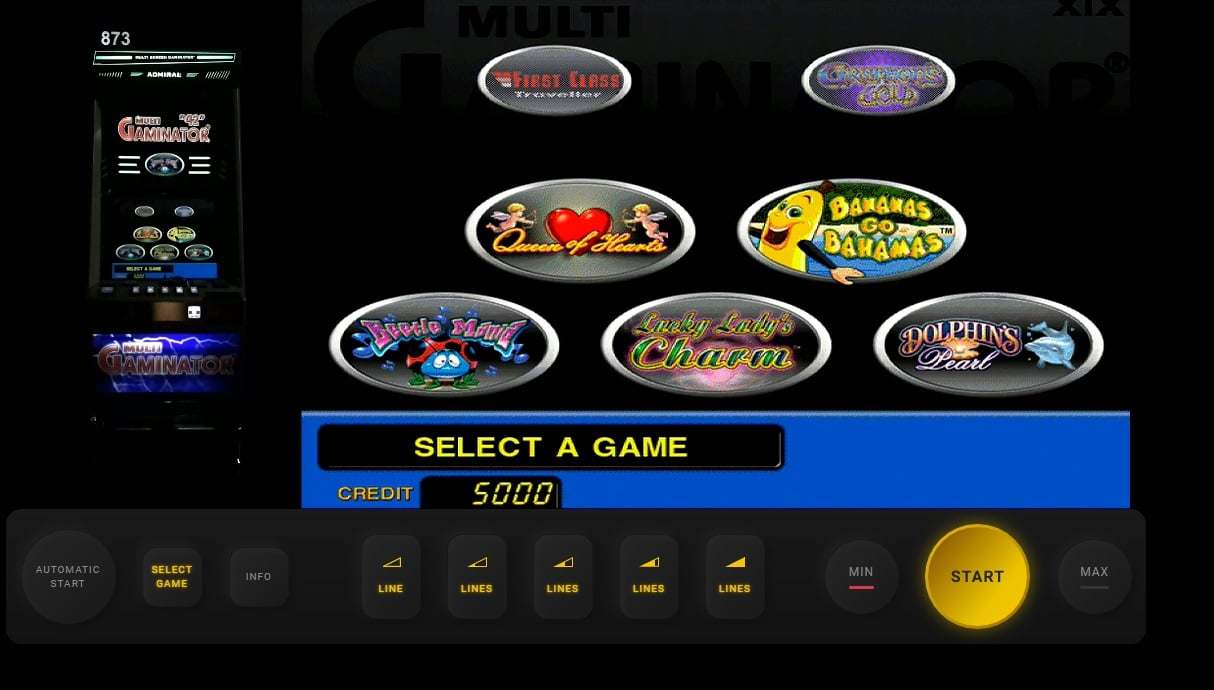 An Overview of Novomatic
Novomatic is one of the world's most prominent developers on online slots. The company has managed to create some of the best slot games on the planet, and they're also one of the first providers of live slots that the industry has had. The idea of live slots was originally created by the Hard Rock Casino, with machines located in a real site in Atlantic City. However, Novomatic was quick to jump into the creation of these games as well, a couple of months after they were released by the Hard Rock Casino in February 2020. Novomatic has been an innovator of online gambling ever since its introduction in the 90s. The company has been around for many a year, having started its operations a long time before the online industry came to prominence, in the late 80s. Most of the online slots developed by the company offer payouts that range from €2,500 to €100,000 and their live slots are no exception to this rule!
Live Slots VS Video Slots – What to Play and How to Choose?
The answer to this question really depends on what you want to achieve with the game. We know that some people find it extremely detrimental to play online slots because it makes them feel a bit isolated. In fact, that's the reason why some people refrain from visiting online casinos altogether. The social factor plays a crucial role in the gaming experience. Live slots bring that factor of sociability to the table, which is something that no online slot could achieve on its own. There are also some disadvantages to live slots, as it's just not possible to find a type of game that we could rate as perfect. Even though there aren't any Slottica Casino Live Slot bonuses, we do think that the ups far outweigh the downs, though, so we can freely recommend our readers to give these types of slots a try.
Live Slot Pros
They bring the social factor back to the table; something that seems amiss in most online casinos if you visit them to play slots
Live Slots feel new and give you something different to play in your favorite online casinos
You can actually see what's happening in a real casino in real-time, which shakes things up in relation to the industry's standard
Most slots that you find in the live slot sections are completely unique
You get to try a completely new and interactive experience when playing live slots
Live Slot Cons
You need a very good internet connection for them to work as intended. Live Slots basically work like any other streaming service
Playing them on mobile is technically possible, but they will probably cost you a ton of mobile data if you aren't connected to a WIFI network
There isn't enough game variety – especially when compared to the iGaming industry's massive selection of online slots
The concept is very innovative, but many players might not like the extra time it takes to spin the slots. Live slots aren't as instant as their video slot online counterparts
How to Play Live Slots with Free Money – Even Though there Aren't Any Live Slots Bonuses!
One thing that you might find a bit disappointing at the Slottica Casino Live Slot section is that there aren't any bonuses that you can use to play them for free. Many players absolutely love the fact that online slots are basically the source of all bonuses, but Slottica Casino bonuses are not meant to be directly played using bonus cash. There is a workaround around this small flaw, though, and we're here to tell you all about it. If you follow these simple steps, you will be able to play Live Slots at Slottica without losing your own money. You will need to make a deposit or two, though, but bear with us – the money will be in safe hands. There are two methods that you can follow, depending on whether you already have an account at Slottica or not. Let us guide you through If you already have a Slottica Casino account, follow these steps:
Go to the "Promotions" section of the casino
See if there are any new bonuses available – especially if there's a new deposit bonus on the site
See which of the bonuses has the most lenient wagering requirements. If you only want to play live slots with free money, take the bonus that gives you the least amount of money possible
Wager through the requirements
Unlock the cash and wait for the site to allow you to withdraw it to your account
Withdraw the money that you've deposited but keep the bonus cash on your account
Visit the Live Slot section of the casino
Play Live Slots with the now-unlocked bonus cash!
If you don't have a Slottica account yet, we have an even better deal for you:
Claim the Slottica welcome bonus – you can get hundreds of euros in rewards without spending as much as a dime
Play with the bonus cash and spend the free spins
Wager to unlock the bonus cash – both the money you get with the spins as well as the money you get with the bonus itself
Play Live Slots with the money, just like you would do in the aforementioned method
Alternatively, you can check out the "Promotions" section of the Slottica Casino and look for any bonuses that can be spent at the Live Slot section of the website
The Future of Online Casinos – Live Casinos Taken to the Next Level
Live Slots might just be in their infancy, but they're already paving the way for the future of online casino gaming. It's safe to say that many online casinos, in the coming years, will be home to plenty of the best live slot games that you can play on the planet. We're not only referring to games that already exist, either. We're certain that many more games will show up in no time. The fact that only a handful of games are available, as of 2020, only goes to show that the project is still in its early stages. We fully expect this one to keep growing and make it one of the biggest innovations of the iGaming industry. It may not reach the same level of influence as live casino games, but it does take us one step further to seeing FULLY LIVE online casinos. A practice that was very difficult to imagine a mere 10 years ago seems to be becoming more and more popular as time goes by. The fact that we can now play directly on a feed of a live stream is just something too good to even be fathomed just a decade or two ago. Online casinos are moving towards live gaming. Don't fall behind and get used to it by playing at the Slottica Live Slot section, provided by the world-class developer known as Novomatic.
Live Chat Feature – A Social Hub for the Slots Enthusiast
There's one special feature that isn't available in the Slottica Casino yet, but we're sure that we'll see it in the Slottica Live Slot section in a heartbeat. This feature is the Live Chat, which is available in the other handful of online casinos that host live slot games. The Live Chat basically allows you to interact with other people playing slots at the same time as you, which brings that social element and makes it shine much more than it would when playing regular online slots. Expect the live chat feature to come soon, though. Here, at The Casino Wizard, we believe that the live chat feature is going to play a fundamental role in accelerating the popularization of live slot gambling. A fully live online casino that meets world-class standards seems to be a couple of years away!
Visit Slottica and Claim the Best Bonuses to Play Live Slots for Free!
Live slots are extremely fun to play, and not it's time for you to visit the Slottica Casino so you can experience the whole ordeal by yourself. Remember to claim the welcome bonus that the site is offering to kickstart your adventure and increase your chances of earning more cash without having to spend as much as a dime yourself. The Slottica Casino does make it impossible for you to spend your free cash on live slots, but should you happen to obtain some cash out of any other bonus on the site, then you will be able to get some free cash to spend on those live slots in any way that you want. Just remember that the Slottica Casino comes packed with amazing games and activities – live slots are an added bonus that will bolster your account balance in more ways than you can imagine.
Last updated
May 24, 2022