These Playtech Gaming Slots Guarantee Up to 99.3% RTP!
Playtech is widely known as one of the world's finest providers of high-paying online slot games. As you'll see on our list of Playtech slots based on RTP, the company provides slots of multiple themes with high in-game payouts and dynamic bonus features like scatters, multipliers, in-game minigames, and more. These are the best Playtech slots and where to play them:
| | | |
| --- | --- | --- |
| Slot Name | Variance/Volatility | RTP |
| Golden Tour | Medium | 97.70% |
| Alien Hunter | Low | 97.69% |
| Jungle Boogie | Medium | 97.40% |
| Neptune's Kingdom | Medium/High | 97.19% |
| A Night Out | Low | 97.06% |
| Halloween Fortune | Medium | 97.06% |
| Gaelic Luck | Medium/Low | 97.06% |
| Highway Kings | Low | 97.06% |
| Football Rules | Low | 97.06% |
| Desert Treasure | Medium | 97.05% |
You can play all of these games in the best Playtech casinos that the internet has to offer:
1. Golden Tour – 97.70% RTP
Golden Tour is the most profitable non-skill-based slot game created by Playtech. You can trigger up to 5 scatters at the same time, all while providing you with the chance to earn a total prize of up to 5,000x the amount of your stake.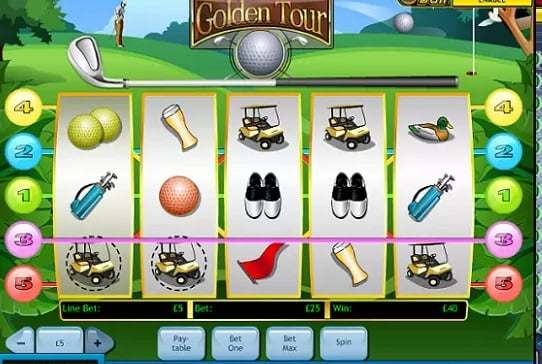 You'll be mostly relying on the 5-scatter trigger of a 10x reward, which is the single most profitable bonus in the game. The gold-themed slot features standard slot gameplay with no bonus minigame and just wilds, scatters and multipliers, but it offers the highest payout rate of all games found in this list.
2. Alien Hunter – 97.69% RTP
Alien Hunter can net you some staggering wins with its fantastic 5 reels and 25 paylines. It's a great game for high rollers and those who love a good science fiction game, as you'll be sent on a quest to capture those pesky aliens and reap the rewards of your success.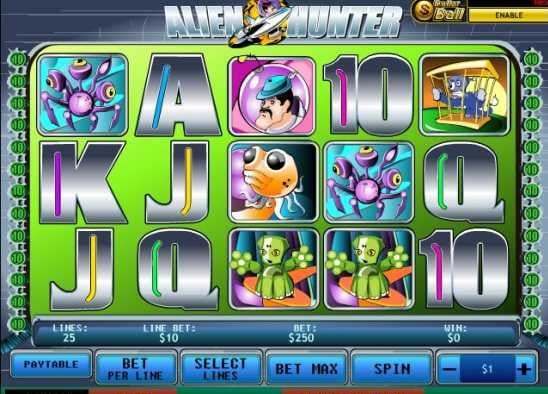 The best aspect of this game is the bonus round that can be unlocked with the egg symbol. You will be taken to a different part of the screen where you'll have to open one of many eggs that will appear on your device. Choose wisely and correctly, as a good choice will net you some incredible prizes. There's another small minigame where you need to hunt a green alien, which follows a similar theme!
3. Jungle Boogie – 97.40% RTP
Jungle Boogie will have you chasing that sweet 4,000x jackpot, which may only be achieved by combining three tiger symbols in a row. The game has no in-game bonuses or mechanics - it features a single payline with standard payouts.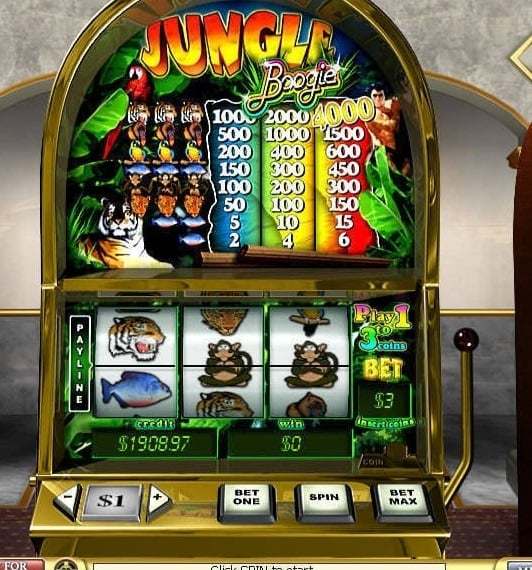 The game is colorful and has some very catchy tunes that will accompany you during your ups and downs, though. It would be fair to argue that the whole upbeat setting of this jungle-themed slot adds to the overall experience and makes it even more worthwhile to some of its enjoyers.
4. Neptune's Kingdom – 97.19% RTP
This simple but very high-paying online slot will have you taking a trip to the depths of the sea to try and obtain Neptune's treasure. It's very simple to understand, as all you need to do is line up three symbols and get rewarded, much like it happened in the golden days of the slot industry.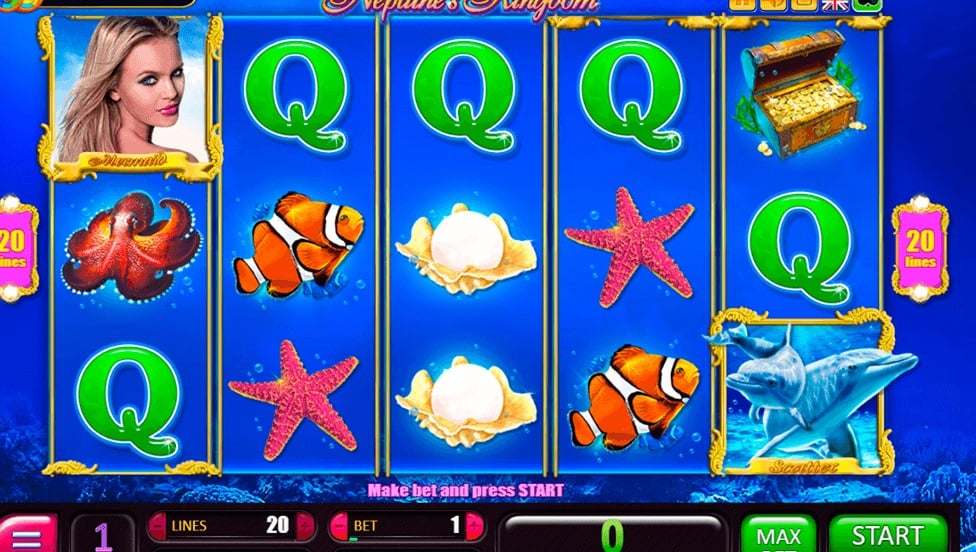 There are no major minigames to be played here. As you will notice as this list goes on, these sorts of slots are the flagship type of game that you'll be enjoying with Playtech. High payouts, no bull. That seems to be the approach of Playtech and we absolutely love it.
5. A Night Out – 97.06% RTP
This low volatility slot makes us want to keep coming back with its fun concept, colorful and fluid gameplay, and progressive jackpot chances. Any game with a large fixed jackpot and an RTP of 97% or above is always a must-try, so you may already have a glimpse of an idea as to why we love this title.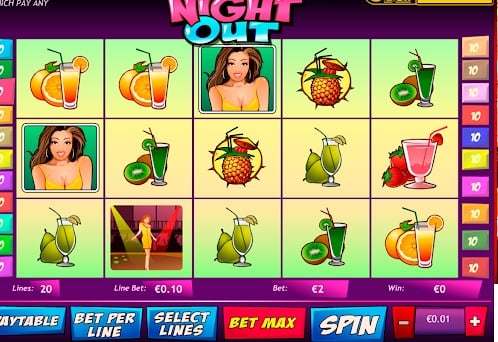 The wild symbols are rather flexible (easy to connect and they're rather common – much more than in other online slots). On top of that, this fantastic slot pays out a massive 10,000x times the amount of cash in rewards if you manage to land 5 wilds in the same spin and get the best symbol combinations with the game's multipliers.
6. Halloween Fortune - 97.06% RTP
Halloween Fortune is very similar to Playtech's "A Night Out". It's a reskin of the classic game with a crucial change: the bonus round comes with up to 20 free spins instead of 10, making it more profitable, even if the game comes with a low max win of just €10,000 (the game's fixed jackpot).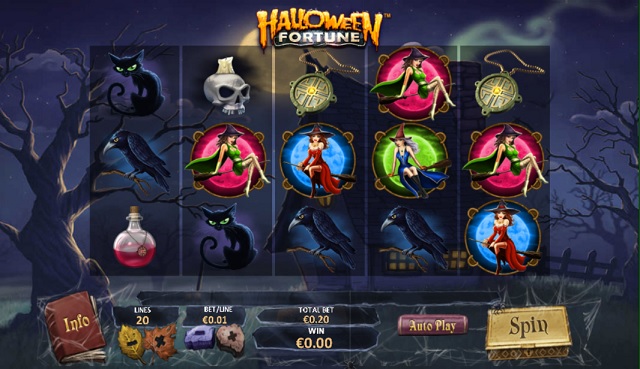 The game's max bet is also quite low: you can wager up to €2 per spin. Free spin rounds are bound to offer a multiplier of up to 10x in each spin!
7. Gaelic Luck - 97.06% RTP
Gaelick Luck follows the same trend of Halloween Fortune with a focus on the Luck of the Irish instead. This game offers a max payout of up to 10,000x times the amount of your stake, making it one of the highest-paying high-RTP slots in the world. The game's high payout rounds are not as easy to achieve as in other slots: you'll need to activate free spin rounds with max multipliers to achieve them.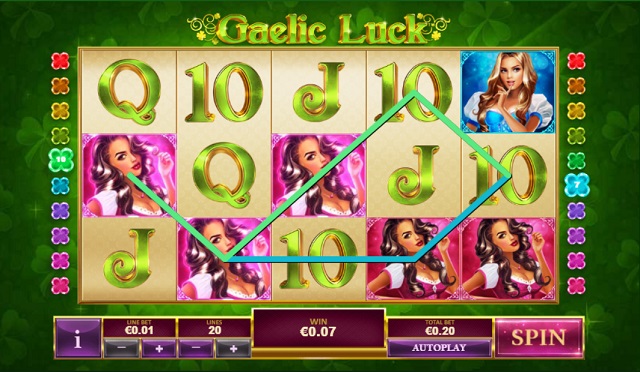 Line up those Lucky Lasses and trigger free spin rounds with bonus multipliers -a trademark Playtech slot feature- to earn as many rewards as possible.
8. Highway Kings - 97.06% RTP
Highway Kings is a high-paying slot with a small betting range. You can play the game with bets of €0.02 per spin or go all the way up to €9, which is still quite low for a game that promises a jackpot of up to 2,222x times your bet (a max payout of €19,998 if you're lucky).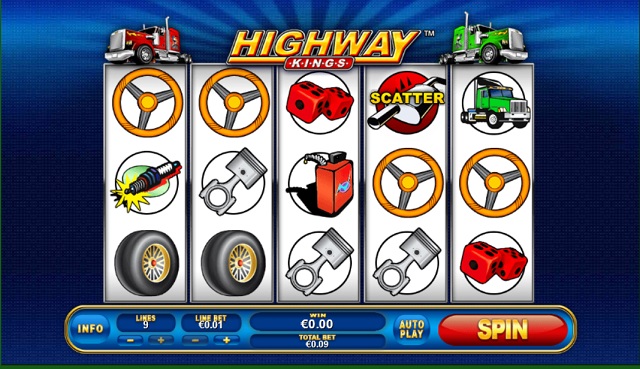 The game offers wilds and scatter symbols to help players achieve large wins, but this high-volatility slot may not let you win too often. Winning rounds pay out a lot of cash on average, though, so you can look forward to recouping most (if not all) of your losses when they do come around.
9. Football Rules - 97.06% RTP
Football Rules is a standard-gameplay slot that wouldn't make this list if it wasn't for its high RTP rate. Gameplay revolves around collecting scatter symbols and watching the game provide you with large wins via its multipliers, but there aren't any minigames or special features to look forward to.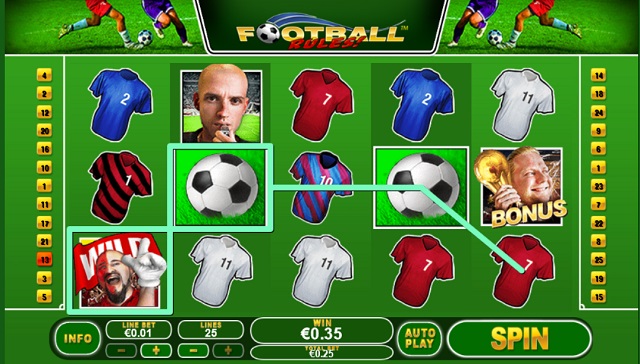 If you're a football fan and you love classic video slots, this game will likely tick your boxes. Artwork aims to resemble the jerseys of popular teams like Real Madrid and Barcelona, and the game is much more immersive than what it may look like at first.
10. Desert Treasure - 97.05% RTP
Desert Treasure may be last on this list, but it's one of Playtech's most-played games of all time. The game offers free spin rounds of up to 10 free spins each, but these rounds are better than in other Playtech slots thanks to the fact that they can be re-triggered: chain multiple free spin rounds with one another and achieve the highest possible payouts!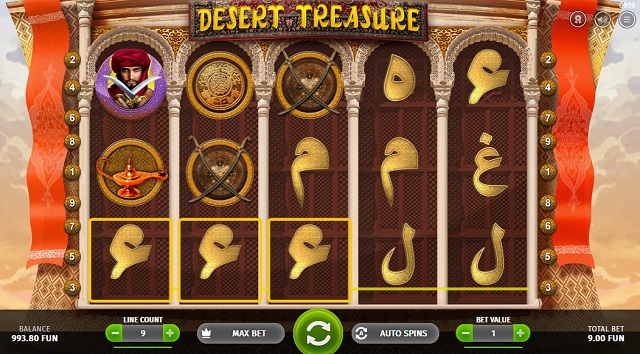 The game's layout is quite simple, just like in most other Playtech slots. A 5x3 setup with 20 paylines turn this game into a must-try for fans of classic video slots.
Honorable Mentions - Age of the Gods by Playtech
It would be wrong to write a list of the best Playtech slots without mentioning at least a couple of titles from the Age of the Gods series. Most of these greek-themed slots come with four progressive jackpots and regularly reward players with prizes of €1,000,000!
Their RTP isn't as high as the best Playtech fixed jackpot slots mentioned on this page, but here are some of my favorite picks for the best Age of the Gods game:
Age of the Gods: God of Storms (RTP: 96.14%)
Age of the Gods: Glorious Griffin (RTP: 95.50%)
Age of the Gods: Mighty Midas (RTP: 95.35%)
Other High RTP Playtech Slots
Connoisseurs are likely to have expected to see some classic games on this list that we haven't included. Some games are no longer part of Playtech's catalog, having been phased out of the iGaming world. They were, however, the highest-paying Playtech slots.
Goblin's Cave - RTP: 99.30%
Ocean Princess - RTP: 99.10%
Ugga Bugga - RTP: 99.07%
Tropic Reels - RTP: 98.90%
Triple Profits - RTP: 98.70%
These games were mostly skill-based slots, where players could interact with each game after spinning the reels. Understanding how these game's mechanics worked could make these games very profitable as it allowed the players to choose the right symbols to hold.
Where can you Play Playtech Slots?
You'll have to go to the best Playtech casinos if you want to enjoy these amazing slots in the top casinos that offer them. Thankfully, the Casino Wizard is not only your go-to place for the best slots in the industry – but we also bring you the best casinos to visit from the worlds' leading game developers.
Make sure you click that link and enjoy the massive selection of Playtech casinos that we have brought you. On top of that, we also give you the three top picks that we have selected as the world's best Microgaming sites to enjoy!
5 Recommended Playtech Slot Bonuses for 2023
Playtech casinos are always going to be among the best online casinos that you can visit, as they offer all of the aforementioned games and amazing bonuses to play them for free. These are the best Playtech slot bonuses that you can claim in The Casino Wizard´s top-rated sites:
| | | |
| --- | --- | --- |
| 1 | | Claim bonus |
| 2 | | Claim bonus |
| 3 | | Claim bonus |
| 4 | | Claim bonus |
| 5 | | Claim bonus |
About Playtech Slots
Playtech, a company that dares to use the innovative slogan of "the source of success", has made sure to innovate the iGaming market. They have become one of the world's leading providers of casino games, which led them to become one of the highest-valued gambling companies in the world (and the highest-valued company in the London Exchange).
The company was founded in 1999 by an Israeli entrepeneur. On top of developing gaming software, the company has also specialized in developing high-end software for top casinos, including mobile platforms and providing sportsbook services.
The company makes a yearly revenue of over €1,300,000,000
Playtech headquarters are close to Microgaming's, both in the Isle of Man in the United Kingdom
Quickspin is a subsidiary of Playtech, which the latter acquired in 2016
Playtech games are a mix of fun gameplay and incredible graphics, music, and sounds that will take your iGaming experience to the next level.
Playtech Slots and Incredible Bonuses Await – What are You Waiting for?
Visit the best Playtech casinos in the world to play these amazing games! It's now time for you to decide which of these games you like the most and visit the casino that catches your eye with the most pull. Decide which casino games to play, claim bonuses to play them for free, and earn real rewards to take your iGaming experience to the next level.
Where will you begin your journey and what decisions will shape your fate? Life-changing rewards are in your hands!
Last updated
February 28, 2023
Frequently asked questions
All Playtech slots are as fair as they come. The titles are all regulated and you can expect to find the fairest return rates of the industry.
All of the casinos that we have listed in this article are home to amazing bonuses that will allow you to play Playtech slots, as well as games from other developers, using free spins or free bonus money. It's up to you to make the best of your time with these rewards.
You can play Playtech slots for free using the bonuses that we just talked about, or by using the practice mode option that you can access in most online casinos. Bonuses will allow you to win real money whilst the practice option won' though – keep that in mind when gambling online.
The best Playtech slots are the ones that we have listed here, as they provide players with the largest payout percentages and guaranteed return rates that put them above any other title in the industry.
All of the Playtech casinos listed in this article stand as the best casinos where you can play games made by the company. They offer the largest variety of games as well as the best bonuses to play them for free!