Ranked: The Best High Hit Frequency Slots You Can Play in 2023
Slots with a high hit frequency are some of the best casino games that you can play if the thrill of high volatility isn't for you and consistent payouts are what you're after. In this article, we'll take a look at the best slots with a high hit frequency – and we'll tell you where you can play them with amazing no deposit bonuses and casino welcome bonuses alike!
| | | | |
| --- | --- | --- | --- |
| Slot | Hit Frequency | RTP | Where to Play |
| Witch Feature | 41.88% | 95.85% | |
| Break Bones | 38.97% | 96.22% | |
| Max Megaways | 38.07% | 96.37% | |
| Hand of Anubis | 36.92% | 96.24% | |
| Mental | 34.19% | 96.08% | |
| Leprechaun Riches | 33.73% | 97.35% | |
| Rotten | 33.56% | 96.27% | |
| Pork Knox | 32.49% | 96.00% | |
| Cazino Zeppelin | 31.00% | 96.00% | |
| Machine Reloaded Megaways | 29.50% | 97.42% | |
1. Witch Feature Slot
Witch Feature is a slot where you'll be collecting potion symbols to brew a concoction that grants you incredible in-game bonuses. A small board with potential combinations is shown on the leftmost side of your screen.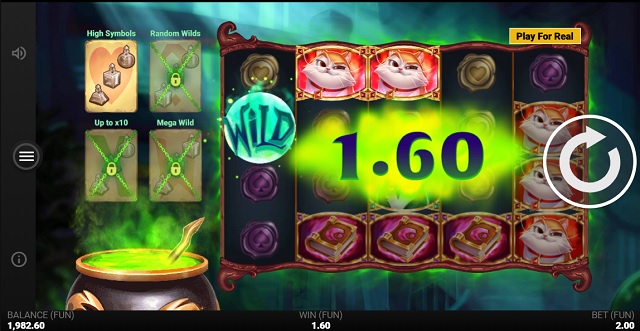 With a maximum win of up to 3,000 times the amount of your bet, this game's high-paying rounds are something to behold. Watch as multipliers build up and rewards start triggering one after another in one of the most original wizardry slots that we've ever had the pleasure of trying out, courtesy of a lesser-known studio that's full of surprises: GONG.
2. Break Bones Slot
Break Bones is one of Hacksaw Gaming's most unique titles, as it breaks their usual mold and introduces a 3x3 grid. This game will have you chasing the "Skeleton Hand" symbol to trigger EchoSpins, in-game free spins that are far easier to activate than those found in other slot games.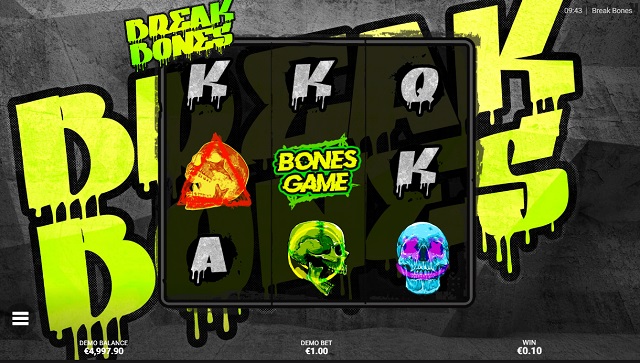 This games strikes the perfect balance between a classic setup and a modern one, giving you a thrilling gameplay experience with low volatility but a max win of up to 3,333 the amount of your bet. Albeit this game takes the second spot on the list, we think it's the most fun slot that we've tested out of all games found on this list.
3. Max Megaways Slot
Max Megaways is one of the highest-paying high-frequency slot games on the planet. This Big Time Gaming masterpiece brings us a unique Megaways game where wins come quite often, incorporating over 117,000 winning ways and combining them with bonus rounds, free spins, and multipliers aplenty.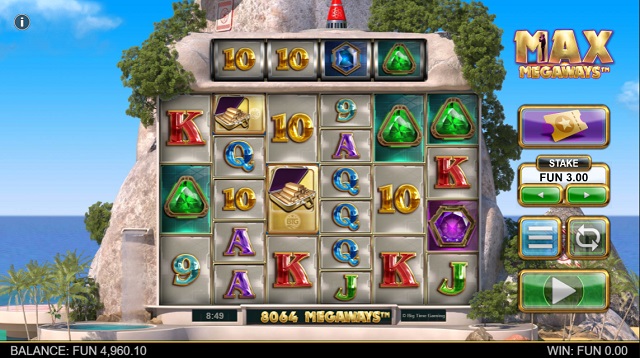 The game offers a potential max win of up to 139,200x the amount of your stake. It boasts a maximum stake of up to €3 per spin, meaning that a single spin of the reels could make way for a life-changing payout of over €400,000!
4. Hand of Anubis Slot
Hand of Anubis is a high variance, high hit frequency slot game that comes with the popular Cluster Pays mechanic to allow you to create winning rounds with massive prizes. The game's high-paying rounds are thanks to the presence of multipliers that can be triggered quite consistently.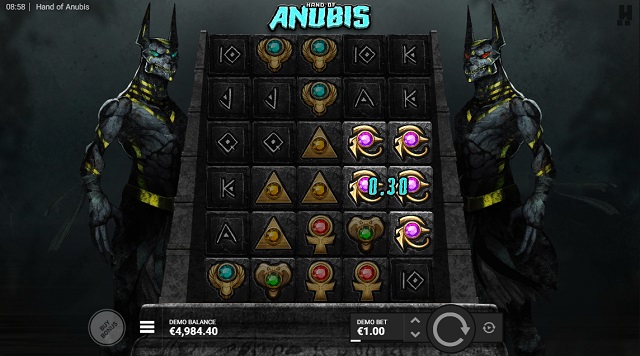 Those who love games with multipliers are bound to fall in love with Hand of Anubis. In our experience, and may we say that we got lucky as we played and tested this game, it's one of the games where we've had the highest presence of multipliers across an entire session. This is also because free spin rounds aren't as common as they are in other slot games.
5. Mental Slot
Mental is a NoLimit City slot game that combines some of the company's "X" mechanics to create a unique slot with an ever-changing number of reels. The game's irreverent "psycho" theme is just typical of a NoLimit City slot, and the introduction of xWays, xNudge, and xSplit makes this online slot a testament to the company's capabilities.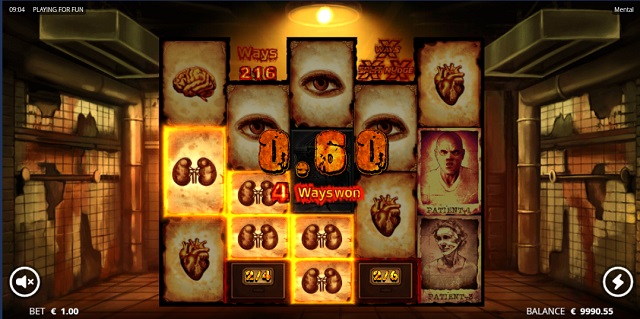 This is yet another high-volatility slot game with a relatively high hit frequency that will have you winning quite often, albeit high-paying rounds are far less common than you'd think. It's common for some rounds to give you low payouts – but you can expect massive rewards if you manage to trigger the game0s three main features in a single spin!
6. Leprechaun Riches Slot
Leprechaun Riches takes a popular concept and tried to evolve the concept of luck by offering you a classic Irish-themed slot game with multiple winning ways and a staggering maximum payout worth up to 100,000x the amount of your stake.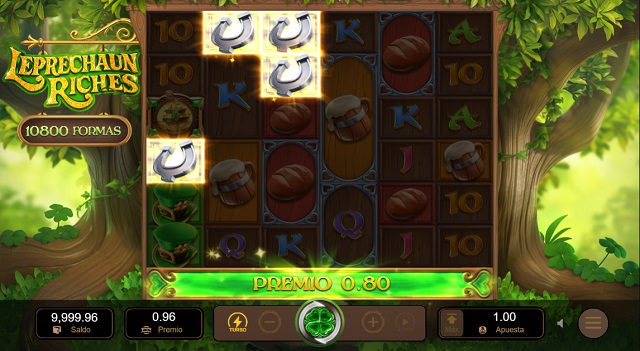 It stands out thanks to its massive RTP, which is one of the highest out of all slots found on this list. The game features a fantastic system with scatters, wilds, and multipliers, as well as up to 46,656 ways to win and a very large maximum win for a high hit frequency slot game.
7. Rotten Slot
Rotten is a Hacksaw Gaming online slot with one of the company's most iconic mechanics: Switch Spins. This mechanic allows symbols to be replaced with the highest-paying symbol, or even with wilds, to allow players to win thousands of times the amount of their wager within the same spin.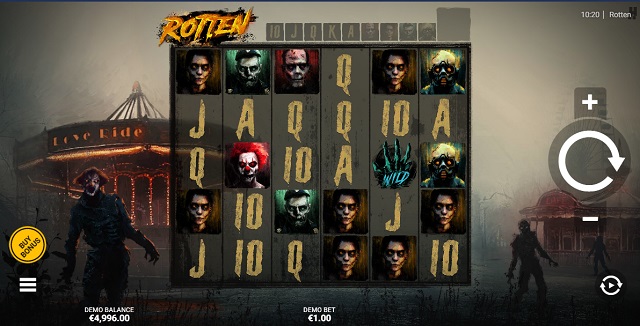 Bonus minigames are also crucial within the Rotten slot payout system. You'll find yourself hoping for bonus rounds to trigger so you can get the best multipliers possible. Free spins, scatters, wilds, and more fantastic features make the Rotten slot one that you'll love if you like slots with dark themes.
8. Pork Knox Slot
Pork Knox is a fantastic progressive jackpot slot game created by NetEnt where you'll be aiming to enter the Cash Stacker. This section of the game will have you earn pig symbols and stack them together. The more symbols you stack, the higher payouts will be. Collect multiple pigs to activate the game's jackpots!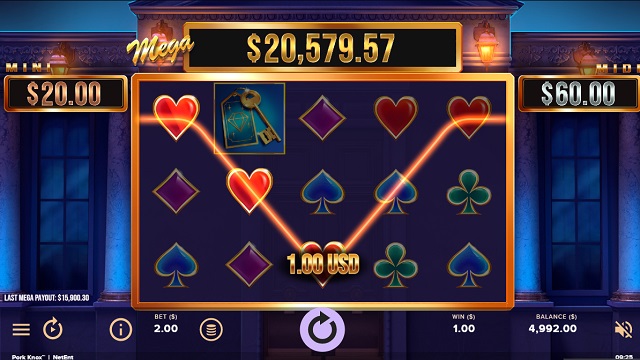 Although this game comes with a standard 96% RTP, around 4% of the RTP takes into consideration the progressive jackpot offered by the game. That means that the average RTP with no jackpot wins (more accurate for low-wager players) stands at around 92.00% to 92.50%.
9. Cazino Zeppelin Slot
Not often do we see a high-quality steampunk slot game, but if you're a fan of the theme, you'll love what Cazino Zeppelin is all about. The game will have you chasing the Wild Transfer feature, which is the way to trigger the game's biggest multipliers.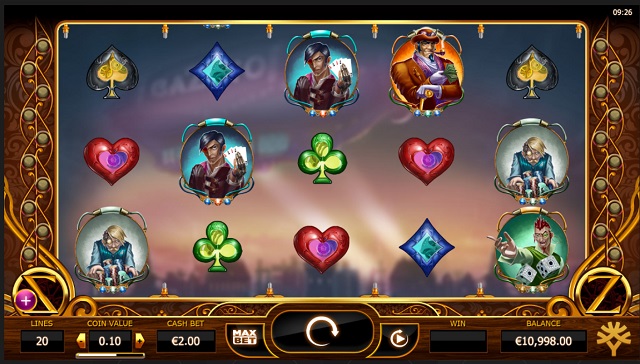 Free spin rounds also come with fantastic prizes: you'll be able to keep your wilds in place thanks to the game's sticky wilds feature. The title comes with a max win of up to 6,700x your stake and medium variance!
10. Machina Reloaded Megaways Slot
Machina Reloaded Megaways is a high RTP Megaways slot with the expected number of winning ways equal to those of classic Megaways slots at 117,649. This cyberpunk-themed slot game will take you on a trip to the future and, with some luck, fill your screen with rewards aplenty (as well as your pockets!).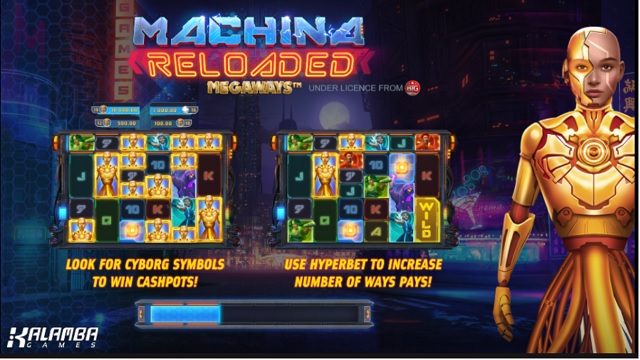 The game comes with a Cashpot that you can trigger to enter one of four levels of crazy rewards, and the fantastic bonus buy feature that we've grown to love in modern online slot games. It's one of Kalamba Games' most popular slots!
Play Machina Reloaded Megaways
Best Casinos to Play High Hit Frequency Slots
You know the games, now you should know where to play them. We've made a list of the highest-rated online casinos that host the aforementioned games. We're also telling you which are the best bonuses offered by each site – claim them and start your journey on the right foot!
High Hit Frequency Slots Explained
Slots with a high hit frequency are defined as casino games where winning rounds come more often than in the average slot game. In a world where a hit frequency of 30% would be considered average, some of these slot games could offer a winning round in 4 out of 10 spins, on average, making them worth it for players that aren't keen on experiencing the thrill of high volatility slot games.
The key features of the best slot games with a high hit frequency are:
Lower maximum payouts: On average, games with a high hit frequency are tied to lower maximum payouts. You can expect these games to offer max payouts of around 2,000x your stake.
Generally lower volatility: These games give you more frequent payouts, which means that the volatility is generally lower. There are a few exceptions, though: if winning rounds come often but payouts are lower than your stake, there's a chance that the volatility could still be high with a high hit frequency. For example, if you were to only win a reward worth more than 3x of your stake in less than 5% of the rounds, you'd be in front of a game with high volatility and a high hit frequency!
Stress-free gameplay: A game with a high hit frequency, high RTP, and low volatility is the ideal type of slot for users looking to pass a bit of time and not lose too much money on average. In our experience, there are no better games to play if you want to enjoy slots without being overly reliant on insane luck to win some cash.
Casino Wizard Tip
Play high volatility slots with a low hit frequency if you love games where winning rounds pack fantastic rewards!
Play High Hit Frequency Slots at the World's Best Casinos
We've told you all about the world's best high-frequency slot games, where you can play them, and why you should give them a go. All of the sites that we've mentioned in this article rank as some of the best casinos that we've ever reviewed, so pick the site you like the most and make the reels of your favorite games spin.
Claim a bonus to play high hit frequency slots for free!
Last updated
August 31, 2023
Frequently asked questions
Yes, even though high hit frequency slots come with a generally lower max potential payout, they still have plenty of potential for users to win a lot of money (500x or more the amount of your stake).
Some slot games have hit frequencies of over 50%, although payouts are generally much lower than a standard slot game.
Slots with a high hit frequency are casino games that have more winning rounds, on average, than a standard slot game.