All You Should Know About the Reality Check Casino Feature
If you've visited some of the online casinos that we've recommended in recent years, you might've probably noticed that many of them have a feature called "Reality Check". The prominence of this feature has been growing a lot in recent years, as it basically allows players to keep a hold of themselves when playing online and prevents them from getting carried away by spending all of their money.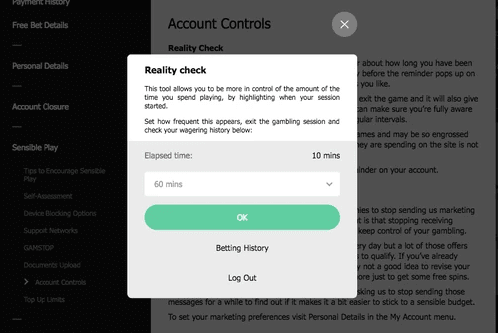 However, not every online casino that is deemed as a great website has this feature.
More and more websites are starting to adopt it, though; why is it? The answer to this question is rather simple: it really makes the player feel far more comfortable when wagering and creates a better sense of trust between the players and the casino. There are a few factors that make the Reality Check feature something that every casino should strive to have, and we'll be taking a look at all of them in this article.
First, though, let's check out what exactly is the Reality Check feature and how it works.
Online Casinos with Responsible Gaming Features
We have made a list of the best casinos that you can visit that care for their players by offering reality check and responsible gaming features. All of the casinos found here are among the best in the world, the highest-rated in The Casino Wizard, and they come with all you need to play and feel safe altogether:
Qurious about the advantages of online gambling? Read about the pros and cons in detail.
Reality Check in Online Casinos – Player Satisfaction Above Profits
The Reality Check feature is an option that can be manually activated before gambling online in any casino. Most of the time, the feature will pop up before you start playing on a selected slot game, or at the beginning of your gambling session on a certain online casino of your choosing.
This feature allows you to set times at which the casino will send you an alarm to remind you that you've been playing for too long. You can decide the length of these sessions before you start, which will ensure you don't spend too much time playing the same games and losing all of your money. It's up to the player to decide how and when to set the alarms, though, so there's only so much the feature can do to stop you from wasting all of your money.
How Casinos Deal with Reality Check
Some online casinos like Betsson allow you to set up the feature before you begin playing. Others, though, take matters a step further and allow you to set much stronger limits to prevent you from spending your money. One of our favorite casino when it comes to dealing with this feature is the Casino Winner.
This website does a fantastic job of providing players with enough tools to keep a hold of themselves while also having fun on the site. You'll get to set up the entire Reality Check from the menus, which prevents you from doing it directly on a game (which can tempt you into ignoring it). Instead, you can set the limit from the menu and decide when you want to stop there.
Choose the setting that you feel is appropriate to help you keep control of the time you spend gambling. The website will kick you out or make you stop once the feature is set, and should you happen to exceed your own limit.
Why Reality Check is a Must
Different Casinos have different approaches to gambling and how they treat their players. As such, the feature tends to work differently depending on the casino that you're visiting, but they all have something in common: all of the casinos that have this feature are part of the Responsible Gambling pact which supersedes man of the world's best websites.
The most important thing about this feature is that players have enough control to set limits for themselves according to their own preference, but it's also important for the casino to make the player respect the limits so they don't simply ignore the feature and move on with their gambling. Each casino might approach things differently, but those that have Reality Check are among the best you can enjoy if you feel that you're prone to letting yourself go while gambling.
In any case, let's take a look at why it's important for these casinos to have the Reality Check feature enabled in one way or another.
It Shows That the Casino Cares for Their Players
This is probably the most important aspect of Reality Check. The feature basically shows that the casino is putting their profit below the sanity of their players, which means that they are willing to sacrifice some of their earnings in order to keep the player with a sane state of mind.
They don't want you to lose your money like an idiot – they just want you to play and have fun. If you lose, you lose; if you win, you win. That's it. That's why Reality Check shows how important the players are to the online casino at which they're playing. This doesn't only reflect well on the casino, but it also helps the player know which online casino is truly caring for their customers.
You'll want to spend your time playing in legitimate websites that truly understand that the player comes above the profit. Prioritize playing in online casinos that have this feature – particularly if you know that you struggle to control yourself when gambling.
It's Easy to Get Carried Away
Building upon the last point we just made, it's very difficult for people to control themselves when they're on a streak. It doesn't matter if they're in a negative streak or a positive winning streak, they will always go on and on and keep betting. That's why the Reality Check feature comes with the ability to prevent you from spending too much money.
You can set the feature to warn you after a certain amount of time, or you could set it to warn you after you've spent a certain amount of money. Set it accordingly depending on what you struggle the most to control. Never underestimate how easy it is to lose control of yourself when gambling online – especially because of how volatile online casinos tend to be.
You can lose a lot of money and you'll be thinking that the next bet is the one where you'll recoup it all, and that's never what ends up happening. Be sure to use this feature carefully to prevent yourself from letting things escape your grasp. You'll always want to keep things under your control, which means you won't end up losing all your money without even noticing what happened.
It Prevents Unfortunate Mishaps
We have seen, on various occasions, what happens when people lose too much money in a casino. Some people end up bankrupt, while others end up inflicting harm upon themselves. Some, albeit a very reduced bunch, can even end up dead. We don't want that to happen to you, as we're firm believers that gambling is something that must be done for fun.
As such, it's very important for you to visit online casinos that have the Reality Check feature available if you wish to stay safe – both mentally and physically. The Reality Check feature is not perfect, of course, but it does help prevent things like this by putting a stop to the player before they spend too much money on any site.
Self-control also plays a huge part, but with an automatic system being there to remind you of when to stop, it doesn't even matter if you don't have enough control – you will be stopped anyway. Just be sure to activate the feature BEFORE your sessions start. Otherwise, its effects won't be nearly as good!
It Doesn't Cost Anything to the Casino and Sets It Apart from the Rest
It might seem like a Reality Check feature would only prove to be a disadvantage for an online casino, but that couldn't be farther from the truth. In fact, having this feature instantly shows newcomers that the website that they're visiting is reliable, trustworthy, and cares for the players more than they care for their profit.
This feature often prevents people from going over the top with their spending, and casinos that have it are eager to stop people from spending too much cash while playing online. Some casinos really take to heart the policy of "gambling is fun and not an addiction", and they want to make sure that all of their players follow the same rules and avoid becoming gambling addicts.
Having the Reality Check feature installed does a lot for the players that visit it. Helping out other people might not be the best thing for which casinos are known, but things like the Reality Check feature will go a long way into changing this perception in the future.
Play in Safe Online Casinos and Gamble Safely in 2023
Playing in online casinos is not something to be taken for granted. Let's check out some of the best and safest online casinos that you can visit this year to help you make a decision on where, how, and when to spend your money in the world's best sites:
Last updated
October 2, 2023