Most Played Online Slot Games in Germany [Updated for 2023]
The top 10 most played slots in German casinos are as popular as ever – even after the latest gambling regulations took a hold of the country's iGaming industry in 2020. As things stand, the gambling market in Germany is still booming, and online casinos from many parts of the world can still proudly present their services within the country.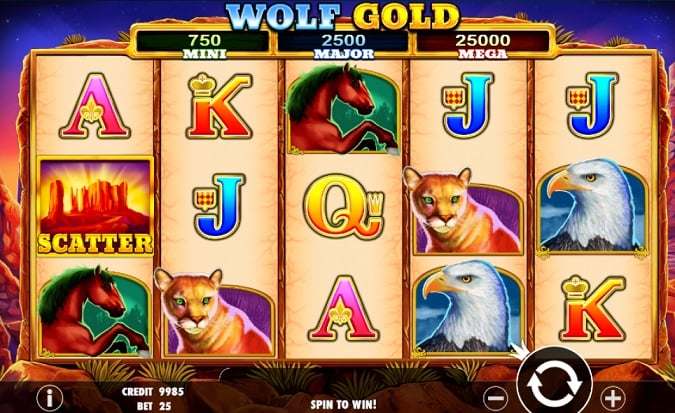 We have made this list to help you know which are the most played online slots in Germany, as well as which online casinos will welcome you with open arms if you live in the country. Make use of this guide and start claiming the rewards that are sure to come with the most popular games in the country. You'll find some amazing jackpot games to enjoy, so be sure to play them if you're on the hunt for high-paying rewards!
If you're keen to play in a slot online casino in Germany, pay a visit to some of these casinos:
| | | |
| --- | --- | --- |
| 1 | | Claim bonus |
| 2 | | Claim bonus |
| 3 | | Claim bonus |
Top 10 Most Played Slots for Real Money in Germany (Updated 2021)
The German market is quite a picky one, so you can rest assured that all of these games stand out as some of the best slots in the iGaming world. Learn all there is to know about them and play!
| | | | |
| --- | --- | --- | --- |
| Slot Name | Variance | RTP | Developer |
| Joker Millions | High | 94.03% | Yggdrasil |
| Hall of Gods | Low/Mid | 95.03% | NetEnt |
| Mega Moolah | Med | 88.12% | Microgaming |
| John Hunter and the Book of Tut | High | 96.05% | Pragmatic Play |
| Wolf Gold | Medium | 96.00% | Pragmatic Play |
| Legacy of Dead | High | 94.51% | Play N Go |
| Charlie Chance in Hell to Pay | Medium | 96.23% | Play N Go |
| Bonanza | High | 96.00% | Big Time Gaming |
| Starburst | Low | 96.10% | NetEnt |
| Book of Dead | High | 96.21% | Play N Go |
Play all of these games, using your own cash or free money bonuses, in the best German casinos that we have ever visited!
10. Joker Millions – 94.03% RTP
Joker Millions is one of those fantastic slot games that you'll love for the simple fact that it comes with a staggering return rate attached to it – especially for a jackpot slot. On top of the game being a fantastically fun slot to play, it's also one that packs a ton of bonus features to bolster your chances of earning rewards in the game. A re-spin feature is not one that you usually expect to find in a jackpot slot, but Joker Millions has it. Add the respin feature to the multipliers and you have one of the best jackpot slots in which to hunt for a high-paying reward.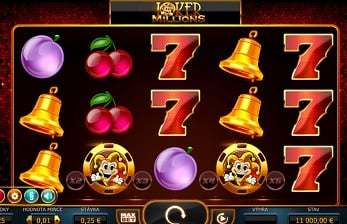 Joker Millions won't allow you to place high roller bets, though. The max you can bet on a single spin is €25, which is the best amount of money that you can commit to the game if you intend to make as much money as you possibly can. It gives you the best chance of winning the jackpot if you combine it with good decisions with the respins. Use the multipliers and aim to win a massive jackpot that builds up with each people that places a bet on the game. It starts at €100,000, but it often builds up to pay at least half a million!
9. Hall of Gods – 95.03% RTP
Hall of Gods is the second most played jackpot slot in the German iGaming market, sitting close behind the fantastic Mega Moolah. Do not underestimate the amount of cash that can be won when playing Hall of Gods, though. This amazing game has paid out a staggering €90,000,000 among all the jackpots that it has ever paid out, with the highest being close to €8,000,000. Hall of Gods is one of the better jackpot slots to play if you're a fan of high-paying games. It does require a lot of luck to win even the smallest of jackpots, but they all come with good sums of cash to be won.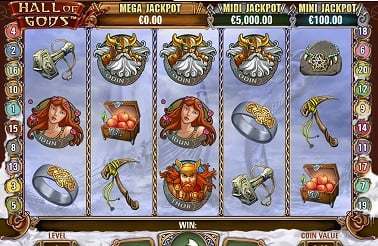 Every free spin that you earn on this game allows you to collect a payout of up to 4,313 times the amount of cash worth that spin, which is more than enough of a reason to give this game a try. It's one of the best jackpot games that you can play in the 2020s, and we expect it to remain so for the foreseeable future.
8. Mega Moolah – 88.12% RTP
A winner of the Mega Moolah still holds the Guinness World Record for the highest payout ever received in an online casino. That simple line tells you all you need to know about why an 88% RTP game has made its way to the list of the most-played slots in a gambling market as huge as the German one. Mega Moolah is a game that shares its jackpot among all the online casinos that offer it. This popular title is also the most played jackpot game in the world, and stands as the one that offers the better base payouts and the best overall payouts as a whole.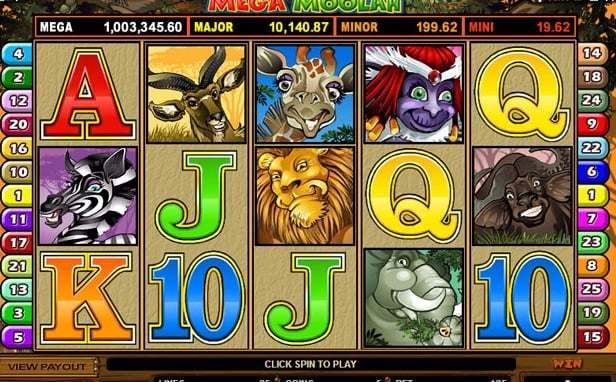 Should you hit the Mega Moolah jackpot, you can expect to win a minimum of €1,000,000. The biggest Mega Moolah jackpot ever paid, which is the holder of the world record, was worth upwards of $20,000,000! No wonder why so many people play this progressive jackpot slot even with its low RTP. Take a trip to the African savannahs and discover why this fantastic game is as popular as its high RTP counterparts. With some luck, you might be the next name to appear in the Guinness World Records. The best German casinos host this game, so be sure to check them out!
7. John Hunter and the Book of Tut – 96.05% RTP
Even though this game basically copies the popular template of "explorer + ancient + jewels/gods", John Hunter and the Book of Tut remains as one of the most played online slots in Germany and in the online casino world as a whole. Funnily enough, it's basically an even more average version of Book of Dead with a simple bonus feature, but it's still a beloved game nonetheless.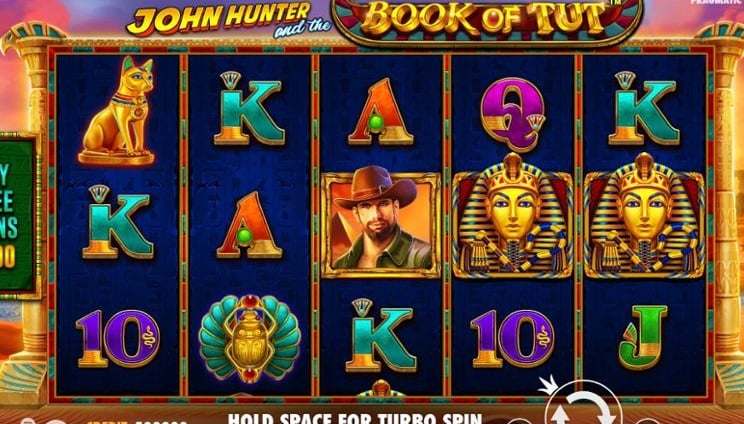 Free spins are what you'll be aiming to unlock with those scatter symbols that make this game such a profitable one. You will not find as many options to gain rewards as in other games that you'll see on this list, though. Throw yourself into the world of Egypt-themed games with this world-class title and discover what the fuzz is all about. We recommend you check out other games on this list, though, as John Hunter and the Book of Tut is quite an average game in terms of expected payout and gameplay.
6. Wolf Gold – 96.00% RTP
Respins, free spins, and multipliers make Wolf Gold one of the most coveter online slots to play in Germany, as well as one of the most popular online slots of all time. This masterpiece of a game is packed with amazing graphics and a ton of bonus features that make justice to its fantastic 96% RTP. The respin feature will allow you to unlock a massive minigame where symbols will be slowly replaced by moons until either the full board is packed with them or you run out of spins. Should you manage to pack the board with all of those moon symbols, you'll unlock a reward worth 1,000 times the amount of your spin!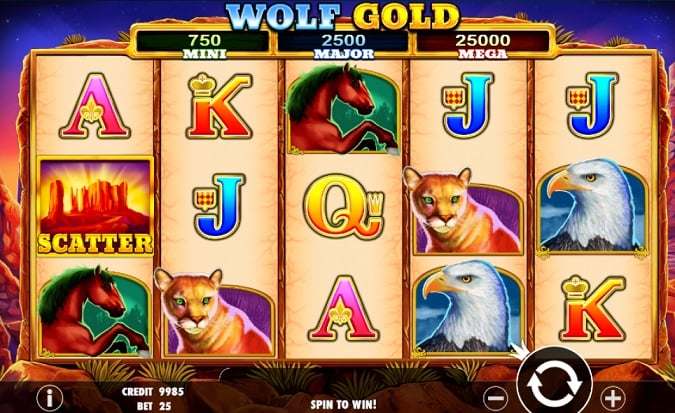 That's not even close to the max win that the game allows you to get, though. If you activate all multipliers and land the most profitable symbols, Wolf Gold has a potential payout worth x2,500 the amount of your stake. Not too shabby for a non-jackpot slot, is it? Incredible graphics and fluid gameplay are still widely seen as this game's main aspects – even though the title itself is not as new as some of the best slots that are currently filling the virtual halls of Germany's best casinos. Check hits game out and discover why it's one of the most played slot games of all time!
5. Legacy of Dead – 94.51% RTP
Legacy of Dead is the spiritual successor to the still popular Book of Dead. As you may have guessed, it keeps the same theme and even improves upon it with better graphics, much more fluid animations, amazingly immersive sounds, and top-quality gameplay. Try to get those high-paying symbols in a row and you'll unlock the secret of Ancient Egypt, together with its rewards. Legacy of Dead lets you claim up to x5,000 the amount of your stake on as ingle spin if you manage to get 5 mummies or ancient tomb symbols in a row. It's difficult but far from impossible. The rewards are also well worth your efforts!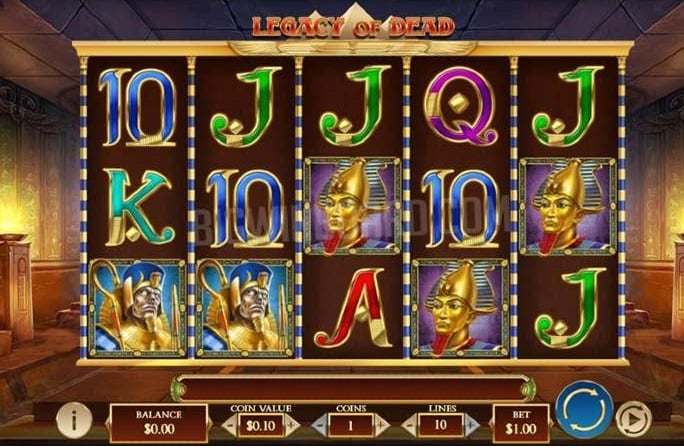 We have to tell you, the one thing that we truly loved about this game is how it takes the cinematic aspect of Book of Dead and ups it to the next level. You truly feel as if you were on an Ancient Egypt adventure with the power of mummies and gods seemingly within your reach. The prizes that you can claim when playing this game are as lucrative as the fortunes that ancient pharaohs had to their names. Take your chance and spin the ancient reels to unlock the finest of rewards
4. Charlie Chance in Hell to Pay – 96.23% RTP
Arguably the least recognizable game on this list, Charlie Chance in Hell to Pay is one of those online slots that has been easily missed out by many casino players. It's a fantastic online slot with a cartoon theme that seems to evoke those old cartoons of the 40s, with characters that keep you immersed in this digital cartoonish yet reward-packed world. The cartoon aspect of the game is not the only classic part of it, either. The game packs a fantastic classical layout with a 3x3 setup, which means that it only has 5 paylines to offer. Do not let yourself be fooled by its lack of payment firepower, though – this title still comes with a ton of incredible winning options and its good RTP is a clear statement of it.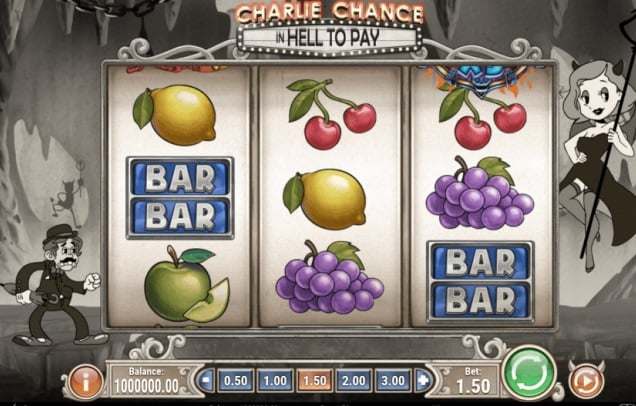 High-paying symbols are aplenty in the game, but just like it happened in the golden era of casino slots, you will need to be quite lucky to get your hands on one of the upper payment echelons. There are not many bonus minigames except for the one where you pay the guy on the boat (even low rollers can play it), but it's still a super fun game to try out and enjoy.
3. Bonanza Megaways – 96.00% RTP
The Bonanza Megaways slot has gained a lot of popularity in recent years, and you know what they say: nothing really beats a Megaways game. Well, that's what we say, anyway! The Bonanza slot remains as one of the most played online slots in Germany – even with all the new gambling regulations that have been imposed in the last few years. This game comes packed with a massive 117,649 ways to win, which puts it up there with the best Megaways title thanks to its nail-on average RTP. You may not see yourself winning a ton of cash when playing Megaways games, but this one is surely an exception if you've never tried it out.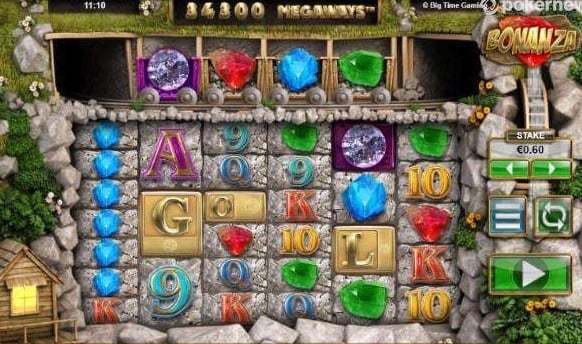 You can bet up to €500 per spin on this game as well, which makes it an ideal one to be played by high rollers. Add to that the fact that high-paying rounds have no win caps and you will be well on your way to earn a significant amount of money playing this world-class slot game.
2. Starburst – 96.10% RTP
Starburst is the perfect beginner slot, which is why so many online casinos offer to play it for free as part of welcome bonuses, no deposit bonuses, and first deposit bonuses. Not only is the game easy to understand and one of the easiest slots to pick up, but the game also promises an average RTP, extremely fun and engaging graphics, and magnificent sound features. It's built to be the perfect "average" slot, which means that it serves to introduce players to the casino world without putting much strain into their heads.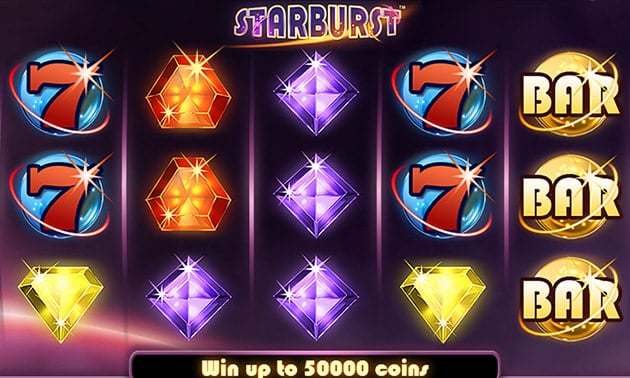 Starburst has low volatility. Combined with its average RTP, you can expect to win decent sums of cash during the majority of your spins. Add to that the fact that Starburst comes with an Expanding Wilds feature and you have a title that allows you to win a ton of cash whenever you happen to go on a lucky streak of chain wins. It's no wonder that German Starburst casinos are as popular as they are. This game is loved by Germans almost as much as it is loved in other parts of the world. This and Book of Dead are the two most recommended games on our list!
1. Book of Dead – 96.21% RTP
Much like Starburst, Book of Dead is one of those online slots that you will pick up very quickly. It only has one bonus feature to offer, which keeps the game simple and easy to understand whilst still making it quite a profitable title to enjoy. Book of Dead is based on the popular Las Vegas slot 'Book of Ra', which also made its way to the iGaming world. However, Book of Dead stands as a much more popular title in the online casino industry, as you'll notice with the hundreds of Book of Dead-compatible bonuses that you'll find whilst venturing across the internet.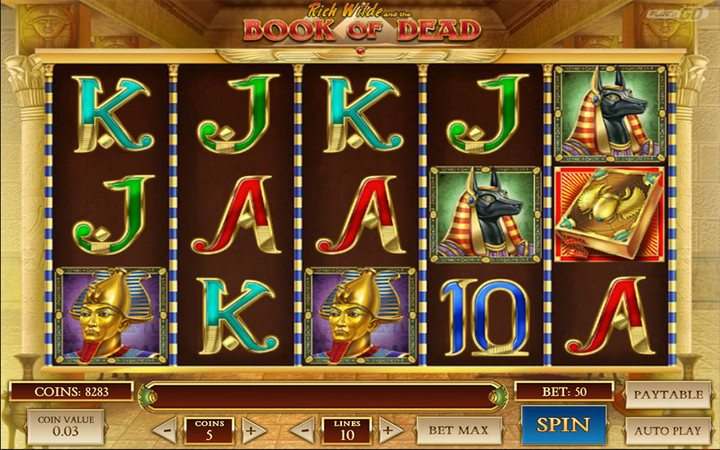 This incredible title comes with an average RTP but extremely fun gameplay and graphics, which make it an appealing title for those looking to enjoy their time playing a popular casino game that stands out among the many slots that we have played. The game offers a maximum win worth 5,000 times your stake and allows you to play both as a high roller or as a low roller, however you see fit. Book of Dead does have a high volatility unlike Starburst, though, so you may want to spend your money on this game if you're willing to make quite the financial commitment to any casino of your choice.
Where can you Play Slots in Germany?
The best German casinos are the places to visit if you're keen to play any of these amazing slot games and claim amazing bonuses to go alongside them.
Top 3 Recommended Slots Casinos in Germany
The iGaming world is sure to provide us with plenty of incredible games to enjoy in the finest casinos of the industry. Thankfully, as many limitations as may have been imposed upon German gamblers, some of the best casinos in the world are still available to be visited in Germany. Here are our top picks for the best online casinos where you'll eb able to play slots in Germany and claim incredible bonuses to bolster your balance from day one and onwards!
BitStarz
Check out the amazing BitStarz casino and spend your hard-earned money in one of the best bitcoin casinos that have ever graced the iGaming world. Not only will this casino provide you with the best bonuses that the industry has ever seen, but it's also a fantastic website where you can try out new tournaments, play the latest casino games, and discover the magic of iGaming with one of the world's most reliable high=paying welcome bonuses. Pay BitStarz a visit and reap the rewards of casino madness (in the best sense of the word!).
ComeOn Casino
The ComeOn Casino invites you to try out a fantastic selection of world-class games and enjoy the best casino slots that the industry has to offer. Here, you'll find yourself presented with a clean and easy-to-browse design that is sure to put even the most minimalistic of casinos to shame. Ideal to be played in mobile devices, the ComeOn Casino takes the iGaming world to the next level and provides you with the best games that the casino industry has to offer – all with the click of a button and free of any hefty rules to diminish the experience.
N1 Casino
It could be argued that the N1 Casino honors its name by actually being the "N1 Casino" in the world, as the site has proven to be one of the best places to enjoy the most played slots in Germany. You'll be able to claim one of many incredible casino bonuses that are sure to pack your account with world-class rewards and prizes. Check out the magic of the N1 Casino and enjoy the rewards that await those who commit to the site. Tournaments play a major part of the experience, so don't miss out on them!
Germany Slots & Casinos FAQ
We bring you the answers to the most popular casino-related questions in the German world. Knowledge is power, and power means rewards!
Is online gambling legal in Germany?
Online gambling is mostly legal in Germany, but it is heavily regulated. You will need to be sure that the casinos that you visit are allowed to be visited in the country and ensure that the games played are not banned to be played by Germans.
Can you play slots legally in Germany?
You can play most online slots legally in Germany. The main problems tend to come when you opt to play other casino games – even industry classics.
Can you play jackpot slots in Germany?
Even though jackpot slots are not particularly well-seen to be played by gamblers from all over Germany, they're still some of the most played titles in the German gambling world. It's up to you to decide how much cash to spend in them, but local gambling limitations come to effect and influence it.
What games offer the best return rates?
The games that we have listed in this article are known to provide players with the best return rates in the iGaming world. They are enough to ensure a ton of cash to be won in small gambling sessions, so cross your fingers and watch the reels spin!
Can I play with euros in German casinos?
All German casinos will allow you to pay in euros or bitcoins, which means that you won't have to worry about any currency exchanges when visiting these sites.
What is RTP?
RTP is the Return to Player rate, or a percentage of money that you are expected to keep when playing any casino game in the industry. It is the opposite of the house edge, which is a small percentage of money that the casino usually keeps after a session of gambling.
What is Variance or Volatility in online slots?
Variance, also known as volatility, is a term used to describe the frequency with which an online slot usually pays players. In most cases, you'll notice that games with high volatility pay a lot of money but winning rounds are scarce, whereas the opposite is true for slots with low volatility.
Can you claim bonuses in German casinos?
German casinos tend to have a selection of incredible bonuses that players can claim, but you will need to make sure that a specific bonus is valid for German players if you're visiting an international casino. New gambling regulations make it difficult for worldwide promos to be claimed in the country.
Do all casinos accept German players?
Not all casinos accept German players, but many worldwide casinos do. You will have to look for sites that are known to open their gates to Germans or stick to visiting the online casinos that we have listed in this article.
About Germany Slots & Casinos
Even though the world of online casinos has been suffering through a few regulations in Germany, slots still remain the most played casino games in the country. In fact, with all the regulations that have been imposed, slots are among the games that took the lightest of hits. You will notice that online casinos limit the amount of cash that you can spend per spin. However, you shouldn't have many problems when enjoying these fantastic games.
Play the Most Popular Slots in Germany and Win Now!
We have given you all the tools that players need in order to have a complete and successful gambling experience in Germany. The fact that you know which are the most played games in the country is enough to elevate your experience to the next level, but be sure to claim the amazing rewards that these casinos have to offer and you'll be well on your way to earn a ton of cash in the best German casinos!
Last updated
January 16, 2023