Thousands of players enjoy table games, but not many online casinos offer the best table game offers out there. In fact, one would argue that online casinos leave a lot to be desired when it comes to table game rewards, as they would rather offer players bonuses that you can spend in online slots, given that they benefit the casino more than table games.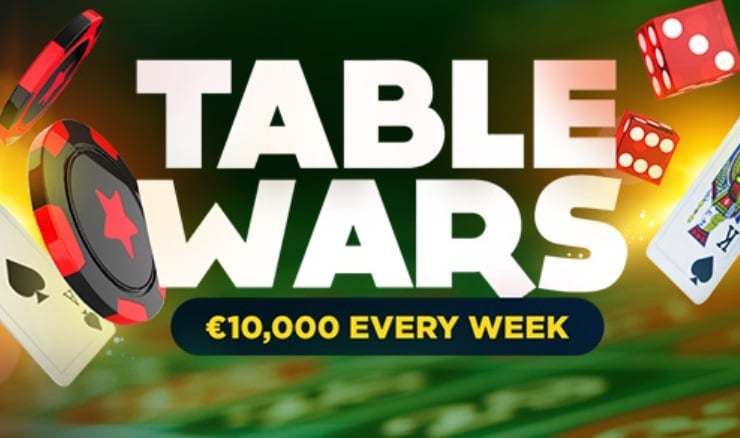 However, BitStarz dares to think differently. On this site, you will be able to participate in a tournament that will let you earn wager-free rewards by playing the best table games of the site!
What is Table Wars?
Table Wars is a weekly competition where players get thrown into a leaderboard where the ultimate reward is given to the number one player on the list, but many people all across the world can participate and get a share of the €10,000 prize pool. Yes, you read that right: there's a €10,000 up for grabs every week at BitStarz – and all you need to do is participate in the Table Wars and try to get a better place than others in the site's leaderboards!
Participating in Table Wars – What to Do and How to Win
Participating in Table Wars is extremely easy. All you need to do is click on the "Table Wars" tab in the "Promotions" section of the casino and you will be taken to the promotional tab, where you can read the rules and see which games you can play in order to make your way to the top of the leaderboards. In theory, you don't even need to sign up for the offer. All you need to do is play the table games available at the BitStarz Casino and you will start earning points that will help you get a good place on the leaderboards!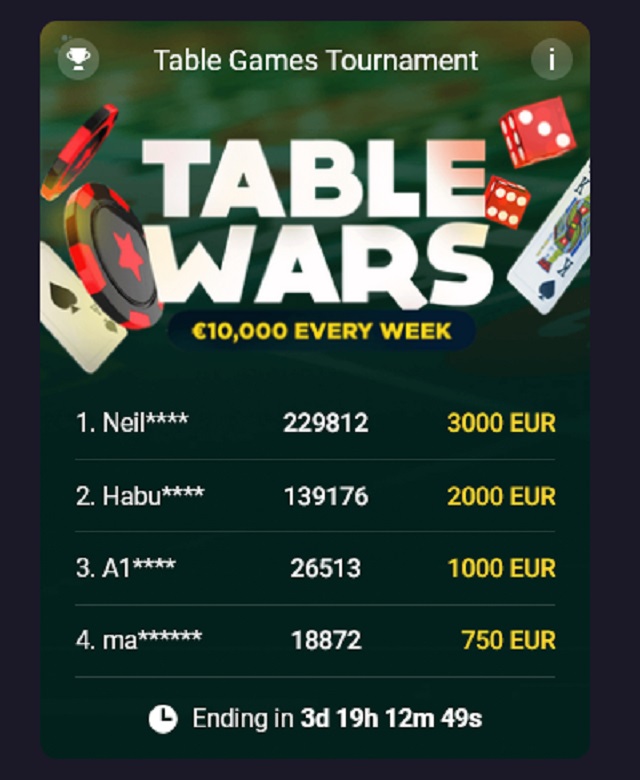 Table Wars Prizes – Aiming for the Top!
There's a grand total of €10,000 ready to be distributed among all participants, but only the top 40 table game players of the BitStarz Casino will be able to collect a prize. The least you can get out of the offer is €25, which is quite a lot for a wager-free reward.
Naturally, it does take some effort to make it to the top 40 players, as you will be participating against all other table-game players of the casino. Should you do it, rewards will be given! The winner of the tournament gets a whooping €3,000! Will you be able to make it to the top in this week's leaderboards, or will you have to wait until the next?
Table Wars Terms and Conditions
This amazing bonus is subjected to a few terms and conditions that are quite easy to comply with. Among the most important ones, you'll find as follows.
Wagering Requirements & Conditions
The best part about the BitStarz Table Wars rewards is that they come attached to no wagering requirements at all. That means that you will get to spend all of your bonus money in the casino if you like, but you may also directly withdraw it to your bank account or your e-wallet as soon as you receive it.
You will get it in the form of account balance, which means that you won't technically receive a bonus but rather straight-up cash. You do need, however, to have made at least one deposit in the BitStarz Casino to participate in any of these tournaments, which start once every week. You need to use real money in order to participate in this promotion. You cannot wager with any bonus cash to earn points in the Table Wars.
Additional Rules and Conditions
Table Wars work like the Slot Wars, which means that one tournament starts every week. You have the chance to participate in them all if you wish and you can sign up for as many tournaments as you like. Of course, you can only play in one per week. There is a timer in the home page of the promotion that allows you to keep a track of when the next tournament starts, how you're currently doing in the leaderboards, and how much cash you can expect to win according to the position that you're currently occupying.
Every week, the prize pool resets. That means that you can always participate to win a portion of the €10,000 prize pool as long as you keep playing in the casino! If anything changes regarding this promotion or its rules, though, you will receive an email notifying you of the change.
The Wars Await – Will You Join?
If you're a fan of table games, you will love the Table Wars. You will have the chance to compete against some of the most prominent users on the site, looking to earn exclusive rewards that could have you winning more cash than possible in traditional table games. These tournaments were born after the release of the Slot Wars, with thousands of people wishing they could try out the same experience in table games.
It's safe to say that the BitStarz Casino has duly delivered. It's now time for you to head to it, register a new account, and claim 20 Free Spins No Deposit!