Losses Hurt Less at Refuel
The Refuel Casino may not have a solid welcome bonus program for you to enjoy, but the Refuel cashback bonus is sure to provide you with the bonus cash that you need to inject your account with extra cash and enjoy the finest of casino games that the site has in store for you.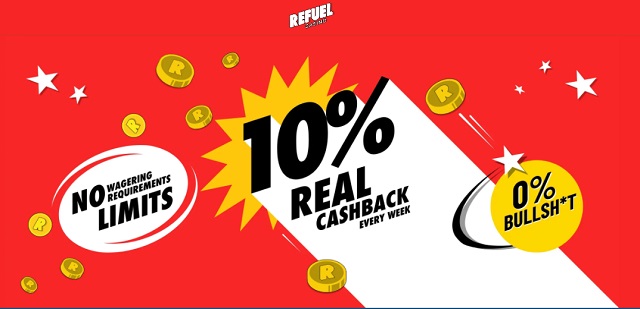 We are going to be taking a closer look at the Refuel Casino welcome bonus and further analyze why this casino's owners have opted to host a cashback bonus as the Refuel Casino's flagship offer, instead of taking the traditional route and having every player earn a prize upon making their first deposit on the casino.
If you're a fan of high-roller casino gameplay, you're going to love what the Refuel Casino has to offer. Let's see if you have what it takes to get your hands on the prize!
What is the Refuel Casino Real Cashback Bonus?
The Refuel Casino Cashback bonus is a special offer that allows you to claim back up to 10% of the money that you've lost and get it credited back into your casino account, all without any annoying rules or restrictions to go alongside that cash.
The only consequence of this is that the Refuel Casino doesn't really have an exclusive welcome bonus for newcomers to the site. In fact, it's the only disadvantage that we can think of when taking a look at this offer – everything else is rather great.
In any case, this promotion is meant for certain casino users and not all of them, seeing as how not everyone will be able to claim the bonus if they don't play the correct games:
People who play online slots will see the highest benefit here
Those who love live casino contest games will also have the chance to get a cashback on their losses
People who play other games like table games or live casino table games will not be able to obtain cashbacks on their losses
Enjoy the main one of the Refuel Casino bonuses and make the best of your time at this incredible casino!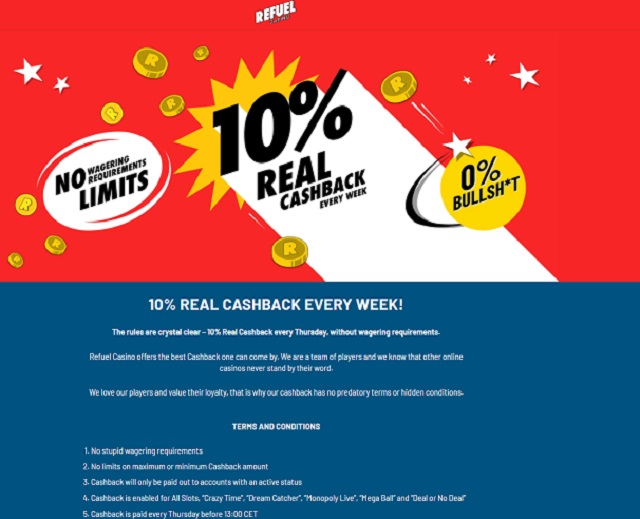 Why Doesn't the Refuel Casino Have a Welcome Bonus?
The Refuel Casino owners opted to take a different approach when it comes to offering bonuses to their players. As such, instead of providing people with insanely high rewards and match deposit bonuses that multiply their winnings through the roof and into the sky, they offer players a REAL cashback.
With real cashback, we really mean it. The site offers a 10% cashback bonus on your losses, and the cashback is not subjected to any wagering requirements. That's right – you get a wager-free 10% return on your losses. What more could you ask for?
How to Use the Refuel Casino Read 10% Cashback Bonus
The 10% cashback bonus of the Refuel Casino is not only one of the best cashback bonuses that we've ever had the pleasure of trying out, but it's also extremely easy to claim. These are the simple steps that you'll need to follow:
Create an account and register at the Refuel Casino
Make sure you make a deposit of any amount of money that you want
Play slots or live casino contest games
If you happen to lose money across the span of a week, you'll qualify for the cashback
Wait for Monday to come around
Get your cash credited back to your account!
It's really that simple. The casino will provide you with the lost money back, and it'll be done automatically. You don't need to comply with any crazy rules, nor will you have to enter a bonus code or click a button that's hidden somewhere in your profile.
Simply wait for Monday to come around and see how much cash you get. In best case scenario you don't get any money because you managed to stay on the positive during the entire span of the week, which guarantees wager-free cash on its own!
Refuel Casino 10% Cashback Terms and Conditions
There are only a few terms and conditions that you will need to comply with when wagering with the Refuel Casino 10% real cashback bonus. In fact, when it comes to leniency in casino bonus terms, this is one of the best casinos in that regard. You can almost rest assured that the money will be there for the taking as soon as you get it.
Pay attention to these two points and ensure a satisfying casino experience in the Refuel Casino:
No Wagering Requirement!
Yes, you've read it right. No wagering requirement. No usage of the bonus cash if you don't want to. No insane bonus terms. This casino cashback bonus is limited to be earned by playing certain games, but the casino makes it so easy for players to cash out their rewards that you'll be looking forward to getting your money back every single week.
The ease with which you'll get to claim the bonus means that you can instantly withdraw the cash to your bank account as soon as you receive it. The money is not added to the casino bonus balance, but rather straight to your account's money balance!
Qualifying Games
Even though we'd like to tell you that everyone will get the chance to get 10% of their lost money back, that's only partially the case at the Refuel Casino. The site has narrowed down the list of games that you can play and qualify for the cashback bonus. IT's still a rather large list, but your favorite table games probably don't qualify.
As such, the following list of games are the ones that qualify for players to receive their cashback bonus every Monday: All Slots, "Crazy Time", "Dream Catcher", "Monopoly Live", "Mega Ball" and "Deal or No Deal".
Nothing to Lose – Get 10% Free Cashback at the Refuel Casino Now!
As one of the best cashback bonuses on the internet, the Refuel Casino bonus stands as a promotion that every player will be looking forward to trying out. The Refuel Casino has managed to stand out as one of the best casinos in the industry whilst not having many bonuses to show, and that's an achievement on its own.
This promotion guarantees that even players who go on unlucky streaks will get properly rewarded by the Refuel Casino and their staff. As such, it's one of those must-claim promotions that you'll surely love from day one.
We hope that you don't end up needing to claim it, but should you have a streak of bad luck in the Refuel Casino, you know that this is a promotion that you can count on. Visit the Refuel Casino now and claim this world-class offer while it's available!